70 mixed-income units available at Bjarke Ingels's East Harlem rental, from $1,023/month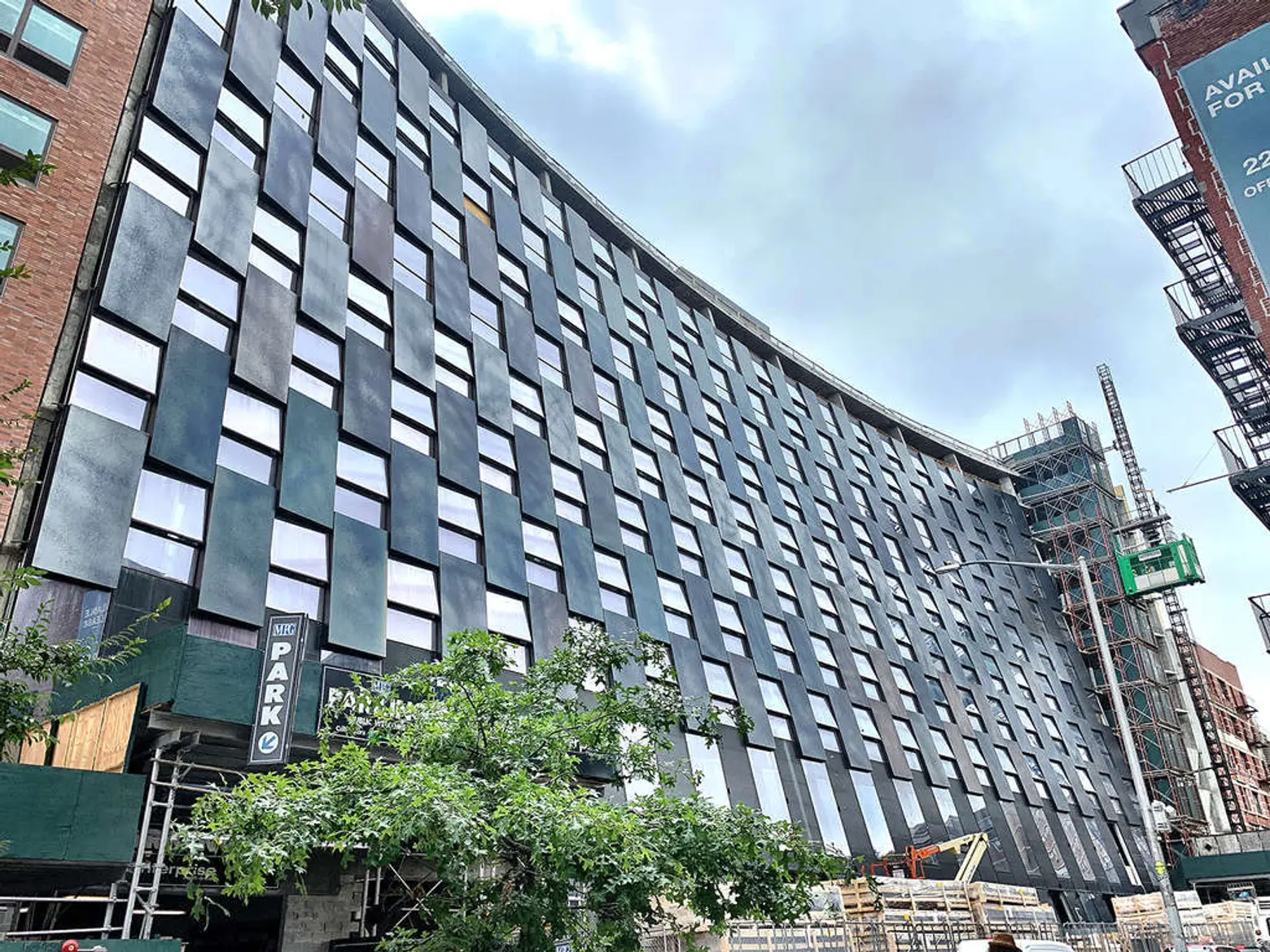 Construction photo of The Smile, © CityRealty
It's your chance to live in an apartment designed by acclaimed architect Bjarke Ingels. A housing lottery for his project at 146 East 126th Street in East Harlem will launch on Friday for 70 income-restricted apartments. Dubbed "The Smile" for its unique curved configuration, the 11-story rental comes with an impressive amenity package, including a rooftop pool, outdoor movie theater, fitness center, and more. New Yorkers earning 60 percent and 130 percent of the area median income can apply for the apartments, which range from $1,023/month studios to $2,849/month two-bedrooms.
Developed by Blumenfeld Development Group, the building topped out in October 2017 with the name E126. The new name, as CityRealty reported last year, reflects both the footprint of the building as well as convey "how fun the building will be to live in."
The design of the building slopes inward as it rises upward, providing great views of the Harlem River and Manhattan skyline. Its t-shaped footprint, which cantilevers over 125th Street and the Gotham Plaza retail center, allows for a variety of apartment sizes and layouts. And the interlocking checkerboard pattern panel system on its facade allows floor-to-ceiling windows in every unit.
Located on the corner of Lexington Avenue and East 126th Street, the Smile is just blocks from the Harlem River waterfront and the Marcus Garvey Park. Plus the 4, 5, 6 trains are less than a minute walk away at 125th Street station, with the Metro-North trains also easily accessible on Park Avenue.

Qualifying New Yorkers can apply for the affordable units until July 23, 2020. Complete details on how to apply are available here (pdf). Preference for 50 percent of the units will be given to residents of Manhattan Community Board 11. Questions regarding this offer must be referred to NYC's Housing Connect department by dialing 311.
If you don't qualify for the housing lotteries mentioned, visit CityRealty's no-fee rentals page for other apartment deals in the city.
RELATED: