517-unit luxury development tops out along Gowanus Canal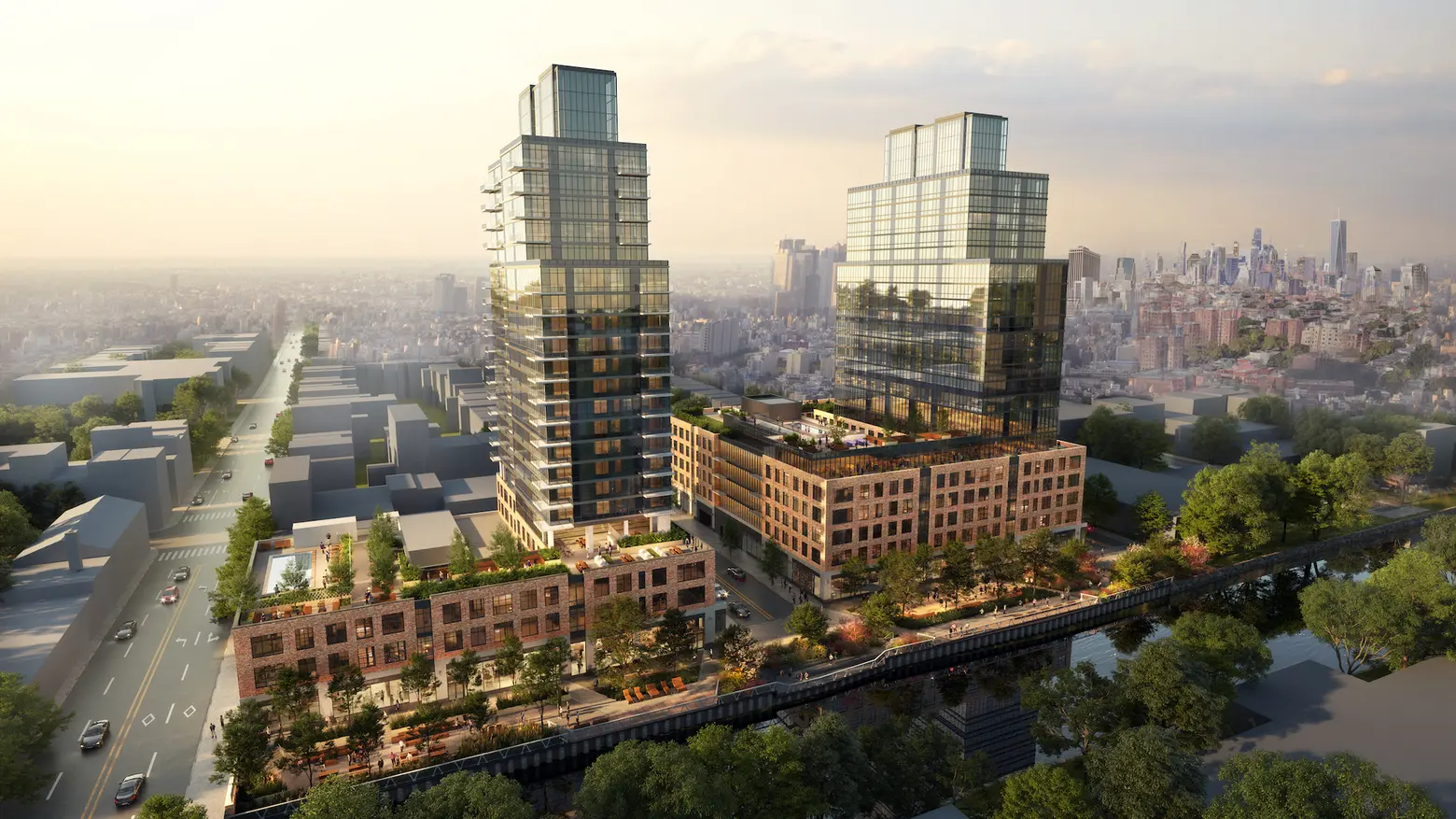 Renderings courtesy of PMG
A huge mixed-use development with over 500 apartments has topped out along the Gowanus Canal. The two-tower, 21-story project at 267 Bond Street and 510 Sackett Street measures over 600,000 square feet and includes 57,300 square feet of retail space and a new park and esplanade along the famously polluted waterfront. Developed by PMG and Carlyle, the development is part of the 2021 Gowanus rezoning effort, which will bring thousands of new homes to the Brooklyn neighborhood. The development, dubbed Society Brooklyn and Sackett Place, has a completion date of 2025.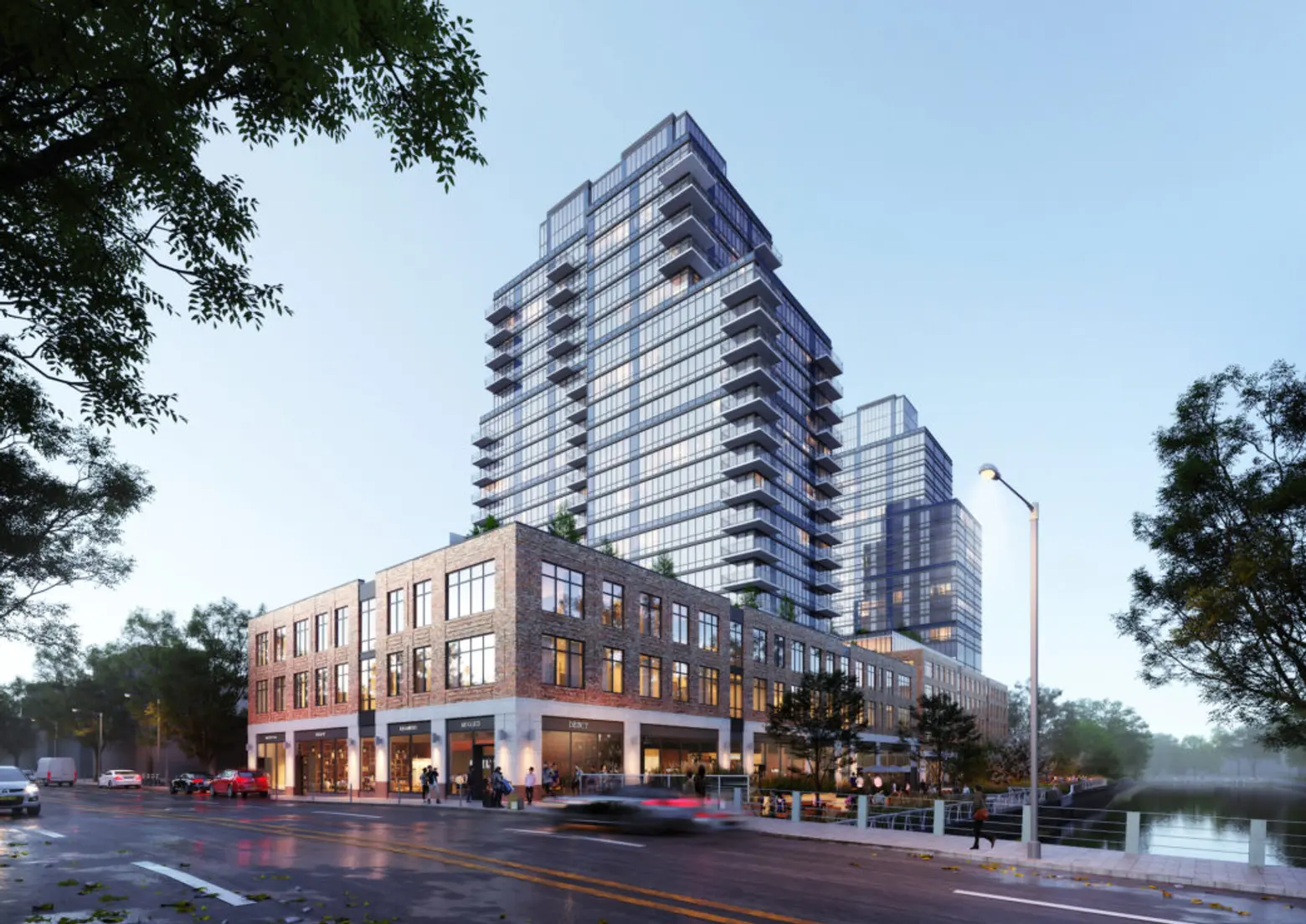 Designed by SLCE Architects, the two buildings include 517 homes, 25 percent of which are designated as affordable through the city's Mandatory Inclusionary Housing Program.
Spanning 371,000 square feet, Society Brooklyn will include 244 units, including a mixture of studios, one-, and two-bedroom residences, and 34,000 square feet of commercial space. Measuring 234,000 square feet, Sackett Place will contain 23,300 square feet of commercial space and include 173 one-, two-, and three-bedroom residences.
Amenities will include a wellness center, an outdoor swimming pool, a rooftop terrace with expansive skyline views, and easy access to an adjacent waterfront park and esplanade.
As part of the rezoning effort, a section of the development's retail space called the "Gowanus Mix," will showcase community-minded retail, experimental and maker studios, and local food and beverage vendors, all of whom will be dedicated to sustainability and environmental resiliency.
The topping-off comes shortly after the project received an additional $335 million in funding from Urban Atelier Group, which is the development's construction manager.
"UAG is excited to take part in the continuous transformation of the Gowanus Canal, contributing to the revitalization of this historic area," Andy D'Amico, President and CEO of UAG, said in an official press release.
"We are collaborating closely with key stakeholders to bring our shared vision for these developments to fruition. Ultimately, Gowanus is more than just a location; it symbolizes our dedication to bolstering citywide housing initiatives and urban regeneration."
Approved by the City Council in November 2021, the Gowanus rezoning plan aims to create 8,500 new apartments throughout the Brooklyn neighborhood by 2031, more than one-third of which will be set aside for low- and moderate-income households.
In the two years since the rezoning passed, Gowanus has already seen a lot of change. As City Limits reported, roughly half of the expected 8,500 apartments are in the planning or construction stages.
The ambitious initiative will also tackle addressing the problems caused by the area's infamous Gowanus Canal, which was designated in 2010 as a Superfund site and is currently being cleaned up by the Environmental Protection Agency after more than a century of toxic pollution. The EPA is working to remove 581,000 cubic yards of polluted sediment from the bottom of the canal and cap it to prevent further pollution.
To accommodate the influx of residents in the neighborhood and prevent further strain on the sewer system, the city in March broke ground on one of two new underground storage tanks that will prevent up to 12 million gallons of sewage overflow from entering the canal during flooding events and rainstorms.
The first tank, bounded by Nevins Street, Butler Street, and Degraw Street will hold up to eight million gallons of sewage waste and include 3.6 acres of public open space on the waterfront. The second tank, to be located at a bend in the canal at Second Avenue and Sixth Street, will be able to hold up to four million gallons of sewage overflow.
PMG purchased the site in 2021 for $9 million, according to The Real Deal. In June, private equity firm Carlyle paid PMG $100 million and joined as a co-developer for the project. The project must be completed by 2026 to receive a 421-a tax break.
RELATED: