Gowanus rezoning deal reached, with affordable housing and sewer upgrades on board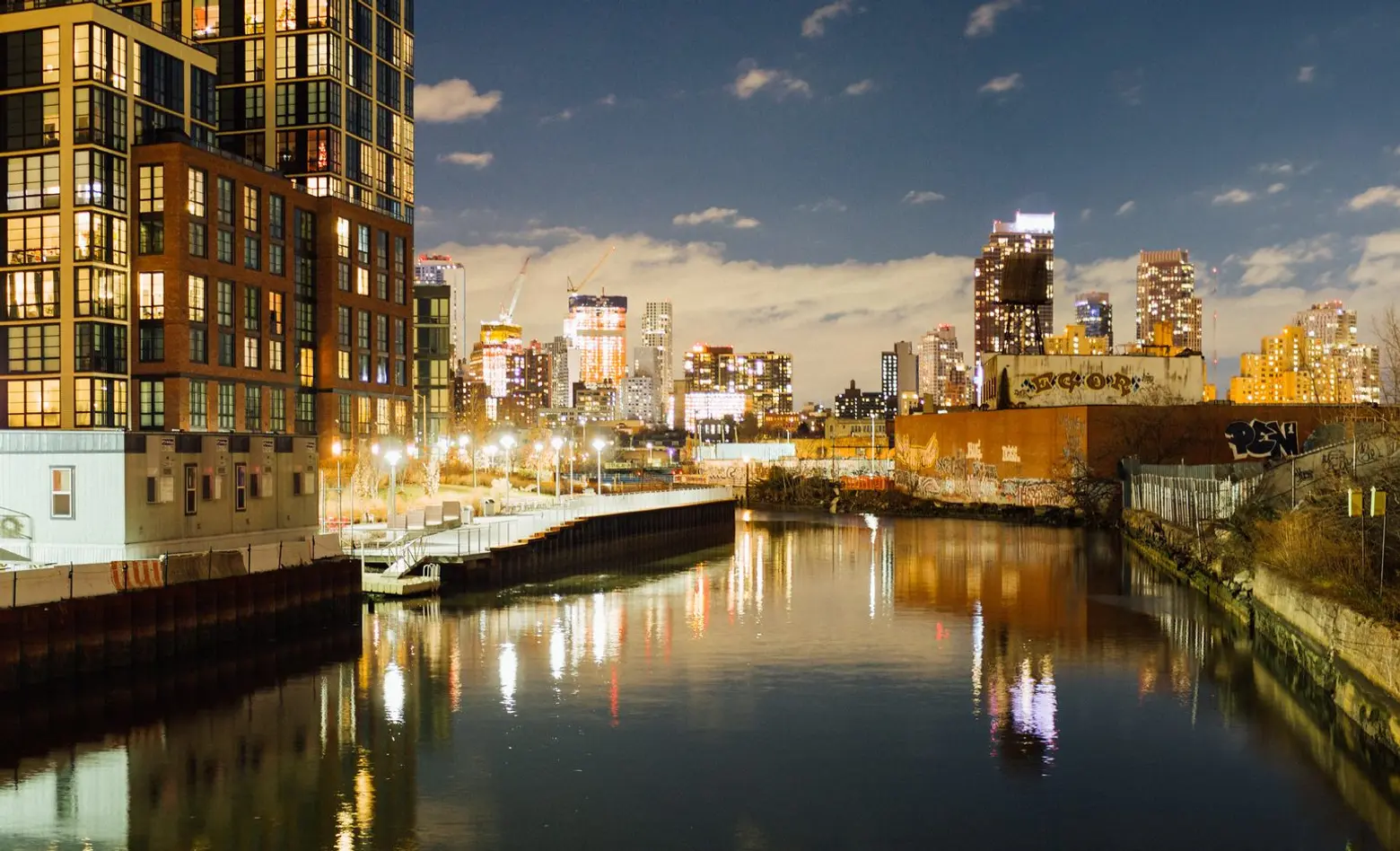 Mayor Bill de Blasio's ambitious plan for the rezoning of Brooklyn's formerly industrial Gowanus neighborhood was finally approved by the city's Land Use Committee on Wednesday, after a decade of debate and drama. As Gothamist reports, the rezoning plan, the current administration's largest, was given the green light after Council Members Brad Lander and Stephen Levin, the borough's Community Board 6, and members of the Gowanus Neighborhood Coalition for Justice reached a deal with City Hall that includes more investment in public housing and sewer infrastructure.
The upzoning means 8,000 new apartments will be built in the canal-adjacent neighborhood over the next ten years, with over one-third set aside for low- and moderate-income residents. The neighborhood, sandwiched between some of the city's most expensive and long-gentrified residential enclaves–and home to the borough's first Whole Foods Market, has also been a controversy magnet due to the infamous canal. The Superfund site is getting an EPA cleanup after a century of toxic pollution.
Those who have supported the plan–including mayor-elect Eric Adams–have pointed out that it is among the first to require affordable housing in a neighborhood that is affluent and mostly white. Developers have long dreamed of "revitalizing" the low-rise light industrial zone, envisioning it as a veritable "Venice-on-the-Gowanus."
Despite the 2010 Superfund designation, luxury developments like Lightstone Group's $350 million "Paris-on-the-Gowanus" at 365 Bond Street have prospered. The rezoning will bring 3,000 units of affordable housing to the neighborhood, along with a commitment to 100 percent affordability at the Public Place site, which is city-owned.
The deal was struck based on "Points of Agreement" (POA) assuring that a list of community requirements are met. Those goals include a $200 million investment by the city toward the modernization of the Gowanus Houses and Wyckoff Gardens public housing. An additional $174 million will bring much-needed upgrades to sewage infrastructure on Fourth Avenue. Many of the plan's opponents objected to the rezoning over fears that it would overwhelm the neighborhood's sewer system, which has a history of dumping sewage into the canal. The rezoning will also include investments in new public space, including an environmentally resilient waterfront esplanade.
"This community has created one of the best models for inclusive growth anywhere, with strong attention to equity and affordability, and mindful of the environmental history and future of this area," Lander said in a statement Wednesday. "Together, we are setting the stage for a more diverse, more sustainable, thriving, creative neighborhood that will welcome new residents while improving and preserving the ability of public housing residents, artists, small businesses, and neighbors to continue to thrive here for generations to come."
Randy Peers, president of Brooklyn Chamber of Commerce, said in a statement: "If we are going to continue to grow as a Borough and a City, we need to encourage density in areas that can sustain it while simultaneously addressing the need for affordable housing. Increased residential density is the foundation for small business success in Gowanus."
RELATED: