2,050 affordable apartments coming to former Peninsula Hospital site in Far Rockaway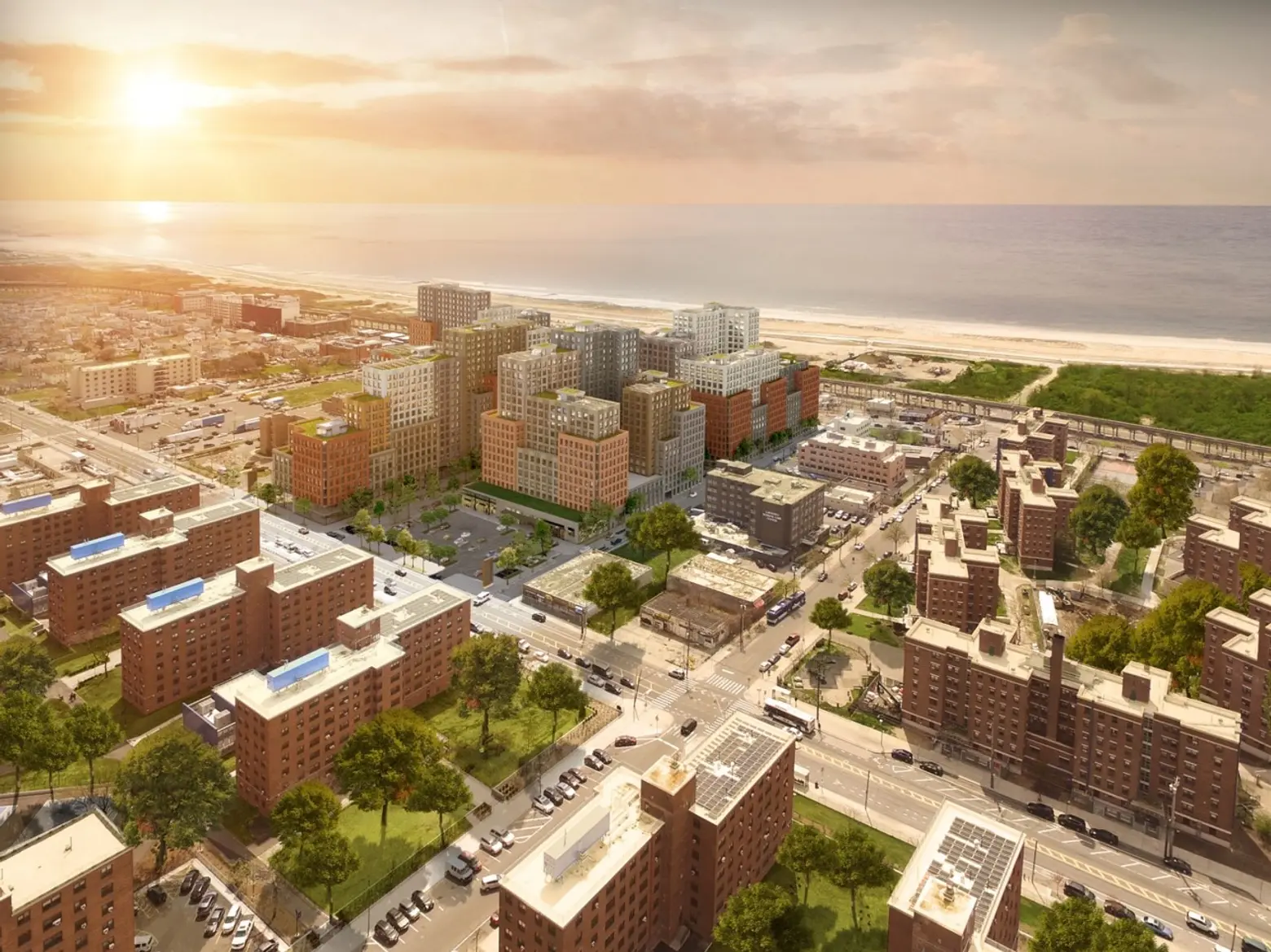 The City Council voted yesterday to give the go-ahead to the Arker Companies' massive redevelopment of the former Peninsula Hospital site in Far Rockaway. Named Edgemere Commons, the 11-building project in the Edgemere neighborhood will include 2,050 units of affordable housing, the largest such project by a private developer under the de Blasio administration. It will also have commercial, community facility, and retail space, including a new supermarket, as well as a playground and a public plaza (rendering also show, of course, a food hall). After 104 years, the hospital closed in 2012 due mainly to financial troubles. The Edgemere Commons project hopes to "reactivate the site" and "spur economic growth in Far Rockaway," according to a press release.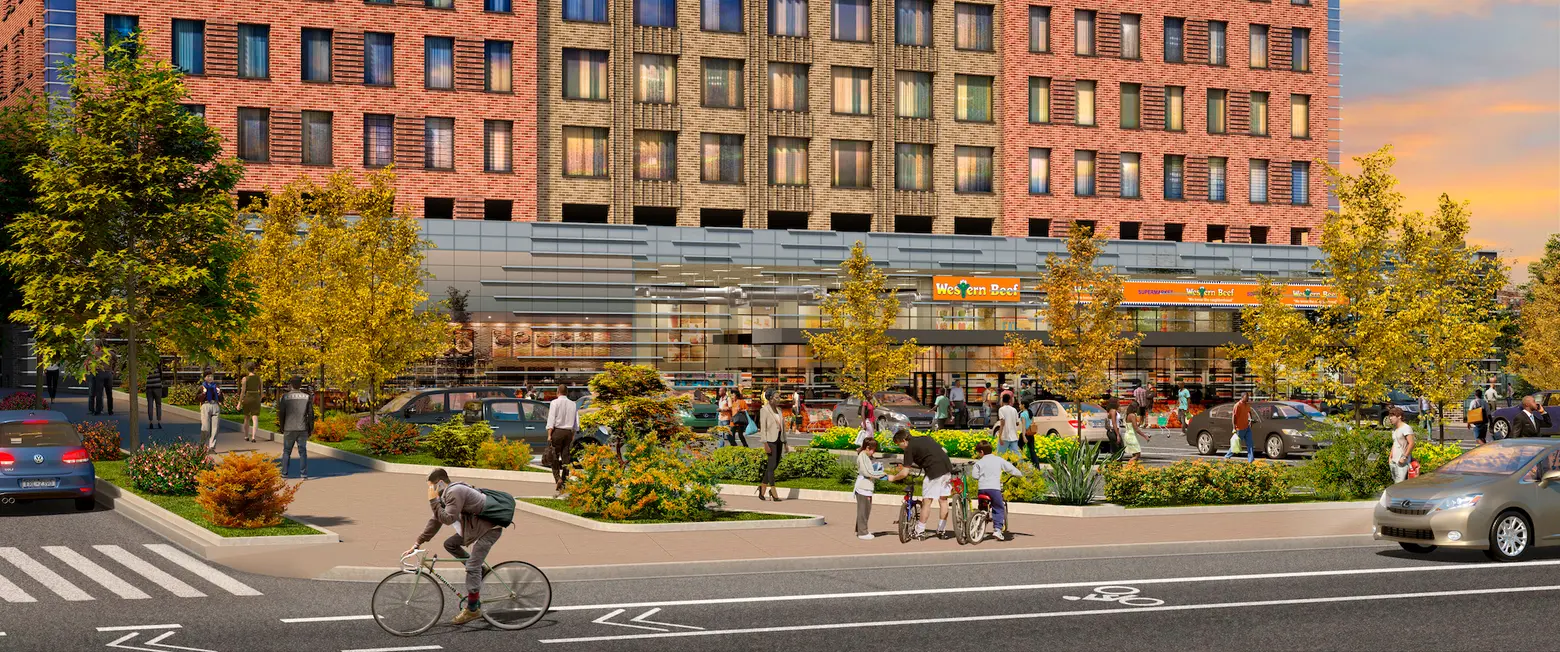 After being severely damaged during Hurricane Sandy in 2012, revitalization and rezoning plans for Edgemere began in 2015 when the city launched its Resilient Edgemere Community Planning Initiative. The following year, the city held meetings with local residents to create a "community wish list" and come up with ideas for infrastructure, affordable housing, and better beach access, as the Wall Street Journal reported at the time. They also looked at how to deal with the fact that almost all of Edgemere's 6,635 residents live in a flood zone. Developer the Arker Companies purchased the former hospital site along with the nonprofit Northeast Brooklyn Housing Development Corporation for $19 million just a few months later. In early 2018, they submitted their first proposal to the city and have been making their way through the ULURP process ever since.
Among the finalized Resilient Edgemere Community Plan's goals were the creation of more open space and more retail that would provide resources and jobs. To that end, Edgemere Commons will create 38,000 square feet of public open space; the public plaza will be designed in such a way that it can host special events. The 20,000-square-foot Western Beef supermarket will bring much-needed affordable and healthy food options to the community and will join 72,000 square feet of "local and national retailers, restaurants and coffee shops," says the press release. There will also be 150,000 square feet of commercial and community facility space. Of the 2,050 units of mixed-income affordable housing (open to those earning from 30 to 130 percent of the area median income), 270 units will be set aside for seniors.
When it comes to employment, the project is expected to create up to 350 annual construction jobs and 650 permanent jobs. It's also expected to spur nearly $1.5 billion in economic development, especially important since Edgemere has the lowest AMI on the Rockaway Peninsula (the median household income was $30,400 as of 2018) and one of the lowest job-growth rates, according to a report last year from the Office of the New York State Comptroller. In addition, the Arker Companies has committed to creating a $2 million Community Benefits and Youth Development fund and building a community center within the development.
Two of the other big parts of the Community Plan are to protect the neighborhood from future flooding and create resilient housing. Edgemere Commons will implement bioswales, a bioretention rainwater system, green and gray water infrastructure, tree pits, and standby generators. To meet the goal of improving streets and transportation, the project intends to create a new street network.
Edgemere Commons is being designed by Aufgang Architects. Principal Ariel Aufgang said in a statement, "Our Master Plan for the development of Edgemere Commons is the result of years of collaboration between the Far Rockaway community-at-large and a group of the regions foremost experts in the fields of design and construction. We are excited to move forward with this project to get scores of families out of substandard housing and into this dynamic mixed-use project."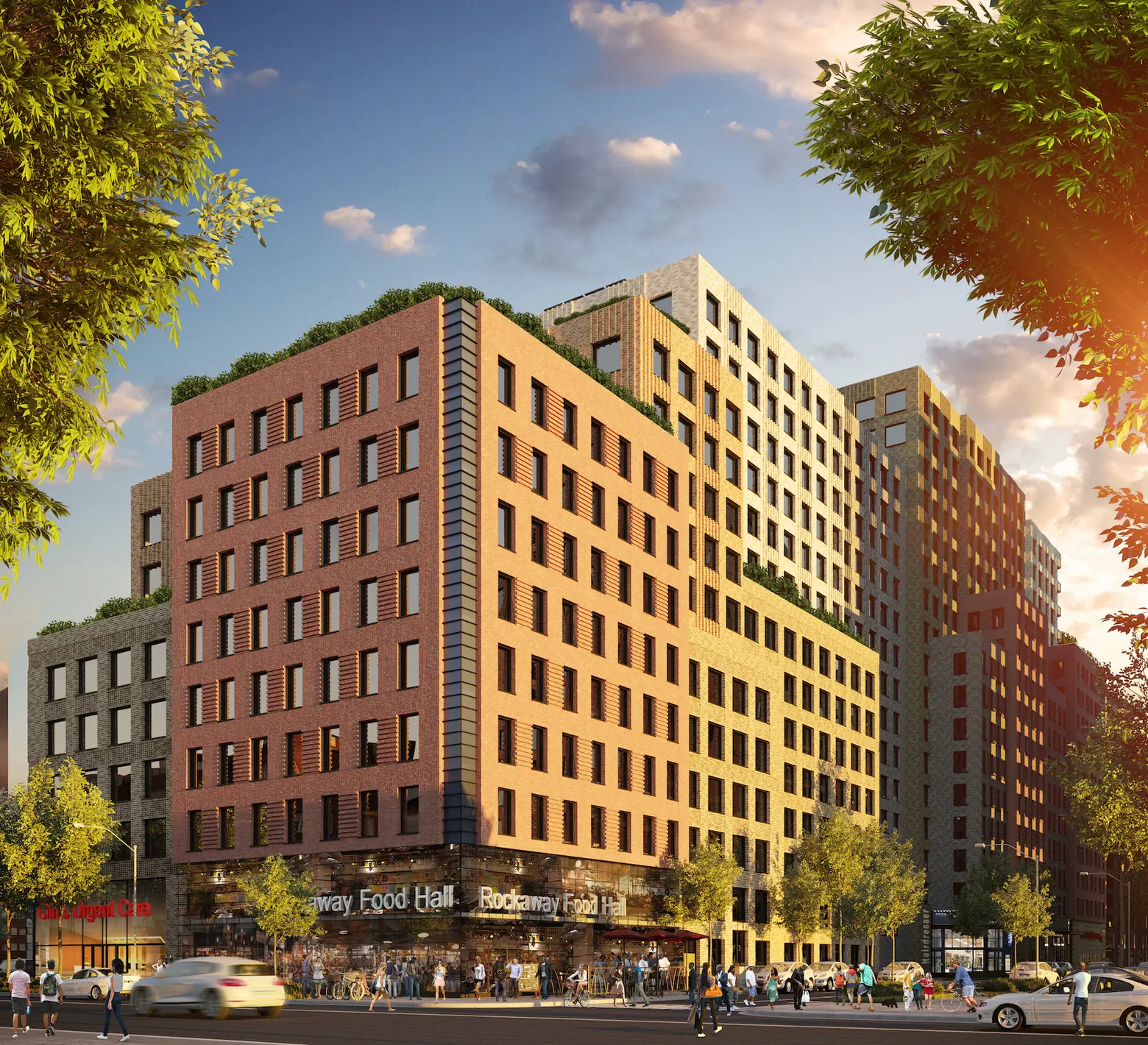 Council Member Donovan Richards said, "This project will serve as a template for what a resilient mixed-use development should look like in the 21st Century. During a time when our city is facing one of the largest housing crises we have ever witnessed, this project will produce over 2,000 units of true affordable housing. I want to thank the Arker Companies for their commitment to the Rockaway community and I would also like to thank Community Board 14, the Peninsula Hospital Taskforce, and all of the community stakeholders who engaged in this project."
Construction on the project will begin next year and is expected to be done in five phases, with a final completion date of 2034.
RELATED:
All renderings by Aufgang Architects