113 chances to live beachfront in Far Rockaway, from $331/month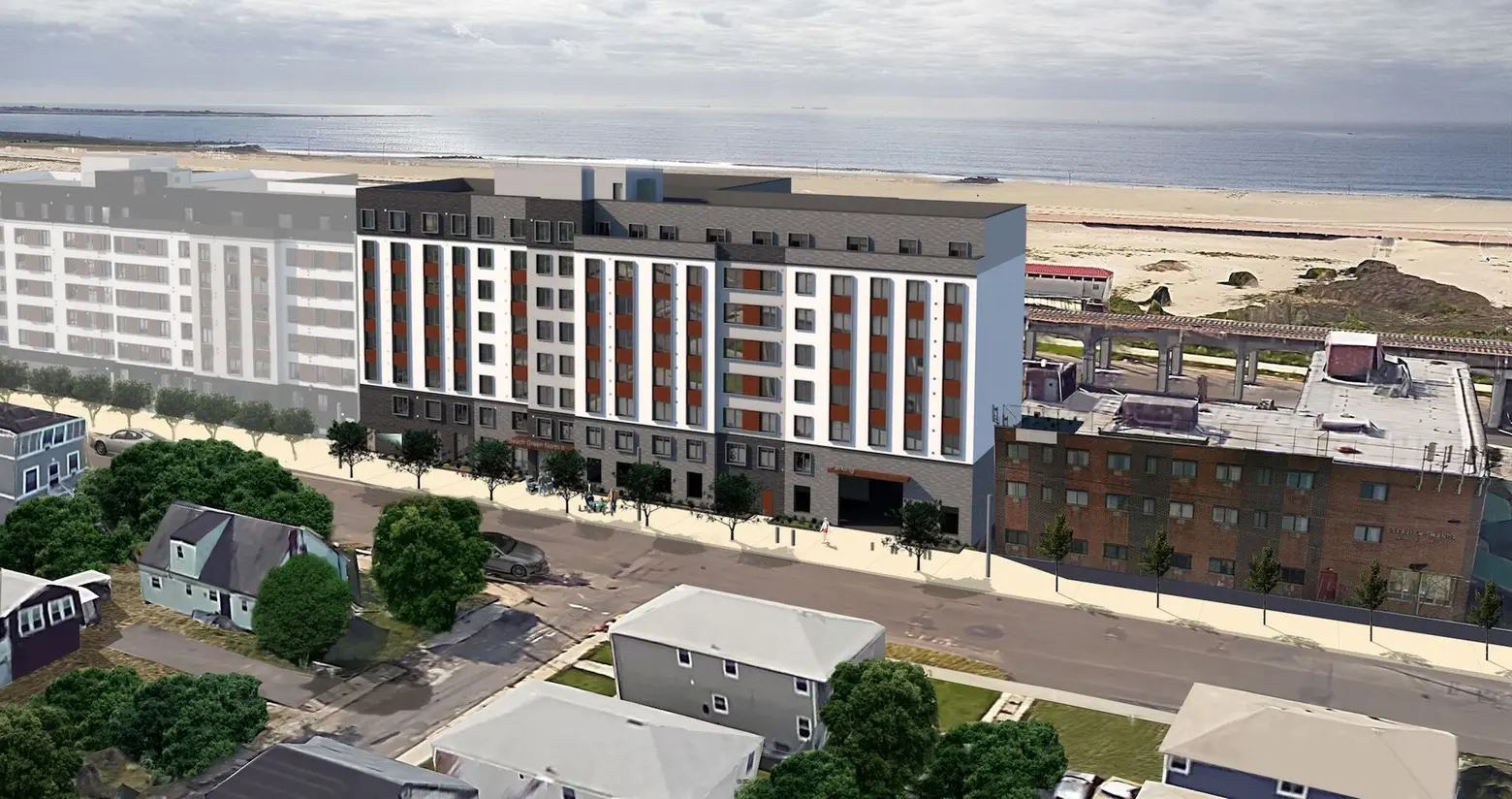 Courtesy of Curtis + Ginsberg Architects
A lottery launched this week for 113 mixed-income apartments in Edgemere, a beach-front neighborhood just outside of Far Rockaway in Queens. Designed by Curtis + Ginsburg, the eight-story building meets passive house certification by utilizing a geo-thermal cooling and heating system with a resilient, flood-proof design. Qualifying New Yorkers earning 30, 40, 50, 60 and 100 percent of the area median income can apply for the available units at 45-19 Rockaway Beach Boulevard, which range from a $331/month studio to a $1,910/month three-bedroom.
The building, which broke ground last June, is the second phase of the Beach Green Dunes, a project that aimed to bring more retail and affordable housing near the Beach 44th subway station. Phase one, unveiled in 2017, included 101 rental units set aside aside for those with incomes that do not exceed 100 percent of the AMI.
Both buildings feature resilient design elements, like wet and dry flood proofing to both prevent and recover from potential flooding. The residential areas are meant to prevent molding from water, with the commercial space on the ground floor serving as floodgates.
Phase two, overseen by the city and L+M Development Partners, contains 127 units total, 3,000 square feet of ground-floor retail, and about 50 parking spots. Residents at Beach Green Dunes II can enjoy amenities like a landscaped courtyard, bike storage, on-site laundry, and a children's playground. It sits next to the A train at Beach 44th Street and is just two blocks from the Rockaway Beach Boardwalk.


Qualifying New Yorkers can apply for the affordable units at Beach Green Dunes until May 17, 2019. Residents of Queens Community Board 14 will be given preference for 50 percent of the units. Complete details on how to apply are available here (pdf). Questions regarding this offer must be referred to NYC's Housing Connect department by dialing 311.
RELATED: