Mixed-income development with healthy grocery store breaks ground in East New York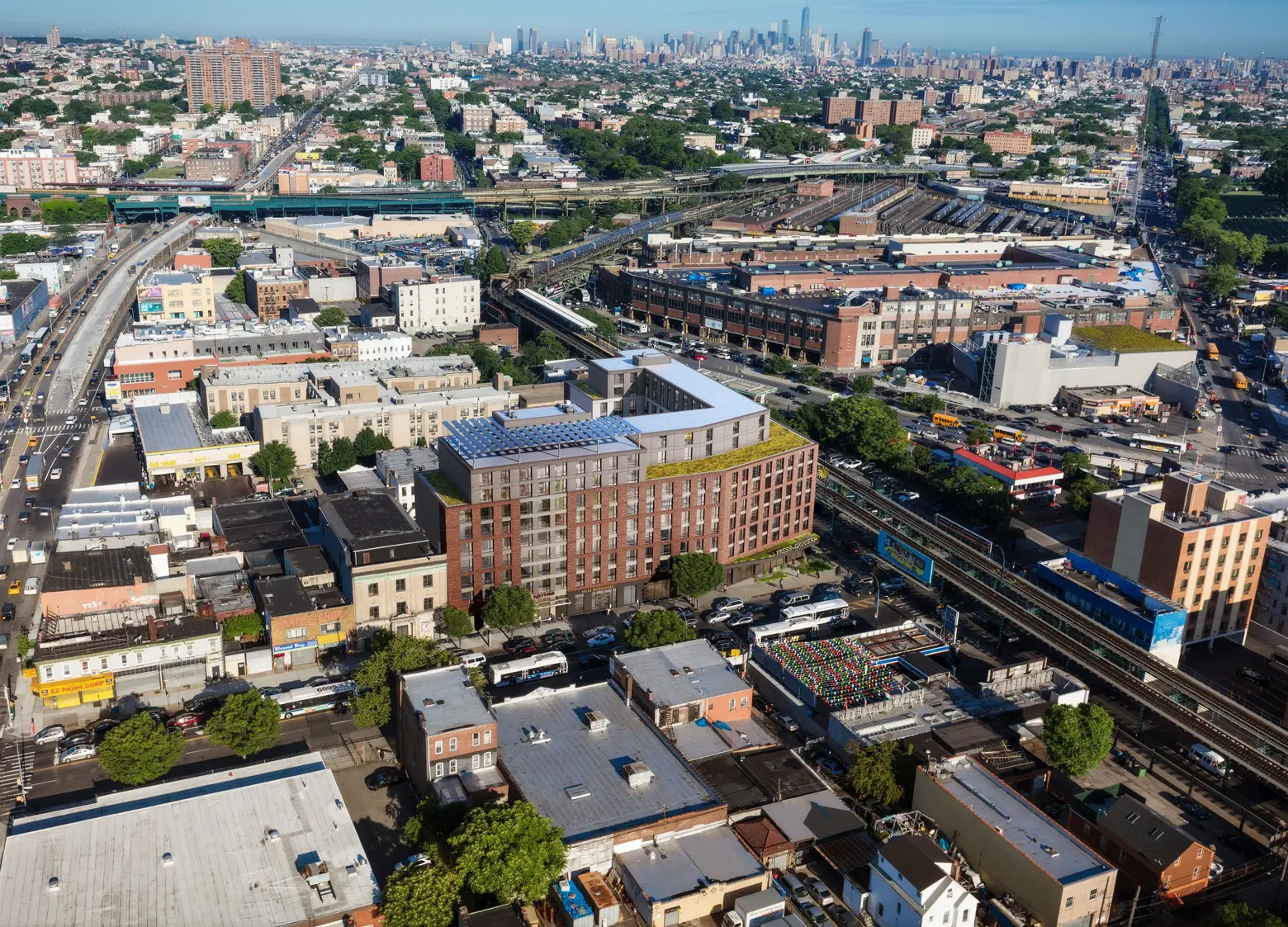 Renderings courtesy of Pennrose, LLC
A groundbreaking celebration this week officially kicked off construction at 50 Pennsylvania Avenue in East New York. The Dattner Architects-designed project—referred to as 50 Penn—is led by Philadelphia-based developer Pennrose with RiseBoro Community Partnership, who will manage the property. It will bring 218 units of affordable and moderate-income housing to the neighborhood, alongside retail options on the ground floor that will include a healthy grocery store. The development is slated for completion in July 2021.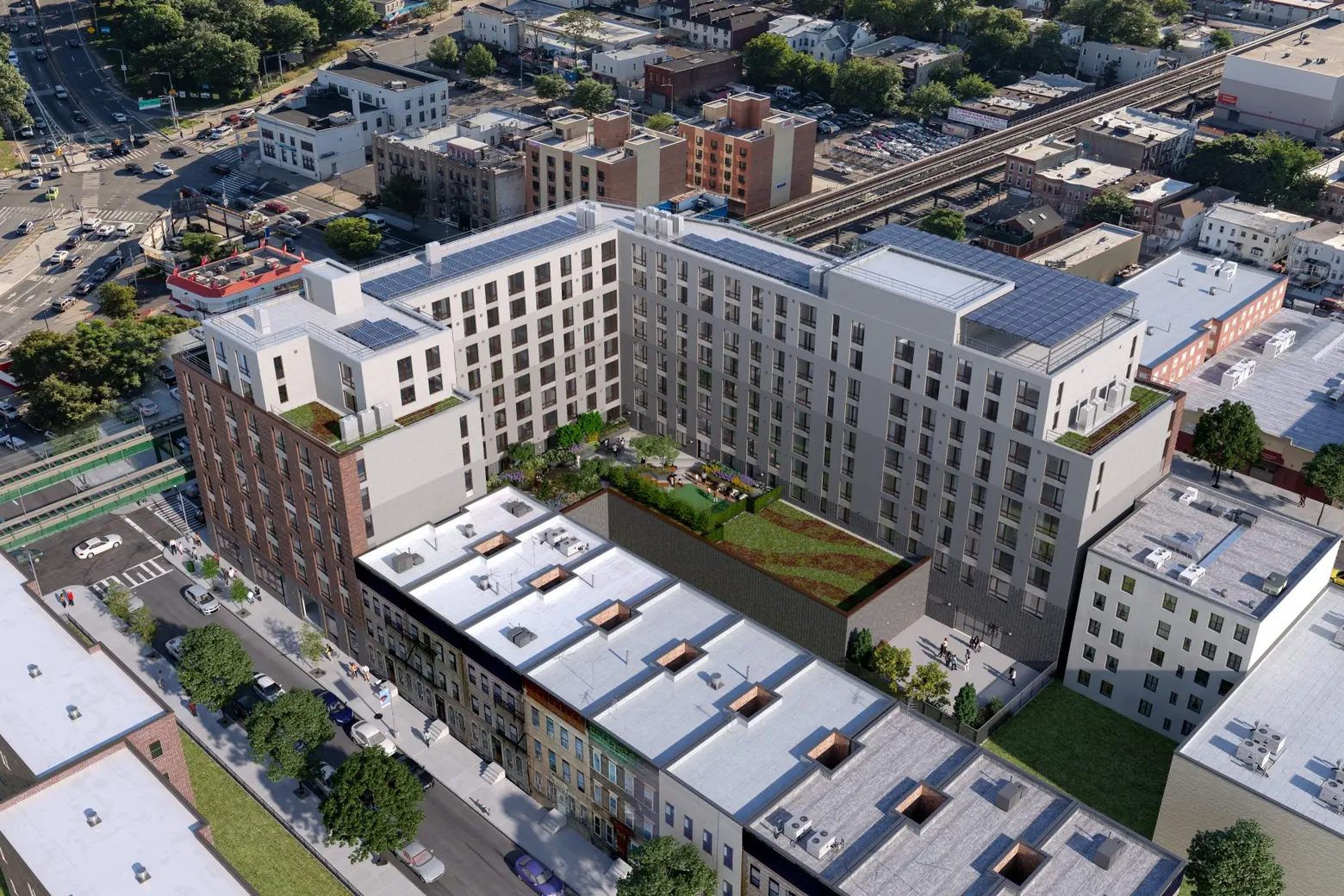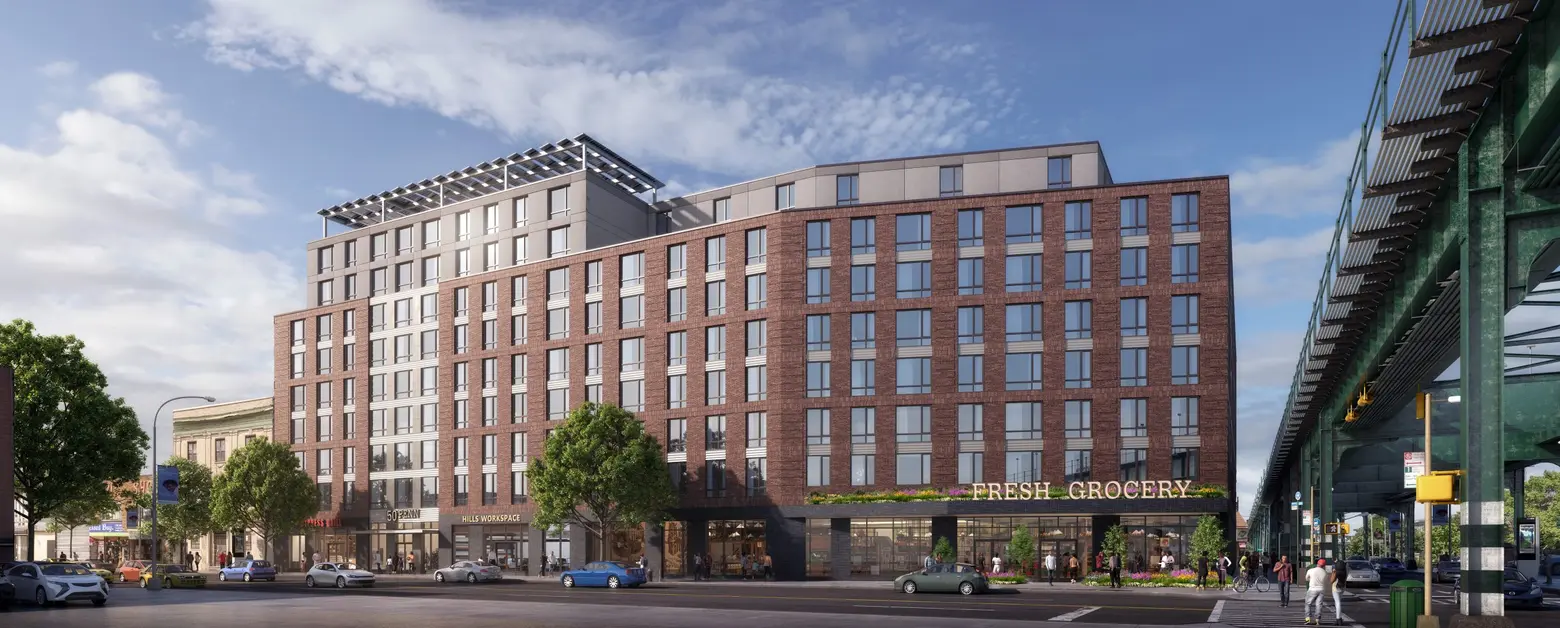 A recent press release notes that Pennrose acquired the site (which used to house a single-story furniture store) and developed 50 Penn "specifically to meet the key priorities identified in the East New York Neighborhood Plan." Developed in collaboration with area residents and local officials, the plan promotes the creation of affordable housing, economic development, and investment in community resources.
"A recent comprehensive community engagement process gave us the chance to learn from residents of East New York and the surrounding areas," said HPD Commissioner Louise Carroll. "Today we celebrate the start of construction on what we've heard residents desire most—new accessible affordable housing opportunities."
The building will contain 218 residences with 42 of those units set aside for formerly homeless and elderly households that will receive supportive services from RiseBoro. The residences will be available for tenants at a range of income levels, from "extremely low" to 80 percent of the area median income.
"The project not only provides much-needed deeply affordable and inclusive housing units, but also meets many of the other community priorities, including advancing local economic opportunity, food justice, and environmental stewardship," added Scott Short, CEO of RiseBoro Community Partnership.
As part of the NYC Department of City Planning FRESH program, the ground floor will be anchored by a grocery store. Two additional street-front retail spaces will be leased to local retailers at discounted rents per the East New York Retail Preservation Program.
"Our main priority is always building properties that offer long-term, community-wide benefits," said Timothy I. Henkel, principal and senior vice president at Pennrose, in a press statement. "50 Penn has the potential to contribute to the economic vibrancy heralded by the rezoning of East New York, by at once preserving outlets for local entrepreneurship, providing a diverse mix of affordable and intergenerational housing options, creating much-needed local jobs, and improving healthy food access."
Residents of 50 Penn will have access to on-site laundry facilities, a community room, fitness lounge, and a private landscaped terrace on the second floor. The project has been designed to meet Enterprise Green Communities Criteria and will incorporate solar photovoltaic panels and a green roof to offset the carbon footprint of the project and minimize stormwater runoff.
This is not the first time that Pennrose and RiseBoro partner together. They're currently working with Habitat for Humanity New York City on Haven Green, the affordable senior housing development that will rise on the site of the Elizabeth Street Garden.
RELATED:
Renderings courtesy of Pennrose, LLC