Affordable housing complex at former Bronx juvenile jail site breaks ground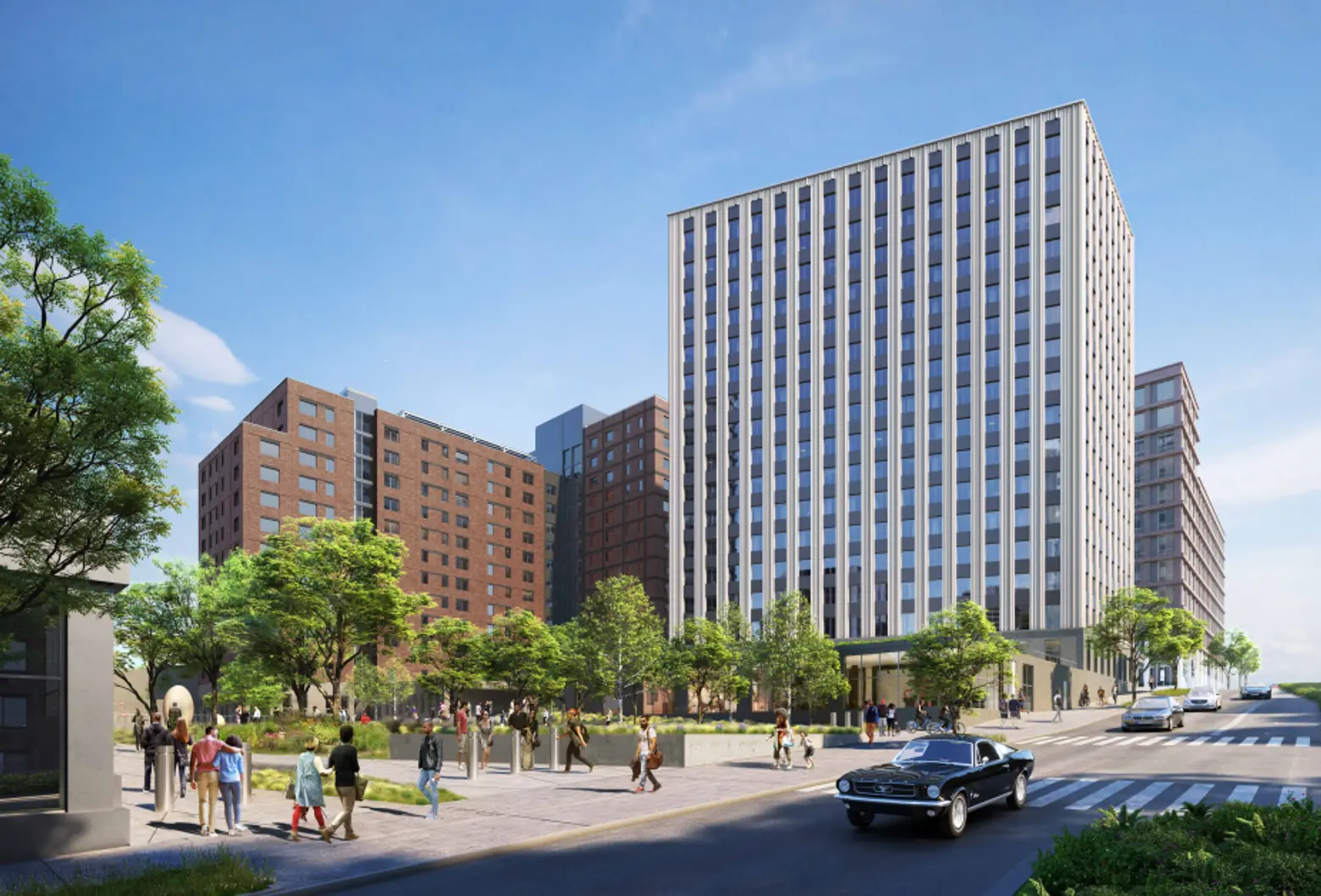 The city on Monday broke ground on a five-acre mixed-use project that will bring more than 700 affordable apartments, open space, and manufacturing space to the Bronx. The Hunts Point complex, called the Penninsula, will sit at the site of the former Spofford Juvenile Detention Center, which closed in 2011 following reports of cruel conditions. Construction will now kick off on the project's first phase and includes space for industrial and light manufacturing businesses and 183 deeply affordable housing units.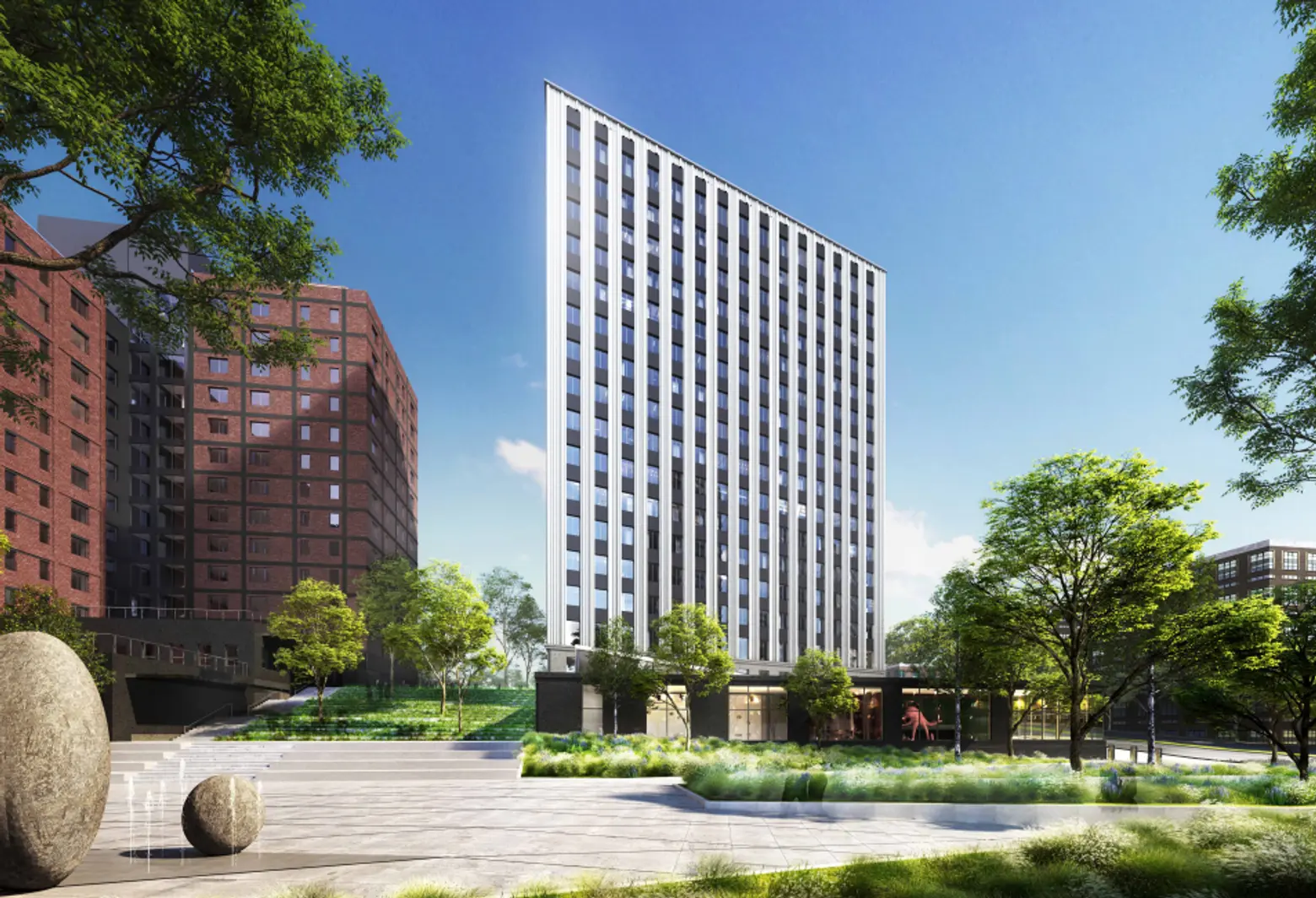 "With today's groundbreaking, we begin the transformation of a former detention center into a vibrant affordable housing campus and wellspring of economic opportunity," Louise Carroll, Housing Preservation and Development Commissioner, said in a press release.
"The Peninsula is the result of a collaborative interagency effort to invest in our communities and create better outcomes for the New Yorkers we serve."
The Spofford Juvenile Detention Center, or the Bridges Juvenile Center, was notorious for its cruelty to children and awful conditions. After more than 50 years in operation, and years of work from criminal justice advocates and nonprofit groups, the city shuttered Spofford Juvenile Detention Center in 2011.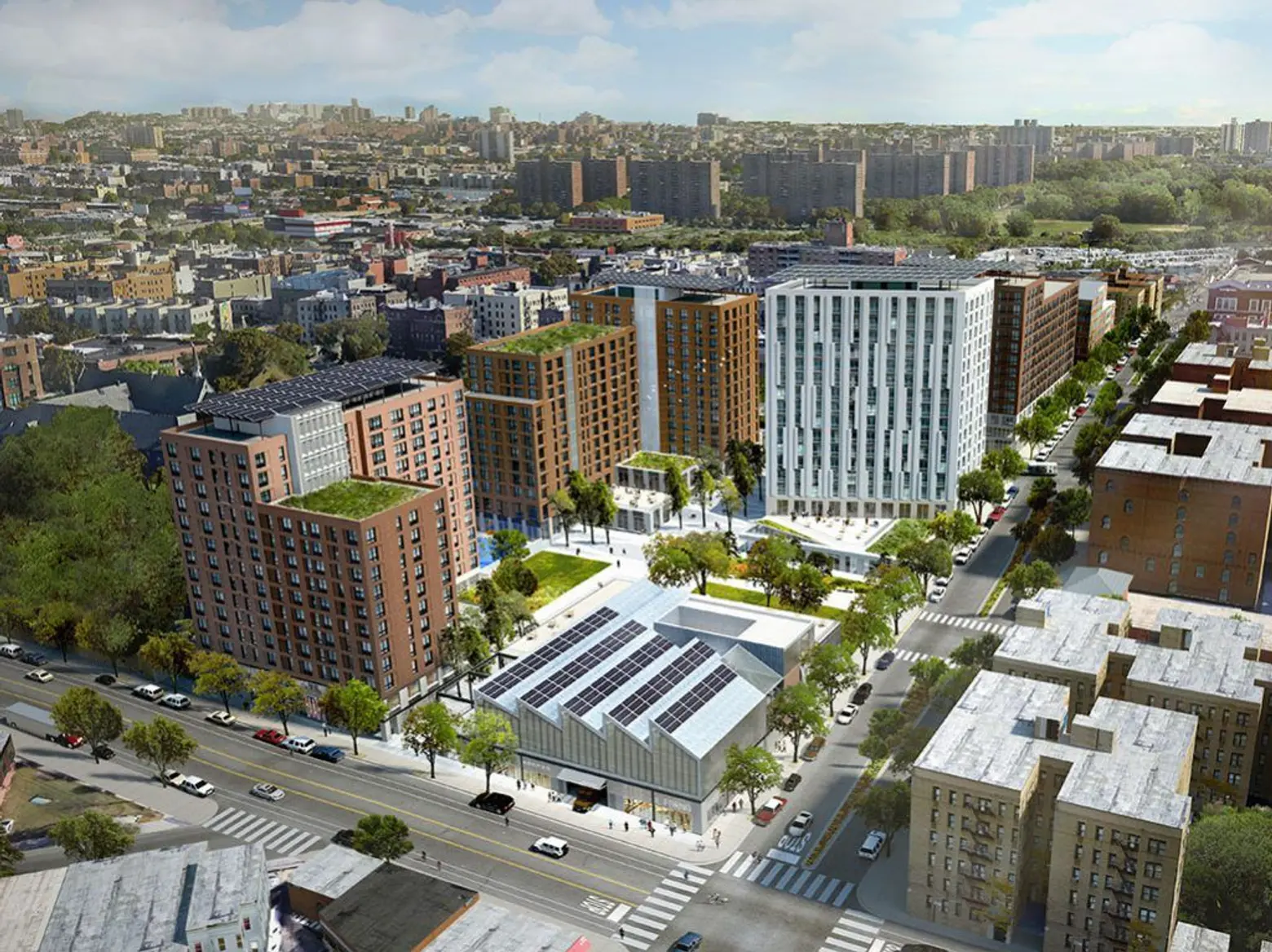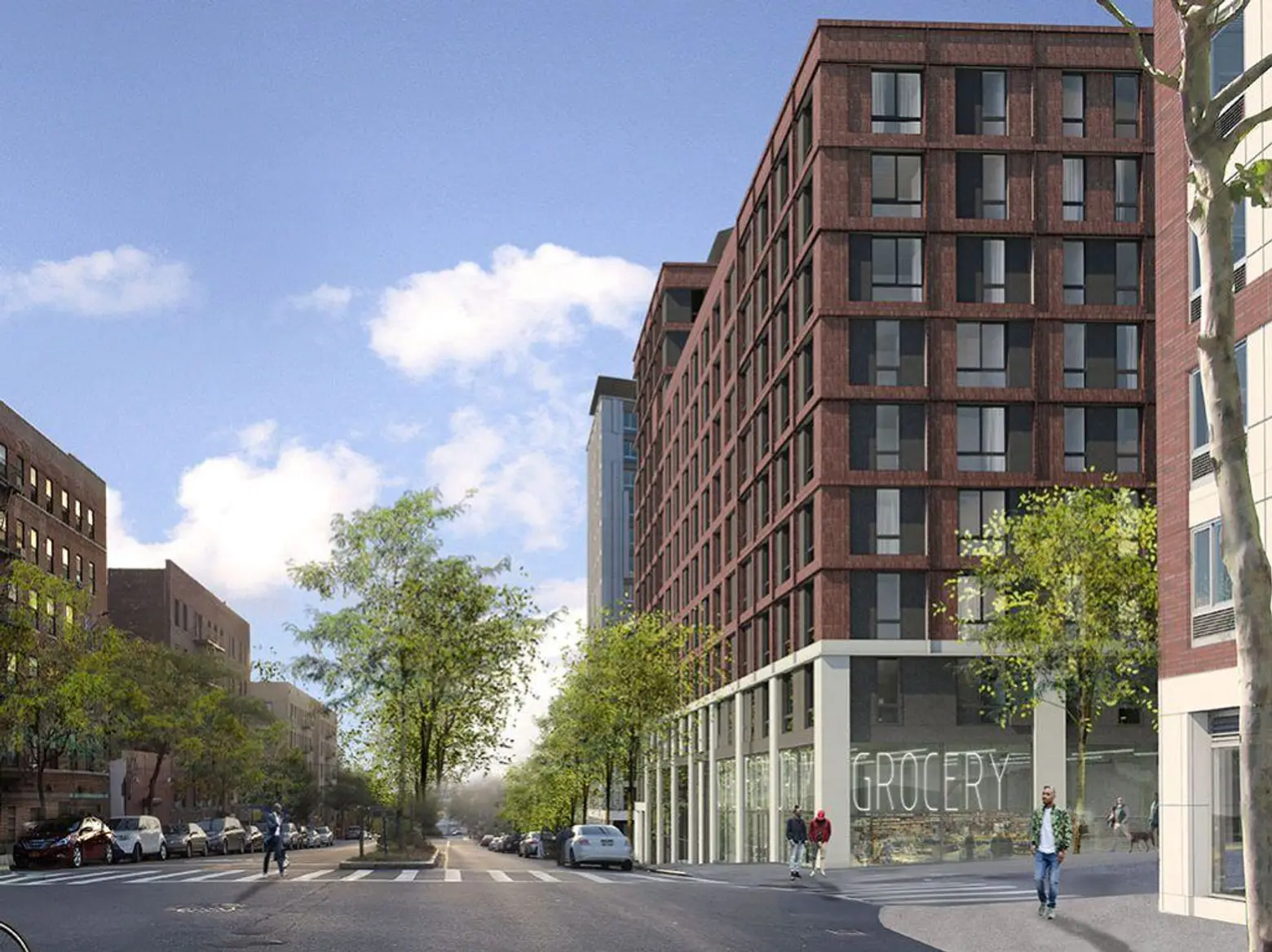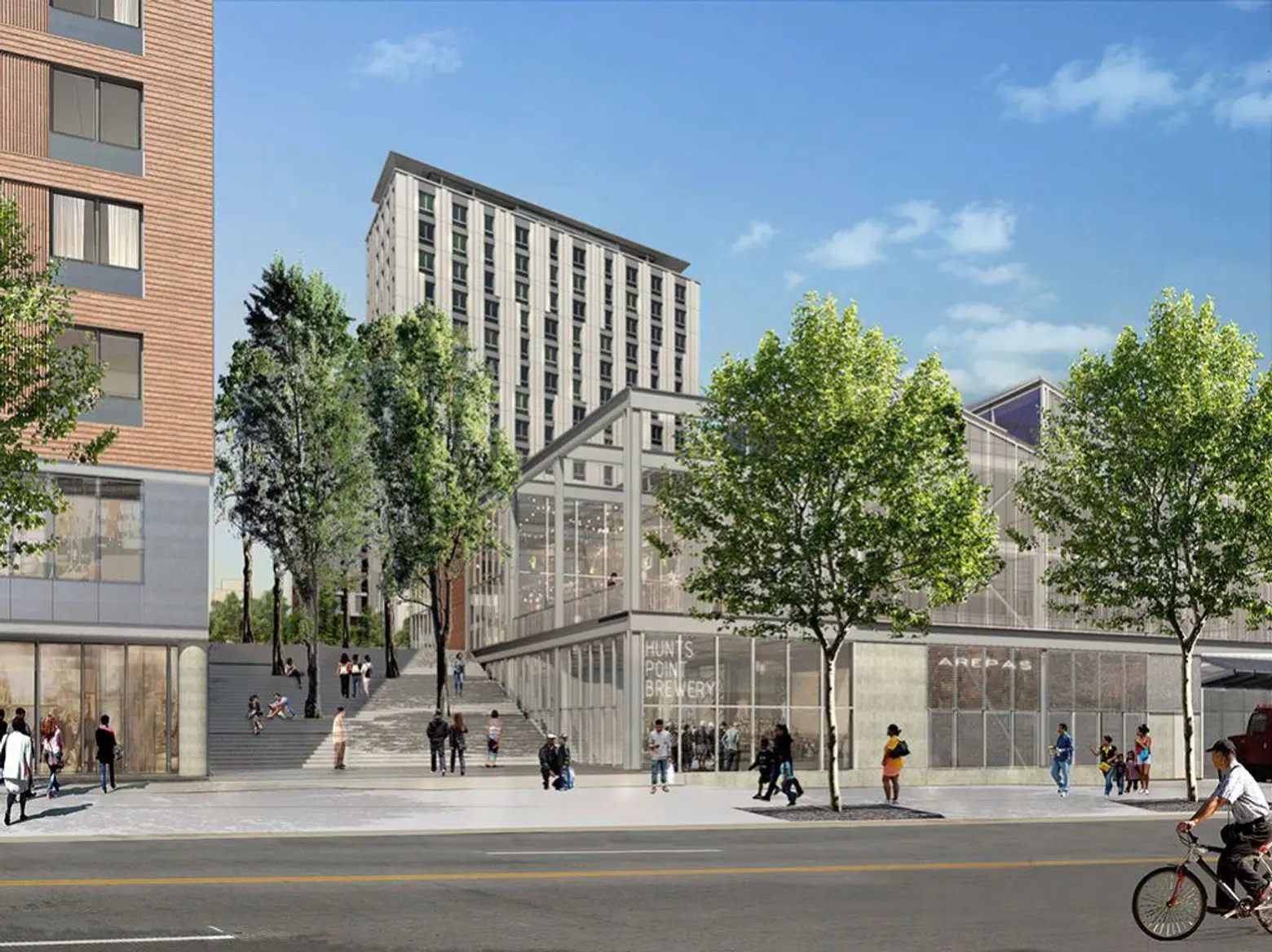 Renderings by BLA and WXY
In 2016, the city's Economic Development Corporation, along with HPD and the Housing Development Corporation (HDC), selected the Gilbane Development Company, Hudson Companies, and the Mutual Housing Association of New York to develop the property after a request for expressions of interest process. WXY Architecture + Urban Design and Body Lawson Associates are collaborating on the design.
Phase one of the Peninsula project includes 56,000 square feet of industrial space for local small or medium-sized manufacturing businesses and 183 apartments for New Yorkers with incomes considered extremely low, very low, and low. Plus, 10 percent of the units will be designated for those formerly homeless. This residential phase will cost $121.5 million and wrap up in 2021.
In total, the development will contain 740 units of affordable housing, ranging in size from studios to four bedrooms. Peninsula includes 52,000 square feet of open space, 56,000 square feet of light industrial space, 53,500 square feet of community space, which includes a daycare center and artist workshop.
There will also be a health center operated by Urban Health Plan, retail space, and an on-site educational facility. As 6sqft previously reported, local tenants like Il Forno Bakery, Soul Snacks, Bascom Catering, Mass Ideation, Hunts Point Brewery, Lightbox film studio and a 15,000-square-foot grocery store will open at the development. The project is expected to be completed by 2025.
"For more than five decades, the grounds of Spofford Juvenile Detention Center symbolized a system that caused much pain and despair," Council Member Rafael Salamanca, who represents Hunts Point, said in a press release. "While we will never forget the terrible legacy of Spofford, a transformative movement spearheaded by the community has led to a groundbreaking of hope."
RELATED: