Veselka opens new outpost in Grand Central Terminal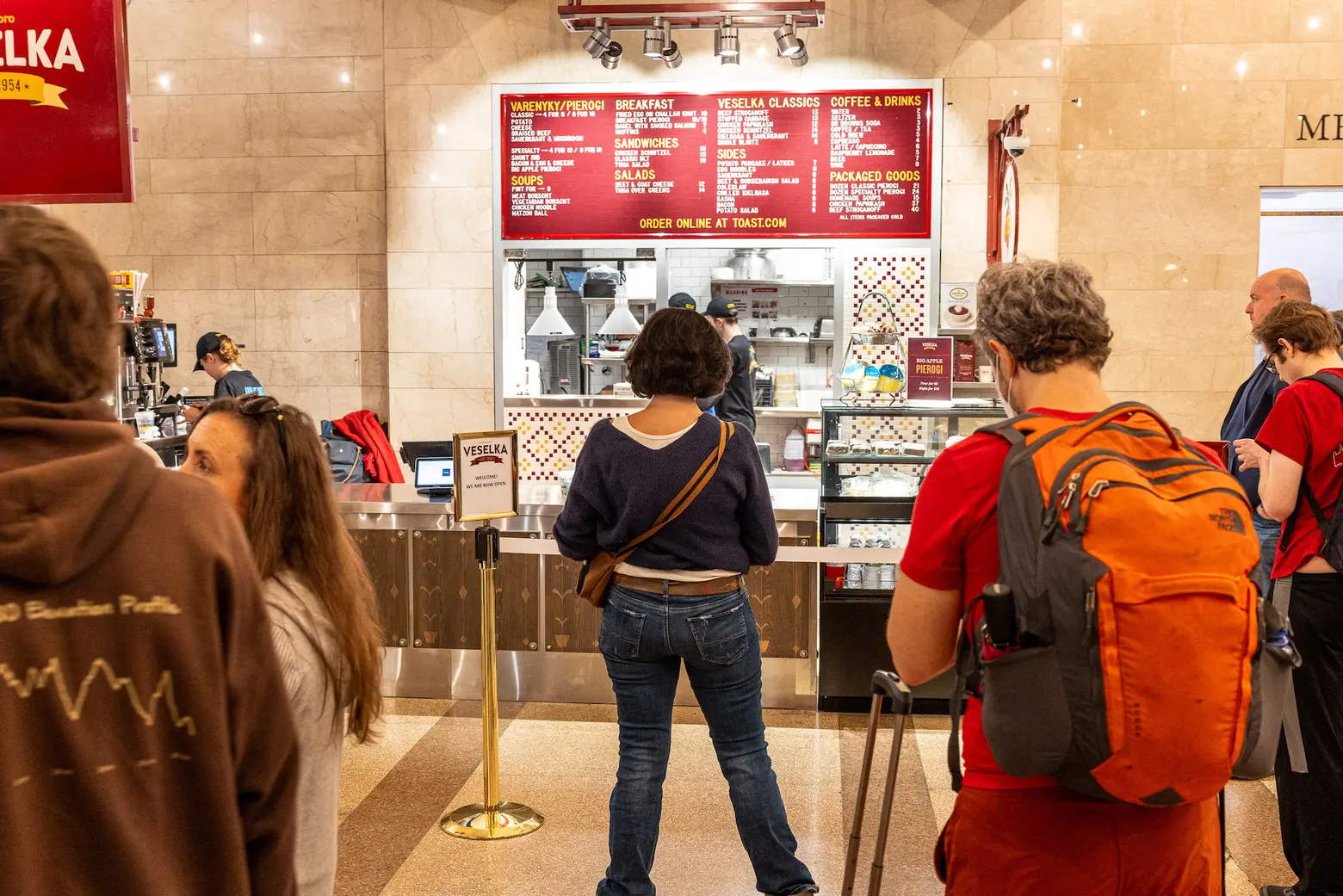 Photo courtesy of Bradley Skaggs
The East Village's legendary Veselka restaurant is now serving up its signature Ukrainian delicacies in Grand Central Terminal. Located in the dining concourse in the historic terminal, the kiosk offers Veselka classics to-go, like borscht, cabbage rolls, and, of course, pierogi. Perfect for the commuter crowd, the outpost also sells coffee and breakfast items, including bacon, egg, and cheese pierogi, a fried egg sandwich on a challah knot, bagels, and muffins.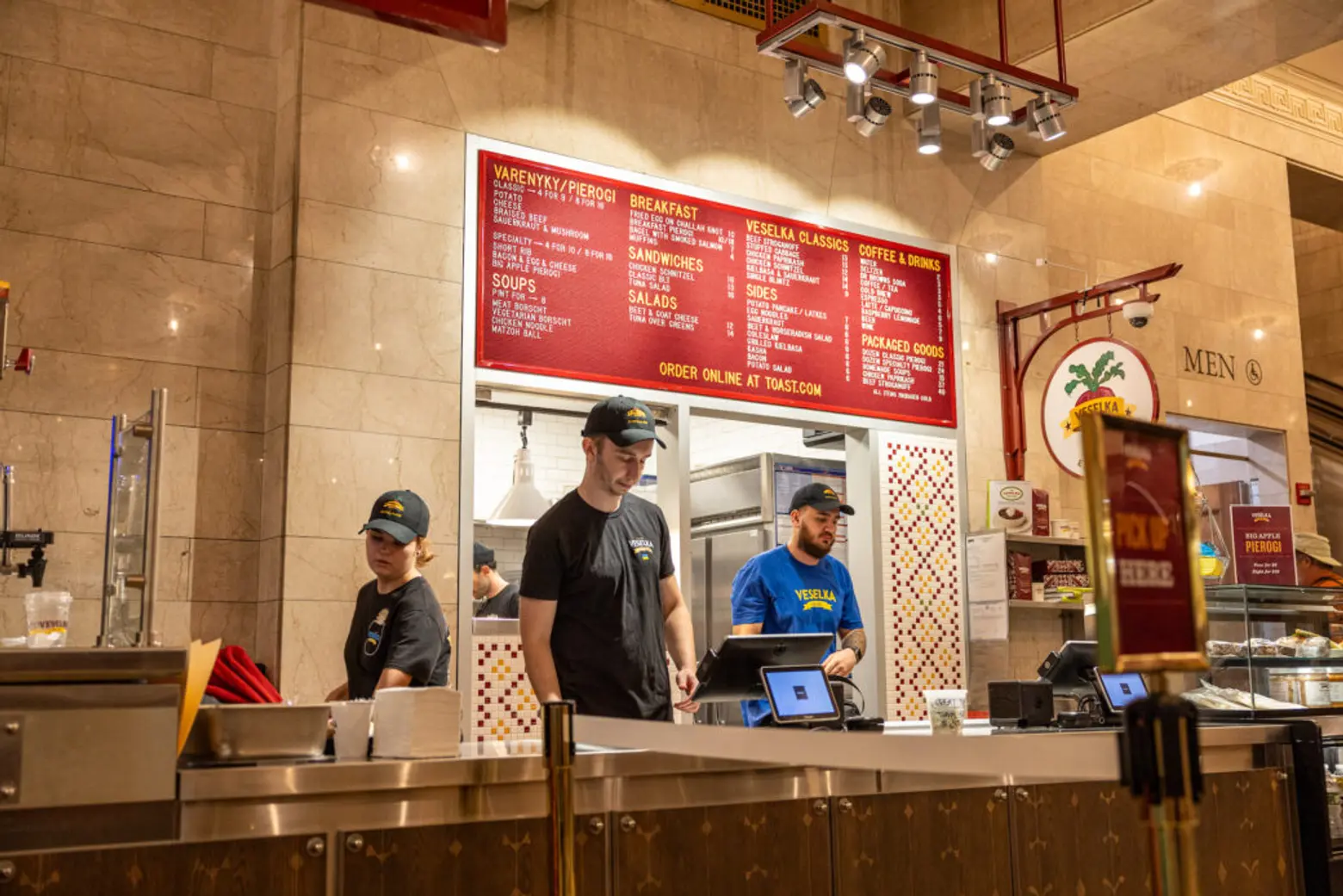 Founded in the East Village in 1954 by two Ukrainian immigrants Wolodymyr and Olha Darmochwal, Veselka quickly grew to become a neighborhood staple, highly regarded for its traditional Ukrainian cuisine. Menu favorites include pierogies, stroganoff, and goulash. The restaurant is now owned and managed by their grandson, Jason Birchard.
In 2018, Veselka opened a new quick-service location with a limited menu at The Market Line at Essex Crossing on the Lower East Side.
Veselka was hit hard financially by the Covid-19 pandemic but fared better than most businesses due to its large outdoor dining space. Still, the restaurant struggled to stay open. Once famous for its 24-hour service, Veselka started closing at 9 p.m.
In March, Jason Birchard, co-owner of Veselka, announced that the East Village staple would be opening a new 5,000-square-foot location in Williamsburg. The new location will include retail space selling merchandise like clothes, water bottles, and more in the colors of the Ukrainian flag. It will also offer Veselka-branded plates and cookware.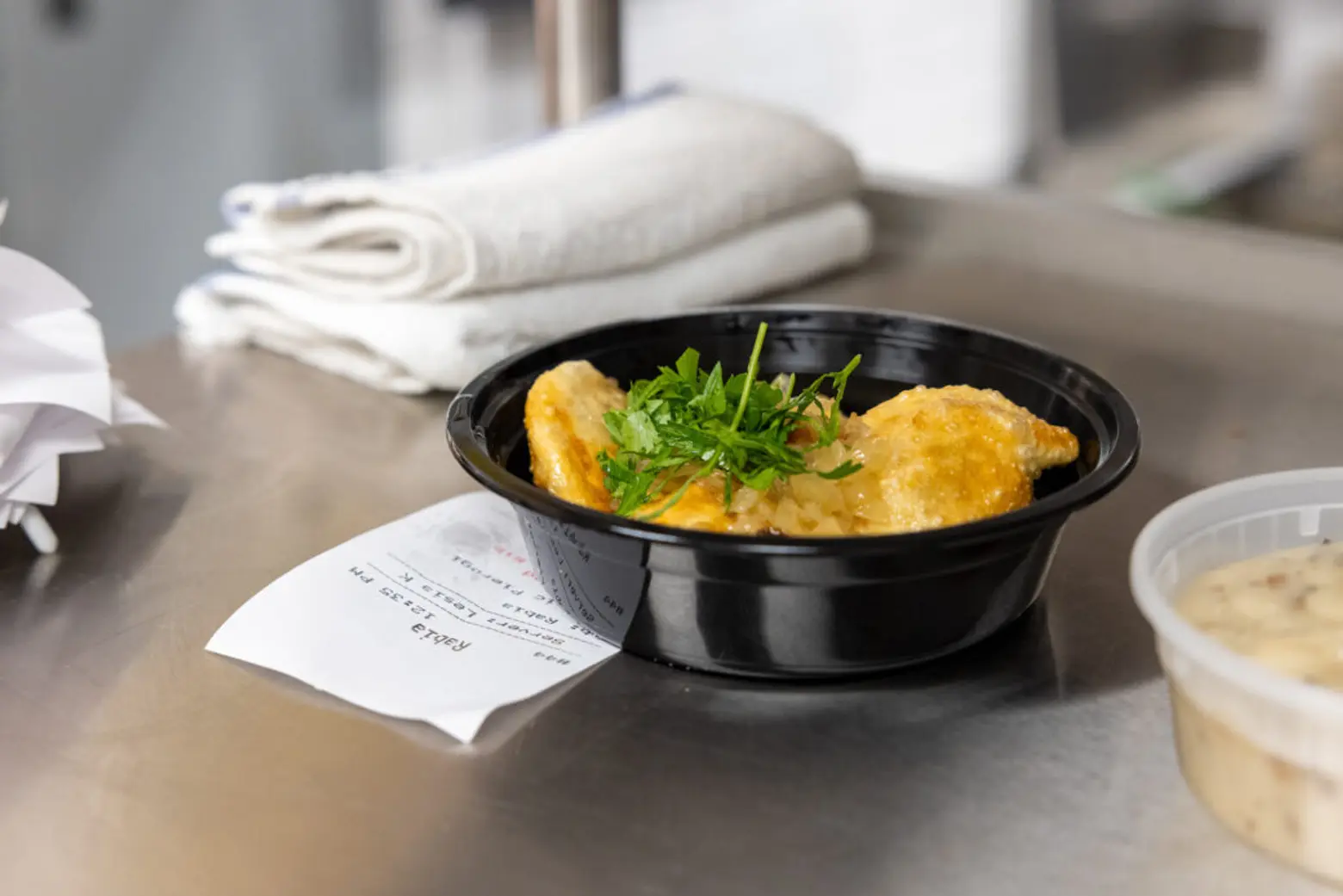 Once the new Brooklyn location opens, Veselka's owners will close its East Village location at 144 Second Avenue, for renovations. Birchard had been planning to close the restaurant for work in 2022, but when Russia invaded Ukraine, he decided to keep it open to raise money for relief.
During the first year of the war, the restaurant donated 100 percent of its proceeds from the sale of borscht to victims of the war in Ukraine, which added up to roughly $300,000, according to TimeOut New York.
Veselka Grand Central Terminal is open from Mondays through Fridays from 8 a.m. to 9 p.m. and from Saturdays through Sundays from 10 a.m. to 7 p.m. The menu can be found here.
RELATED: