No reopening plans for NJ's American Dream mall as tenants flee and owner skips mortgage payments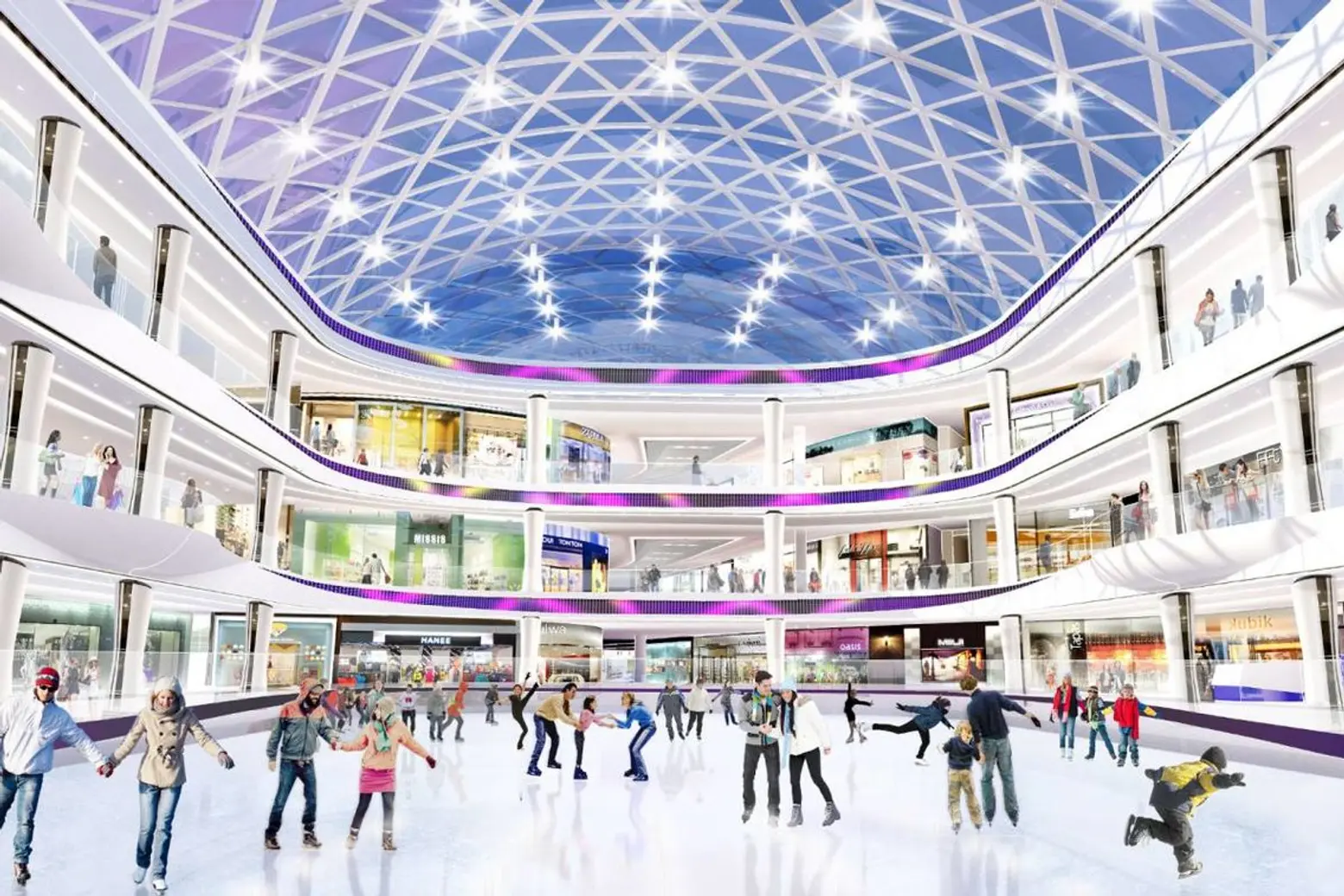 Rendering courtesy of Triple Five Group
After nearly two decades of construction delays, New Jersey's mega-mall American Dream partially opened last October. Six months later, the three-million-square-foot venue was forced to close its doors because of the coronavirus pandemic. Now, even as the state continues its gradual reopening, there is still no reopening date for the $5 billion mall. As NJ.com reported, owner Triple Five Group has missed three consecutive mortgage payments and retail tenants are getting out of their leases at the space.
Before it closed in March, 8 percent of American Dream had opened to the public, including the Nickelodeon-branded indoor theme park, an NHL regulation-sized ice skating rink, golf course, and an indoor ski slope. The rest of the mall was set to open in phases, which included an observation wheel "nearly as tall as the Statue of Liberty," a 400-seat food hall, up to 18 full-service restaurants, and retailers like Saks Fifth Avenue, Tiffany & Co., Dolce & Gabbana, Zara, H&M, Uniqlo, and more were expected to open at the mall this March.
The mall lost two tenants prior to the pandemic, Lord & Taylor and Barneys New York, both of which got out of their lease at the mall after closing stores in New York. According to NJ.com, other possible tenants currently considering ditching their space at American Deam include Forever 21, Victoria's Secret, and The Children's Place, which are all struggling amid the pandemic.
Tenants CMX Cinemas and GNC both filed bankruptcy because of COVID-19, with the latter no longer opening at the mall, according to the Commercial Observer.
The Real Deal reported last month that Triple Five Group missed its third consecutive $7 million payment on its $1.4 billion mortgage for Minnesota's Mall of America, which is being used as collateral to pay for the New Jersey project. On top of that, contractors and subcontractors have filed over $13 million in construction liens for unpaid work.
In a statement to NJ.com last month, a spokesperson for American Dream said: "We are aware of the liens and thank all project-related vendors for their patience during this global pandemic, and have been reaching out to those who have been affected. We are working with our tenants and vendors to ensure each of these payment items are addressed as the state continues to re-open, restart and resume business."
Since its conception, American Dream, originally named Xanadu, hit roadblock after roadblock. Former Gov. Chris Christie even called the site "the ugliest damn building in New Jersey and maybe America." In 2003, the state signed a $160 million deal with Mills Corp. and Mack-Cali Realty with the expectation it would be operating in two years. Construction kicked off in 2005, halted shortly after, and then stalled again in 2008 as the result of the financial recession.
After more than six years of no work at the site, Triple Five Group, also the owner of Minnesota's Mall of America, took over the site in 2013. Construction started in 2015, bit was delayed yet again in 2016. A year later, work resumed, but the opening date continued to get pushed back further until partially opening last fall.
RELATED: