Jersey City's Hudson Exchange begins construction of 60-story second phase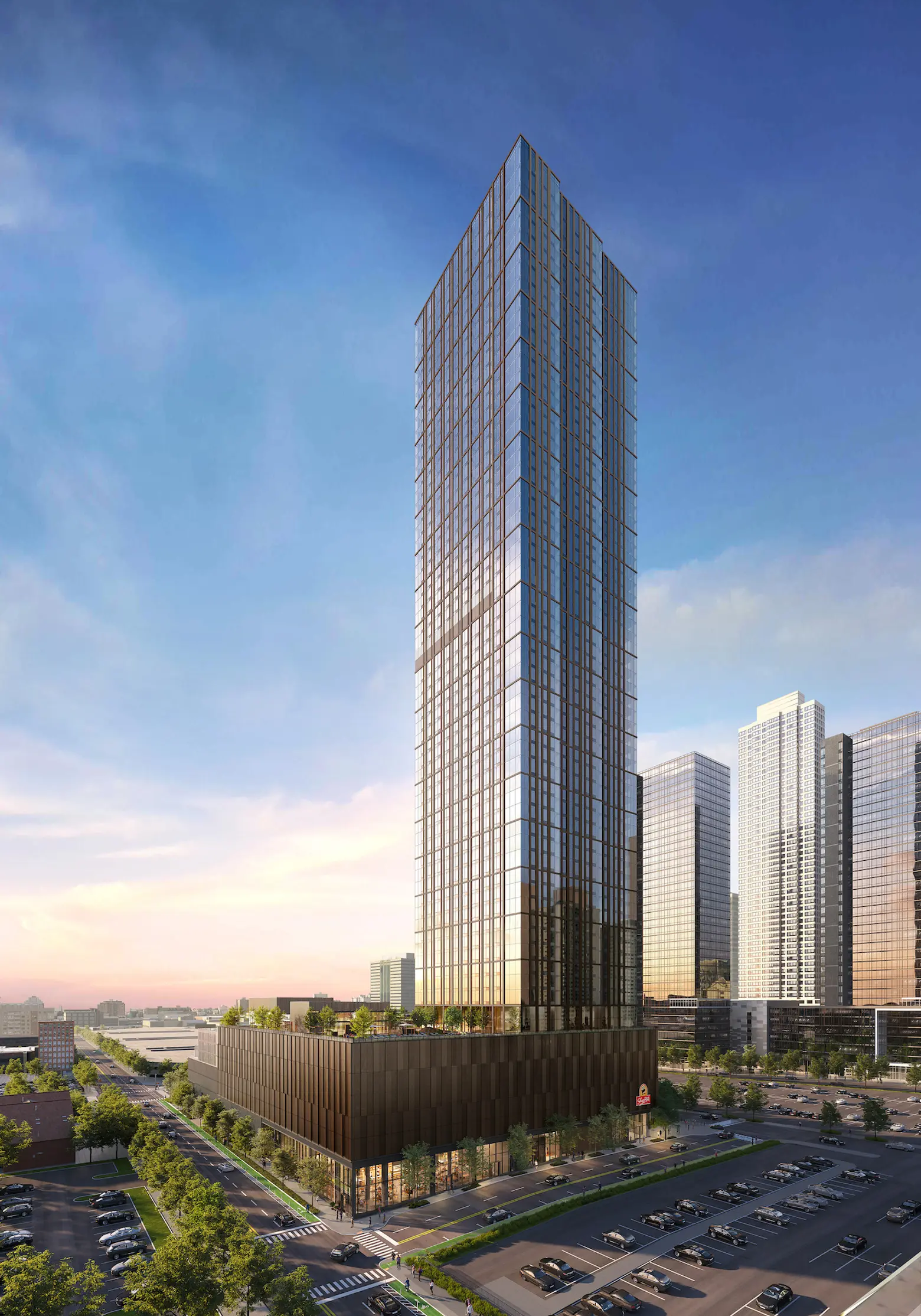 Rendering courtesy of Beyer Blinder Belle
Ground has broken on the second phase of Hudson Exchange, one of Jersey City's largest and most anticipated redevelopment projects. Located at 420 Marin Boulevard, the 1.3 million square foot development will feature a 60-story mixed-use tower with 802 luxury rental apartments and 115,000 square feet of retail space. Developed by Brookfield Properties and G&S Investors, the property will also include pre-leased ShopRite supermarket space.
Designed by renowned architectural firm Beyer Blinder Belle, the tower will rise 634 feet above Jersey City, offerings residents breathtaking views of the Manhattan and New Jersey skylines. Residents will have access to a wide variety of luxurious indoor and outdoor amenities, including a rooftop pool, social lounge, fitness center, game room, co-working lounge, conference room, and more. Each residence will come equipped with quartz countertops, walk-in closets, state-of-the-art appliances, and an in-unit washer and dryer.
The building's base will contain 85,000 square feet of space that have been pre-leased to the neighboring ShopRite supermarket. The supermarket will relocate from a nearby building where it has conducted business for 30 years to the base of the tower in a new, state-of-the-art facility. The store will include internal parking and loading facilities, available for use by residents and local community members.
"With the second phase of Hudson Exchange, the Metro Plaza ShopRite — one of Downtown's most important amenities — will soon have a new, modern home that enables it to better service the Jersey City community," Jersey City Mayor Steven Fulop said. "Our residents deserve access to vibrant food stores for their daily shopping needs and I'm thrilled that the new location for this longtime community staple is being built entirely with Union labor.
Brookfield Properties and G&S Investors will be working with Jersey City and the Embankment Preservation Coalition Board to brainstorm a variety of retail options, public art, and green infrastructure throughout the area, according to Jersey Digs. A timeline for the completion of Hudson Exchange's second phase has not yet been announced.
Located just two blocks from the Hudson River waterfront, Hudson Exchange is an 18-acre planned development that will span six million square feet and include a total of 5,500 residential units. The site is currently home to VYV North and VYV South, which include a combined 850 residential units, 20,000 square feet of retail space, and 450 parking spaces.
Both buildings feature two green spaces: a ground-level entry plaza and an eighth-floor amenity deck connected by a cascading vertical and horizontal ribbon-like element that serves as a visual connection between street level and the residential amenity area above, according to an official press release.
"The Phase II tower signifies the third multifamily building that G&S Investors has built alongside Brookfield Properties within the Hudson Exchange master plan," Abe Naparstek, Partner at G&S Investors said. "In addition to bringing high-quality rental housing to Jersey City, it was critical for this dynamic second phase to facilitate the creation of new, connective open space.
When it's complete, Hudson Exchange Phase II will include over 20,000 square feet of public green space, spread out a new dog park and plazas, including the new Sixth Street Embankment Plaza which will serve as a gateway to Jersey City's highly-anticipated public park, the Sixth Street Embankment.
Hudson Exchange is located close to a variety of public transit options, including the Grove Street and Exchange PATH stations, the Harsimus Cove Light Rail Stations, and the Harborside ferry stop.
RELATED: