Explore literary landmarks of Brooklyn with new self-guided walking tour from BPL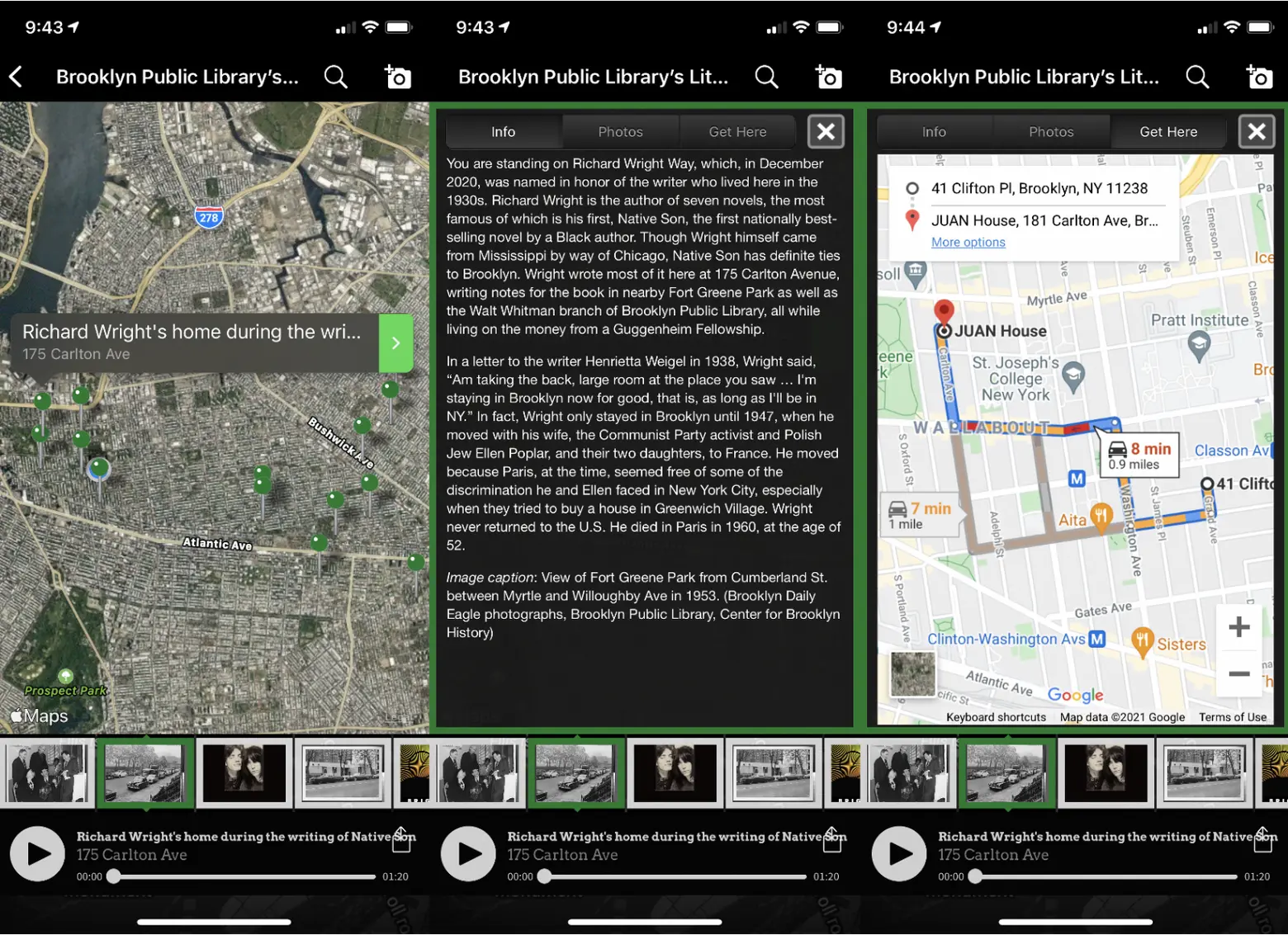 Screenshot courtesy of the Brooklyn Public Library
Discover the fictional places where novels are set and the real-life apartments where authors once lived as part of a new audio tour launched this month by the Brooklyn Public Library. The self-guided literary walking tour, which can be downloaded on your smartphone or opened via web browser, covers eight miles of the borough, from Fort Greene to Bushwick.
On the free app, each stop along the tour will show text, an image, and includes audio narration. The tour can start from anywhere with as many stops as desired. In total, the walking tour will take two to three hours to complete from start to finish.
The tour highlights writers of the borough, from past generations and today, including Marianne Moore, Richard Wright, Patti Smith, Naima Coster, Tanwi Nandini Islam, Biggie Smalls, Jason Reynolds, Tiffany D. Jackson, Paule Marshall, Bridgett Davis, Kaitlyn Greenidge, Alfred Kazin, Pauli Murray, Howard Zinn, Jacqueline Woodson, and Jenny Zhang.
There are also stops at public libraries, like the Clinton Hill, Macon, Brownsville, and Washington Irving branches, "all of which played an important role in the lives of the featured author," according to a press release.
"On every block, Brooklyn's literary heritage is on display—from the streets of Bed-Stuy to the paths of Prospect Park. The BPL Literary walking tour will help you learn about the poets, novelists and memoirists for whom the borough has been both home and inspiration," Chief Librarian Nick Higgins said.
"Not only is the fall weather perfect for a walk or a stroll, you can discover the books from your favorite stops when your visit your local library where our doors are wide open."
All the books mentioned on the tour can be checked out at your local Brooklyn Public Library branch, including Just kids by Patti Smith, Halsey Street by Naima Coster, Bright lines by Tanwi Nandini Islam, Brown girl, brownstones by Paule Marshall, and many more. See the full list here.
RELATED: