Coney Island's 'Miami-inspired' Ocean Dreams rental project tops out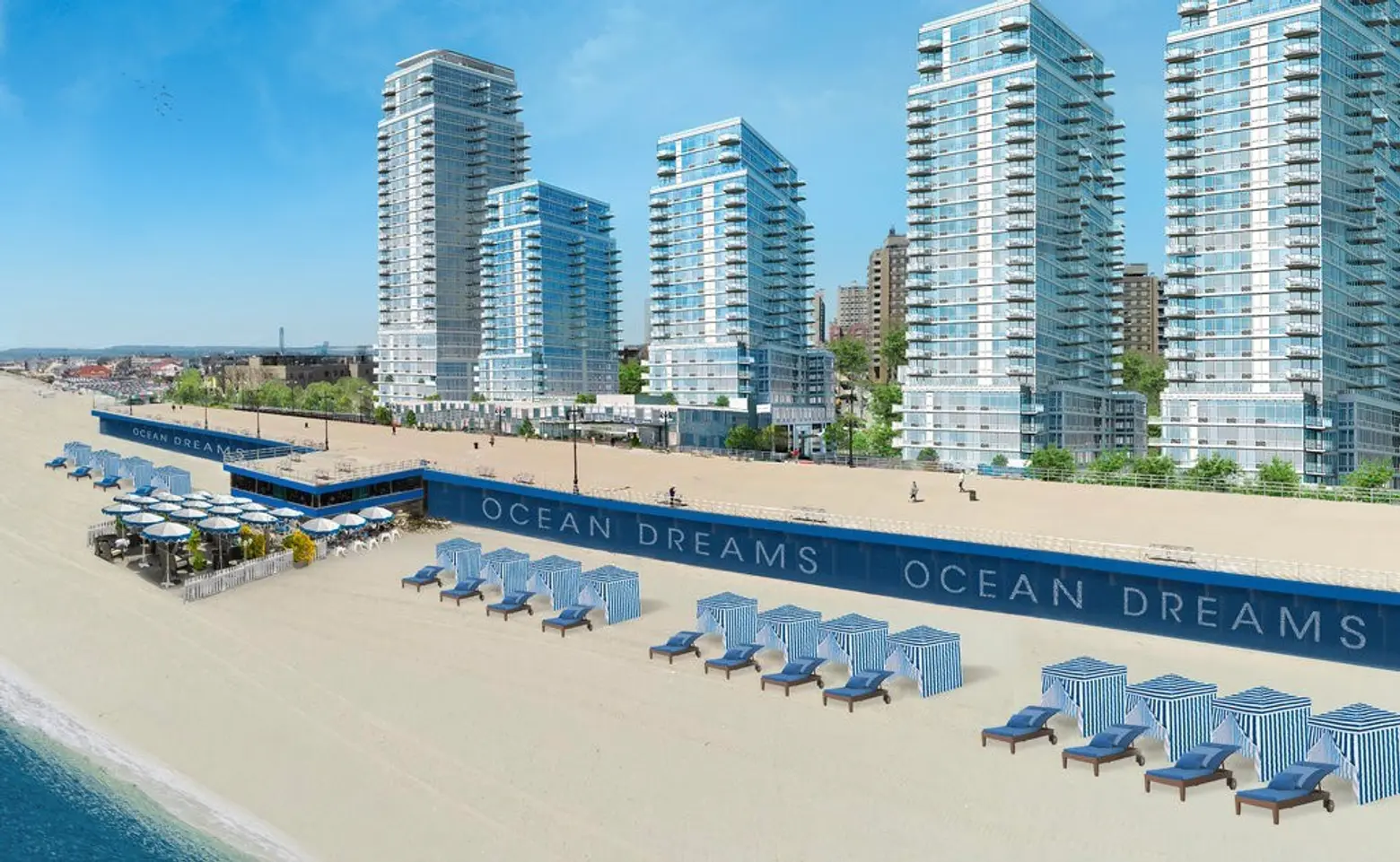 Developer John Catsimatidis hopes the Ocean Dreams project will eventually include three more towers, which require city approval. Rendering by Pace/Hill West Architects
Last spring, 6sqft revealed new renderings of grocery store king (Red Apple, Gristede's) John Catsimatidis' 425-unit Coney Island rental project at 3514 Surf Avenue known as Ocean Dreams. According to The Real Deal, Catsimatidis' Red Apple Group secured a construction loan for $130 million from Bank of America for the project back in June. Now, the New York Times has reported that the pair of 21-story luxury apartment towers overlooking the Atlantic on the island's western end has topped out and is scheduled to open next summer.

Two towers are scheduled for completion next summer. Rendering by Nightnurse Images/Weintraub Diaz Landscape Architecture.
Catsimatidis, who has an admiration for the sleek residential towers of Miami Beach, also has big plans for the land on either side of the Ocean Dreams towers and more beachfront property just to the east, all of which he owns. Ocean Dreams is Catsimatidis' fifth Brooklyn project in 10 years. He just completed four buildings on Myrtle Avenue in Fort Greene. In addition to getting noticed for offering market-rate apartments for residents who tend to be more affluent than the current ones in neighborhoods surrounding them, his buildings have been raising eyebrows for their design.
Hill West Architects, known for their contributions on 56 Leonard and One Riverside Park, are responsible for the design of Ocean Dreams, which features a waveform base in keeping with its oceanfront location. The project will, according to permits, also contain 20,685 square feet of commercial space and 327,778 square feet of residential space–which means each unit will average 770 square feet. According to the Times, a two-bedroom unit might be priced at $4,000 to $5,000.
As far as amenities, the complex's floor schedule calls for valet service, a business center, a pool, a three-level parking garage for 301 cars, two rooftop terraces, two tenant lounges, a fitness center, and a children's playroom. A 24,000-square-foot common second-floor terrace will feature a bocce court and a putting green. Also coming to the avenue will be a supermarket, a drug store and a restaurant on the boardwalk.
As mentioned, the apartments are expected to be market-rate. Catsimatidis said "I think that we're putting up middle-class housing. I'm certain that it adds to the quality of the neighborhood, and adds to diversity, you know, you need a little bit of everybody."
On a smaller parcel just to the west, approval has already been secured for an 11-story apartment building. Catsimatidis' grander vision for two more towers to the east, notably taller than the pair that just topped out, have stalled due to current zoning that only allows four- or five-story structures.
[Via NYT]
RELATED: