Plans filed for large apartment building on parking lot of classic Coney Island restaurant Gargiulo's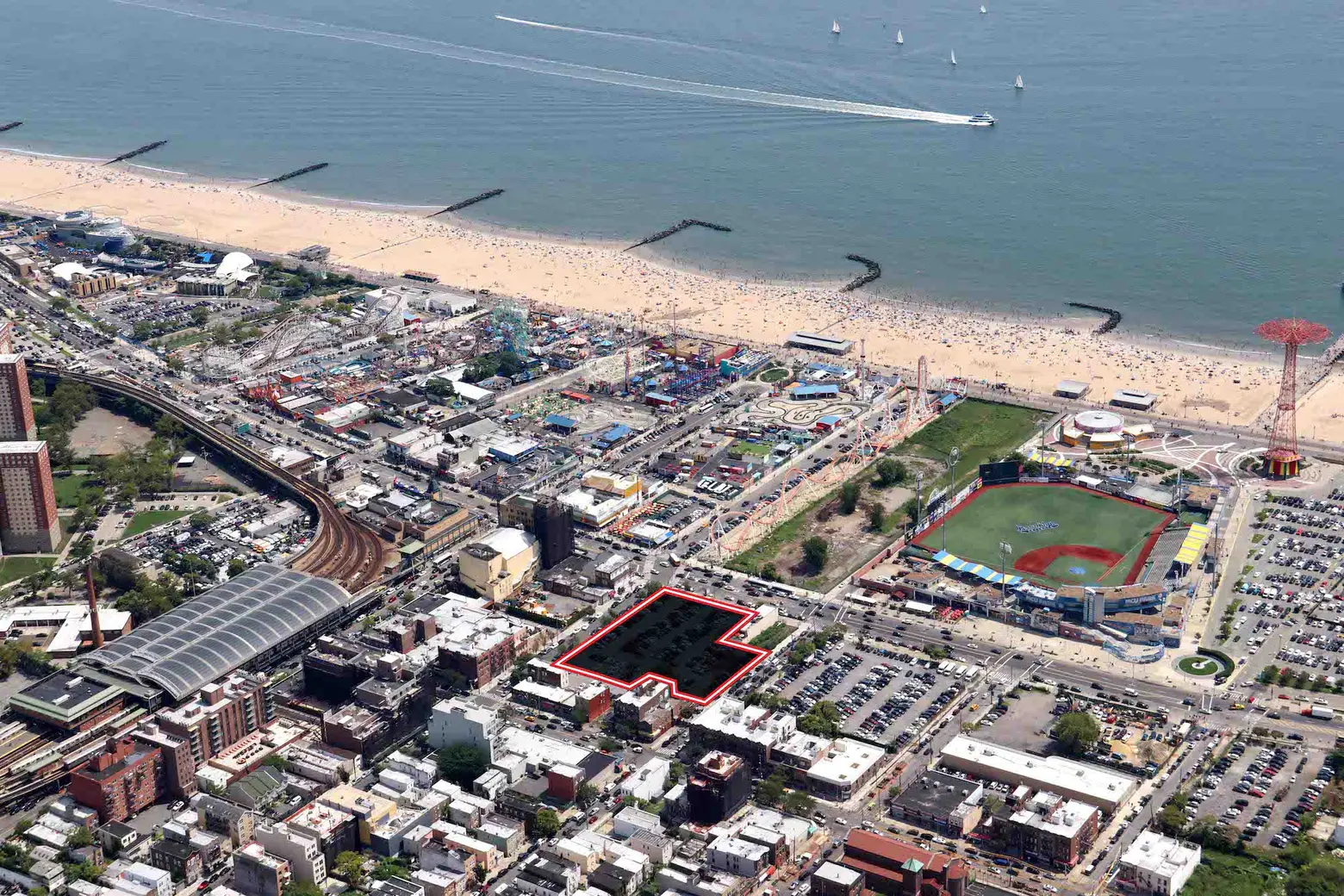 View of 1517 Surf Avenue; Photo courtesy of Ace Aerial
The owner of a 100-year-old Italian restaurant in Coney Island has agreed to lease the establishment's neighboring parking lot to a luxury real estate developer. Gargiulo's Restaurant owner Louis Russo filed a 99-year ground lease for the lot at 1517 Surf Avenue, located about one block from the boardwalk, with developer LCOR, as first reported by the Brooklyn Paper. According to the developer, plans will likely involve a mixed-income residential development and ground-floor retail.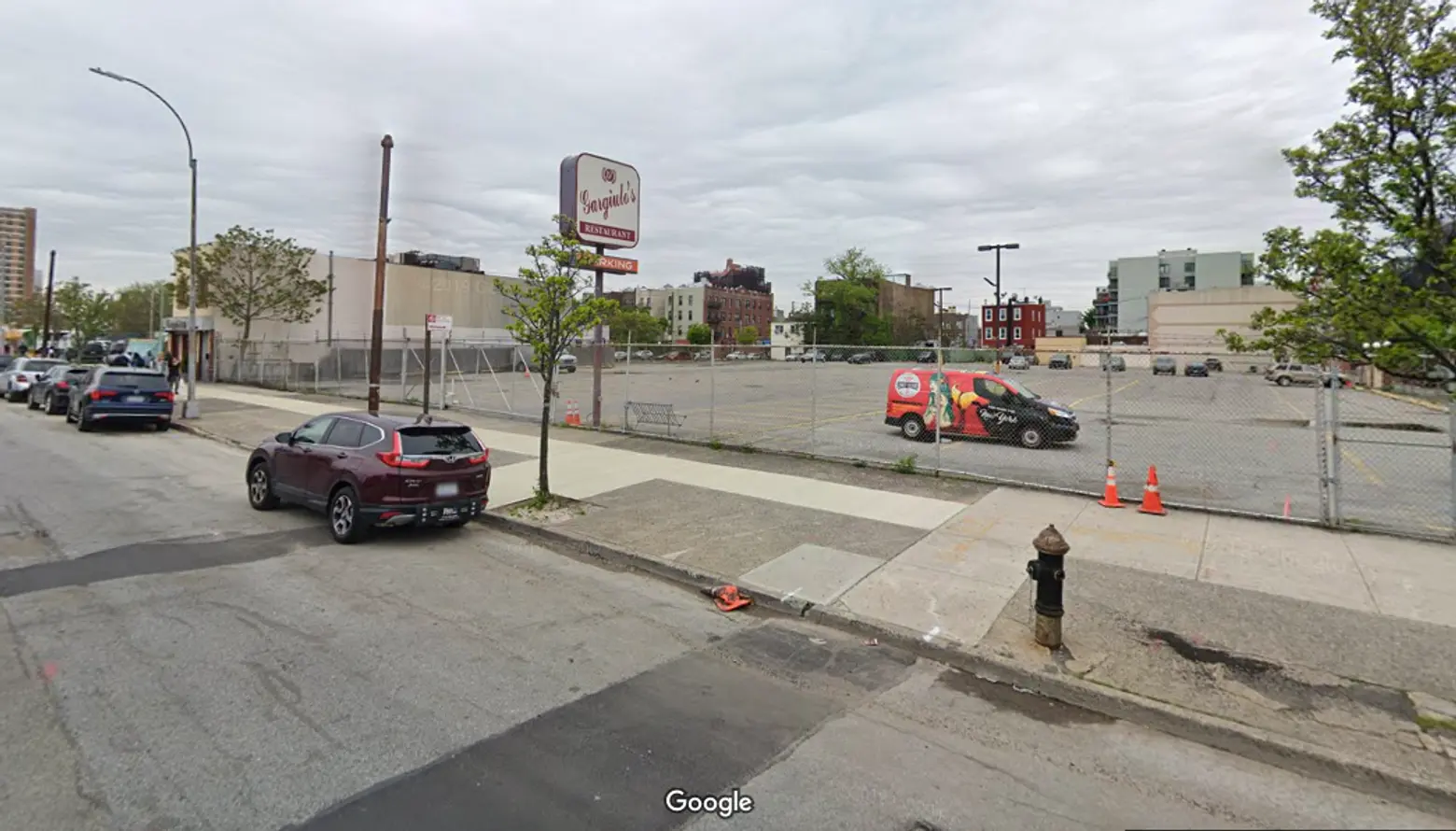 The parking lot at 1517 Surf Avenue; Map data © 2020 Google
The lease agreement gives developer control over several buildings nearby, including 1530 Mermaid Avenue, 2906 West 15th Street, and an empty lot on Mermaid Avenue, according to the Brooklyn Paper.
"Gargiulo's is an institution in this community," Anthony Tortora, the senior vice president of LCOR, said in a statement. "We are currently in the initial planning stages and anticipate a mixed-income residential development, with up to 30 percent of the apartments designated as affordable. LCOR looks forward to being part of the future of Coney Island."
Located within the Coney Island Special District, the parking lot is zoned R7A and R7X, allowing for a maximum height of 80 to 95 feet, or up to about 9 or 10 stories. The city approved the rezoning of Coney Island in 2009, which allowed for more residential buildings and retail space along the southern end of Surf Avenue.
Gargiulo's opened in Coney Island in 1917 on Mermaid Avenue, later expanding to West 15th Street as the business grew. The restaurant was acquired by brothers Michael, Victor, and Nino Russo in 1965.
"Our family has witnessed the resurgence of Coney Island during the past few years," Michael Russo said in a statement. "This was a great opportunity to help expedite the transformation."
JLL Capital Markets oversaw the transaction. "This represents the largest and most subway-proximate residential development site remaining along the rapidly transforming Surf Avenue," Steven Rutman, the senior director of JLL, said. "Rezoned in the past decade, Coney Island is transitioning from a seasonal tourist destination to a year-round residential waterfront enclave."
Adding to the neighborhood's development boom, developer John Catsimatidis' luxury development Ocean Drive is expected to open this month. The beach-front complex includes two, 21-story residential buildings, designed to resemble the ritzy towers of Miami Beach. Catsimatidis says the housing will remain available to middle-class New Yorkers, with units starting at $2,049/month for studios and running up to $3,741/month for two-bedrooms.
Nearby, Taconic Investment Partners and the Prusik Group are constructing a mixed-use building that will hold 1,000 apartments and 80,000 square feet of office space at 1709 Surf Avenue. And Cammeby's International Group plans on bringing a 40-story residential tower to 532 Neptune Avenue, which could be the tallest building in South Brooklyn.
And as 6sqft reported last summer, the iconic Stillwell Avenue Terminal Complex will be transformed by CAI Foods with new retail, including adding "Rcade," a year-round arcade with a restaurant and bar.
[Via Brooklyn Paper]
RELATED: