Plans filed for a 21-story Coney Island 'Dreams' project on the boardwalk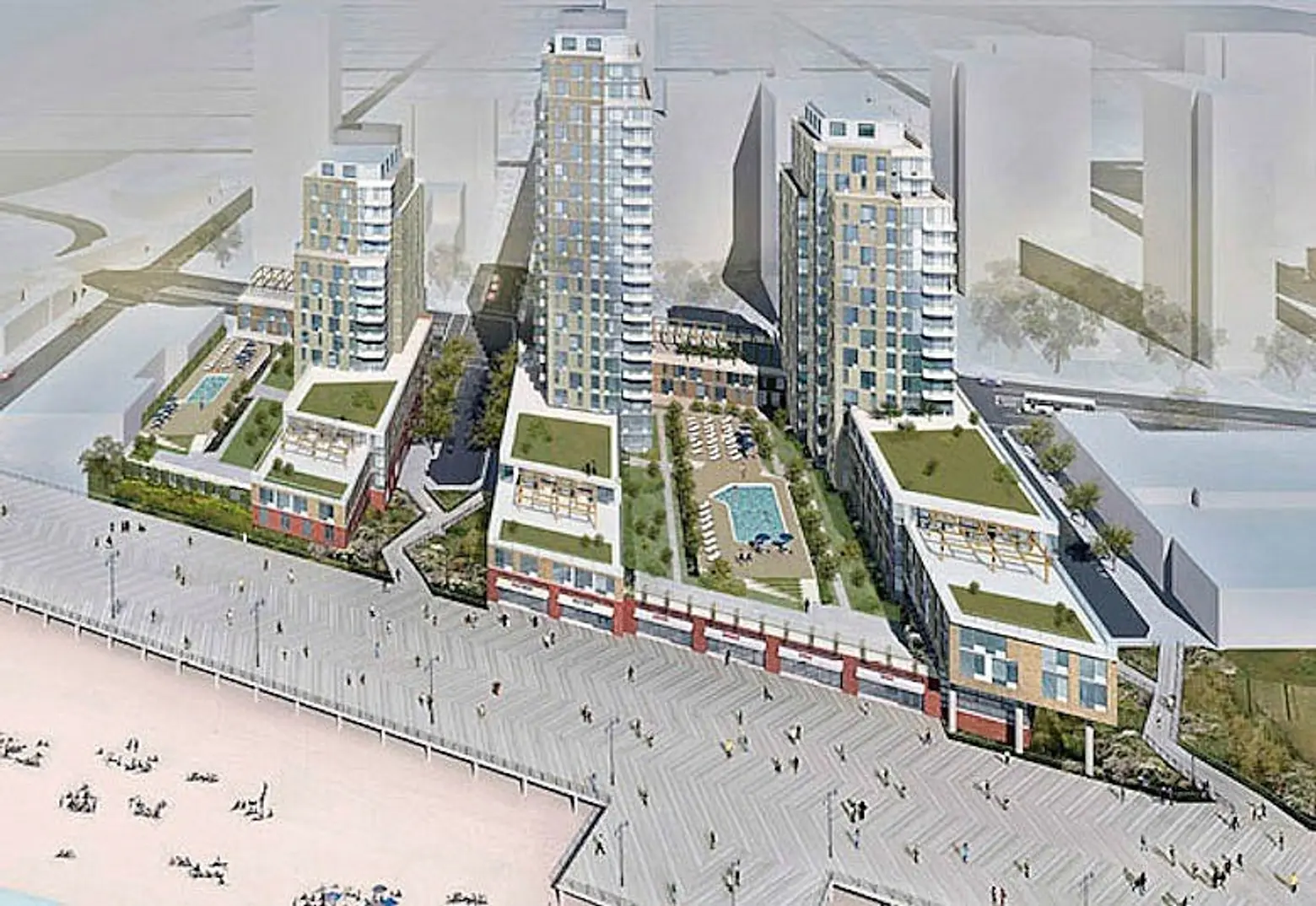 Developer John Catsimatidis' Red Apple Group has filed plans for a 21-story tower on a Surf Avenue parcel that he purchased last summer according to Brooklyn Daily; the tower is part of a three-building Coney Island project that will likely include 415 apartments and retail. In the billionaire grocery mogul's typically patient fashion, he has slowly been acquiring the Boardwalk-adjacent lots between West 35th and West 37th streets for the project, called Ocean Dreams, since 2005.
The Manhattan developer's most recent acquisition was the block-sized former Federation Employment and Guidance Service (FEGS) building on Surf Avenue and West 35th Street, bought for $7.7 million in May; locals had been campaigning for a community center on the FEGS site.
The self-made billionaire hasn't decided yet whether the project's apartments will be rentals or condos. Though investors are pushing for condos, Catsimatidis says, "The views are to kill for–my people are pushing me to make those upper floors condos. But I want to build something that I'm proud of, not that's built by accountants."
The big-picture plan for the Surf Avenue project includes retail space at the building's base that will include food and pharmacies with at least 300 apartments above the third floor. Additional amenities will include a 254-car garage and a rooftoop swimming pool. "We want it to be functional," Catsimatidis said, "We want a supermarket, a drug store, a restaurant, so between the three of them, people will have the basics of what they need. And a swimming pool, because what good is a building without a heated swimming pool?" The supermarket in question will be one of the developer's own—Gristedes, Red Apple, or the recently-acquired former rival D'Agostino—of course.
Height in the current plans for the tan-and-glass building maxes out the zoning limit at 185 feet—about the height of Deno's Wonder Wheel in the popular Amusement District that lies a full 20 blocks to the east. The development could give the economy in Coney Island's west end a much-needed boost. Project architect David West of Hill West Architects thinks the project will "spur other developments in the area and bring much-needed life, jobs, and economic vitality."
[Via Brooklyn Daily]
RELATED:
Lead Image: Dattner Architects