Construction Begins on John Catsimatidis' Curvy Rental Tower at 86 Fleet Place in Fort Greene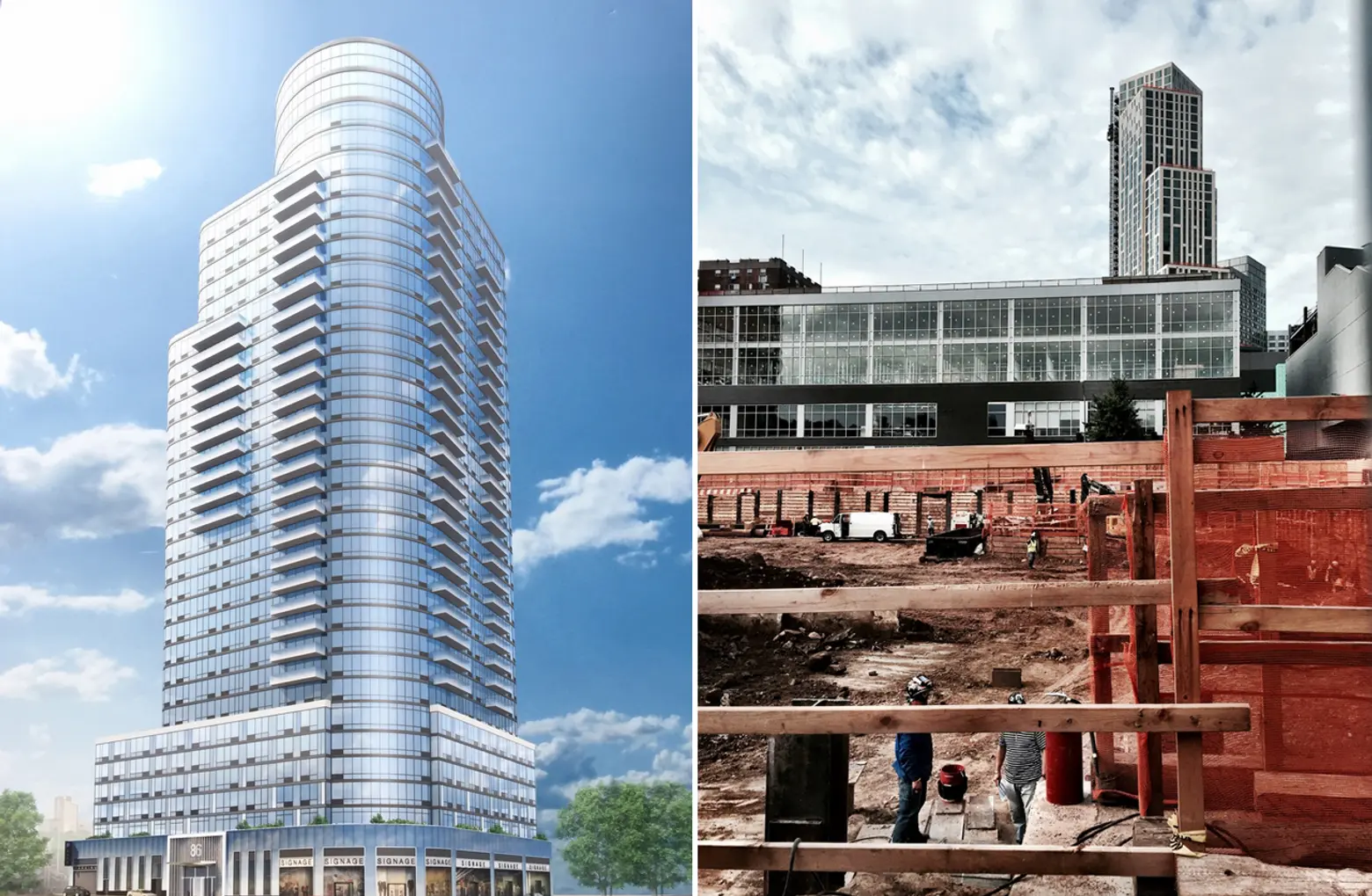 Construction has begun on the final building of the four-tower development on the western edge of Fort Greene. The 32-story tower at 86 Fleet Place will house 440 rental units and will be the culmination of a 15-year redevelopment of a low-slung, Robert Moses-era retail strip along Myrtle Avenue.
The developer of 86 Fleet, and three other sibling buildings to the east, is Red Apple Group's CEO and owner John Catsimatidis, who we might better remember as the billionaire Republican candidate in the last mayoral election and the owner of the oft-maligned Gristedes grocery store chain. According to the Wall Street Journal, Red Apple picked up the 2.5-acre, four-block site for $500,000 from Long Island University in 1982. The site spans 900 feet along the southern frontage of Myrtle Avenue, between Flatbush Avenue Extension and Ashland Place, and shares its blocks with the Toren condominium to the west and the Fred Trump-built University Towers complex to the south.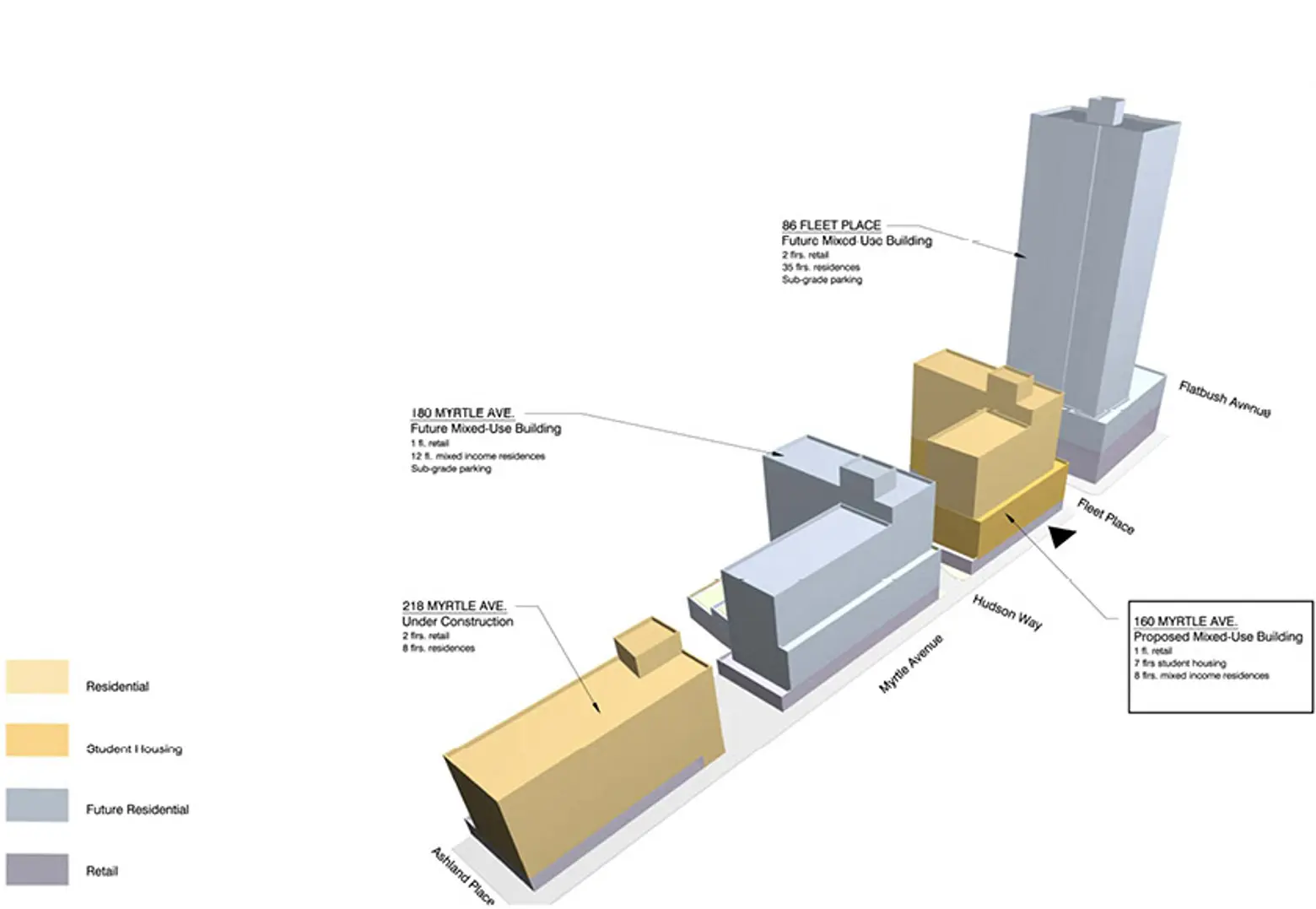 Renderings courtesy of Dattner Architects
At 350 feet high and nearly 400,000 square feet in size, 86 Fleet will be the development's tallest and largest building by far. The master plan, drafted by Dattner Architects, called for the four buildings to progressively grow in height as one moves westward from low-rise Fort Greene to the high-rises of MetroTech Center and Downtown Brooklyn. Two rental properties have already been completed, the nine-story Andrea and the 15-story Giovanni. A third rental at 180 Myrtle is currently underway and has recently topped out. The full plan will provide nearly 1,000 units under a 50-30-20 plan; 50 percent of the units will be market rate, 30 percent designated for middle-income affordable, and 20 percent for low-income affordable.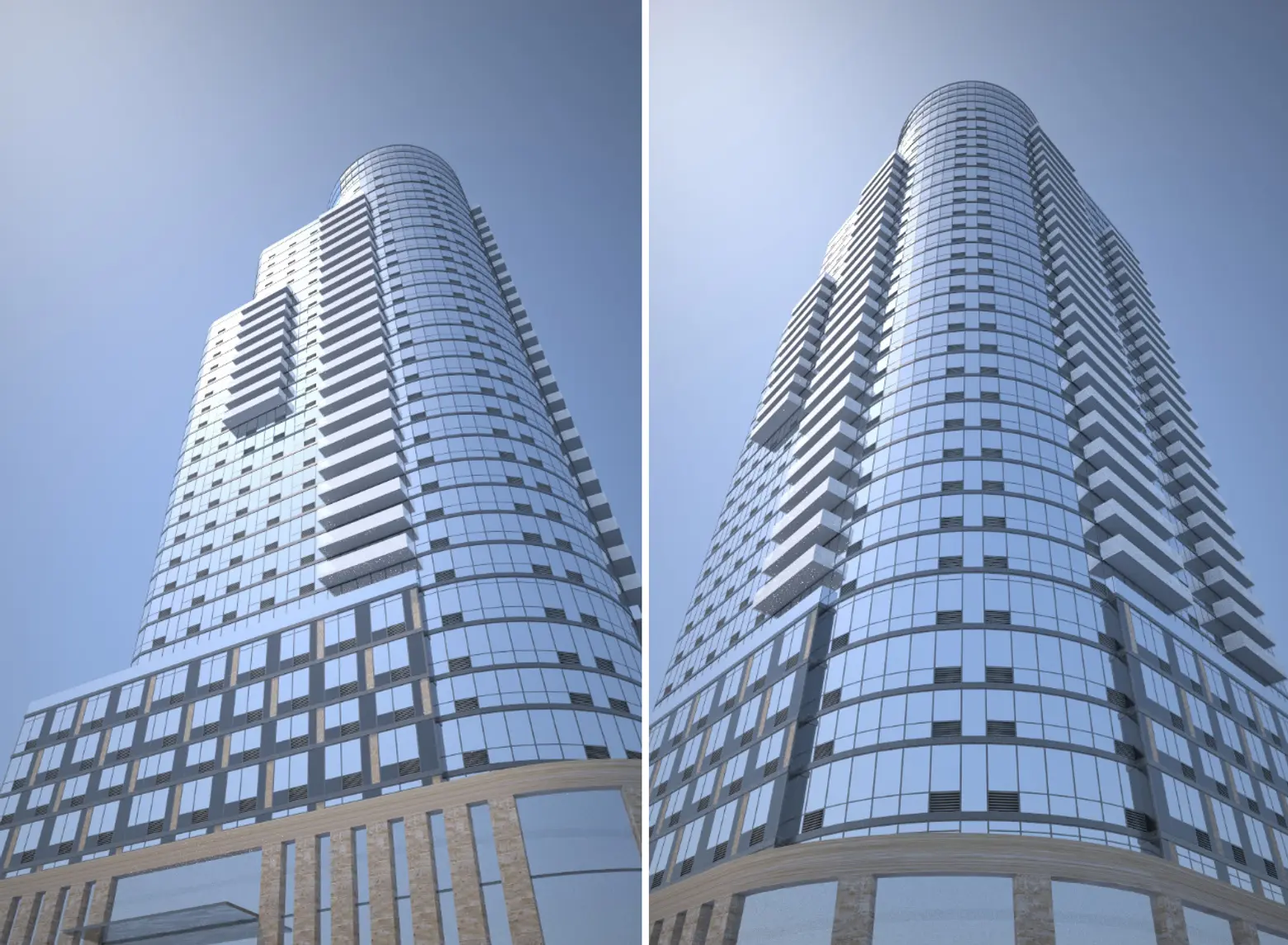 86 Fleet's architects, Goldstein Hill & West, have crafted a design markedly different in appearance compared to its three blockier, masonry-clad siblings to the east. Most notably, the corner of Fleet Place and Myrtle will be anchored by a curved, fully glazed section that culminates as a cylindrical capstone at the the tower's apex. A single-story podium provides retail storefronts at the base, and well proportioned setbacks (four along narrow Fleet Place and three along Myrtle Avenue) propel the somewhat stodgy massing skyward. Additionally, lines of glass balconies break up the tower's uniform skin.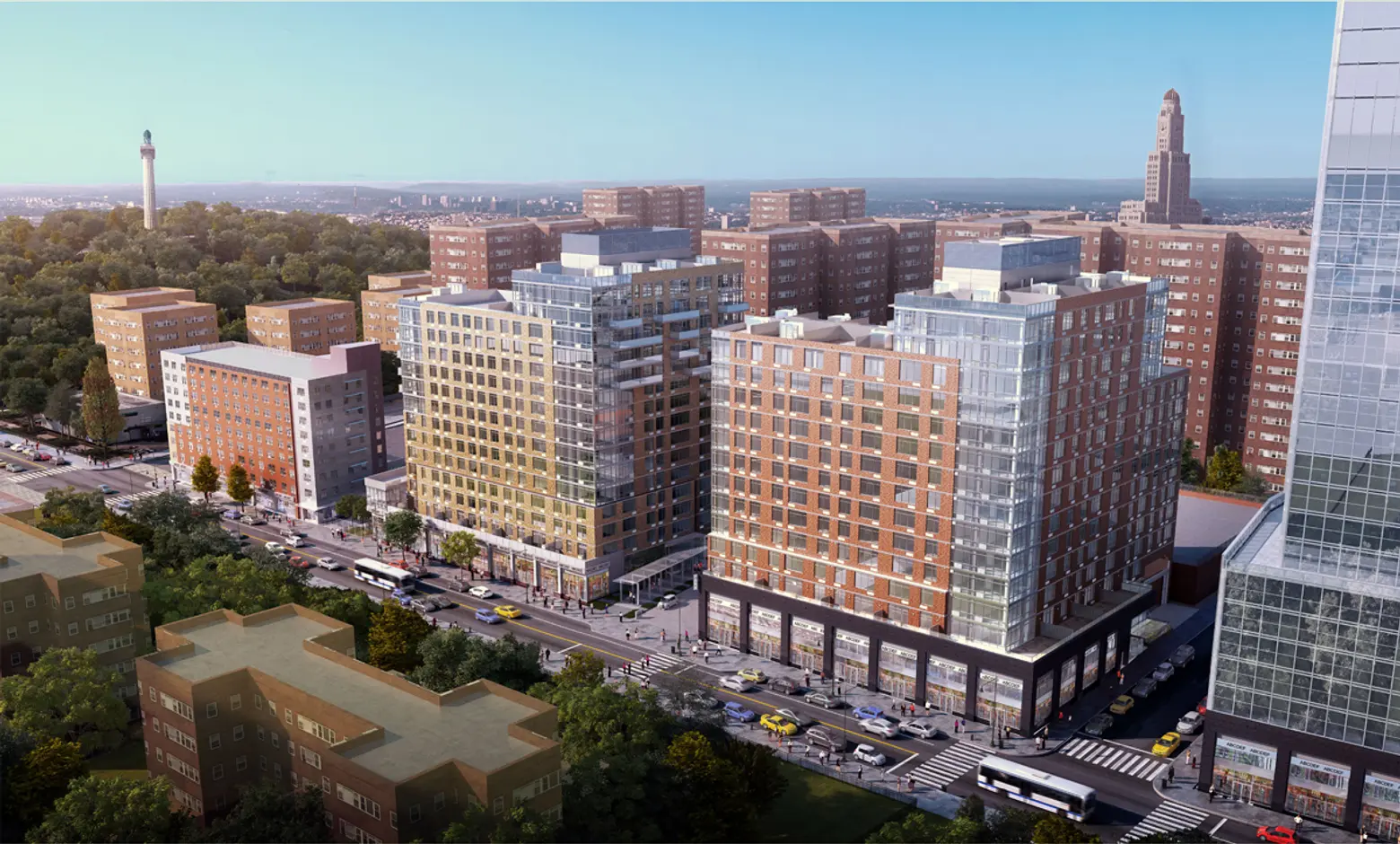 Red Apple's The Andrea, 180 Myrtle Avenue, and The Giovanni directly east of 86 Fleet Place
Building amenities will include 143 parking spaces, a fitness center, residents' lounge, children's playroom, and a common terrace. Though delivery of 86 Fleet's 440 rentals units is more than a year away, its market-rate prices will be comparable to several new Downtown Brooklyn rental towers in the area such as the Avalon Fort Greene, Ava DoBro, and 388 Bridge Street, where studios start from $2,643, one-bedrooms from $3,200, and two-bedrooms from $4,995.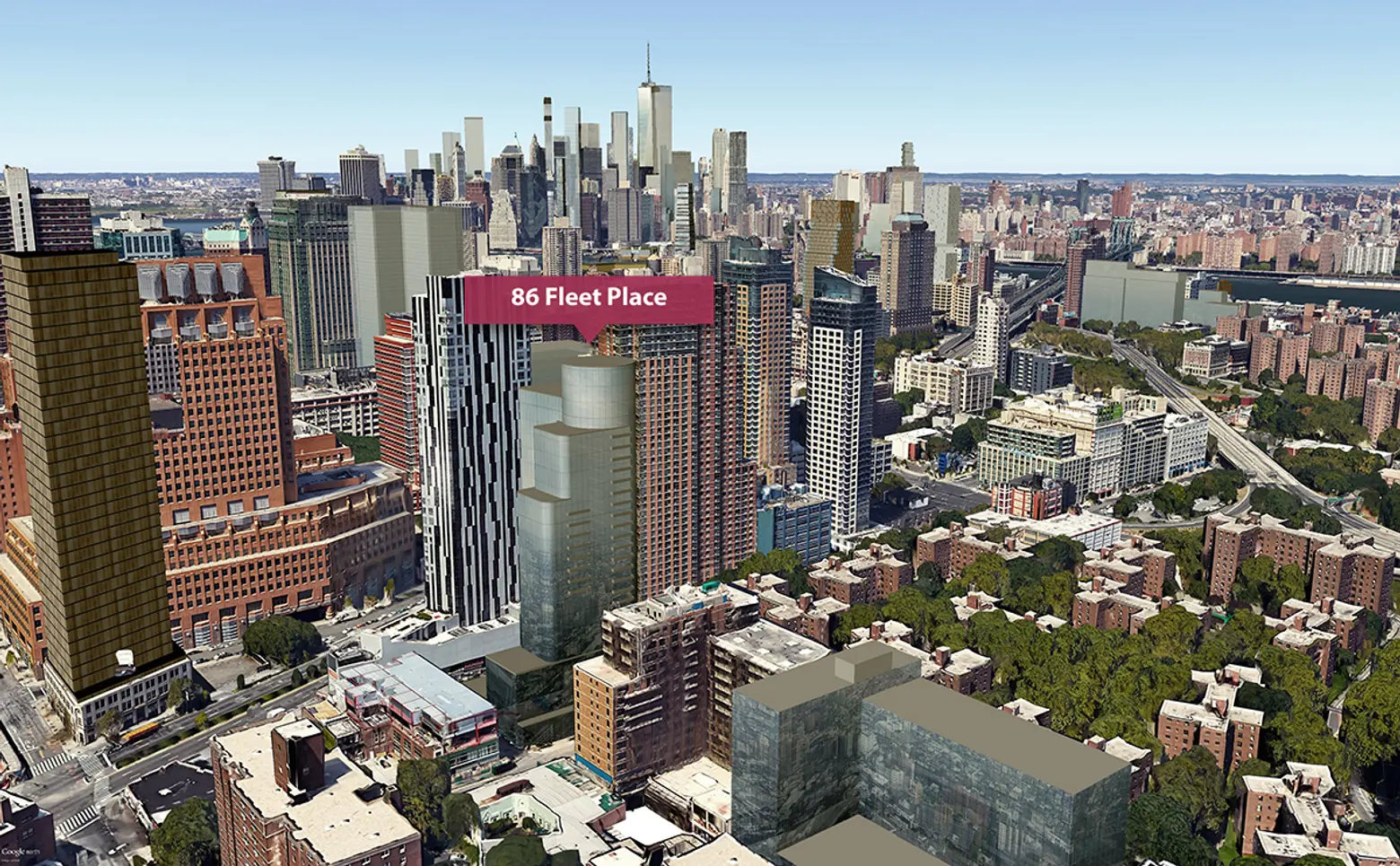 Aerial renderings via CityRealty
Follow updates on 86 Fleet Place at CityRealty
RELATED: