City says under-construction 421-a buildings must include housing for the homeless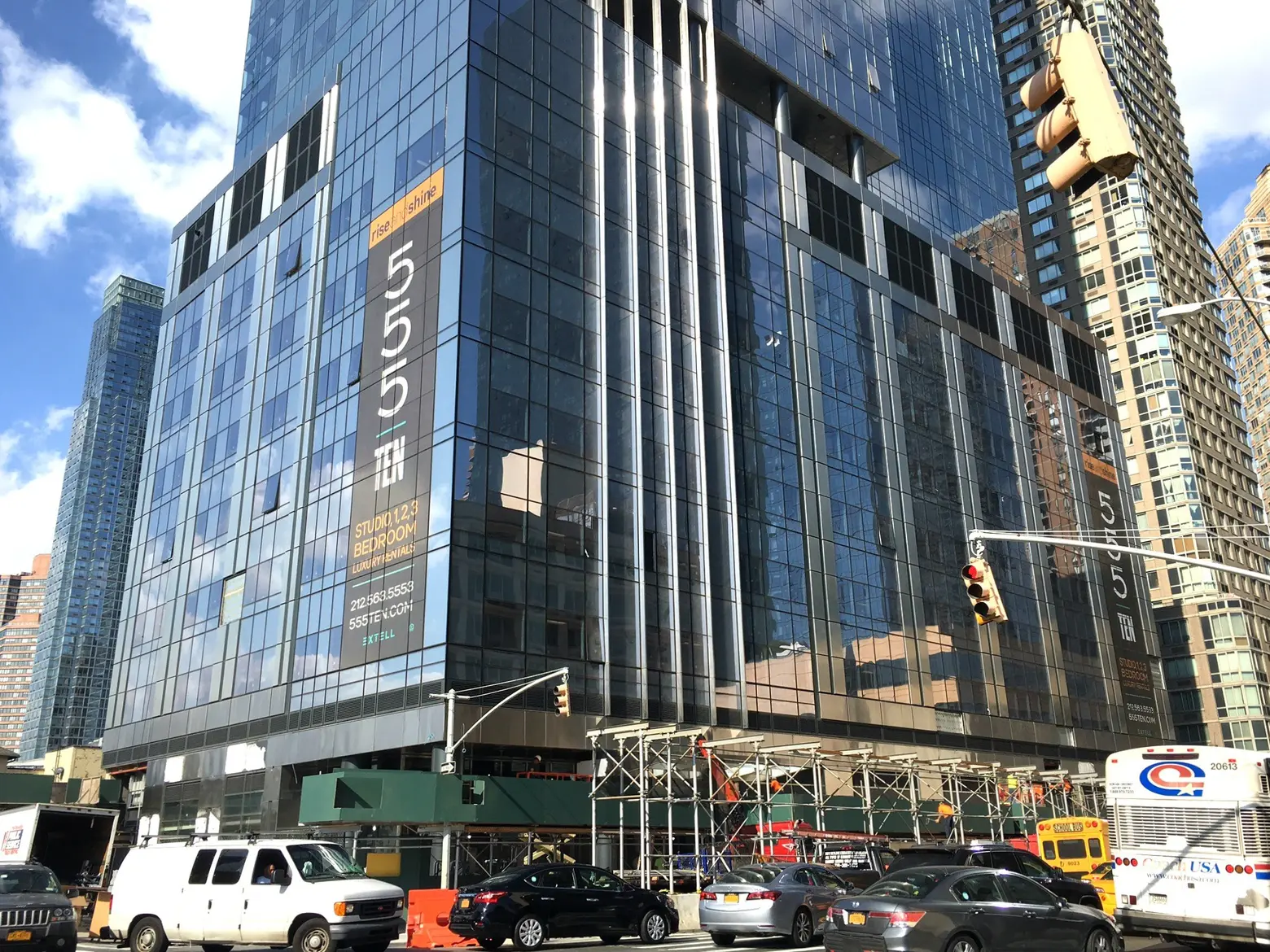 555Ten, an Extell building that would be affected by the 421-a changes
As 6sqft reported last week, Governor Cuomo, developers, and unions have been engaging in closed-door talks to bring forth his revision of the city's 421-a program that includes wage subsidies and an extension of the previous 25-year tax break up to 45 years. Glaringly (but not surprisingly) absent from the negotiations is Mayor de Blasio, but he's now taking matters into his own hands, at least when it comes to those under-construction buildings that got in to the program before it expired in January. According to the Times, the de Blasio administration introduced a new policy that says these projects must include housing for some of the 60,000 New Yorkers currently living in homeless shelters, but developers, particularly Extell's Gary Barnett, are not happy about the changes.
The way it's structured now, 421-a provides tax breaks to new residential buildings that reserve at least 20 percent of units as affordable. Half of these low- and middle-income units become available through the city's affordable housing lotteries, while the others are reserved for those in need of "community preferences," which includes local residents, the elderly, disabled persons, or veterans. The Mayor's new stipulation says that half of the latter group must be reserved for the homeless, but as the city quietly unveiled this plan over the past few weeks, developers have expressed fears of "an influx of tenants with drug or alcohol problems or in need of mental health services."
Gary Barnett of Extell Development has been especially outspoken against the new plan, which may not come as much of a surprise considering the backlash he got over his notorious "poor door" situation at 50 Riverside Boulevard. One of his current major projects, the 600-unit Hudson Yards skyscraper 555Ten, will be affected by the changes. The amenity-filled tower was able to rise to its 610-foot height and receive tens of millions of dollars in tax breaks thanks to 421-a and the developer's commitment to set aside 25 percent of the units as affordable. "It's unfair to change the rules of the game overnight for very little public benefit. I think it would put the entire 421-a program at risk, a program that has generated tens of thousands of affordable units," he said, adding that the city itself admitted the changes would only create 750 apartments for formerly homeless New Yorkers, "a fraction of the problem."
Other developers, including L&M Partners' Ron Moelis, were not opposed to the Mayor's plan, so long as they're able to reserve their right to screen potential tenants for criminal records and problematic credit histories. Vicki Been, the city's housing commissioner, said the new group of tenants are employed and do not need on-site social services, but recently lost their homes. "They are the working poor, not that different from households already served by the 421-a program," she explained.
[Via NYT]
RELATED: