Is 421-a dead? Where to find NYC's remaining tax abatement deals
In 1971, New York City launched a new program designed to encourage developers to build on vacant land. The program known as the 421-a tax abatement gave developers a ten-year exemption on paying taxes if they agreed to develop the underused land. At the time, the program made a lot of sense. In the 1970s, urban decay was rampant, even in many areas of Manhattan. But the program not only benefited developers. Owners who bought units in a 421-a tax abatement building also benefited since the bill effectively enabled developers to pass along their tax break to buyers who in turn could avoid paying taxes on their units for the first decade.
While the original 421-a tax abatement is essentially dead, there are still a few 421-a deals left for buyers. This reflects the fact that several of the condo projects that secured a 421-a exemption before the program was phased out are only now coming to completion. To help buyers looking to take advantage of this final round of 421-a benefits, 6sqft has compiled a list of some of the best deals left on the market.
The demise of the 421-a tax abatement program
By the mid-1980s, the initially straight-forward terms of the 421-a tax abatement were already changing, making eligibility requirements increasingly difficult for developers and buyers alike to comprehend. First, developers utilizing land between 96th Street and 14th Street were not automatically eligible for the program. Eventually, similar restrictions were also placed on several neighborhoods in Brooklyn with active real estate markets. These excluded areas were known as geographic exclusion areas (GEAs).
In 2006, the original 421-a tax abatement program underwent another series of changes. One of the most notable shifts was the introduction of new incentives for developers building in GEAs. Under the 2006 program, all of Manhattan became a GEA along with parts of Queens, Brooklyn, Staten Island, and the Bronx, but if a developer agreed to include a certain number of affordable units in their building, they could still take advantage of a 421-a tax benefit. The 2006 program, in fact, offered developers two incentives. If they built affordable units off-site, they could benefit from a 10-year tax exemption but if they built affordable units on-site, the tax exemption doubled to 20 years.
In early 2016, due to disputes over wages between construction industry unions and developers, the terms of the 2006 program expired. While a revised version of the bill, known as the "Affordable New York," has now been approved, the new bill no longer focuses on land but primarily on providing incentives to developers who agree to build affordable units and adhere to higher wage concessions for constructions workers.
Where to find remaining 421-a deals

Waterline Square via GID Development
Starting in Manhattan, buyers looking for potential 421-a deals should explore Waterline Square. Designed by Rafael Viñoly Architects, Richard Meier & Partners Architects, and Kohn Pedersen Fox Associates, these three luxury towers are located between West 59th Street and West 61st Street on Riverside Boulevard. While buying in isn't cheap—units start at approximately $2 million—the development anticipates a 20-year 421-A tax abatement.
Further south on the east side, there are two possibilities for buyers looking to avoid Manhattan's typically high taxes. In Murray Hill, The Lindley, a boutique full-service condo, currently has 30% of its units left ranging from studios to three-bedrooms. Although a small building with only 74 units in total, The Lindley will offer residents a full suite of services and amenities.
Even further south, buyers can explore opportunities at 242 Broome—the first condominium to go on the market as part of the Essex Crossing development on the Lower East Side. Like the Lindley, 242 Broome will offer residents access to an extensive range of services and amenities, including a residents lounge, fitness center, and playroom.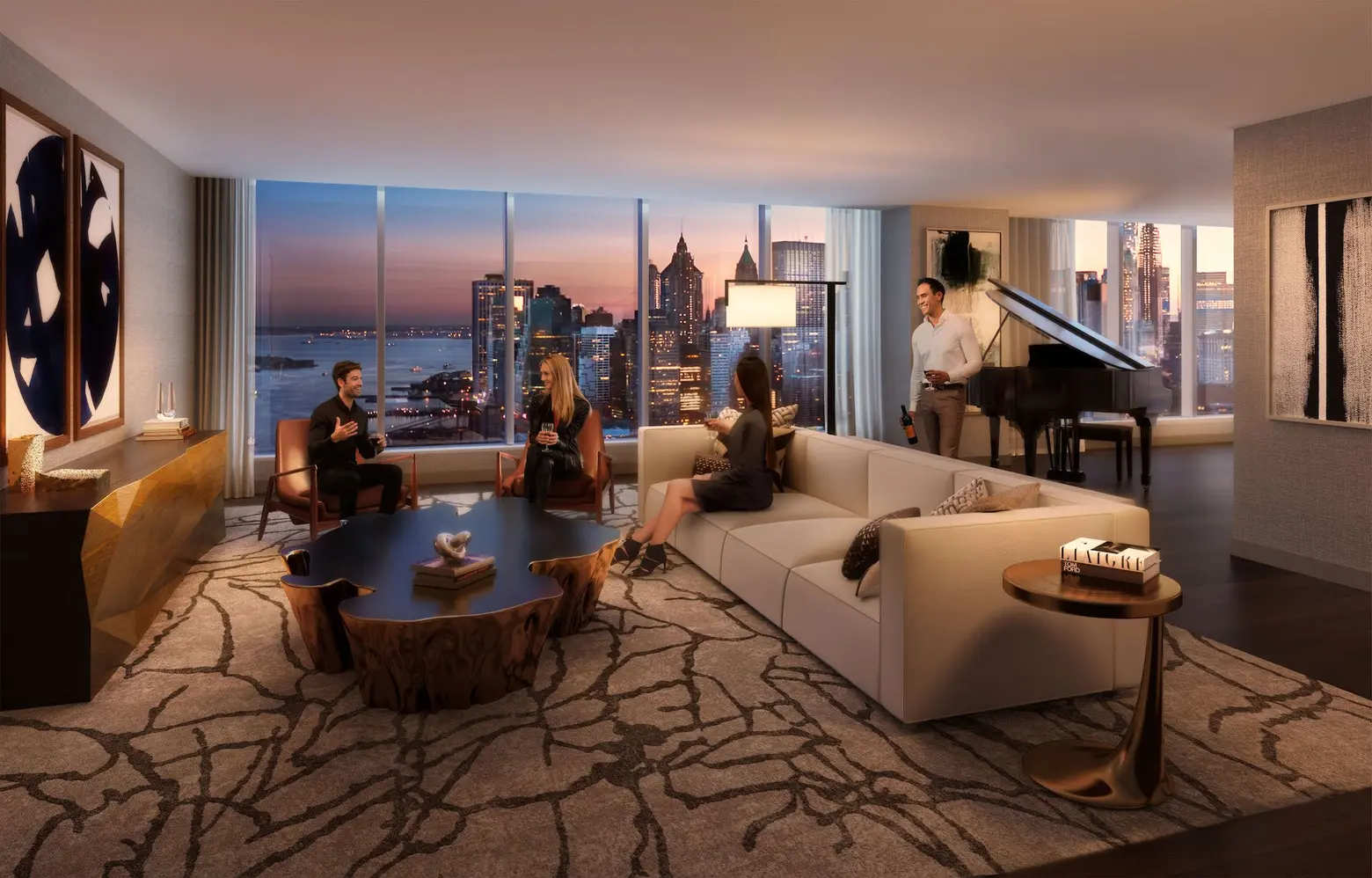 One Manhattan Square via Extell
Another option on the Lower East Side is the hard-to-miss One Manhattan Square—an 800-foot tall glass tower. The development, which will offer a 20-year tax abatement, is not only a potentially great deal but comes with a bucket list of unusual amenities including a spa, cigar room, and teen arcade.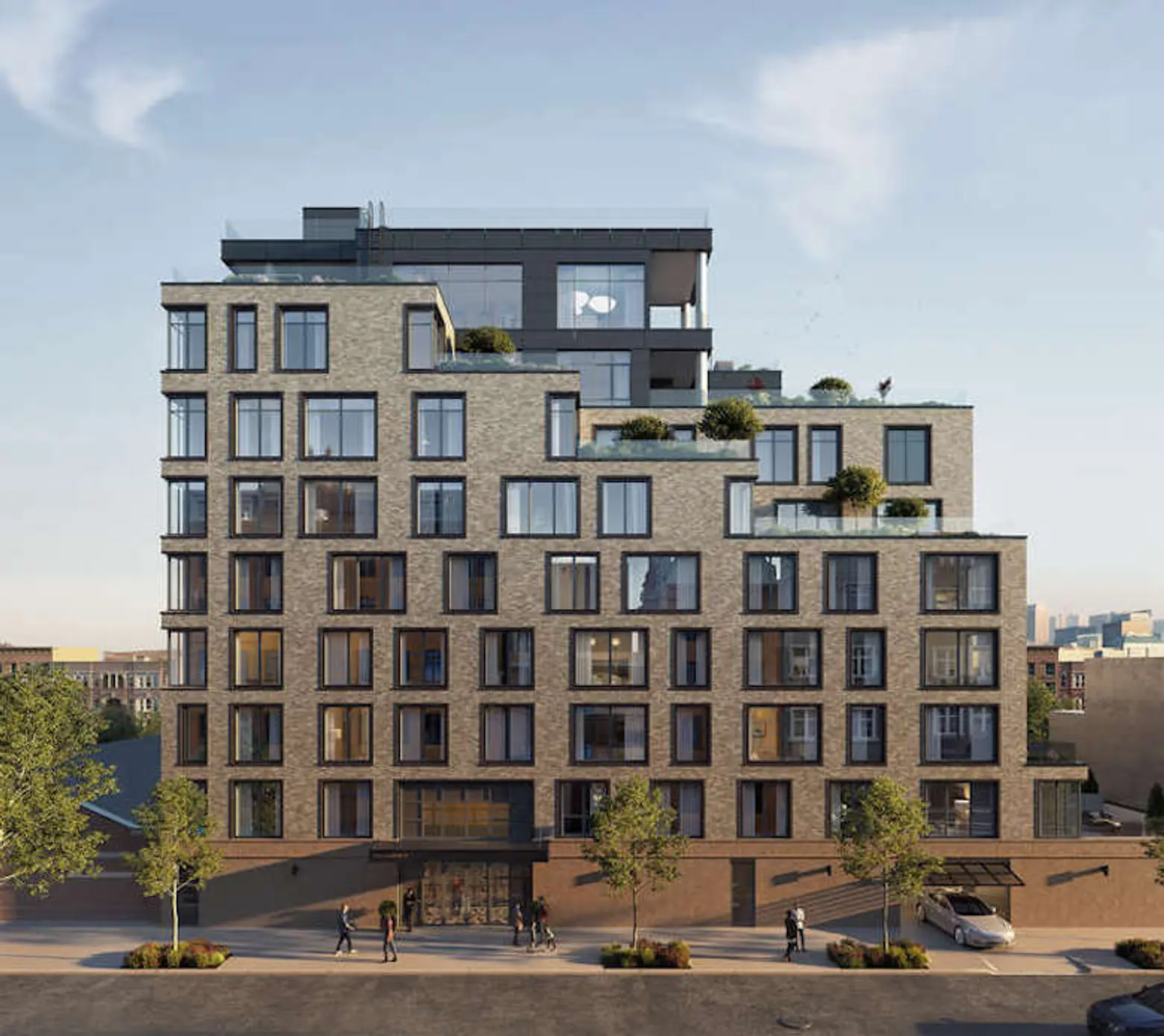 308 North 7th Street via Adam America, Naveh Shuster Group
Crossing the water to Brooklyn, there are also a few 421-a deals left on the market. Notable developments include 308 North 7th Street in Williamsburg. The development, which will offer a 15-year tax abatement, was designed by Isaac & Stern on the site of a former soap factory. The site will be home to 45 residences, including three penthouses and three garden-level homes., and prices start at $840,000.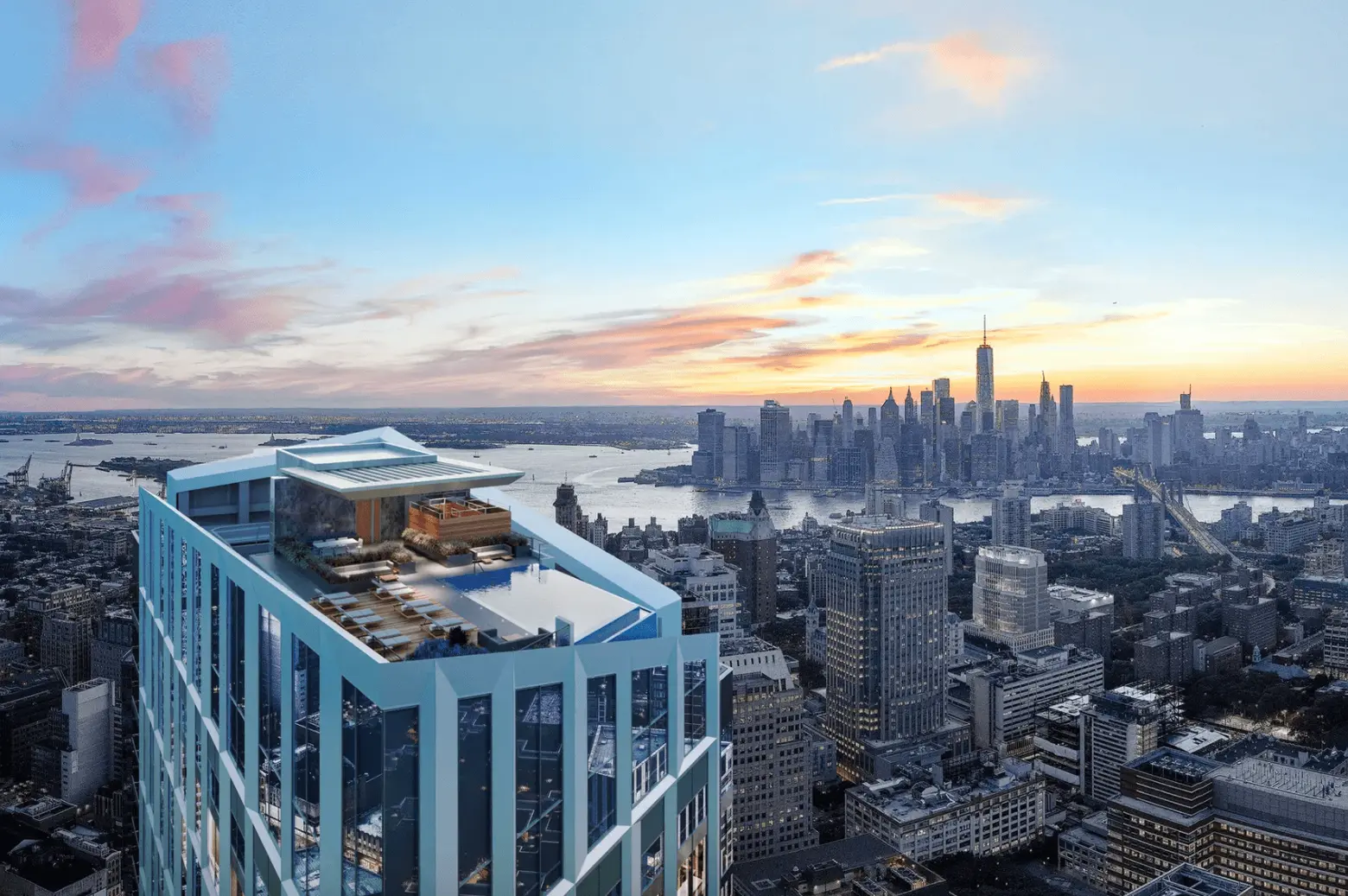 Brooklyn Point via Williams New York
In Downtown Brooklyn, Brooklyn Point offers an especially enticing incentive—a 25-year tax abatement. Designed by Kohn Pedersen Fox, the 720-foot-tall tower will be home to 458 residences. And just in case you enjoy optical illusions as much as you enjoy tax breaks, Brooklyn Point will also be home to the highest residential rooftop infinity pool in the Western Hemisphere.
RELATED: