City presents new design for its East Side Coastal Resiliency Project following community feedback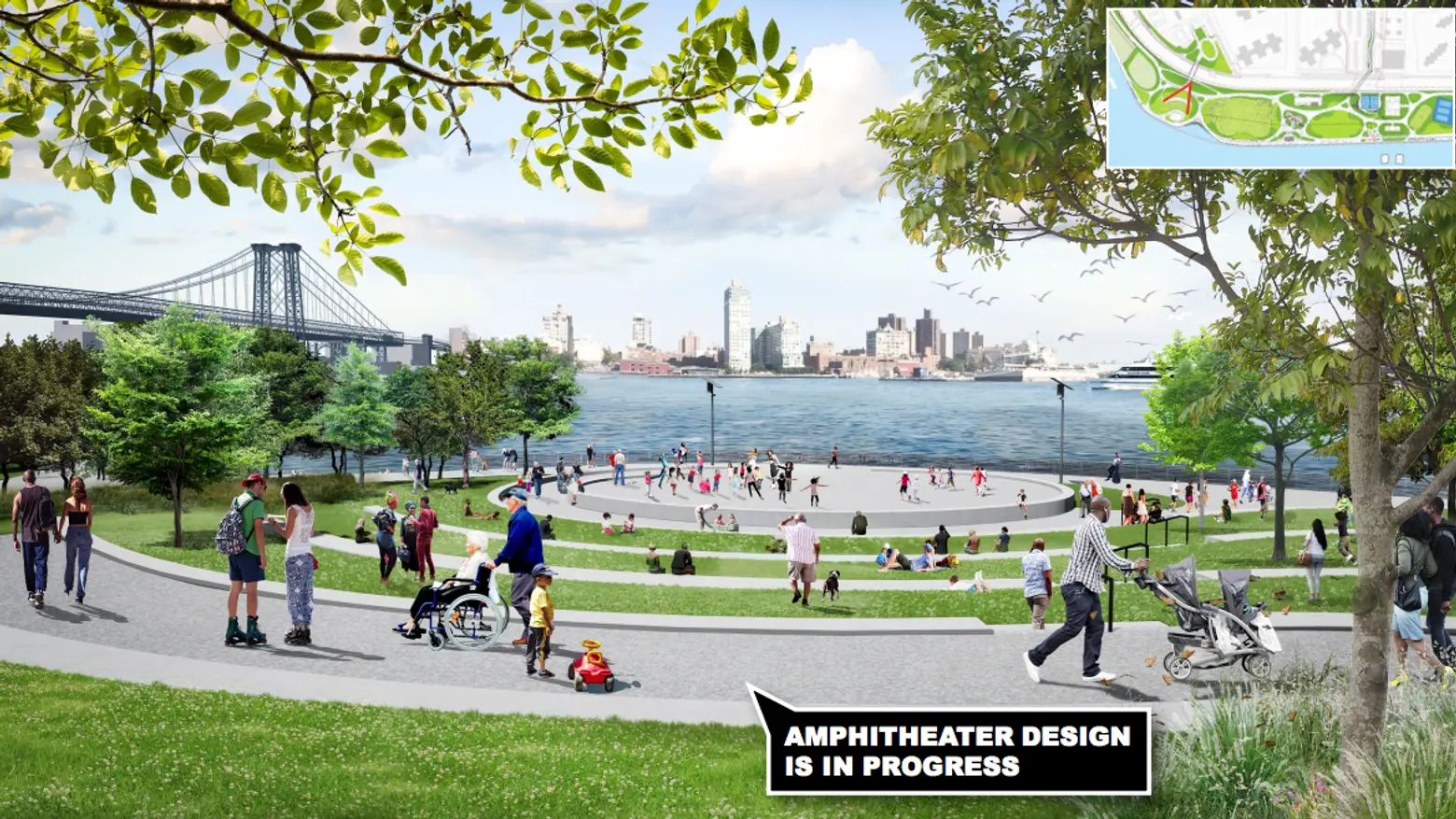 Preliminary design for Corlears Hook Bridge Landing
The city unveiled last week an updated design for its plan to protect an area stretching from the Lower East Side to East 25th Street from flooding. The Department of Design and Construction (DDC) presented on Thursday its preliminary design for the East Side Coastal Resiliency Project (ESCR) to Community Board 3, as Curbed NY reported. In response to concerns from residents about the closure of East River Park during the construction period, the city's updated design incorporates community suggestions, including a new amphitheater and an outdoor fitness area.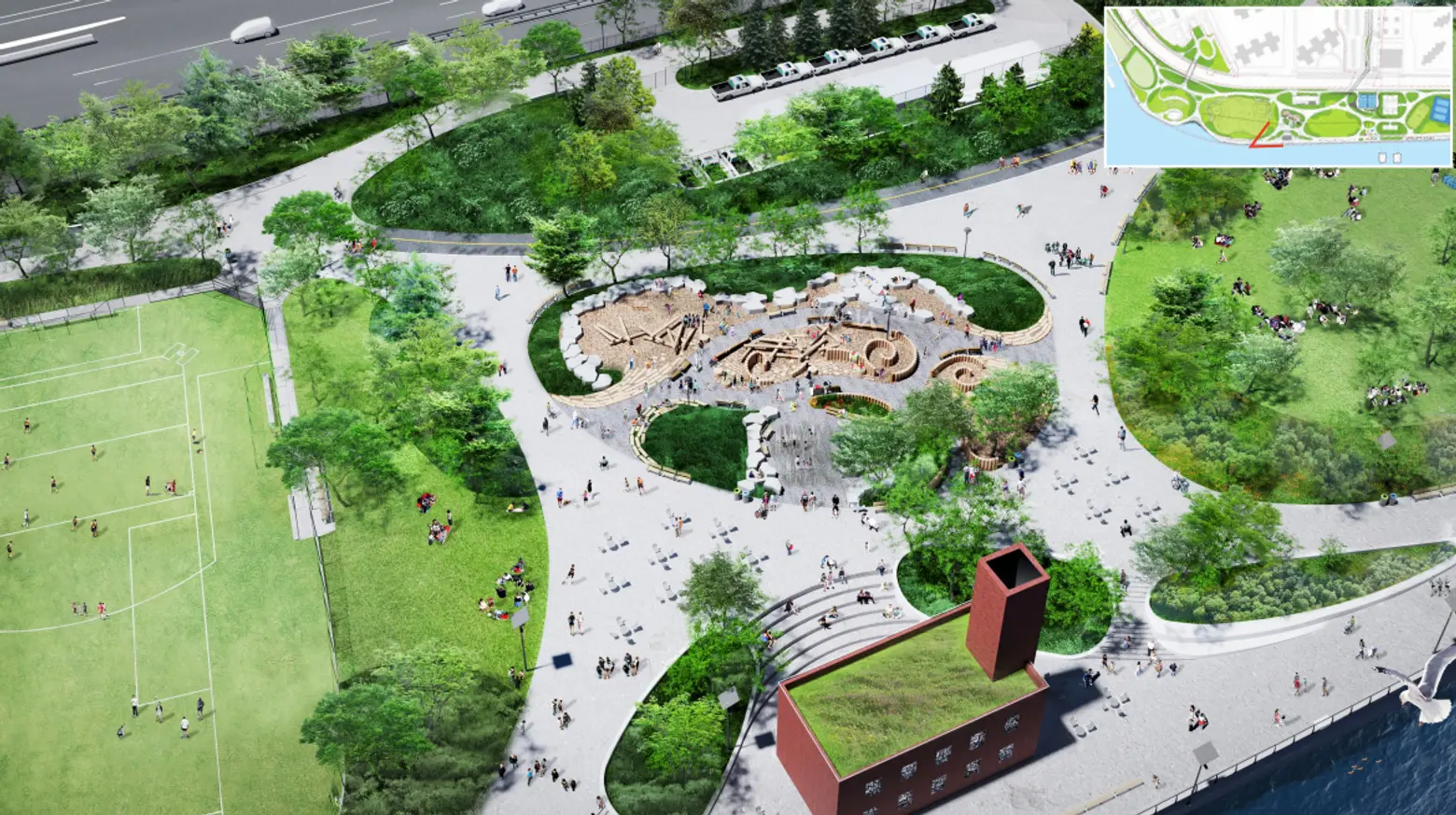 Preliminary design for nature exploration and water play site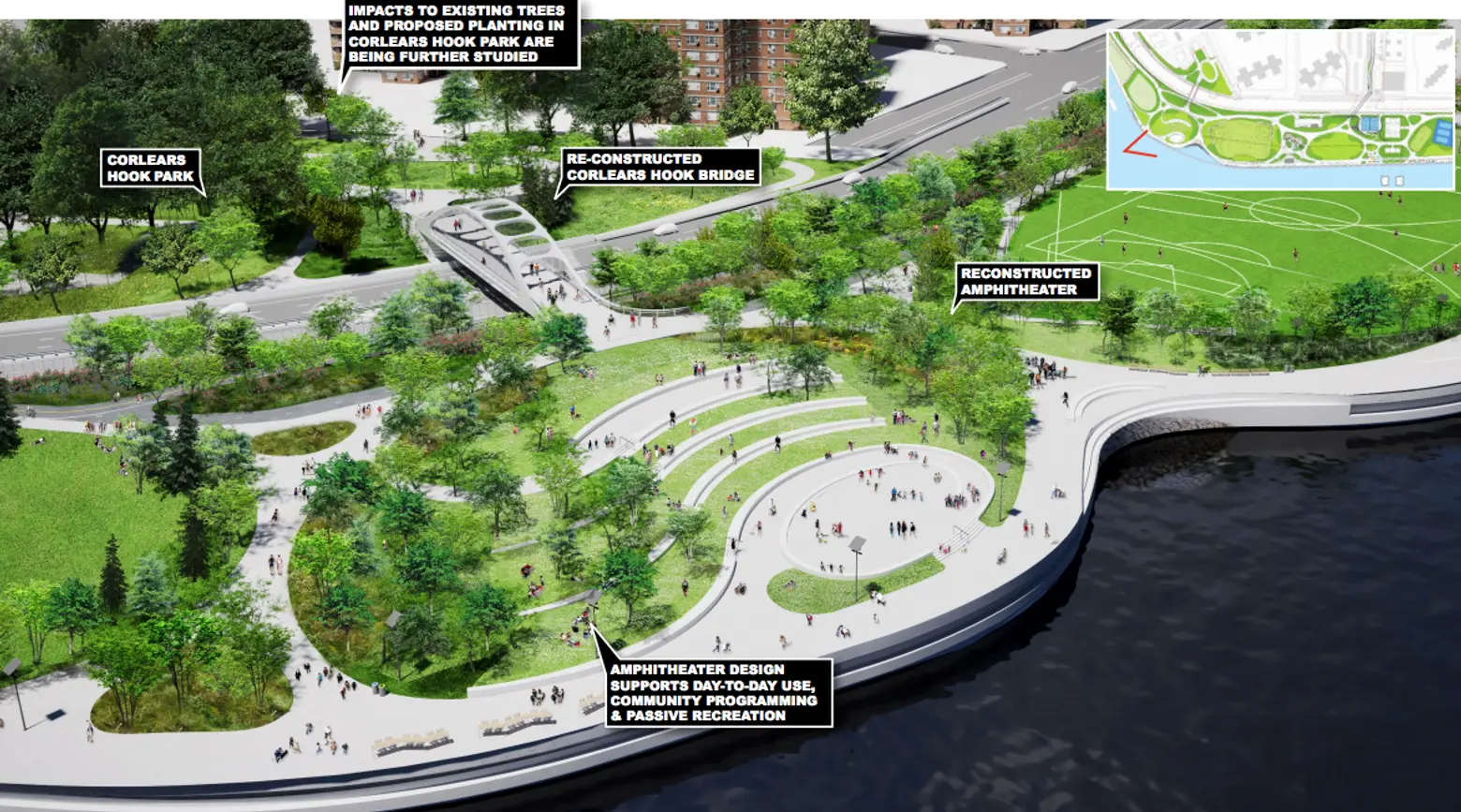 Preliminary design for the amphitheater; via DDC
The project, first developed in the wake of Hurricane Sandy, aims to both protect 2.2 miles of Manhattan's East Side, between East 25th Street and Montgomery Street, from flooding and improve access to waterfront space. According to the city, more than 110,000 New Yorkers in the area would be protected by the ESCR project.
The plan calls for elevating East River Park by integrating the flood wall at the water's edge with the bulkhead and esplanade without obstructing views, as 6sqft reported earlier this year. It would bury the park under eight to 10 feet of landfill, to protect against potential floods, and construct a new park on top.
During a public hearing last month, many Lower East Side residents said they opposed the city's flood protection plan because it requires closing the East River Park for 3.5 years during construction. Community Board 3's approved the proposed plan on June 25, but with conditions, including asking the city to include details about alternative recreation options.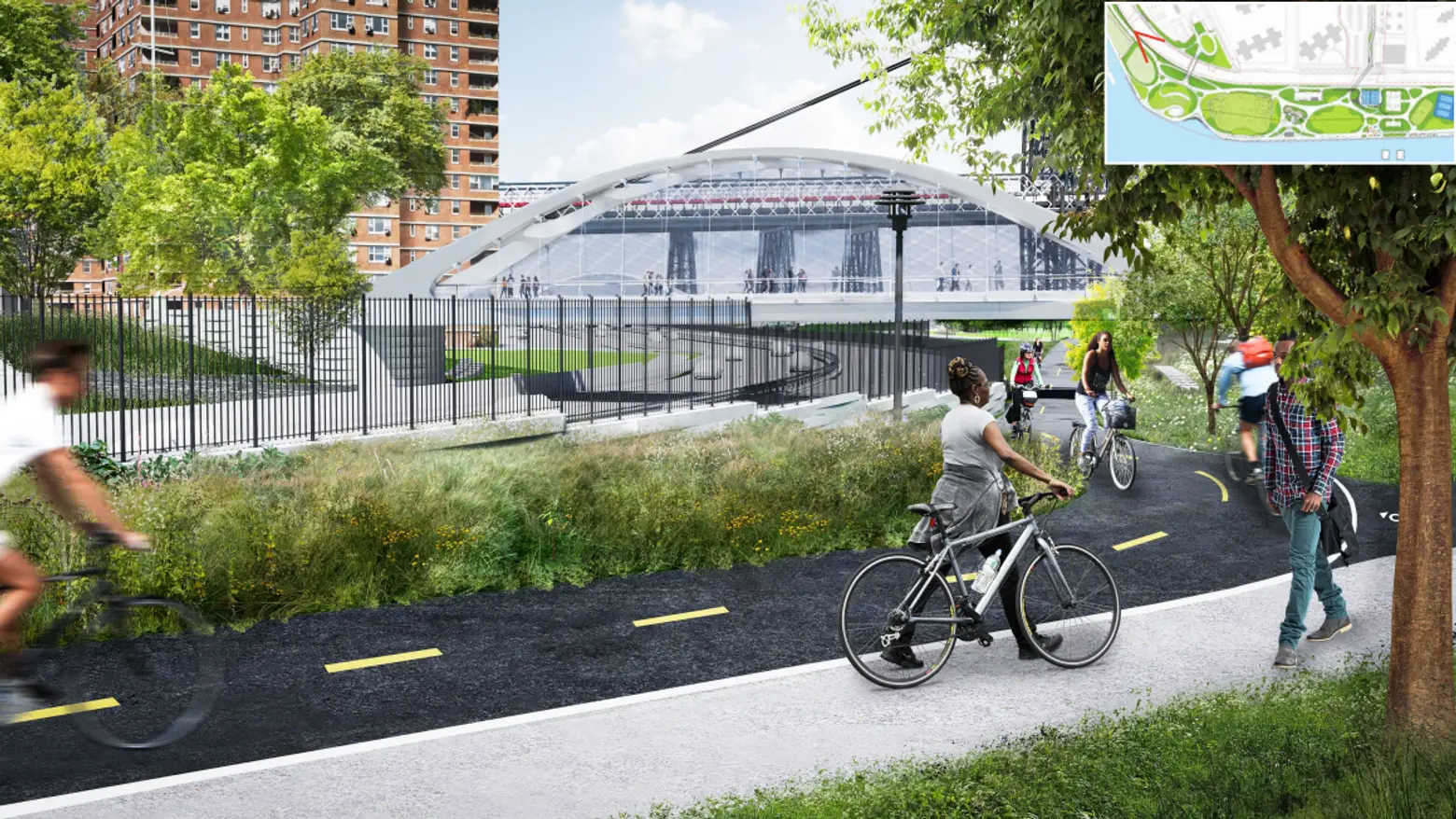 Preliminary design of Corlears shared use path; via DDC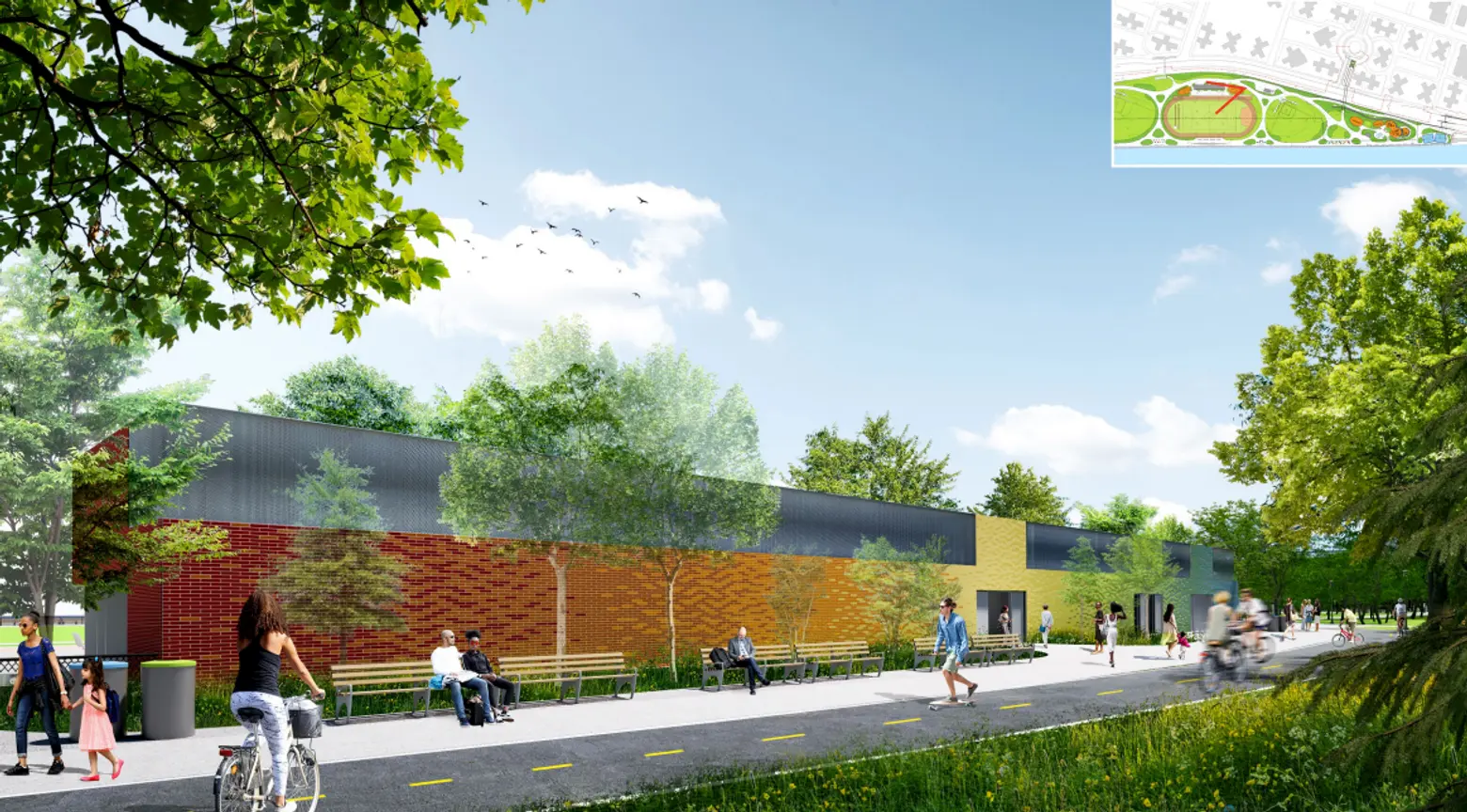 Track house on East 10th Street, preliminary design; via DDC
In response to community input, the city's design includes possible solar lighting along the esplanade, a flyover bridge to connect East 13th and East 15th Streets, two new barbecue areas, a new outdoor fitness center and basketball courts, a new amphitheater, and more trees.
The board's approval is part of the city's Uniform Land Use Review Procedure (ULURP), which ends in a vote in City Council. According to Curbed, the City Planning Commission is expected to vote on the project in late September.
Last March, Community Board 3 voted to reject the city's original proposal. In October, the $1.45 billion project was updated to allow for flood protection to be put in place one year earlier by summer 2013.
Manhattan Borough President Gale Brewer announced last week that she will host a public hearing on ESCR on Wednesday, July 17 at 6 p.m. Community members are encouraged to share concerns and/or ideas by testifying or submitting written testimony to [email protected] with the phrase "East Side Coastal Resiliency Testimony" as the subject line. See the new version of the ESCR design here.
[Via Curbed NY]
RELATED: 
Renderings courtesy of the Department of Design and Construction