A self-filtering floating pool is officially coming to the East River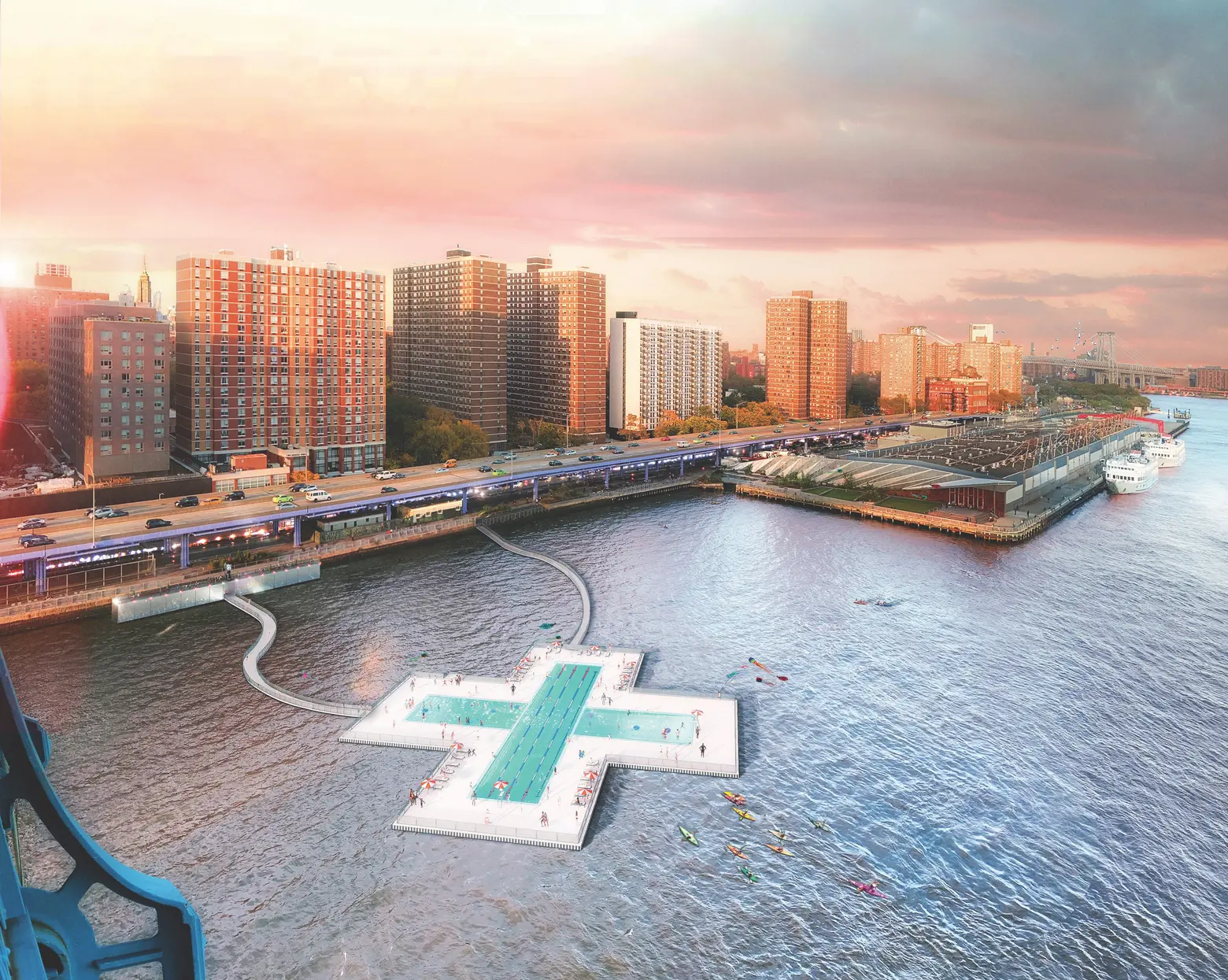 + POOL, designed by Family New York & PLAYLAB, INC. Rendering by Luxigon
A plan to build a swimming pool on the East River is finally moving forward after being in the works for over a decade. In an Instagram post published on Saturday, the nonprofit +POOL announced the group had received confirmation from the city to proceed with due diligence on their project: a floating, self-filtering pool on the south side of Pier 35 on the Lower East Side.
"Projects like this take a long time and are only possible because of the amazing people who keep pushing the envelope," +POOL wrote on Instagram. "The community around + POOL has always been its driving force. We look forward to expanding that community to include everyone in NYC who wants to be part of it!"
+POOL first proposed to build a floating pool in 2010, and for the last 10+ years, the group has worked with the city's Economic Development Corporation and local stakeholders to develop a plan, study the city's water quality, and find a feasible site for the pool.
In 2019, the NYCEDC issued a request for expressions of interest (RFEI) for ideas related to a self-filtering floating pool that would be located just north of the Manhattan Bridge and south of the Lower East Side's Pier 35. In its request, the city said the pool "will restore lapsed traditions of river swimming" in New York and become one of the first urban river-sourced swimming pools in the United States.
The city's history of floating pools dates back to the 19th century when increasingly crowded conditions led to concerns related to public health. Officials opened pools to serve as public baths, with the earliest built on the Hudson and East Rivers beginning in 1870. By 1890, the city was home to 15 floating pools. As increased pollution later made the baths unusable, the city shuttered all of the facilities by the 1940s.
The only remaining floating pool in the city (and the country) is in the Bronx. However, the pool, which opened in 2007 at Barretto Point Park in Hunts Point, is chlorinated.
As 6sqft has previously covered, +Pool's proposal includes a plus-shaped pool with four pools in one: a kiddie pool, a sports pool, a lap pool, and a lounge pool. The walls of the structure would filter the water to remove bacteria and contaminants, leaving behind safe swimming water.
Kara Meyer, the managing director of +Pool told Curbed, which first reported the news, that the group has "official confirmation to succeed with next steps for the project." According to Curbed, the project could cost between $20 million and $25 million, with a majority of funding stemming from private sources.
"We are going to move forward" with "due diligence," Meyer told the website. "The next big hurdle is regulation."
RELATED: