Can Times Square ever be completely car-free?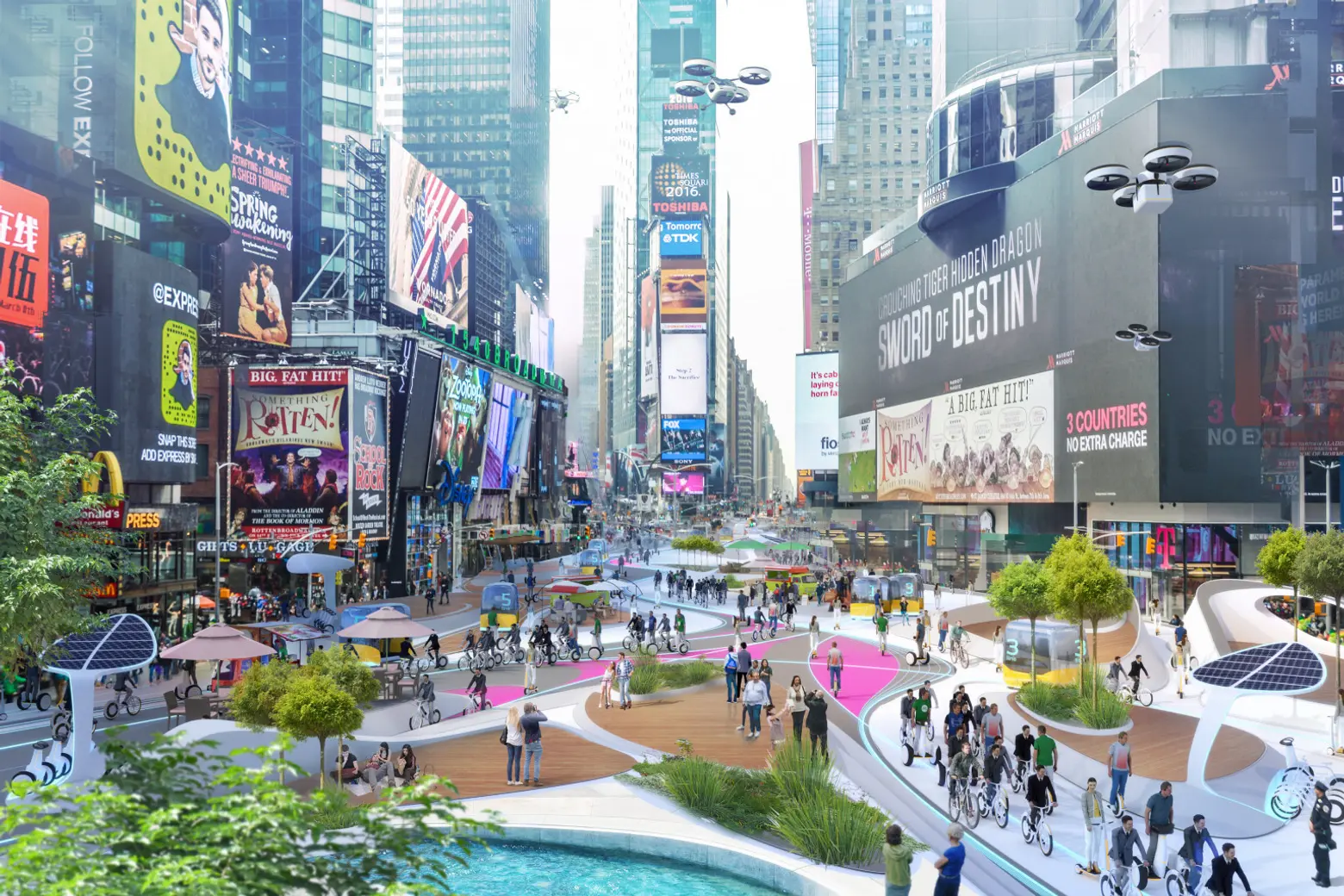 Rendering courtesy of 3deluxe
It's been over ten years since cars were first banned in some sections of Times Square. Is it time for additional street closures along bustling Broadway? In a new design study, the Germany-based architecture firm 3deluxe has reimagined Times Square to prioritize pedestrians and cyclists, trading vehicular traffic lanes for recreational activities, landscaped features, and public transportation. The concept comes as New York and other cities continue to reexamine the value of safe public space as the fight to control the coronavirus pandemic continues.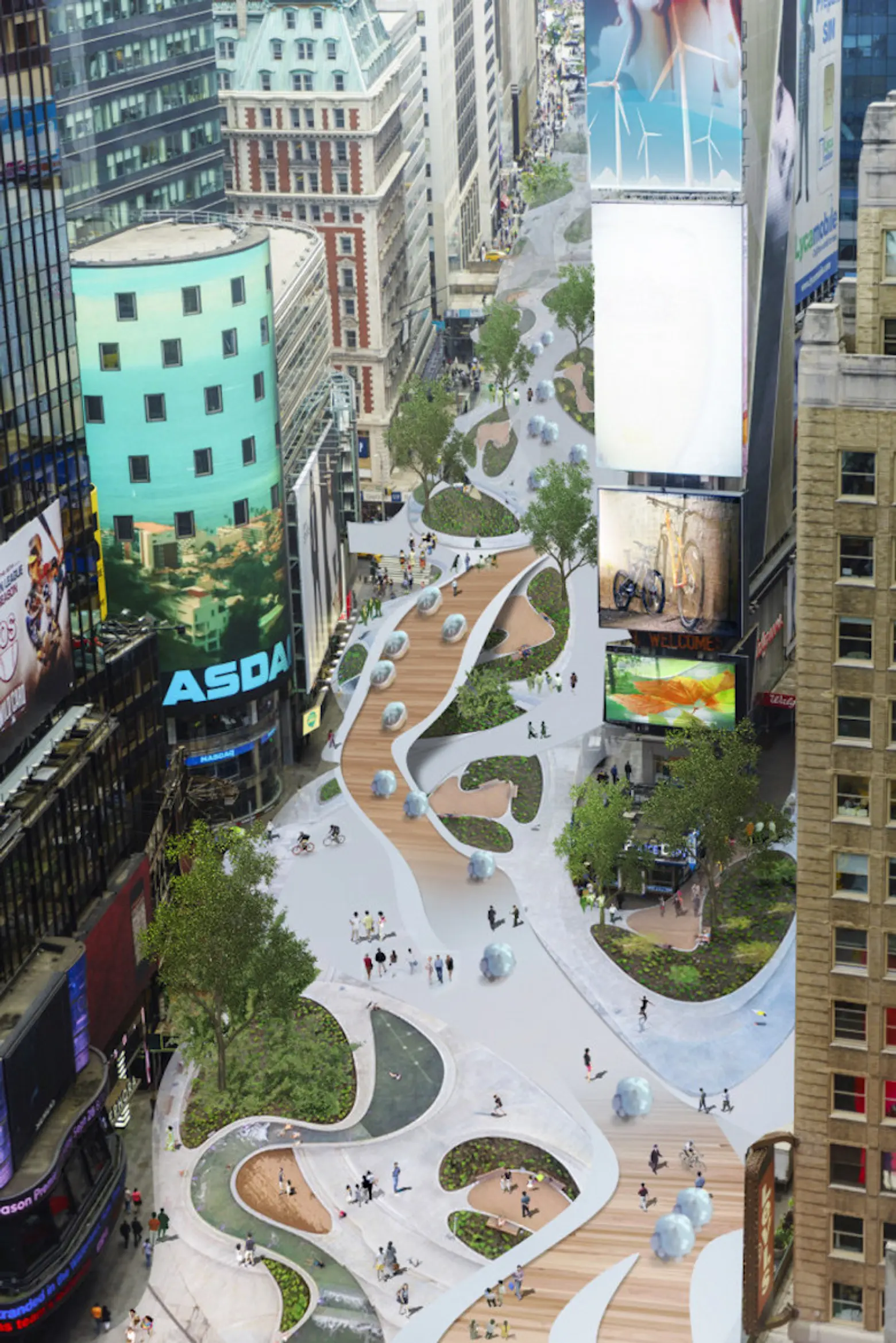 According to Dieter Brell, the creative director at 3deluxe, the pandemic has sped up the need for changes in cities. "Right now, transitional measures are being implemented in a lot of cities with the aim being to revisit the spatial distribution of the road system in line with the social trends accelerated by the covid pandemic," Brell said in the project materials.
"By means of surface graphics, the existing space is being redistributed: less space for moving and parked vehicles and more space for pedestrians, cyclists and roller-bladers."
According to the 3deluxe's case study, the rigid grid of Times Square would be updated with a new "organic dynamic mobility system," swapping out narrow pedestrian corridors for larger, winding swaths of space for recreational and economic opportunities. In their concept, there would be separate space for "micro-mobility" like bikers, skaters, walkers, and runners, space for recreational and cultural activities, and a protected fast lane for public transportation.
"The next level will go beyond mere cosmetic adaptations to these valuable spaces, incorporating structural interventions in line with the new circumstances: Sidewalks and roads as we know them will no longer exist," Grell said. "Instead the opportunity arises for a complete reformation of the surfaces between buildings, which will change the cityscape of the future fundamentally."
Former Mayor Michael Bloomberg announced in 2009 plans to close traffic lanes along Broadway between 42nd and 47th Street to cars. As a result, traffic injuries decreased, mobility improved, and foot traffic to businesses in the area increased. Bloomberg later made the closure permanent.
Although Mayor Bill de Blasio once considered removing the pedestrian plazas in Times Square because of street performers, today the mayor seems more open to giving street space to pedestrians. Last holiday season, the mayor signed off on plans to expand the pedestrian space in Midtown around Rockefeller Center and Radio City Music Hall.
And this summer, de Blasio unveiled the Open Streets and Open Restaurants programs, which closed some streets to cars for pedestrian and outdoor dining use as a way for New Yorkers to enjoy their neighborhoods safely during the pandemic. Last month, the mayor announced the "Open Storefronts" program, will let businesses with ground floor space set up on sidewalks, on streets that are closed to cars as part of the Open Streets program, or a combination of both.
As Treehugger editor Lloyd Alter noted in an article about the new pedestrian-friendly Times Square proposal: "This vision is not entirely convincing. Anyone who has ever cycled or walked through Times Square would see endless conflicts and collisions here with walkers in the bike lanes and we won't even start with the scooters."
[Via Treehugger]
RELATED: