Penn Station opens new accessible entrance with glass canopy at 7th Ave and 32nd Street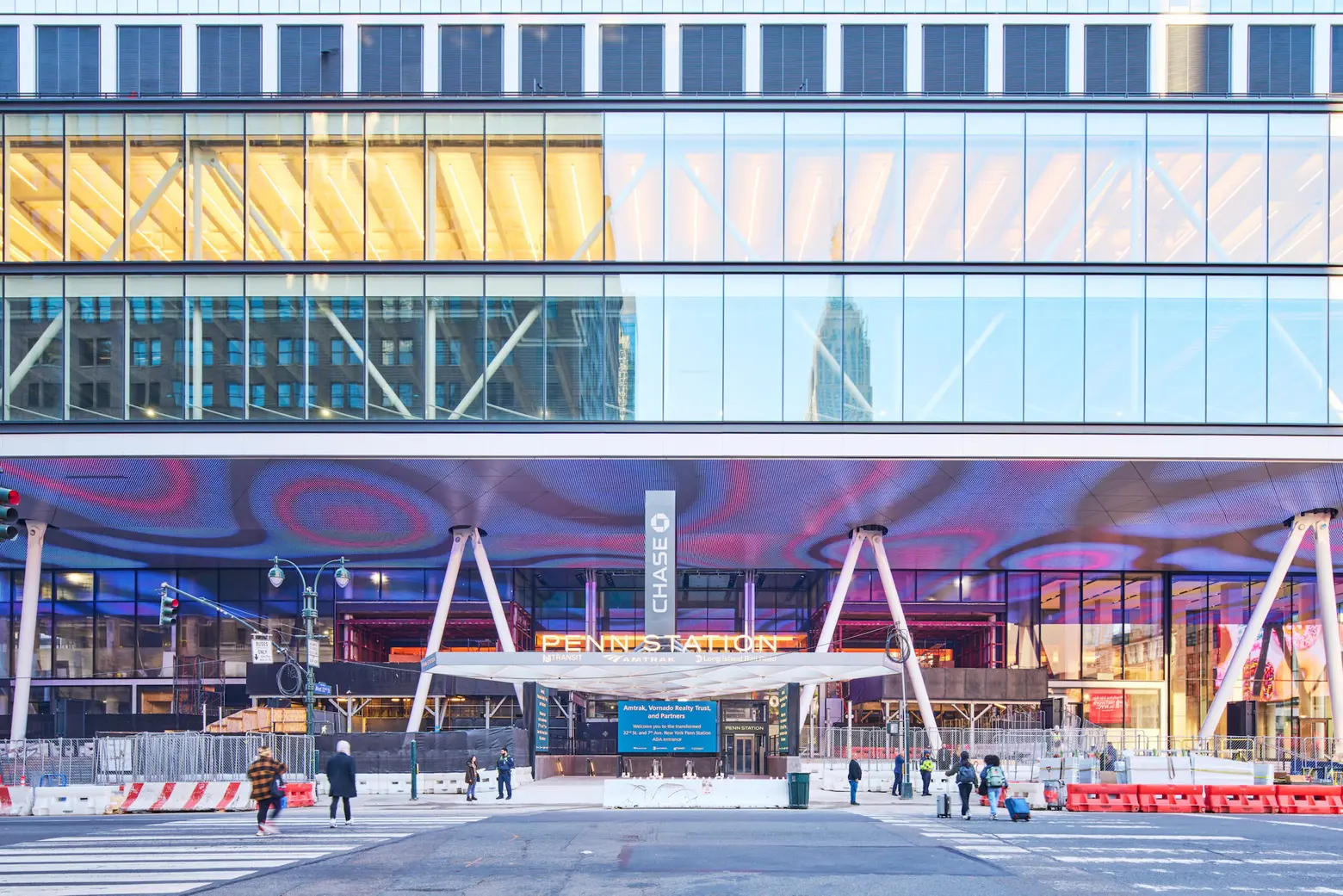 All images courtesy of Fernando Sandoval/MW
Travelers will now have a much easier time entering Penn Station. The transit hub's busiest entrance at 7th Avenue and 32nd Street reopened on Sunday following a renovation led by Amtrak and Vornado Realty Trust. The passageway is now fully ADA-accessible, with a 50 percent wider entrance, a new elevator, two new escalators, and a new glass canopy designed by Norman Foster's Foster + Partners that replaces the original concrete overhang.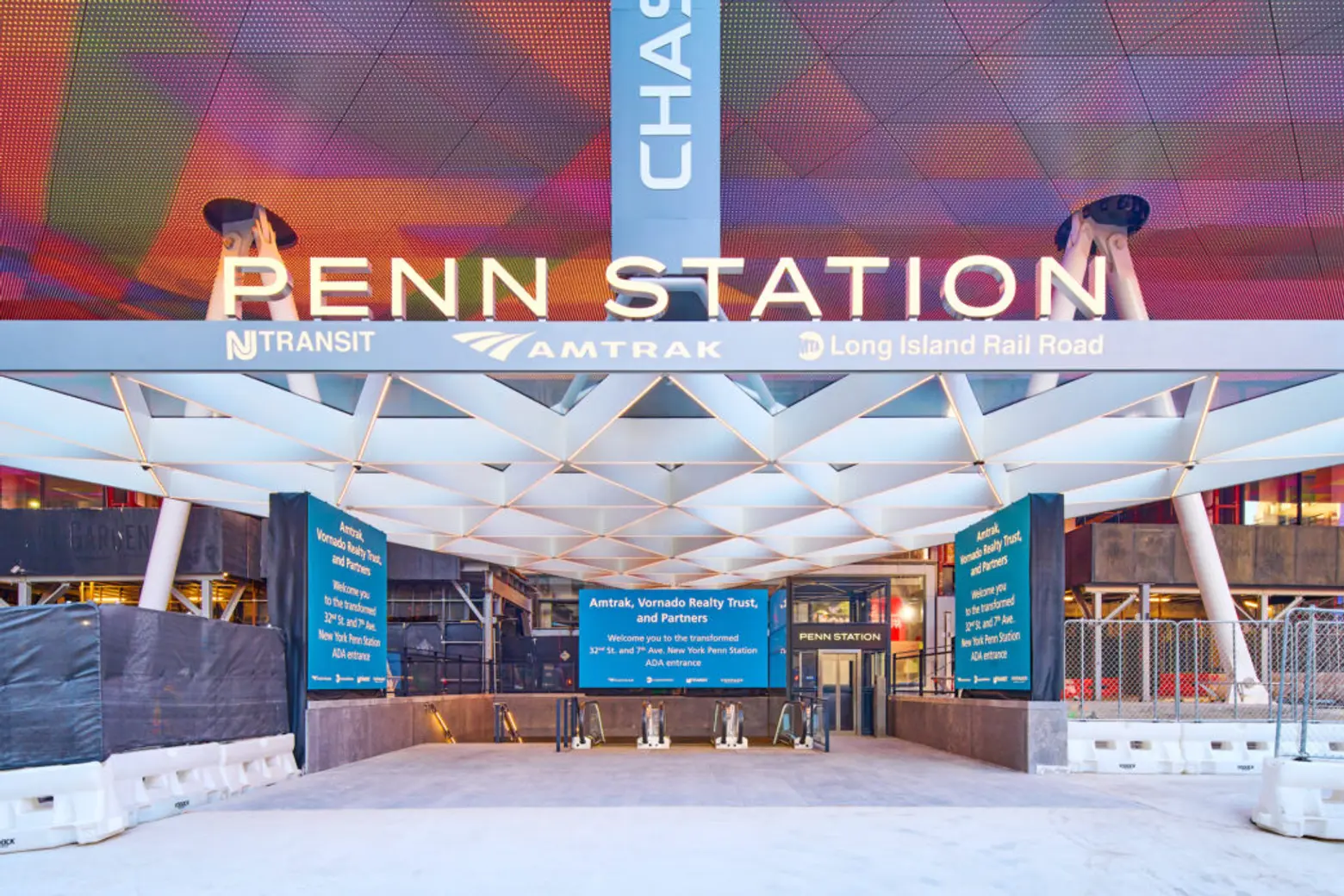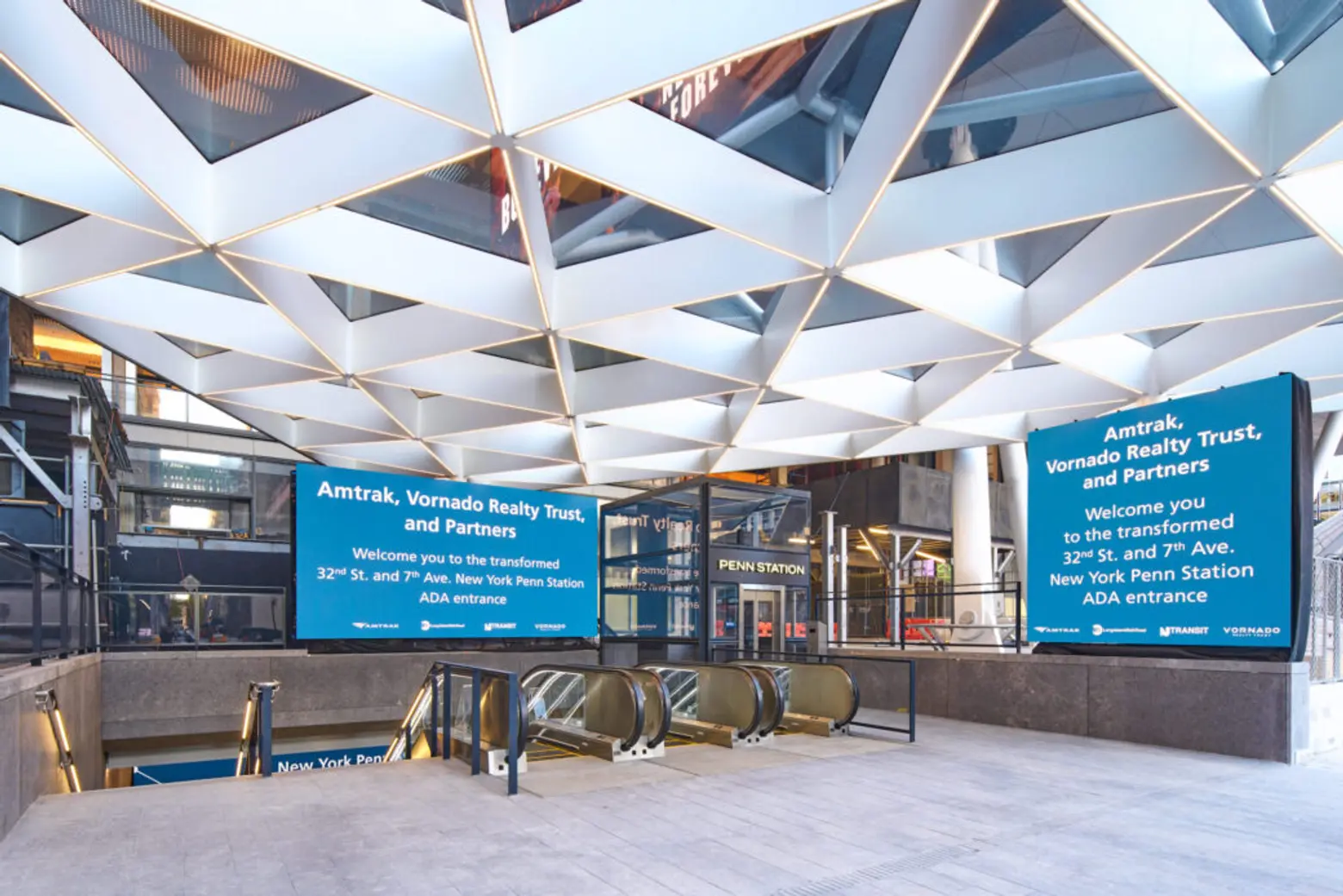 The new entrance features an ADA-compliant elevator, making the station both fully accessible and easier for those carrying heavy luggage. There are also three new transit-grade escalators as opposed to the previous entrance's two, improving the flow of passengers into the station.
The previous entrance's 1967-era concrete overhang has been replaced with a new glass canopy designed by Foster + Partners to provide natural light into the station below. Above the canopy is a new LED lighting installation developed by Vornado that provides "an opportunity for art."
"We have been master-planning, studying and improving New York City's public realm with Vornado to create a more inclusive and dynamic urban experience," Nigel Dancey, head of studio at Foster + Partners, said. "This project is an important step towards a wider transformation that looks to enhance the quality of the spaces between buildings and make the busiest transportation hub in North America welcoming and inviting for all."
Vornado is working with the city's Department of Transportation to widen the sidewalks along the west side of Seventh Avenue between West 31st and 33rd Streets to reduce crowding and improve navigation. New, large signage improves the entrance's visibility from Park Avenue, allowing travelers to easily locate one of the station's primary entrances.
"We are proud to roll out the welcome mat to our new, modern entrance for the 600,000 daily New York Penn Station visitors," Stephen Gardner, Amtrak CEO, said. "Having a direct, accessible entrance at 32nd and 7th will improve the customer experience for all passengers as they can now take an elevator, walk down wider stairs and have an added, third escalator to help them enter or exit the station."
Amtrak has made more than $300 million in capital improvements in and around Penn Station over the last five years in addition to its investment in Moynihan Train Hall. During fiscal year 2023, Amtrak dedicated more than $114 million to its ADA Stations Program, which has already made 118 stations around the United States fully accessible and another 65 stations semi-accessible.
RELATED: