Private firm unveils Penn Station redesign plan, claims it's $1B cheaper than MTA's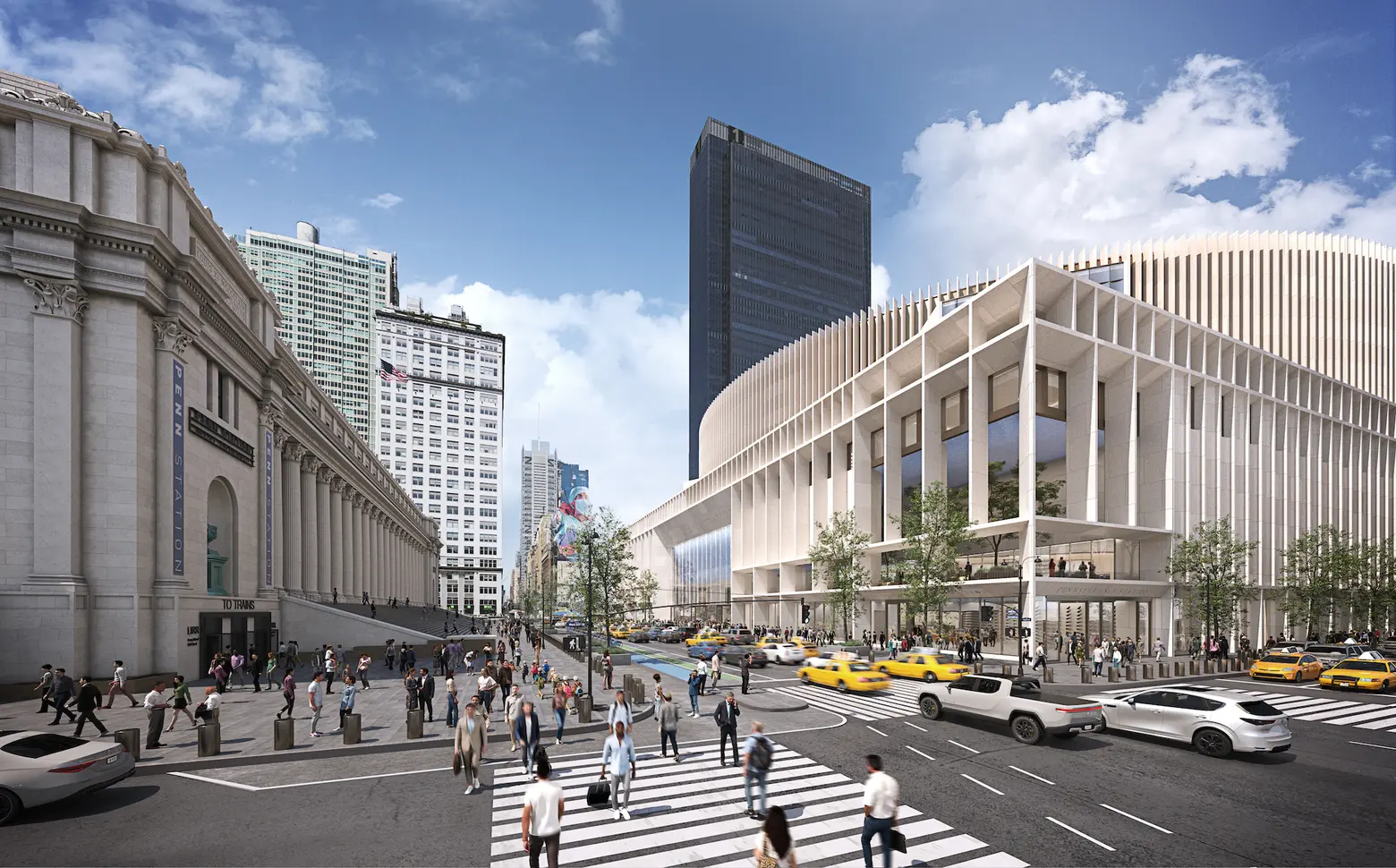 Renderings courtesy of ASTM, PAU, and HOK
A private development firm unveiled a proposal for rebuilding Penn Station that is $1 billion cheaper than what is proposed by the MTA. ASTM North America on Wednesday revealed details of their $6 billion renovation of the transit station, which involves keeping Madison Square Garden in its current location, wrapping it in a massive stone facade, and creating a more unified train hall. The firm's unveiling of the comprehensive plan comes days after Gov. Kathy Hochul announced that Penn Station's renovation will move forward with the preliminary design process without the development of several office towers.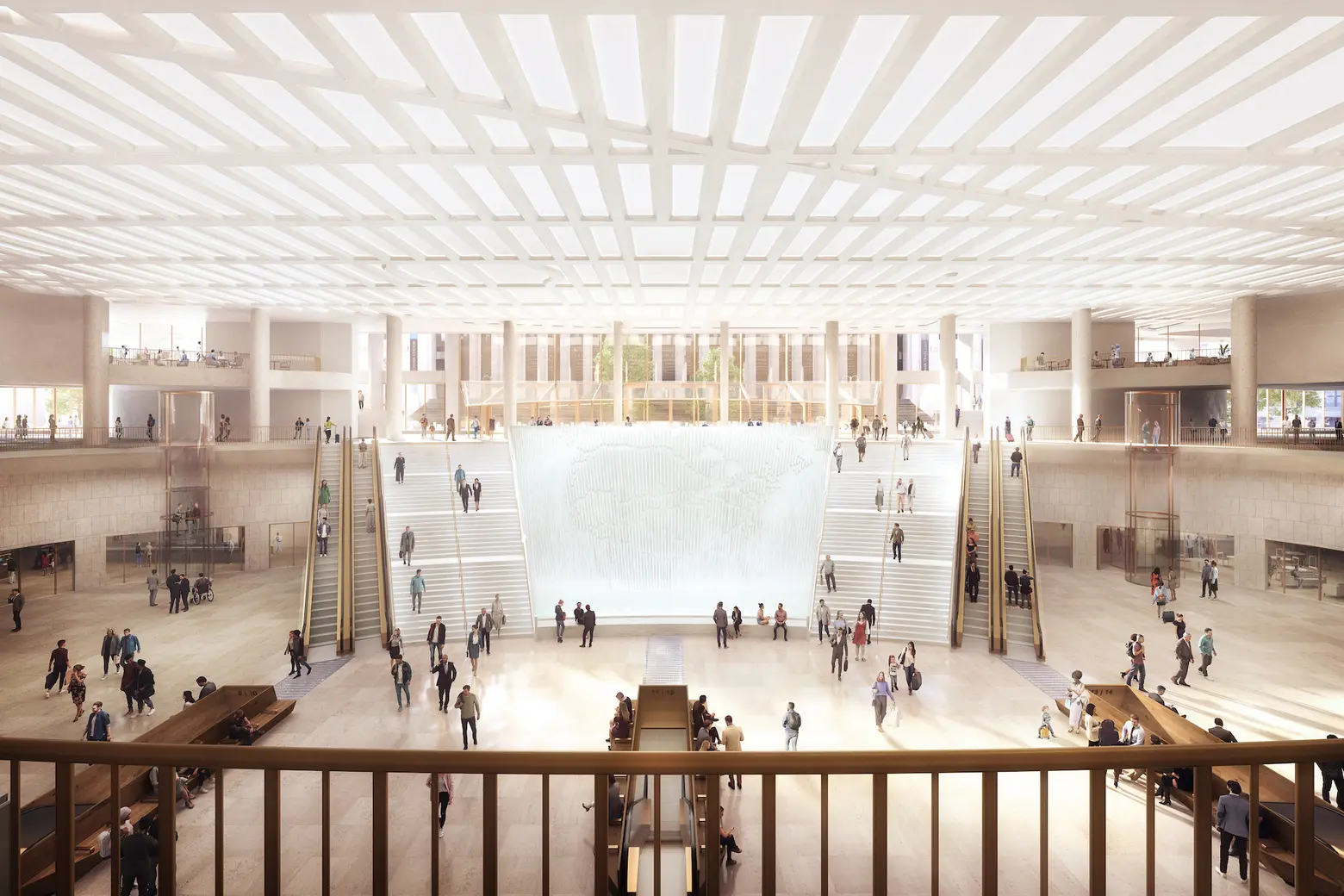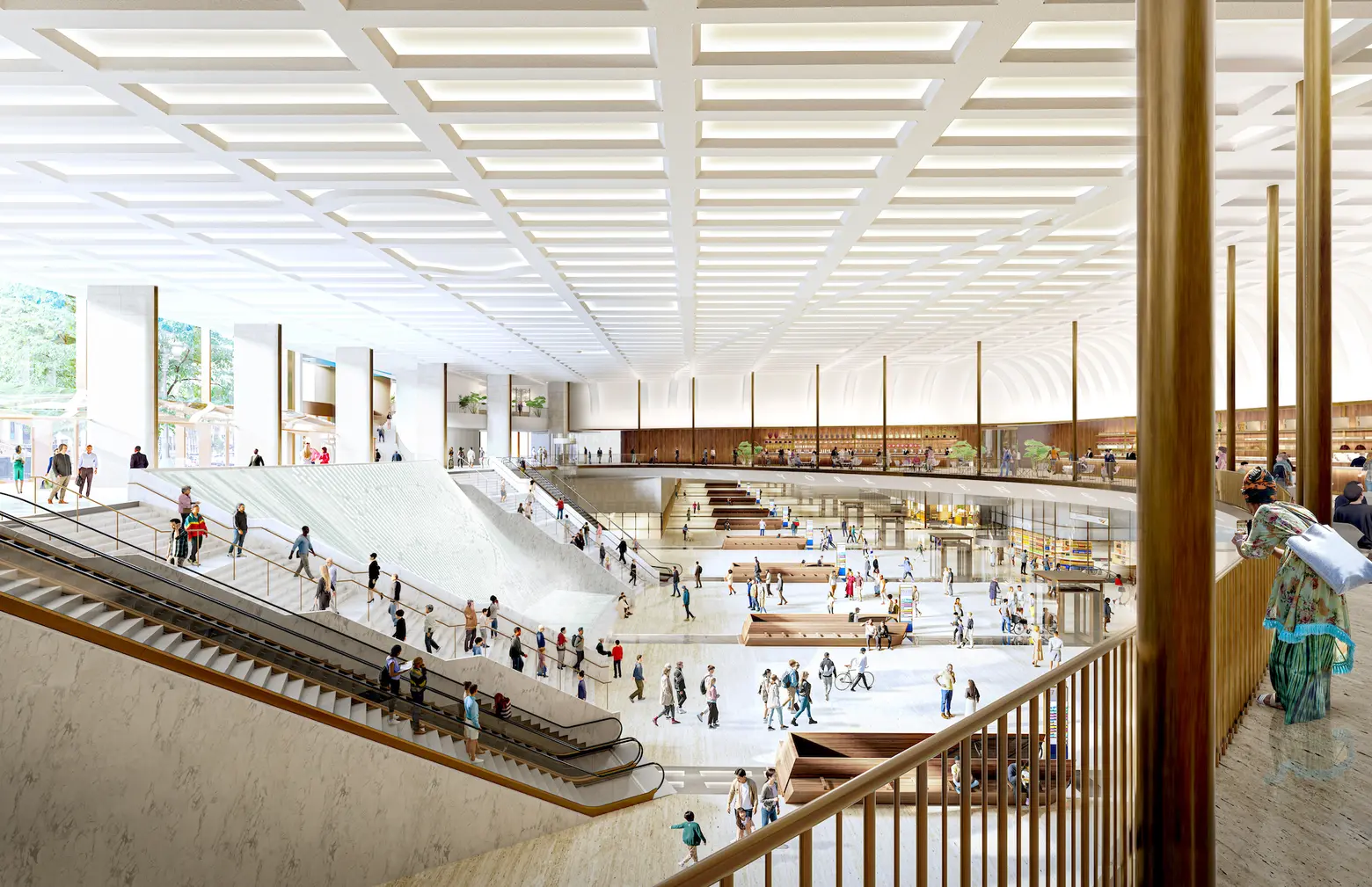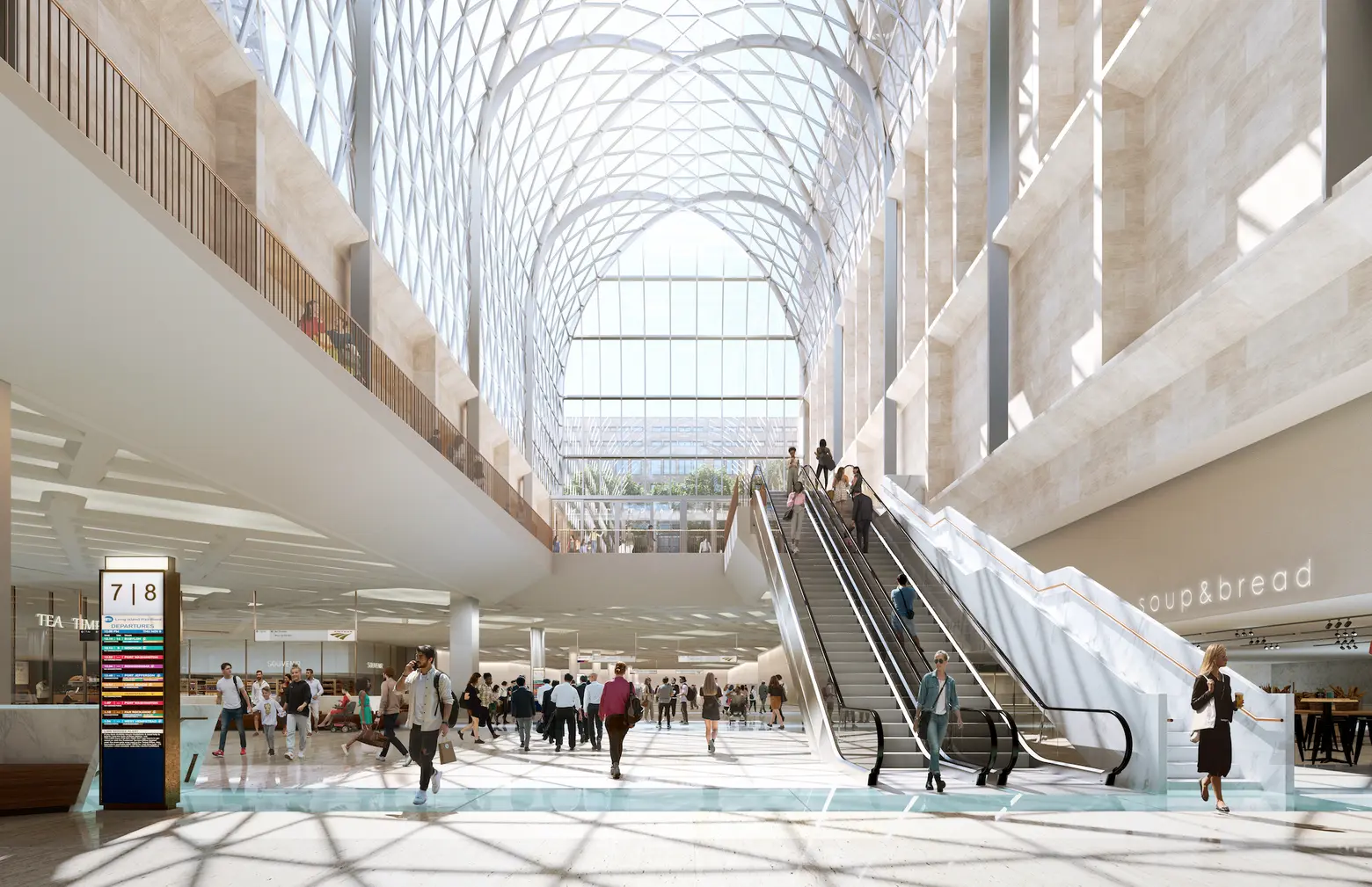 Designed by architects at Practice for Architecture and Urbanism (PAU) and HOK, ASTM's plan keeps MSG in place and creates two main train halls accessible by a new grand entrance on Eighth Avenue. The new main entrance, which would replace the existing Hulu Theater, would have 55-foot-high ceilings and a glass-wrapped mid-block hall with 105-foot-high ceilings, large windows, and skylights to bring in natural light.
A new single-level passenger concourse would have entrances on West 31st and West 32nd Streets, with fully ADA-accessible elevators, escalators, and stairs that connect directly to the street. These improvements would speed up the process of passengers disembarking trains and clearing the platform by 30 percent, and roughly 70 percent of all riders exiting train platforms would emerge into a day-lit area.
"HOK has worked closely with ASTM and PAU to ensure that this visionary plan will create the Penn Station New Yorkers deserve," HOK President Carl Galioto, FAIA, said in a statement.
"The New Penn Station will bring much-needed light into two new train halls, including a grand new Eighth Avenue hall with 55-foot ceilings above the passenger concourse and a glass-wrapped mid-block hall with a sunlit passage between West 31st and 33rd streets. This proposal finally gets rid of a dark, cramped station and creates an inspiring public space worthy of the busiest railway station in North America."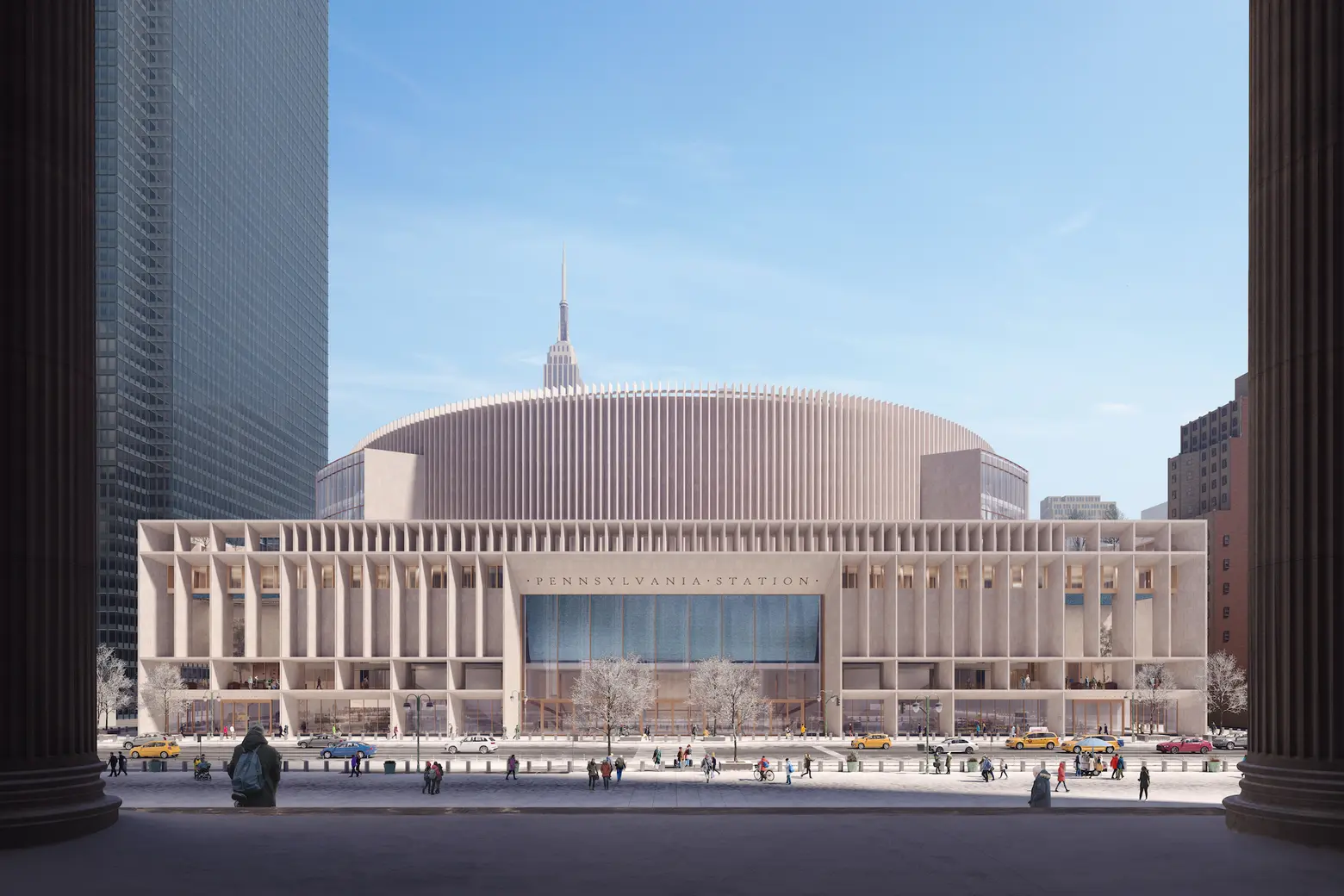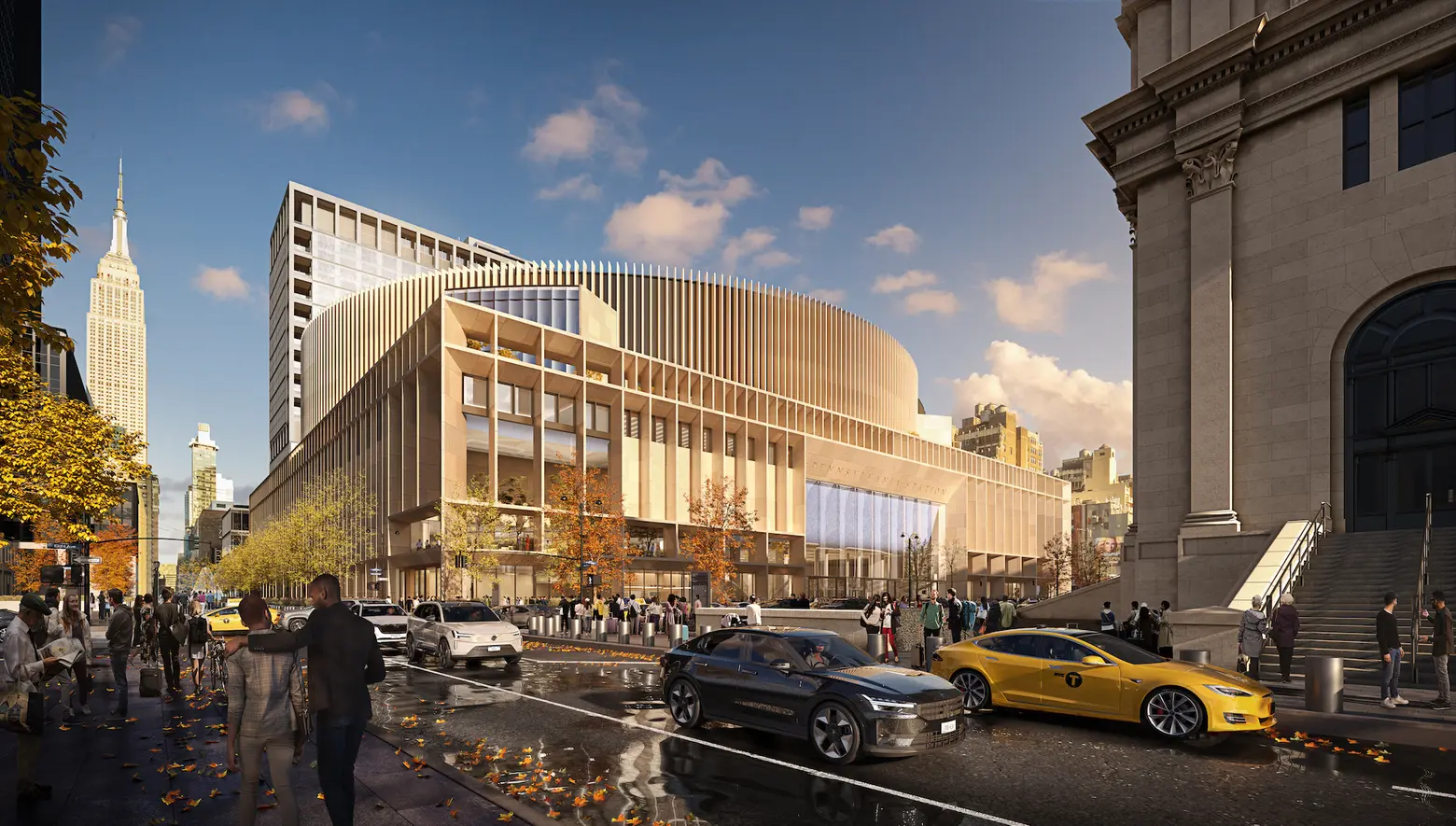 The proposed stone facade around the Garden would draw inspiration from the neoclassical McKim, Mead & White-designed Moynihan Train Hall. It would also serve as a safety enhancement for the building, shifting truck loading for MSG from off of the busy streets into the building. This improvement would free up space on the surrounding service roads, improving traffic congestion.
Additional design features include new open-air terraces and an exterior plaza with improved circulation and programmed spaces that would enhance the visitor experience and the character and public realm of the surrounding neighborhood.
ASTM North America CEO, Pat Foye, who previously served as chair of the MTA, said the team has spent months pitching their proposal to local stakeholders and elected officials who helped shape the design.
"We are confident that this is the plan that New Yorkers deserve, not only because of its innovative design but because our public-private partnership model will lower the financial risk for taxpayers and more effectively deliver a modernized Penn Station in its entirety," Foye said in a statement.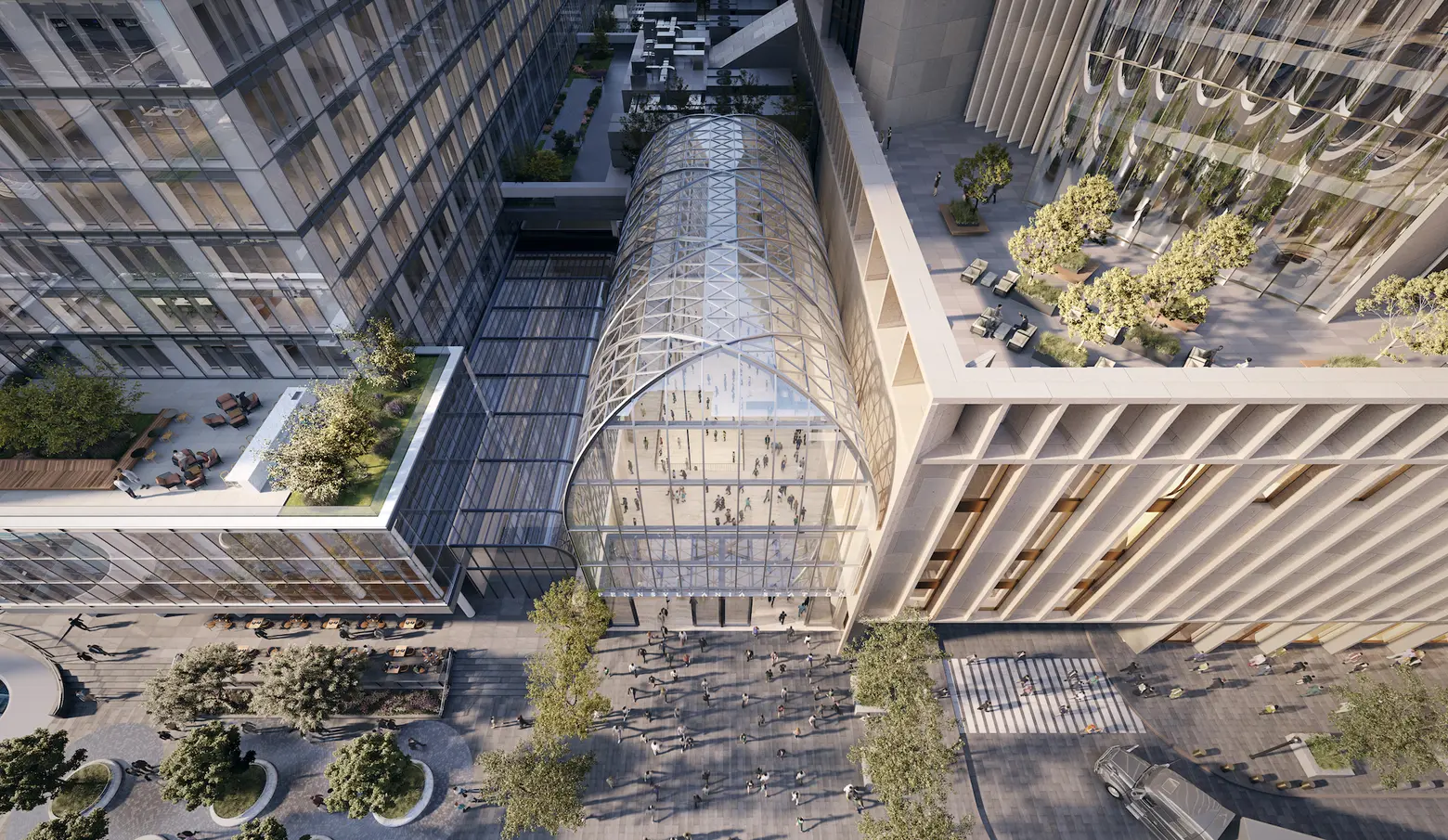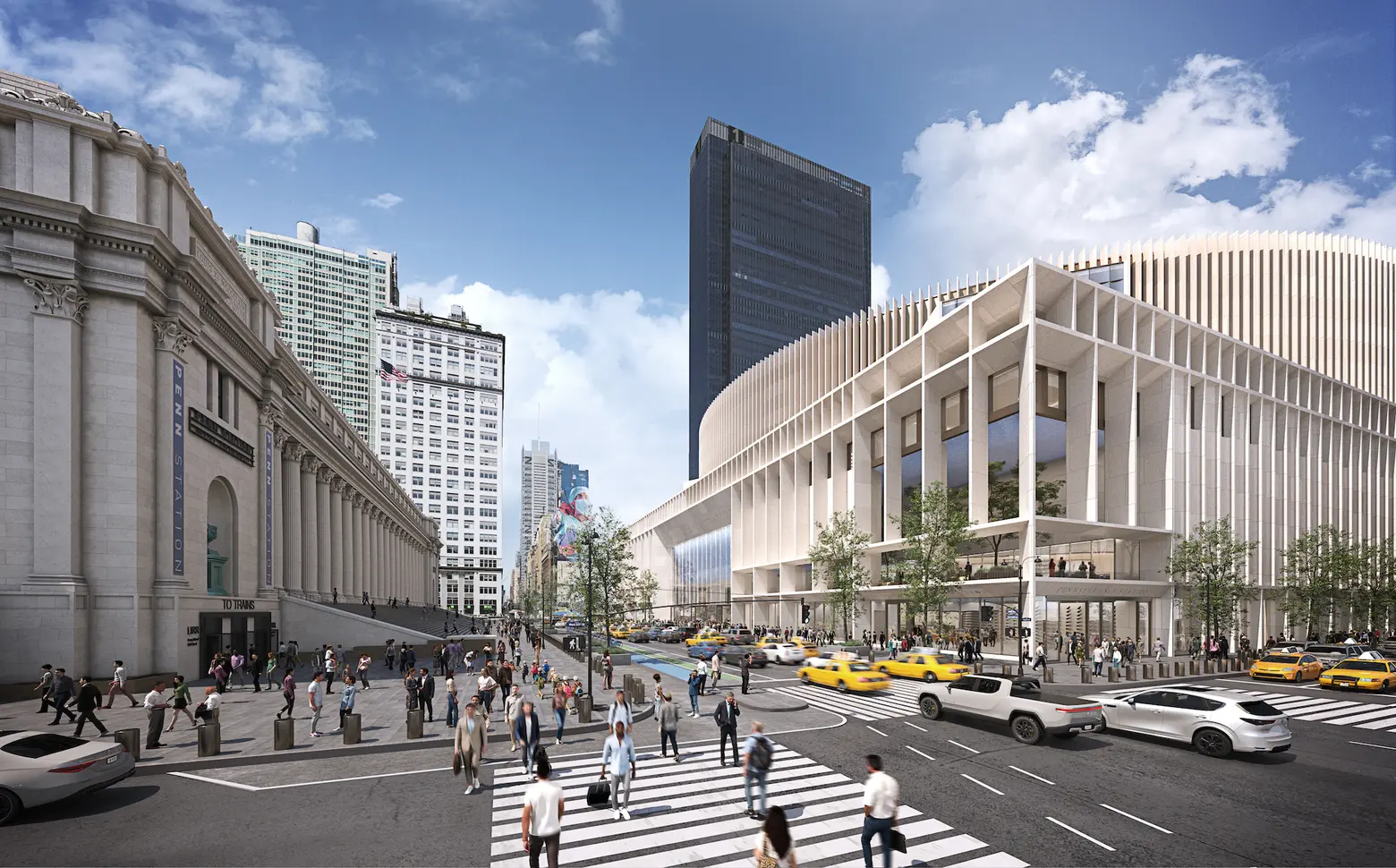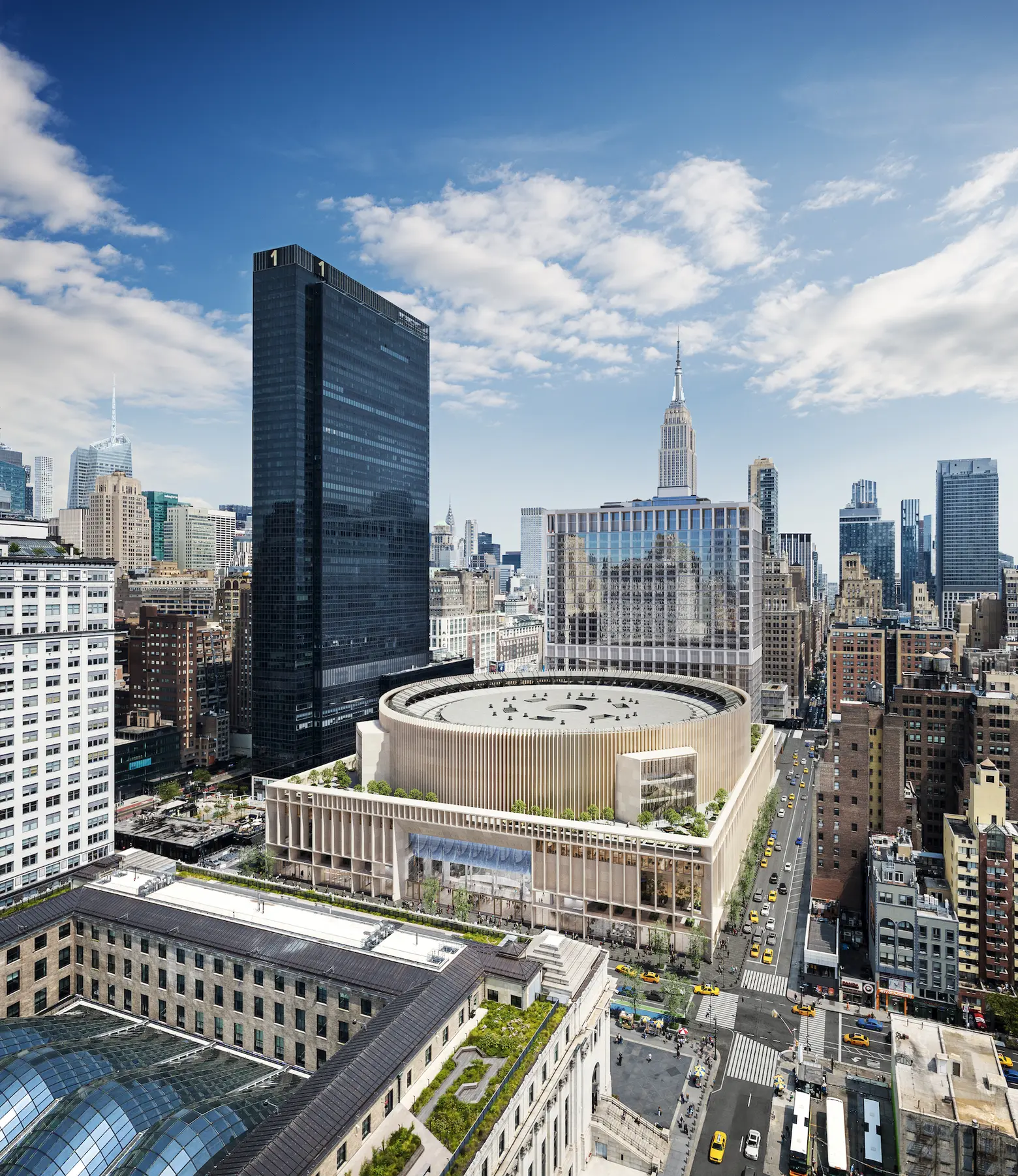 ASTM has stated that they will provide $1 billion to kick off the project and secure a mix of state and federal funding to cover the remainder, according to the New York Times.
The firm would then go on to manage and operate the station for 50 years, while Amtrak, New Jersey Transit, and the MTA would pay roughly $250 million a year to use the space.
ASTM's plan was first revealed in April, with the firms announcing the addition of Vishaan Chakrabarti of PAU to their design team. Shortly after being revealed, MTA Chair and CEO Janno Lieber called ASTM's plan "wasteful" due to the fact that it involved paying the owners of MSG roughly $1 billion to demolish the Hulu Theater, which 70 percent of all Penn Station commuters enter and exit through.
In May, Manhattan Borough President Mark Levine issued a recommendation that involved the demolishing of MSG's Hulu Theater to make way for a new grand entrance. In order to do this, Levine advised giving MSG a new five-year special permit if the Garden agreed to work with the city, state, and railroads, to assist in redeveloping Penn Station and the surrounding area. The borough president had previously supported moving MSG but had since changed his mind, claiming that there was not a "viable alternative site" for the arena to relocate.
On Tuesday, Hochul announced that the preliminary design process for MSG's renovation could move forward. The governor's original plan to overhaul the transit hub enlisted developer Vornado to redevelop 18 million square feet of the surrounding area, including 10 new high-rise office towers, with the tax revenue generated put towards funding the project. Earlier this year, Vornado paused its plans, saying construction was "almost impossible" due to market conditions.
However, Hochul says that funding from the state and federal government has made it possible to move forward without any development proceeds.
The governor also announced that following the preliminary process, the state would accept bids from other design firms and engineers for final design concepts for the renovation's master plan. While the station is owned by Amtrak, the decision on which design plan to select will be made jointly by the railroad and the states of New York and NJ, according to the New York Times.
RELATED:
Renderings courtesy of ASTM, PAU, and HOK