Hochul drops office towers from Penn Station renovation plan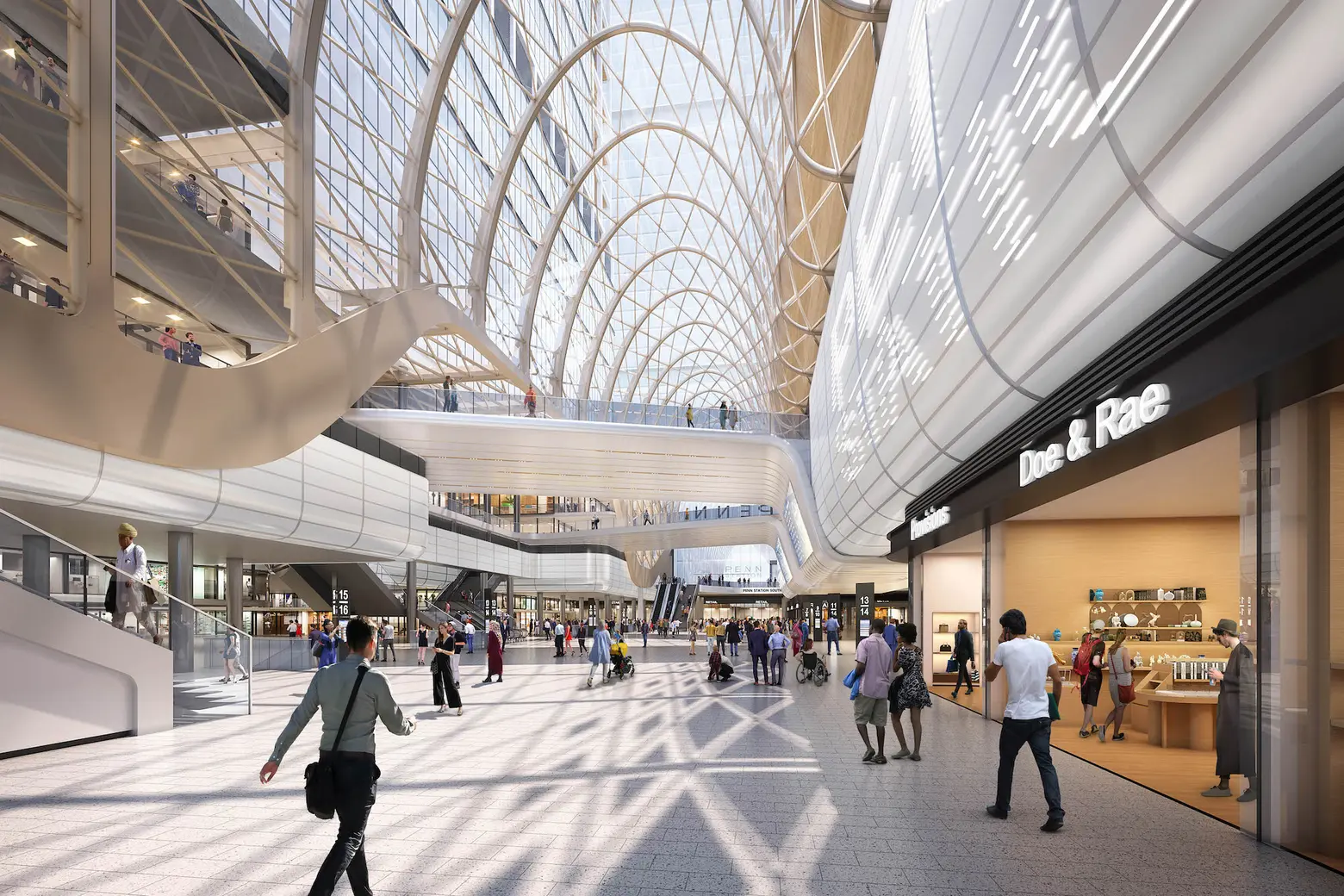 View of mid-block train hall facing south; Renderings Courtesy of FXCollaborative / WSP / John McAslan + Partners
The renovation of Penn Station will move forward without the construction of several skyscrapers, Gov. Kathy Hochul announced Monday. The governor's plan to overhaul the busy transit hub originally called on the developer Vornado to redevelop 18 million square feet of the Midtown West neighborhood, including 10 new high-rise office towers, with the tax revenue generated helping fund the station overhaul. Now, Hochul says funding from the state and federal government makes it possible to move forward with the renovation without any development proceeds.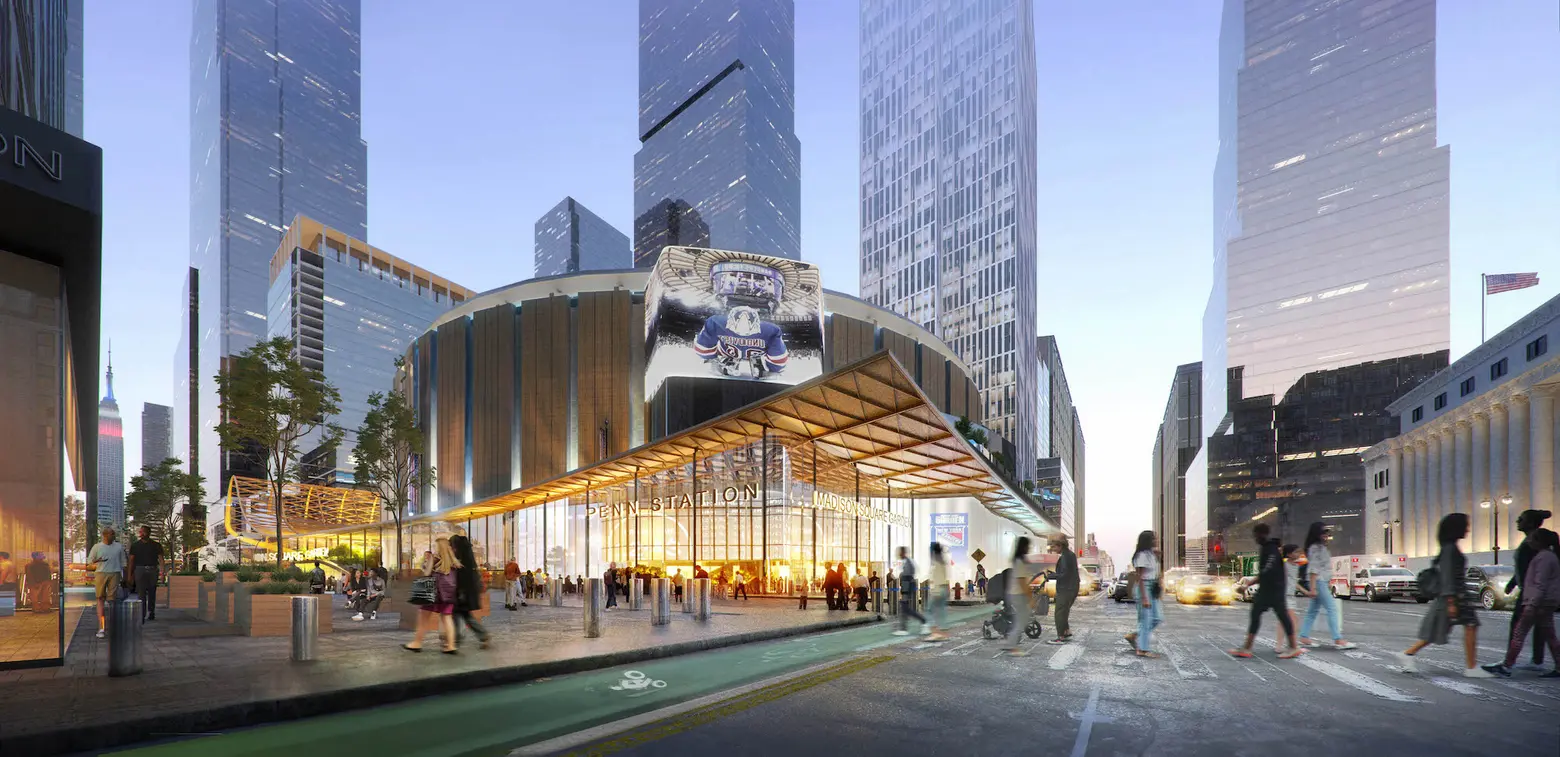 View of the entrance at 33rd Street and 8th Avenue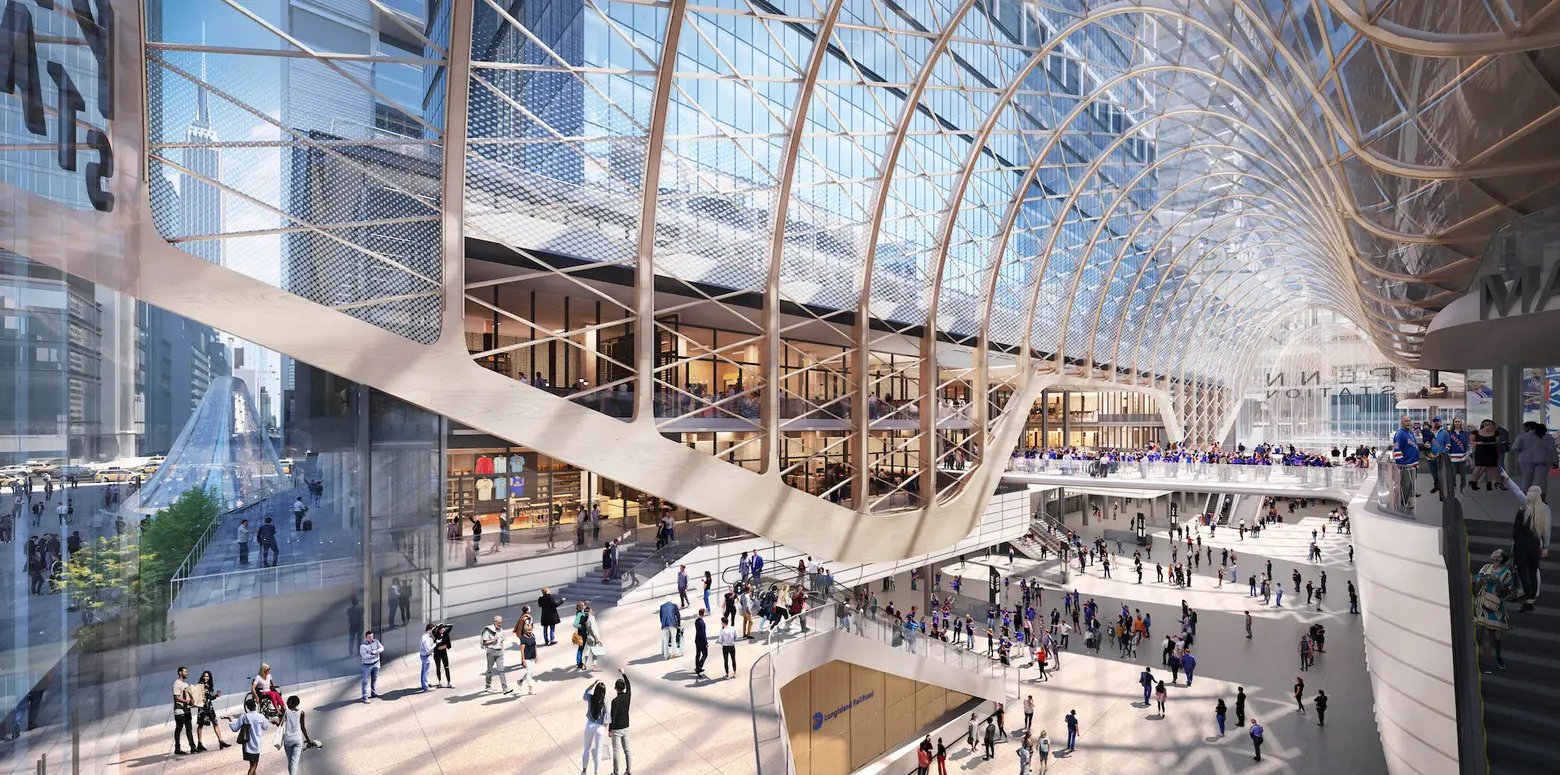 The change in plans comes five months after Vornado said it would pause any redevelopment plans around Penn Station because of interest rates and the current challenges of building new.
Hochul on Monday did not totally rule out building office space in the area, which has faced the most backlash from critics of the plan. "It makes sense. We have 600,000 people that come through here, it makes sense for them to be able to work in the same place where they commute to," Hochul said on Monday.
"We'll get that done over time, but I no longer want that to be a delay, a delay to this process, which is moving forward today."
The project is estimated to cost $7 billion and several years to complete. The state has committed $1.3 billion to the renovation project already, with additional funding expected from federal grants.


View of Penn Station from 8th Avenue
Although the state began accepting bids for the design of the new Penn Station more than a year ago and later tapped FXCollaborative, WSP USA, and John McAslan + Partners as the architects, the MTA has officially issued a "notice to proceed" to kick off the preliminary design process of the Penn Station Master Plan.
On Monday, the governor said following the preliminary process the state would accept bids from other design firms and engineers for final design concepts for the master plan, which aims to transform the notoriously dark and crowded station into a single-level bright and airy hub.
As part of the renovation, which will be separate from the expansion of Penn Station, according to Hochul, there will be several neighborhood investments made, including wider sidewalks, public spaces, improved wayfinding, and specialized street lighting.
Hochul did not comment on the plan from ASTM North America and architecture firm HOK to overhaul Penn Station, which has received a lot of attention from local stakeholders. The plan, expected to be officially unveiled with a price tag this week, involves demolishing the 5,600-seat Theater at MSG on Eighth Avenue to make way for a new street-level entrance and building a 90-foot-tall glass podium around Madison Square Garden.
RELATED:  
All renderings Courtesy of FXCollaborative / WSP / John McAslan + Partners