Robert Indiana's 'LOVE' sculpture installed at Rockefeller Center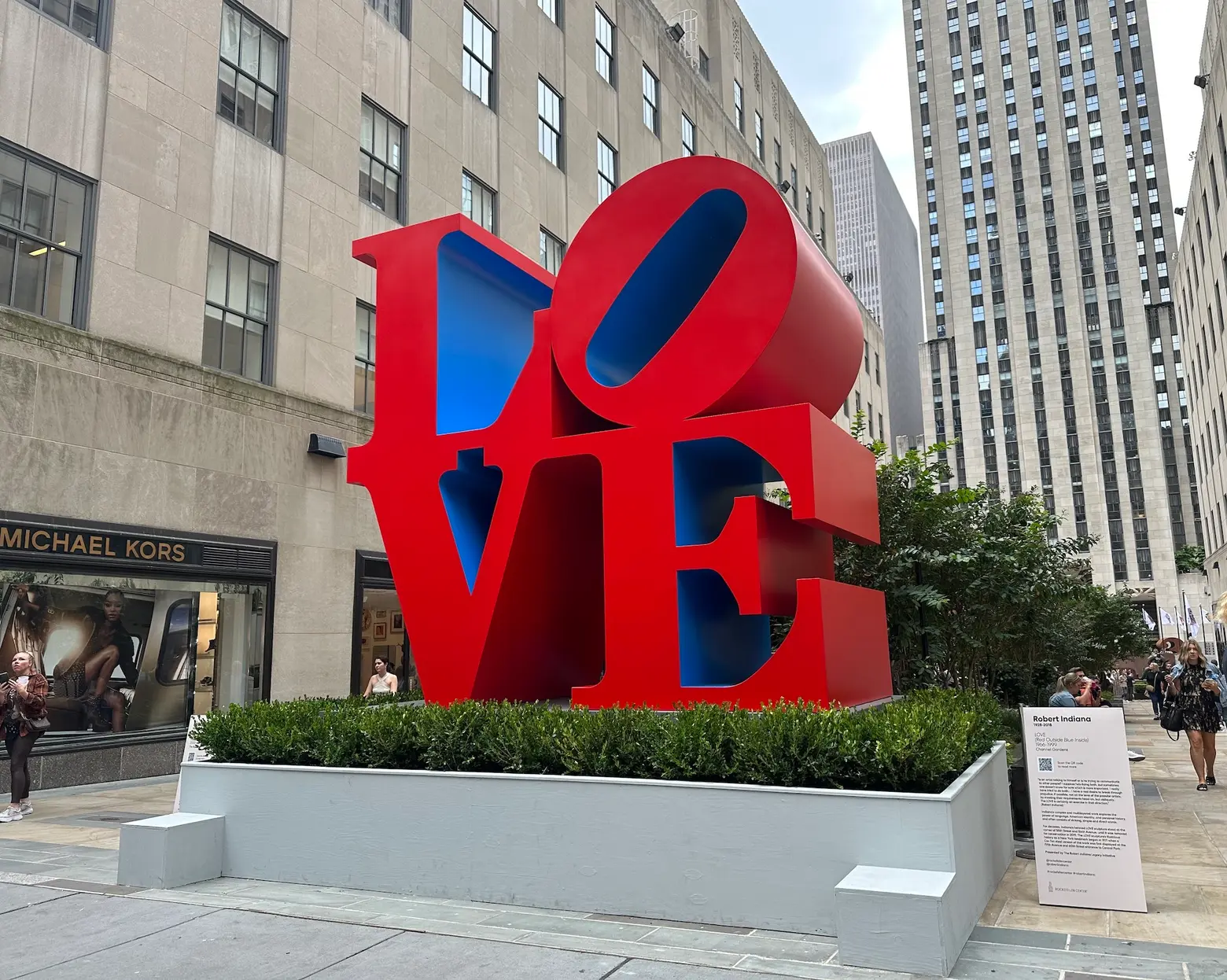 Robert Indiana's iconic "Love" sculpture has returned to New York City with a fresh paint job. Starting Wednesday, the 12-foot-high sculpture with its distinct slanted "O" will sit at the head of the Channel Gardens at Rockefeller Center for six weeks. The sculpture is one part of a larger installation featuring Indiana's work now on view, including his "One Through Zero" sculpture series on Center Plaza and images from his Peace Painting series on the 193 flags surrounding the Rink. The works will be on display through October 23.
Located on the corner of the Avenue of the Americas and West 55th Street for decades, the sculpture was removed for conservation in 2019. Many years of visitors touching and scaling "Love" left the sculpture in poor condition and the Robert Indiana Legacy Initiative decided to refurbish it.
The sculpture was meant to return to its original location but sat in storage for months after restoration was completed during the pandemic. It was ultimately decided that the sculpture would instead be installed at Rockefeller Center due to Indiana's high regard for the place, Simon Salama-Caro of the Robert Indiana Legacy Initiative told the New York Times.
Indiana's first conception of Love came from a print he created for MoMa's 1965 holiday card. He depicted it as a sculpture for the first time in 1970 and a version appeared in Central Park in 1971. The Love sculpture has since been created in Hebrew, Chinese, Italian, and Spanish, and has been on display in major cities across the U.S., Europe, and Asia.
Another major part of the installation is selections from Indiana's "One Through Zero" series, which was created from 1980 through 2001. Each sculpture measures eight feet and is made of Cor-ten steel and is meant to represent the cycle of human life from birth to death, according to Rockefeller Center. The numbers are located in Center Plaza.
As part of the installation, the 193 flags surrounding the Rink at Rockefeller Center will feature images from Indiana's "Peace Paintings" series, which was created by the artist after witnessing the 9/11 terror attacks.
The Initiative is unsure of where the sculpture will end up after being removed from Rockefeller Center in October, likely to make way for the Center's world-famous Christmas Tree.
"We are thrilled to be the destination for the return of Robert Indiana's instantly recognizable LOVE sculpture, and to host a campus-wide exhibition of the late, great artist's work. We expect this to be a huge draw for fans, both new and old, and we thank the Robert Indiana Legacy Initiative for being such great partners," EB Kelly, head of Rockefeller Center, said in a statement this summer announcing the installation.
RELATED: