NYC extends Open Storefronts program through next fall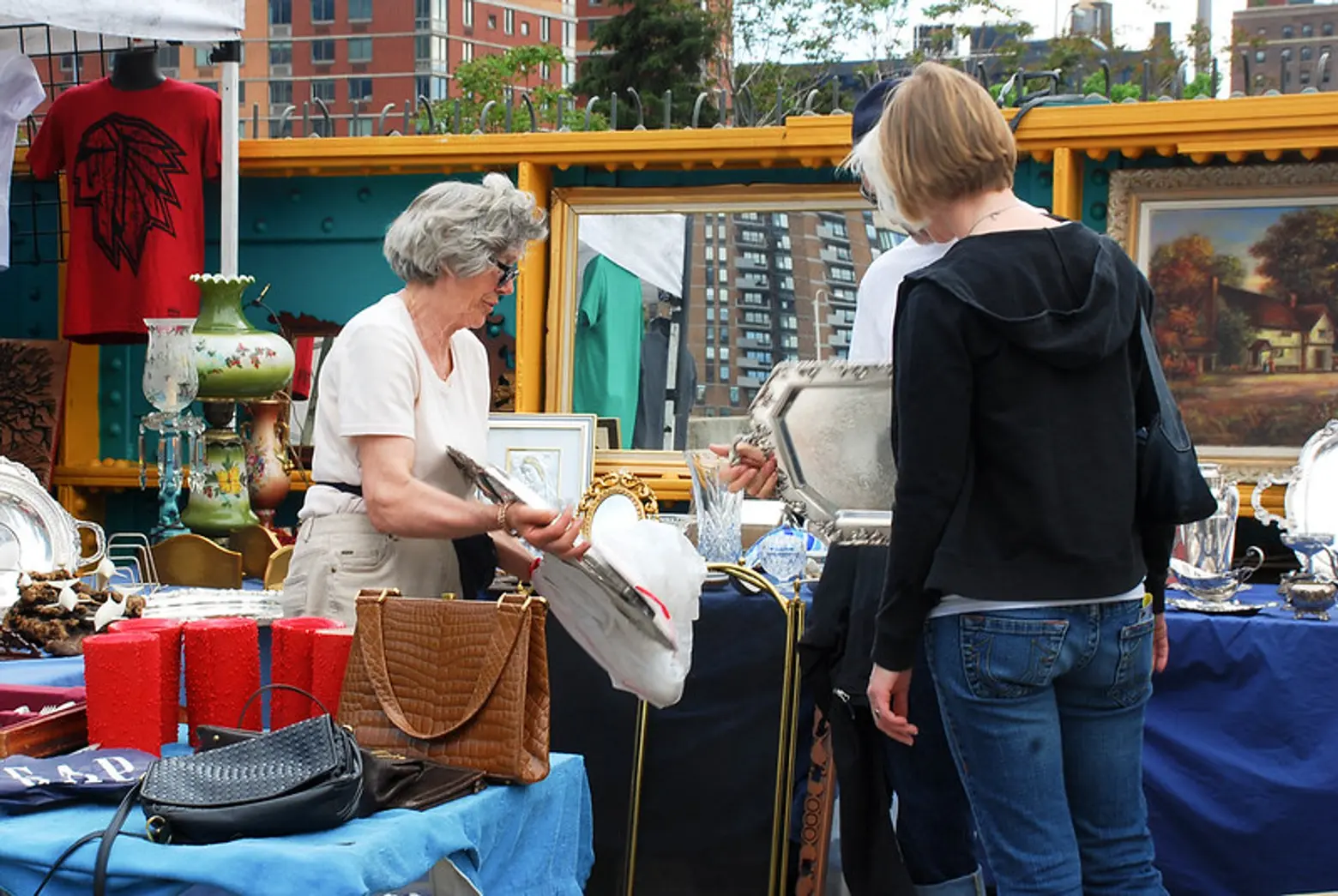 New York City's Open Storefronts program, which allows small businesses to use outdoor space in front of their stores to sell goods, has been extended through the fall of next year. Mayor Bill de Blasio on Tuesday signed an executive order extending the program, which was originally expected to end December 31, through September 30, 2021. The program will also expand the number of restaurants and retail stores that can use sidewalks to sell take-out. "We think that's going to help them as they fight to survive in this environment," de Blasio said Tuesday.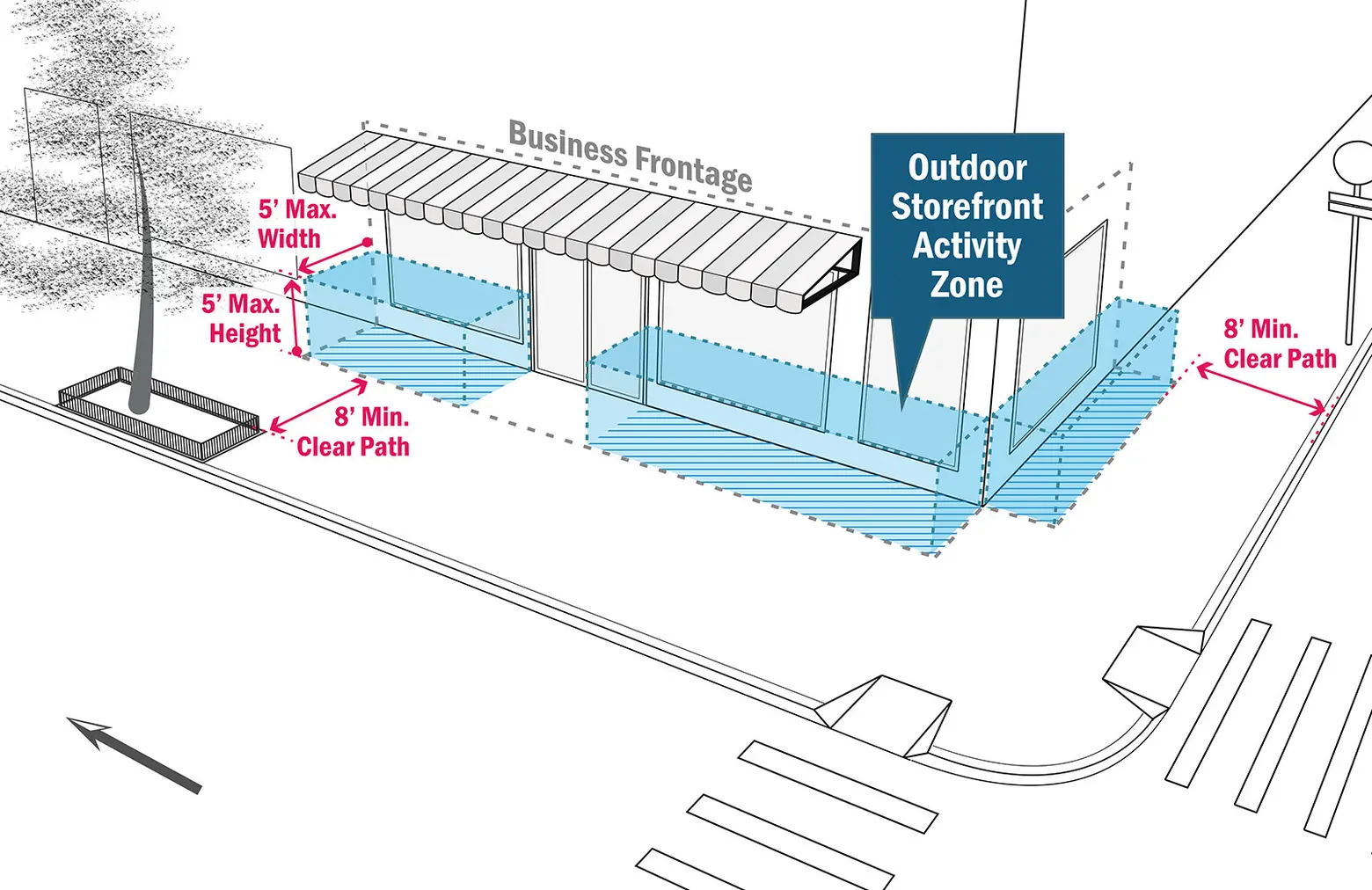 Courtesy of DOT
Modeled after the city's successful Open Restaurants initiative, "Open Storefronts" allows businesses with ground floor space to set up on sidewalks, on streets that are closed to cars as part of the Open Streets program, or a combination of both. Any ground floor small business "predominately involved in the sale of goods or services" can participate in the program, which could involve clothing and equipment stores, retail food stores, personal care, and even repair stores and dry-cleaning.
When the program launched in October, the city said they anticipated up to 40,000 small businesses would participate. But as of early December, only 563 businesses applied for the program, according to the New York Times.
During a hearing held by the City Council Committee on Small Businesses earlier this month, Council Member Andrew Cohen said stores faced difficulties because many sidewalks are not wide enough to accommodate city regulations. Plus, the retailers were not allowed to use outdoor heaters, unlike the Open Restaurants program.
The city's Department of Transportation released guidance with several criteria for stores to follow. On sidewalks, stores must place objects as close to the business as possible, leave an 8-foot clear path for pedestrians, and not block any fire hydrants, bus stops, or entry and exit doors. Businesses that operate on existing open streets can conduct activities on the street for the duration of the street closure but must leave an emergency lane of 15 feet.
Collapsible tents and umbrellas with a weighted base are allowed, but they must have at least two sides open. All outdoor objects must be removed by the business and brought inside when it closes. Other than barriers for open street storefronts, no permanent structures can be used.
New York City's small businesses are struggling, with thousands now permanently closed since the start of the coronavirus pandemic in March. According to a report released this summer by the Partnership for New York City, as many as one-third of the city's 230,000 small businesses may not reopen when the pandemic subsides.
Many small business groups have been calling for a similar open storefronts program since June when outdoor dining first launched. The NYC Bid Association, which represents 76 Business Improvement Districts (BIDs) citywide, asked the mayor in September to let retail businesses use outdoor public space ahead of the holiday season.
"If the City does not act quickly, we risk additional permanent closures of small business, particularly in the outer boroughs, including significant percentages of MWBE and immigrant-owned businesses," the Association wrote to the mayor and the City Council in a letter last month. "We have only a few more weeks before winter hits to roll-out and ramp-up this program in time for the holiday shopping season, so there is no time to spare."
Similar to the open restaurants and open streets programs, the city is allowing businesses to self-certify that they meet all requirements. After submitting an application, businesses will receive authorization from the city via email. More information on the program can be found here.
Editor's note: A version of this post was originally published on October 28, 2020, and has since been updated.
RELATED: