Banksy unveils mural at historic Houston Bowery Wall protesting Turkish artist's imprisonment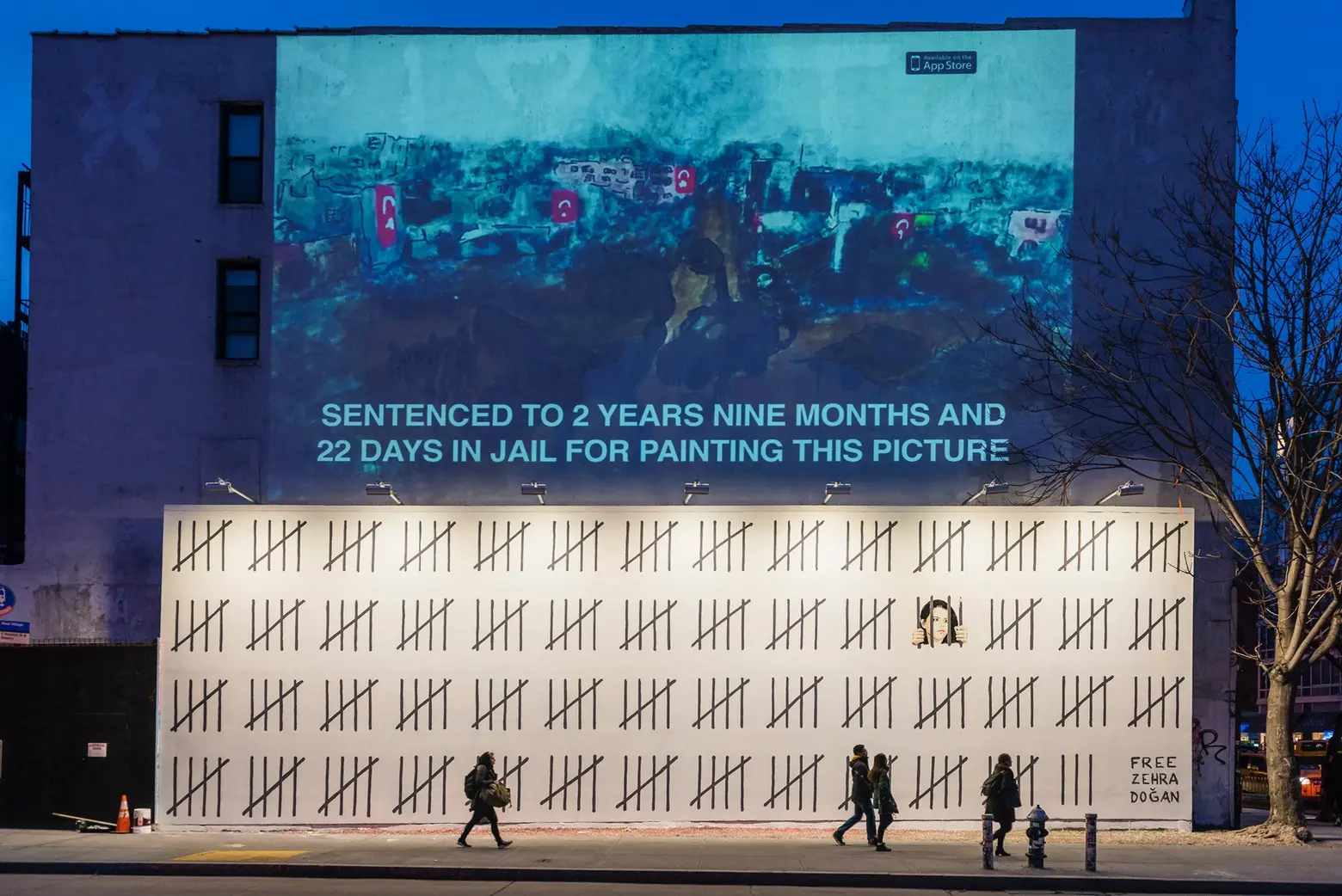 Photos courtesy of Goldman Properties
The provocative and still anonymous artist Banksy has come back to New York after a five-year hiatus (he was last seen in New York selling his work for $60 a piece in Central Park). After a tease yesterday, his 70-foot mural on the Houston Bowery Wall, made famous by Keith Haring in 1982, depicts 365 hash marks and an image of the Turkish artist Zehra Dogan behind prison bars and the final prison bar transforms into a pencil. The image represents the amount of time Dogan has spent in jail for painting a picture of a war-torn town in Turkey.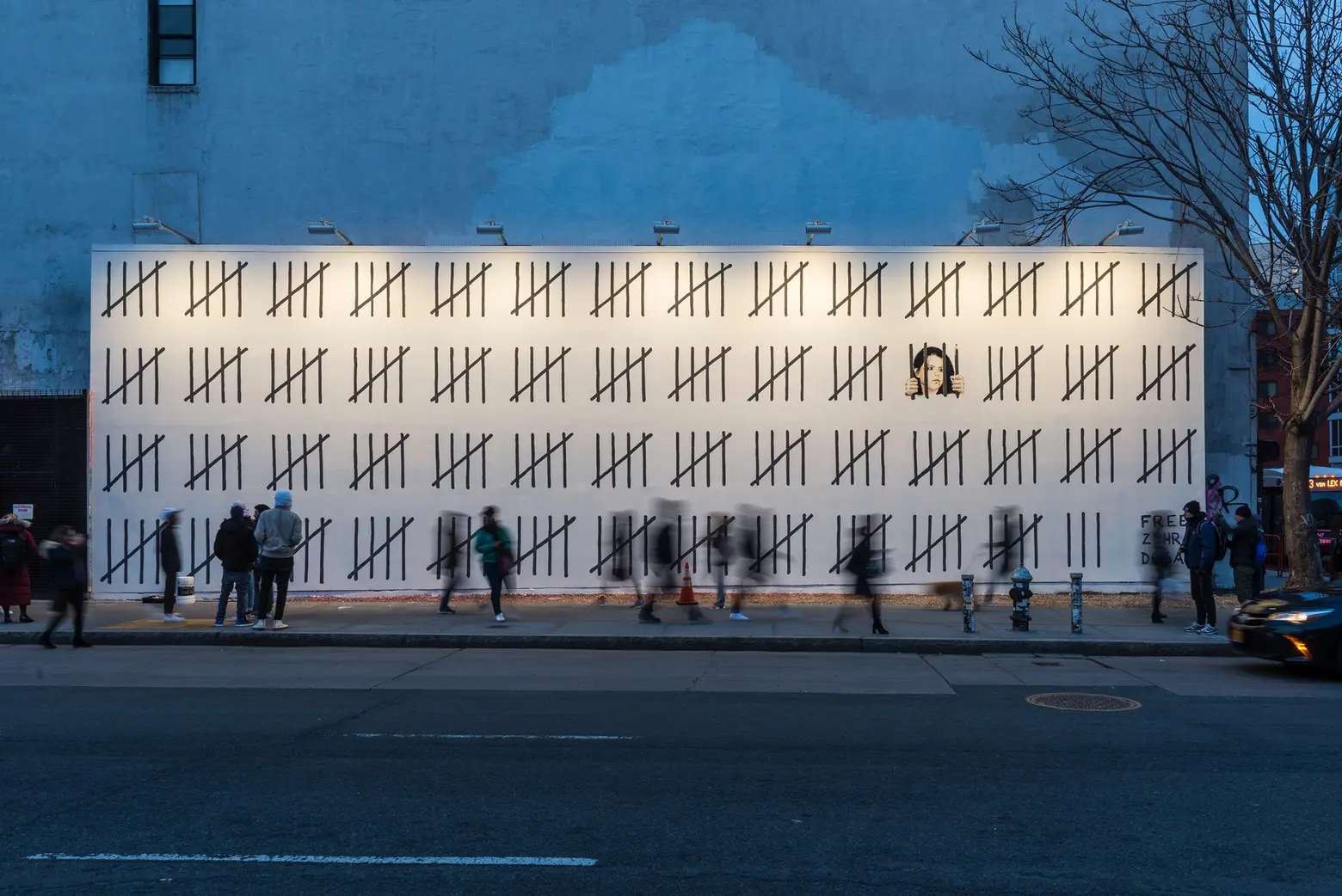 Dogan's watercolor was modeled off a newspaper photograph of the Kurdish town of Nasyabin, which was reduced to rubble following a brutal attack by the Turkish Government's armed forces. When Dogan posted her painting on social media, she was arrested and sentenced to two years and nine months in jail. The mural coincides with her first full year in jail.
Goldman Properties, a real estate firm who has owned the Houston Bowery Wall since 1984, two years after Haring painted his iconic "Crack is Wack" mural, committed to keeping the wall as a creative platform for artists. Time Out reported that Goldman Properties kept the original Haring but, "Over the ensuing decades, the work was tagged by lesser artists and touched up from time to time. But after Haring's death, it deteriorated and was finally painted over. In 2008, Goldman Properties honcho Tony Goldman and gallery dealer Jeffrey Deitch launched a curated program for the wall, featuring street artists from around the world. The project kicked off with a re-creation of Haring's piece in honor of what would have been his 50th birthday."
CEO of Goldman Properties and curator of the Houston Bowery wall, Jessica Goldman Srebnick said: "We are proud that Banksy chose New York – and the Houston Bowery wall – to share this message. We stand alongside every artist who chooses to use his or her creative abilities to highlight human rights issues." Jessica's mission is to bring art to the public on a grand scale that spreads a powerful message of hope, possibility, and inspiration.
The mural was painted by another anonymous artist, "Borf." Like Banksy, no one knows who Borf is. An article in the Washington Post claims he lives somewhere around New York and is about 30 years old. The Washington Post reported, "He says he does not work that would compromise his anti-corporate, anti-authoritarian principles, but also refuses to say how he supports himself or whether he lives in a place his parents own in Manhattan, as some records suggest, or if he is working some sort of soul-numbing day job, the kind he publicly sneered at, to support his painting habit."
Dogan still has 18 months of her sentence left to serve. Supposedly, she has yet to hear about the mural since she is only allowed periodic visits and shares her cell with 40 other inmates, many of them journalists and victims of the Turkish Government's control of the media.
Photos courtesy of Goldman Properties