Another Yayoi Kusama exhibition will be on view in NYC this summer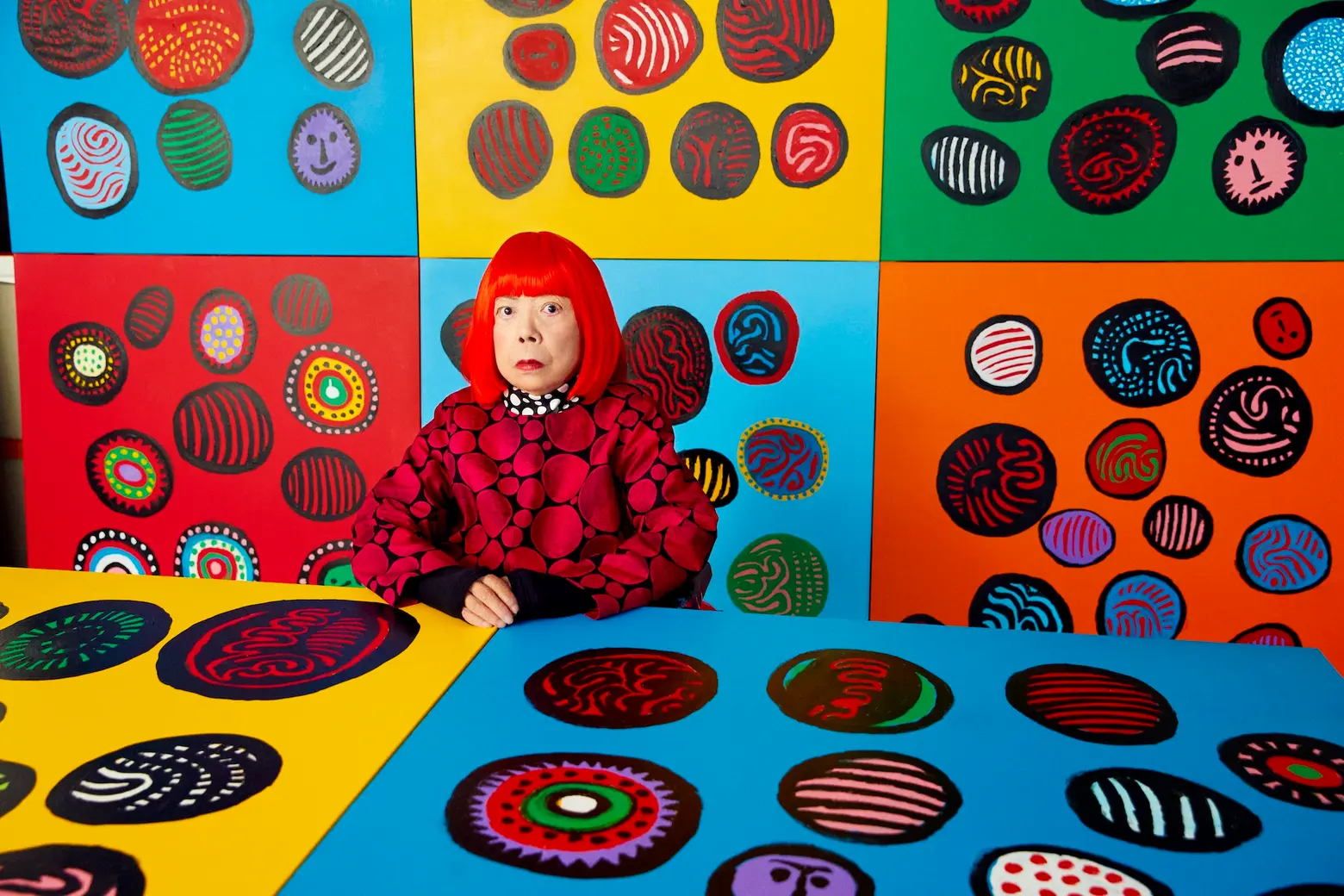 Yayoi Kusama, 2020 Photo by Yusuke Miyazaki © YAYOI KUSAA Courtesy Ota Fine Arts, Victoria Miro, David Zwirner
Japanese artist Yayoi Kusama's popular polka-dot pumpkins and grand floral sculptures have taken over the New York Botanical Garden this month as part of a new six-month installation. This summer, an exhibition featuring new paintings by the celebrated artist will open in Chelsea, providing New Yorkers another opportunity to enjoy Kusama's iconic work. Starting June 17, David Zwirner will display the latest art from her ongoing My Eternal Soul series, which first began in 2009.
The My Eternal Soul paintings that will be on view are "at once bold and intensely detailed and conveying extraordinary vitality," according to a press release about the installation.
The work features eyes, the profile of faces, other defined forms, and the dots with which Kusama has become associated. The paintings combine both abstract and figurative impressions, with repetitive shapes and brushwork.
The My Internal Soul series first commenced in 2009, with the artist returning to painting as a medium most recently in the last two years. Time Out New York first reported the new installation.
The paintings will be jointly presented by David Zwirner Gallery in New York, Victoria Miro in London, and Ota Fine Arts in Toyko, with the installation first unveiled at Victoria Miro on June 4.  The exhibition will make its debut at David Zwirner on June 17 and Ota Fine Arts on June 19.
This will not be the first work by Kusama displayed at David Zwirner. In 2015, her "Obliteration Room" opened at the Chelsea gallery, followed by the Infinity Mirror Room installation in 2017. The groundbreaking work, along with the artist's polka-dot paintings and sculptures, returned to the gallery again in 2019.
If you don't want to wait until June to enjoy Kusama's work, Cosmic Nature is now on view at the NYBG in the Bronx. The massive flower sculptures, polka-dot-covered trees, and the Narcissus Garden, which consists of 1,400 stainless steel spheres floating on water, will be on display through October 31. The exhibit will also include Kusama's new Infinity Mirrored Room, which will open with interior access this summer.
To see the exhibit, the Garden requires the advance purchase of timed tickets.
RELATED: