NYC's best rooftop hotel pools offering day passes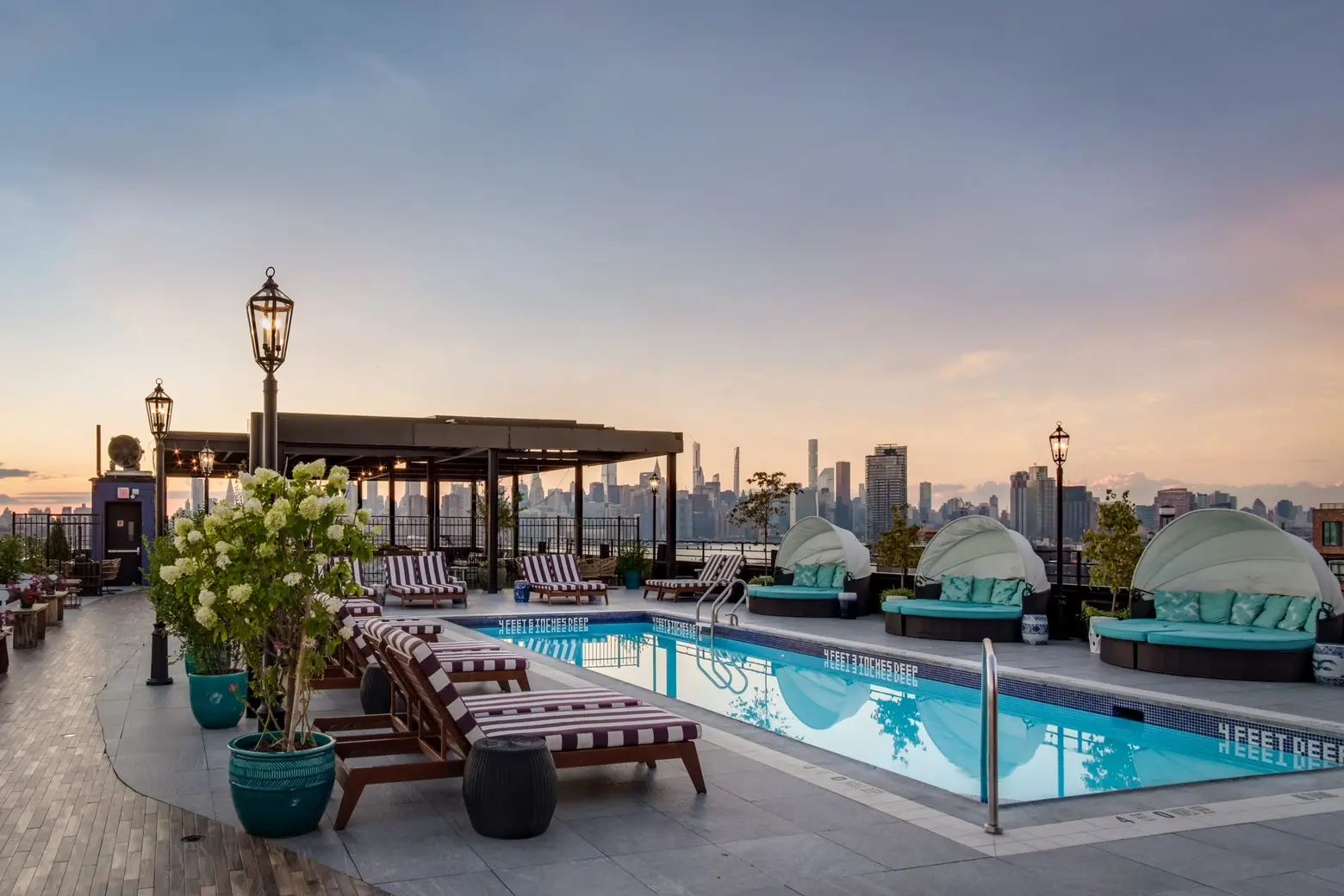 Photo courtesy of The Williamsburg Hotel
Coming soon: Full-time sun and swimsuit season. Some lucky apartment dwellers count a private pool among their building's amenities. Otherwise, your local options include public pools or pricey pool clubs and gyms. One way to hack summer in NYC is to snag a day pass to a pool atop one of the city's trendy hotels. Usually reserved for hotel guests, some hotels allow visitors to pay by the day–often with poolside restaurant and bar privileges. Some venues host events like pool parties with DJs, live music, and drink specials. Read on for cool pools with day rates. Many hotel pools will open on Memorial Day weekend. Pools may be reserved for private events, or rates and access information may change; be sure to check in with the venue before finalizing your plans.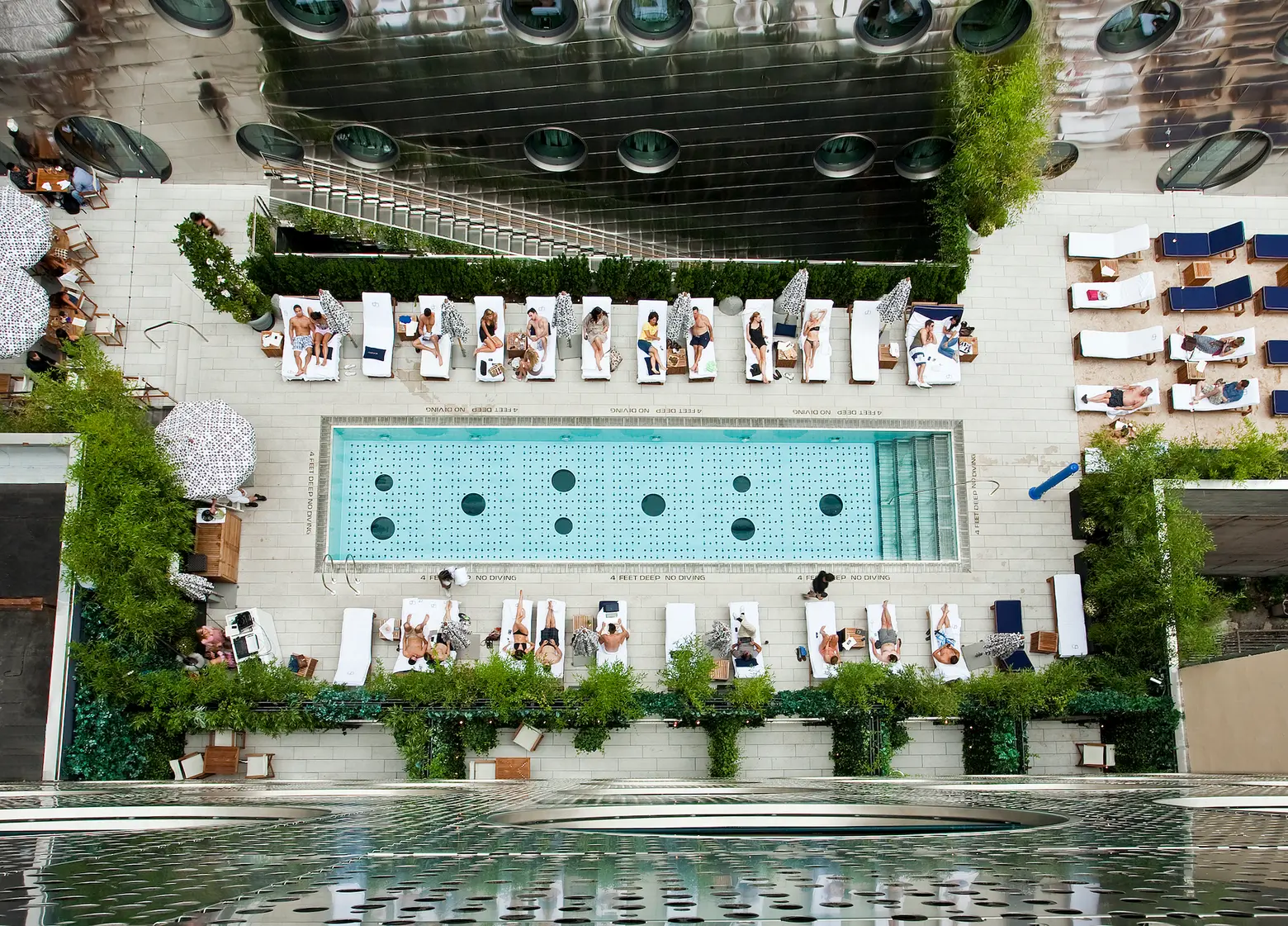 Photo courtesy of Tao Group Hospitality
The Beach at Dream Downtown
The Beach at Dream Downtown is a 5,000-square-foot summertime event space at the Dream Downtown Hotel in Chelsea, featuring a glass-bottom pool, full-service bar, pool deck, sand beach, two private cabanas, and plenty of chaise lounges. A casual poolside café offers an all-day menu, and there's a seasonal cocktail menu. Rates range from $50 to $150 a day, per person, depending on the day of the week. Cabana reservations are available, and hours are 11 a.m. to 6 p.m.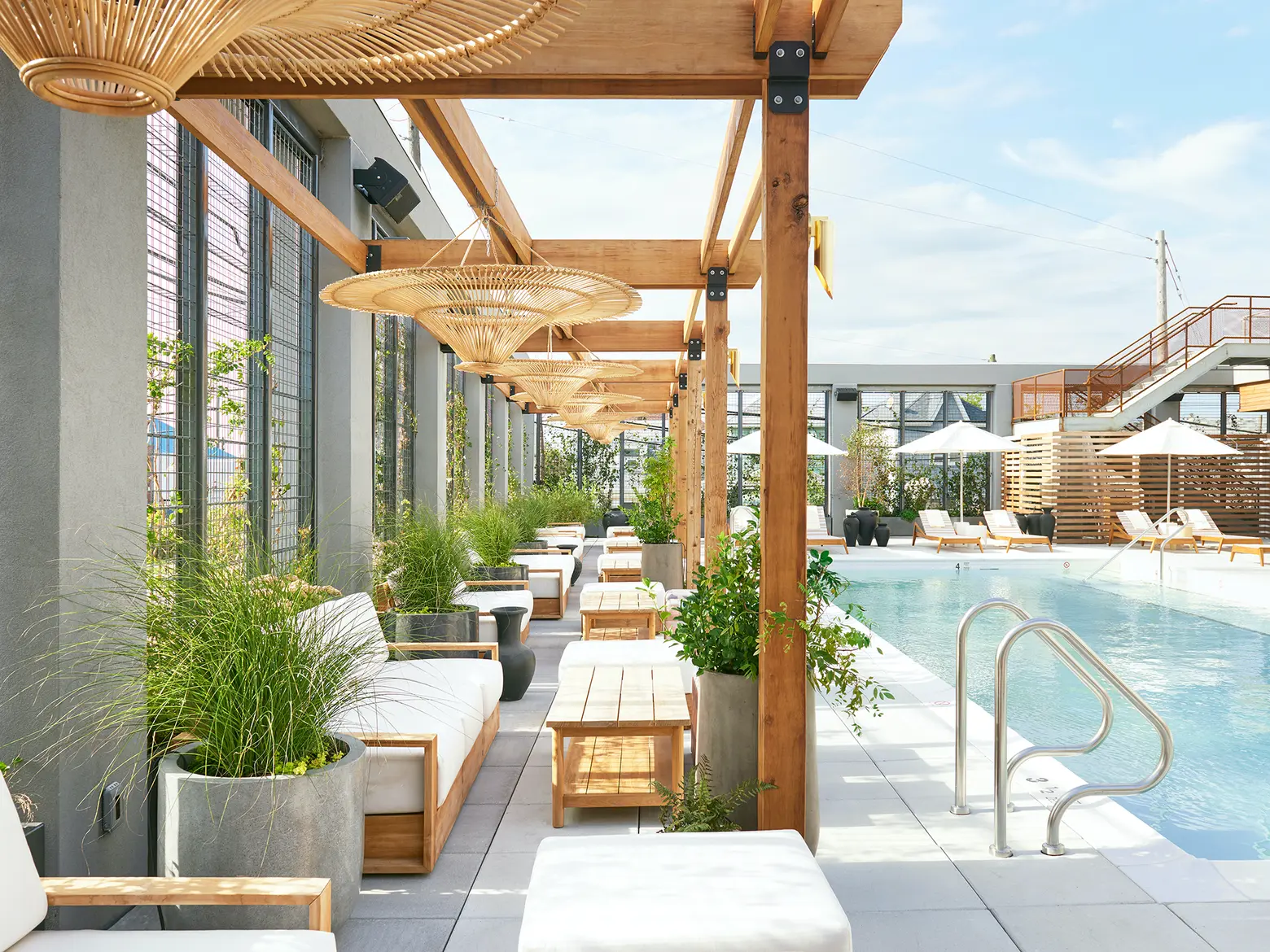 Photo credit: Kyle Knodell/The Rockaway Hotel and Spa
The Rockaway Hotel and Spa
For locals in search of a poolside getaway, a quick ferry, car, or subway ride will get you to the Rockaways in time for day passes at this outdoor heated pool and pool-side deck. Day passes are $100 per person, with access from 8 a.m. to 12 p.m. and 1 p.m. to 5 p.m, Monday through Thursday. Opening Memorial Day weekend, The Pool House offers craft cocktails in addition to an all-day menu, but food and drink aren't included in day pass perks unless you rent a cabana, which comes with a dedicated server for the day. Cabanas are also available to rent, starting at $1,000 (eight-person max per cabana) Monday – Thursday. Weekends are $1,500; cabanas require a food and drink minimum.
Coda Beach Club
While it may be known for its rooftop views, the Coda Williamsburg hotel (formerly McCarren Hotel) in North Brooklyn boasts the largest 21+ heated outdoor pool in NYC. All-day non-hotel-guest pool passes start at $105, with slots beginning at 10 a.m. daily. If you rent a daybed, the poolside vibe comes with lounge seating, towels, umbrellas, wi-fi and access to a co-working lounge. Food and drink are available for purchase at the Pool Bar.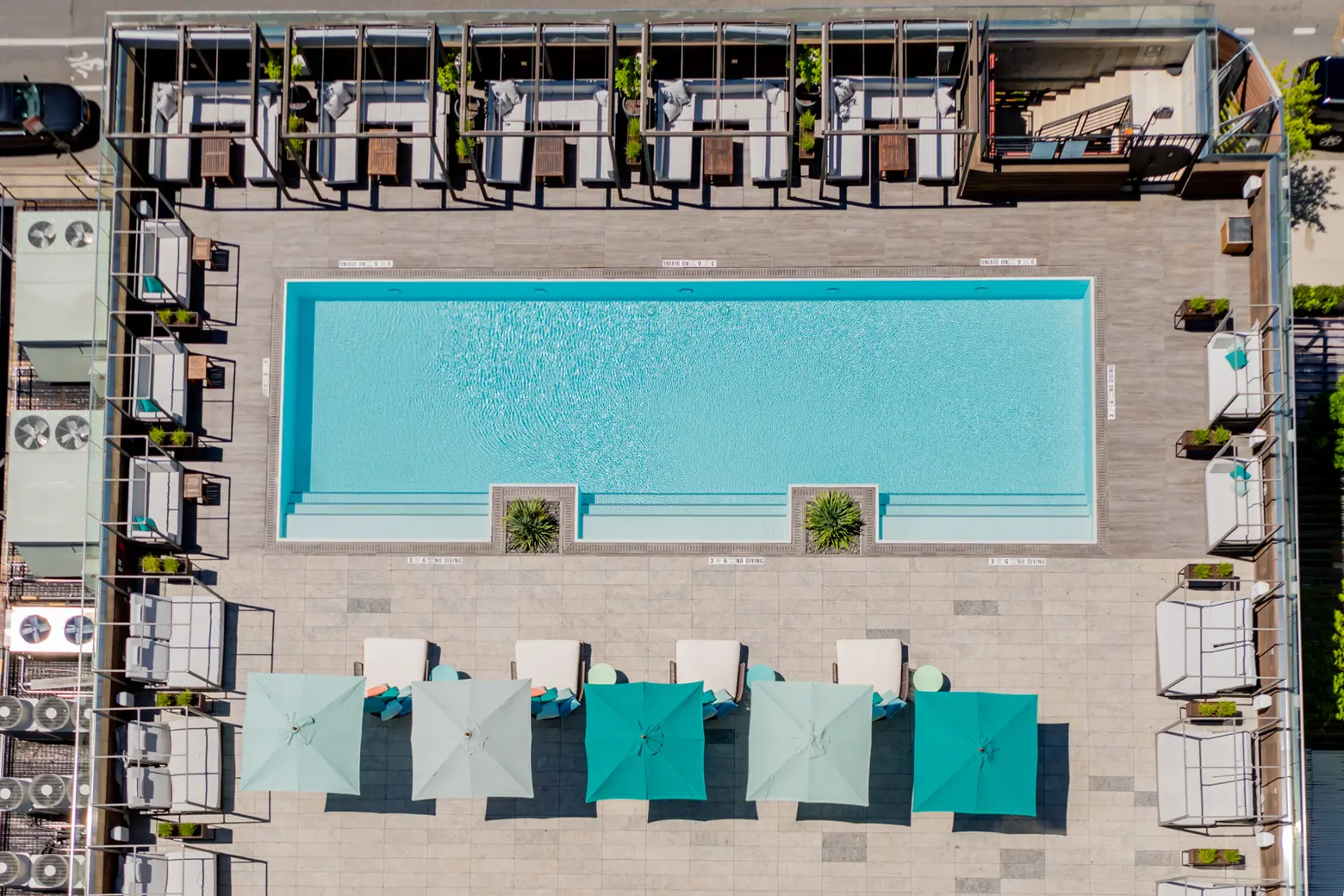 Photo courtesy of The William Vale
The William Vale/VALE Pool
Situated above the hotel's elevated Vale Park, the 60-foot Vale Pool is the longest outdoor hotel pool in Brooklyn. The adjacent Vale Terrace is a 5,000-square-foot landscaped open-air venue at pool level, a perfect place to find some natural shade. Tiers range from a $160 day pass to a six-person cabana for $675. Other a la carte amenities available to non-hotel-guests include lounge beds, day beds, pergolas, a hot tub and a sauna. Perks with the basic day pass include outdoor pool access, a reserved lounge chair on the terrace, poolside service with food and drinks available for purchase, and complimentary Wi-Fi.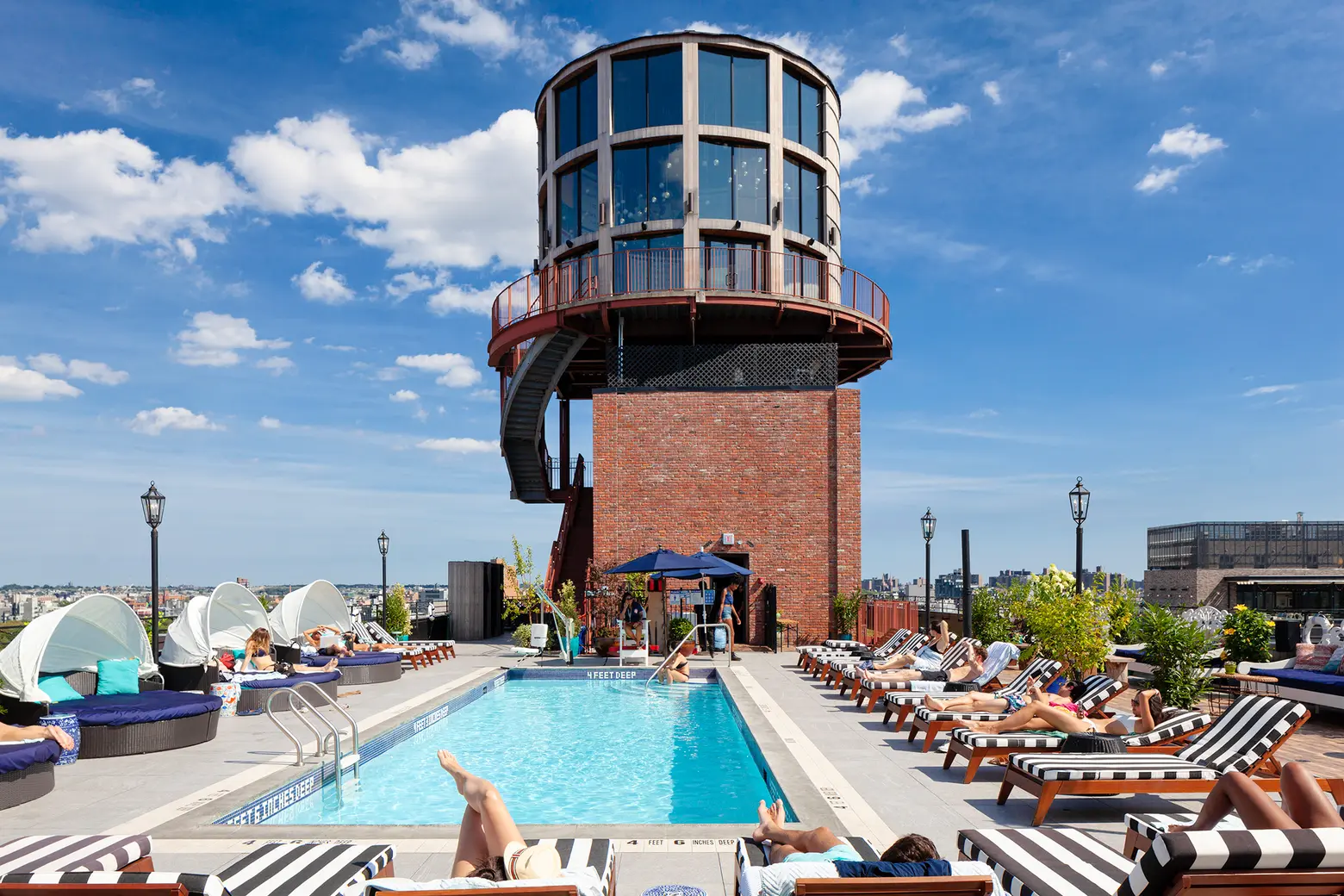 Pool and Rooftop Bar at the Williamsburg Hotel
The Williamsburg Hotel offers daily passes in advance, based on availability. You can make reservations and book a time slot here. Pool day passes start at $150, Sunday-Thursday ($300 on weekends). With the pass comes towel service, poolside service with food and drinks available for purchase from the pool bar, outdoor showers, free wifi–and spectacular city views.
Jimmy Soho
This all-season rooftop space on the 18th floor is known for its dazzling rooftop pool with views of the Hudson River, Wall Street and Midtown. While not normally open to non-guests, Jimmy opens its pool after 4 p.m. on weekdays and after 2 p.m. on Saturday and Sunday; Jimmy patrons can hang on the pool deck after 5 p.m. on weekdays and after 3 p.m. on weekends. Reservations are required.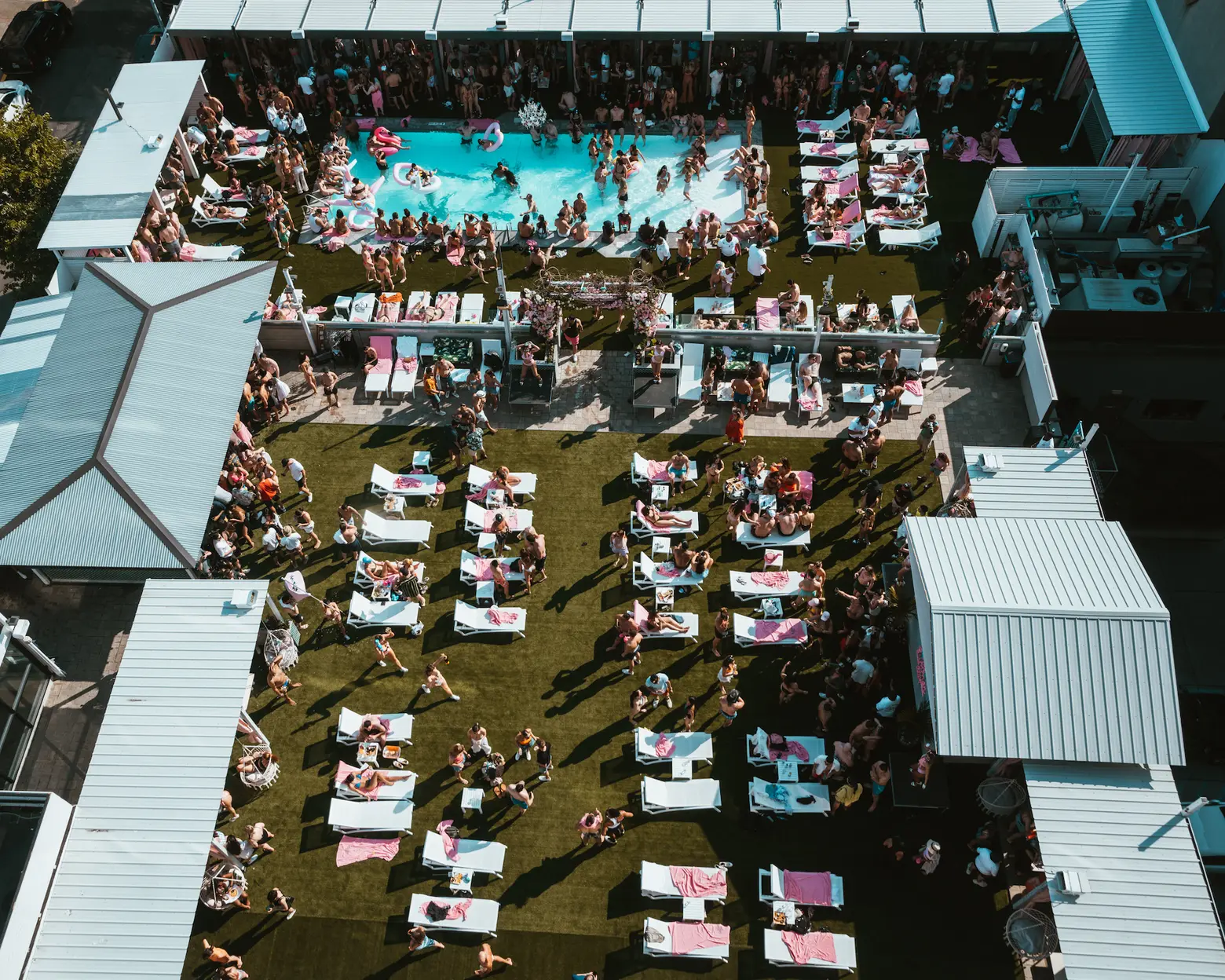 Photo courtesy of The Summer Club
The Summer Club
The Summer Club, a new reservation-only rooftop day club located above Ravel Hotel in Long Island City, is open throughout the summer season, featuring live music from acclaimed DJs and musicians, a food and beverage menu, skyline views, and private poolside cabanas. The pool deck is a perfect spot to enjoy city views while soaking up the sunshine between dips in the 50-by-20-foot pool that serves as the main attraction. The club is open daily from noon to 10 p.m. Day passes start at $75 for a lawn chaise lounge, and cabanas are available.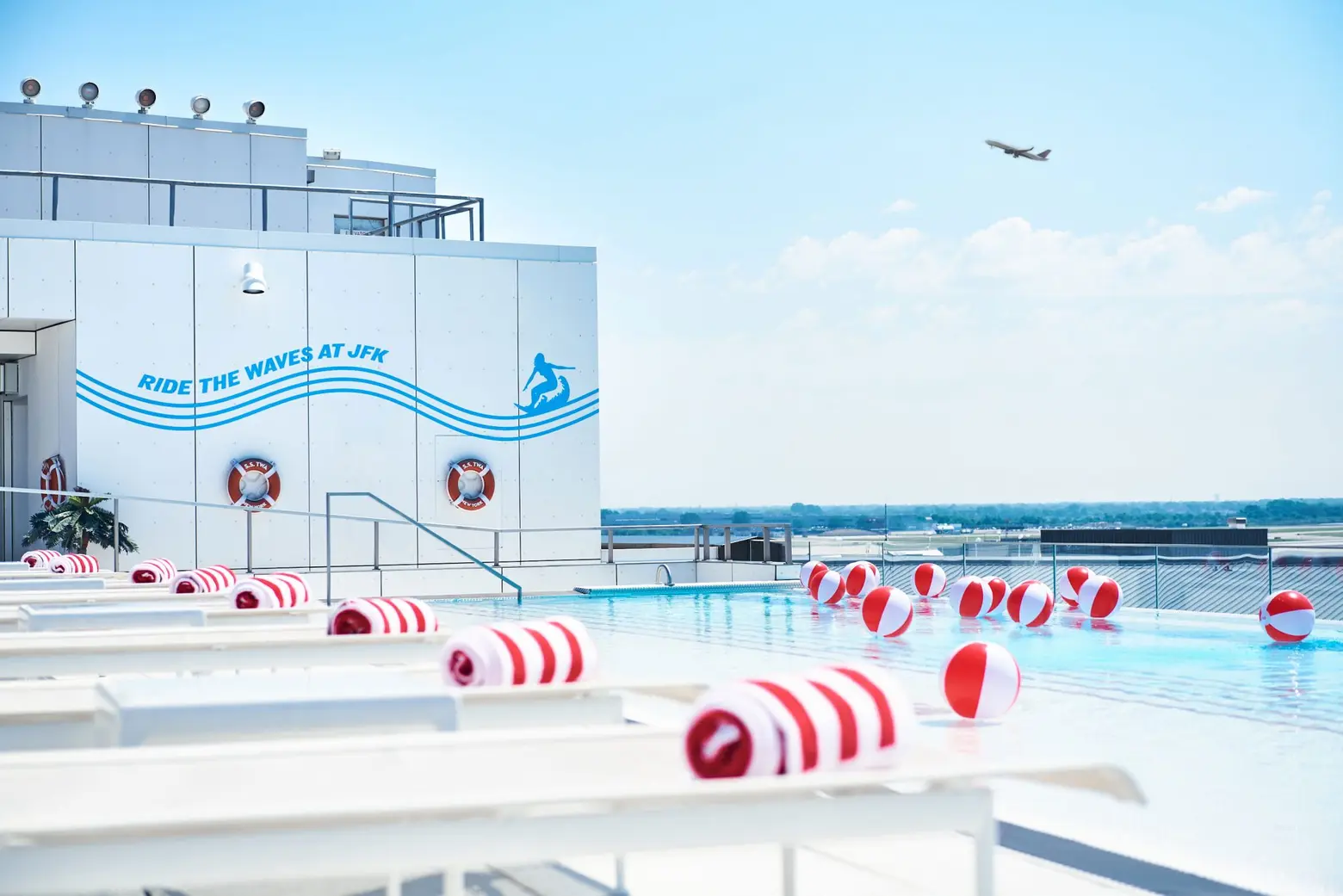 Photo courtesy of  TWA Hotel
TWA Hotel Rooftop Pool at JFK Airport
Who doesn't love an infinity pool overlooking an international airport runway? Watch jets take off from the year-round rooftop pool at this amazing airport not-quite-secret venue. It's a heated "pool-cuzzi" in winter; in summer it's a refreshing urban oasis, complete with a pool bar serving mile-high cocktails and delicious poolside fare. The pool–this summer's theme is a '60s "Endless Summer" vibe– is open every day in summer from 7 a.m. to 11 p.m..; pool admission is $50 for adults; $20 for children aged 5-12; children under age 5 are free. Included are admission to the pool and observation deck, towels, and seating for dining at The Pool Bar.
Somewhere Nowhere at Renaissance Hotel
This Chelsea lounge/nightclub/pool features a two-level indoor lounge and open-air rooftop pool with panoramic views of the Manhattan skyline as far as the eye can see, 39 floors above the Renaissance NY Chelsea Hotel. Rooftop pool hours are 10 a.m. to 4:30 p.m. daily; pool passes start at $100. On the calendar are a series of DJ and live music dance parties, after-work soirees, and jazz jams, accompanied by creative cocktails and tapas.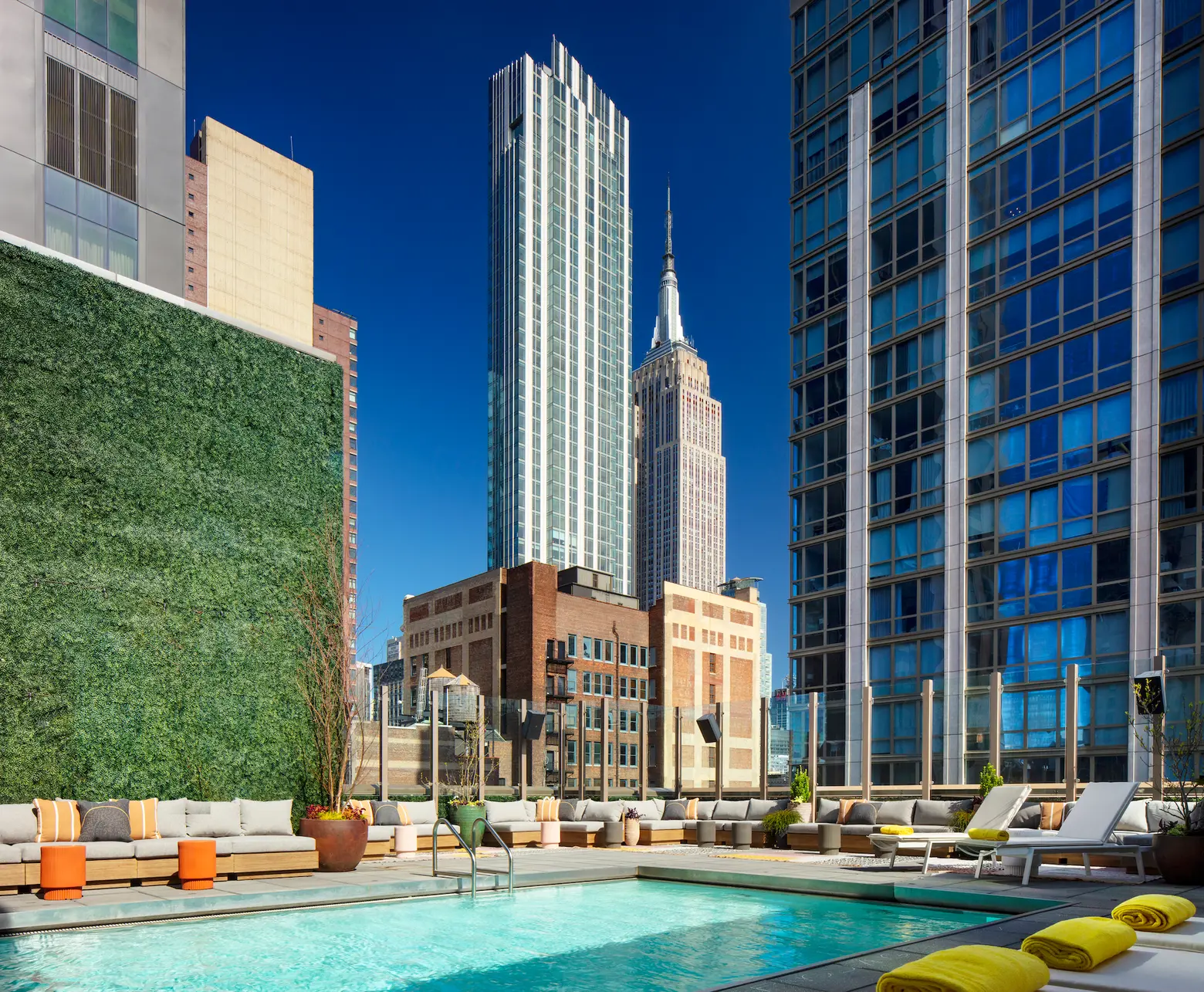 Photo courtesy of  Royalton Park Avenue Hotel
Royalton Rooftop
At Royalton Rooftop above Nomad's Royalton Park Avenue Hotel, the heated pool takes center stage despite unobstructed Empire State Building views as part of a two-floor food, beverage and entertainment space with a private club vibe. Day passes are available for public guests Monday-Friday for $75. Included are pool access from 10 a.m. – 4 p.m., chaise lounges when available, a purse locker and changing area, free wifi, towel service and a 15 percent daybed discount. Daybed reservations must be made in advance, and start at $200 with a $250 food/drink minimum for a half-day reservation. For a fun twist, "dive-in movies" happen every Sunday by the pool.
Sojo Spa Club
Located on the Hudson River in Edgewater, NJ, this Korean spa and pool getaway isn't in NYC, but it's the country's largest of its kind, and it just might be worth the trip. You'll find eight floors of treatments including nine pools, seven saunas, a restaurant, and a hotel. And above this massive relaxation arena is the jewel: A rooftop infinity pool with peerless NYC skyline views. If you're in the mood to be pampered, you can try a full menu of spa treatments. Daily admission reservations start at $100 per person; reserve your arrival time, and stay for the rest of the day.
Life Time Sky
Hell's Kitchen might not sound like the best place to be on a hot summer day, but Life Time Sky's SkyDeck makes a splash with two outdoor non-edge swimming pools, private cabanas, fancy foods and curated summer drinks and events all summer long with the Manhattan skyline as a backdrop. While Life Time is a members-only athletic club, day memberships are available for $100.
RELATED: 
Editor's note: The original version of this article was published on May 26, 2022, and has since been updated.