400 units of affordable housing approved for 5 World Trade Center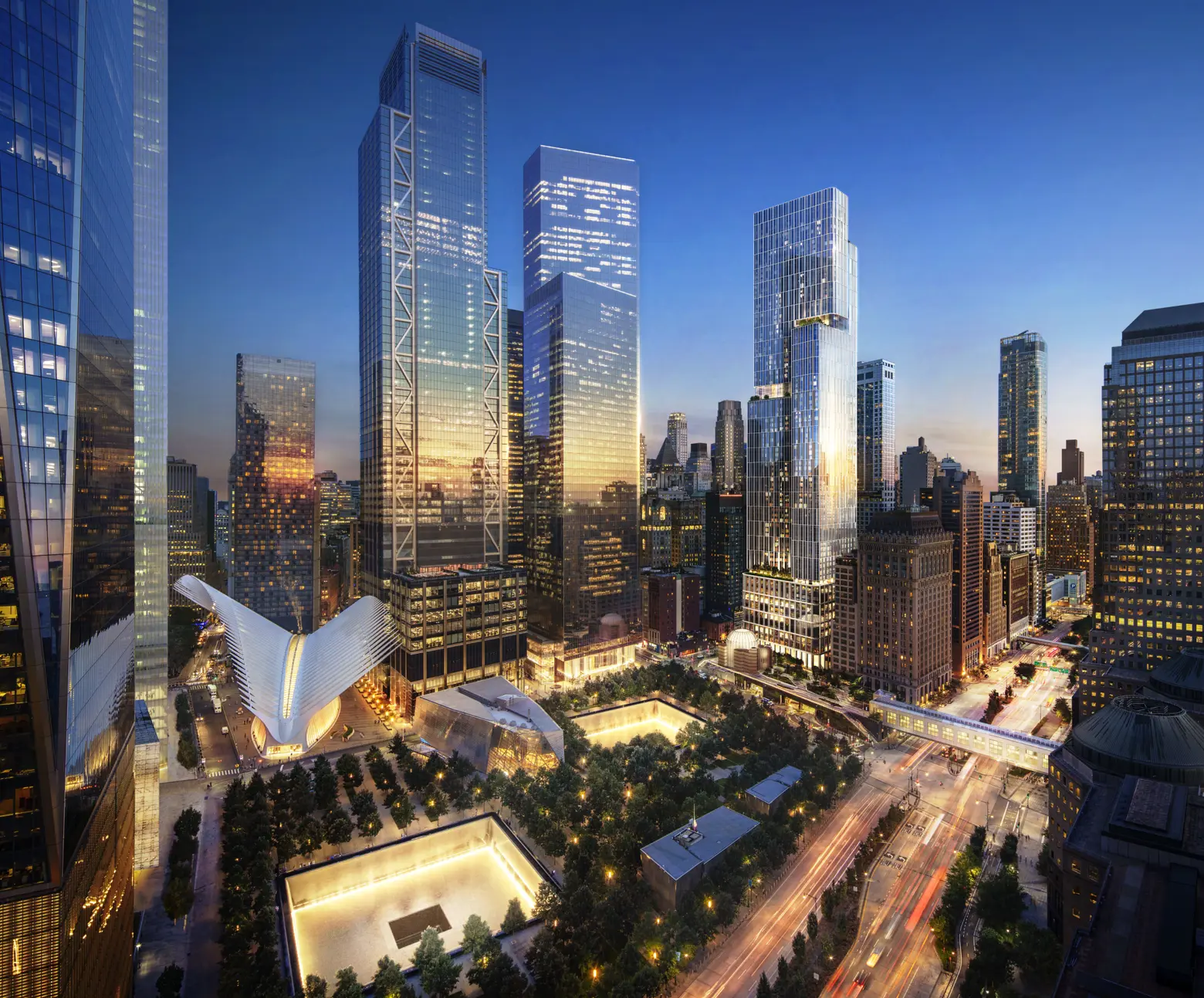 Renderings of 5 World Trade Center courtesy of Gov. Kathy Hochul's Office
The 900-foot-tall mixed-use skyscraper planned for 5 World Trade Center will include 400 units of affordable housing, a slight increase from the original proposal. After stalled negotiations, the Public Authorities Control Board on Thursday approved the mixed-use development at 130 Liberty Street, which calls for 1,200 new apartments, one-third of which will be permanently affordable to New Yorkers earning between 40 and 120 percent of the area median income. Plus, 20 percent of the affordable apartments will be offered to individuals who lived or worked in the neighborhood on September 11, including first responders and families of victims. Construction is scheduled to start next year, Gov. Kathy Hochul said.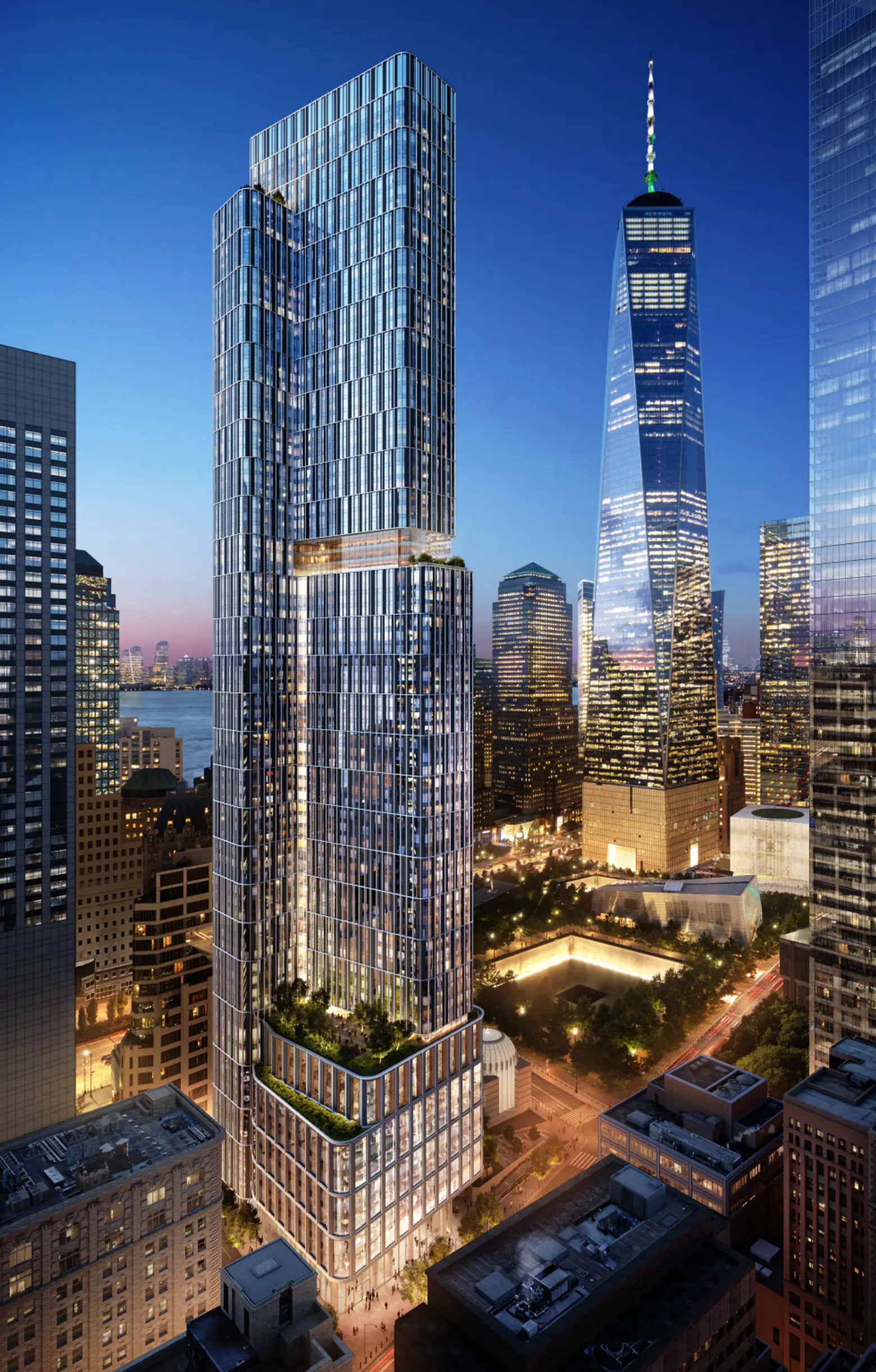 "The resurgence of lower Manhattan after the 9/11 attacks is an only-in-America comeback story," Hochul said. "With this project, we're about to transform an old parking lot into new homes for thousands of New Yorkers — bringing new affordable housing and community spaces to this iconic neighborhood. It wasn't easy to get to this point, but I'm committed to doing everything in my power to build more housing across New York."
The site of 5 World Trade Center is the former location of the Deutsche Bank building which was damaged in the September 11 terrorist attacks and later demolished.
A request for proposals for the publicly owned site was announced four years ago; a proposal for a 900-foot mixed-use tower designed by Kohn Pedersen Fox and developed by Brookfield Properties, Silverstein Properties, Omni New York, and Dabar Development Partners was selected in February 2021. The tower will be the only residential building at the World Trade Center.
The agreement reached on Thursday upped the number of affordable apartments at the site from 360 to 400, with 80 units set aside for victims of 9/11 and their families. Previously, the plan called for 25 percent of the units to be permanently affordable.
While there are a greater number of rent-restricted units under the new agreement, the highest income band has increased to 120 percent of the AMI, which means those earning $118,680 for a single person and $169,440 for a family of four. The affordability levels changed from between 60 and 110 percent of the AMI to between 40 and 120 percent.
Advocates and public officials had been pushing for a 100 percent affordable building for years. State Sen. Brian Kavanagh, who supported more affordable housing at the site, commended the deal. The state will contribute $60 million with an additional $5 million from the Battery Park City Authority's Joint Purpose Fund.
"This site was always a great opportunity to bring large-scale affordable housing to Lower Manhattan, a community that has lost affordability at a particularly high rate for decades," Kavanagh said in a statement. "By providing $65 million in public funding, we are ensuring that at least a third of this huge building will be affordable, while maintaining the deep affordability that will enable more very low-income families to live in our community, and reserving 80 of the new affordable homes for 9/11 survivors."
According to the Coalition for 100 Percent Affordable 5 WTC, a group affected by the 9/11 attacks who have fought for more affordable housing at the site, the deal leaves "the door open" to obtain more funding and add more affordable housing to the plan.
"This agreement reflects the community's advocacy to increase the diversity in the areas surrounding the site and recognizes a preference for the 9/11 survivors and first responders, who paid a high price to rebuild Lower Manhattan," the group said. "The state-owned 5WTC site is a once-in-a-lifetime opportunity to create desperately needed affordable, diverse housing in a high-opportunity neighborhood."
In addition to apartments, the site will also be home to 10,000 square feet of community space for the Educational Alliance, 190,000 square feet of retail and office space, and a new connection to Liberty Park.
Five World Trade Center is the final piece of the World Trade Center complex, which consists of completed One, Three, Four, and Seven World Trade Center, with Two World Trade Center yet to start construction.
The St. Nicholas Greek Orthodox Church and National Shrine reopened last December and the new Ronald O. Perelman Performing Arts Center is opening in September.
The plan will head next to the board of the Port Authority of New York and New Jersey for final approval.
RELATED: