World Trade Center's new cube-shaped arts center reveals inaugural season ahead of opening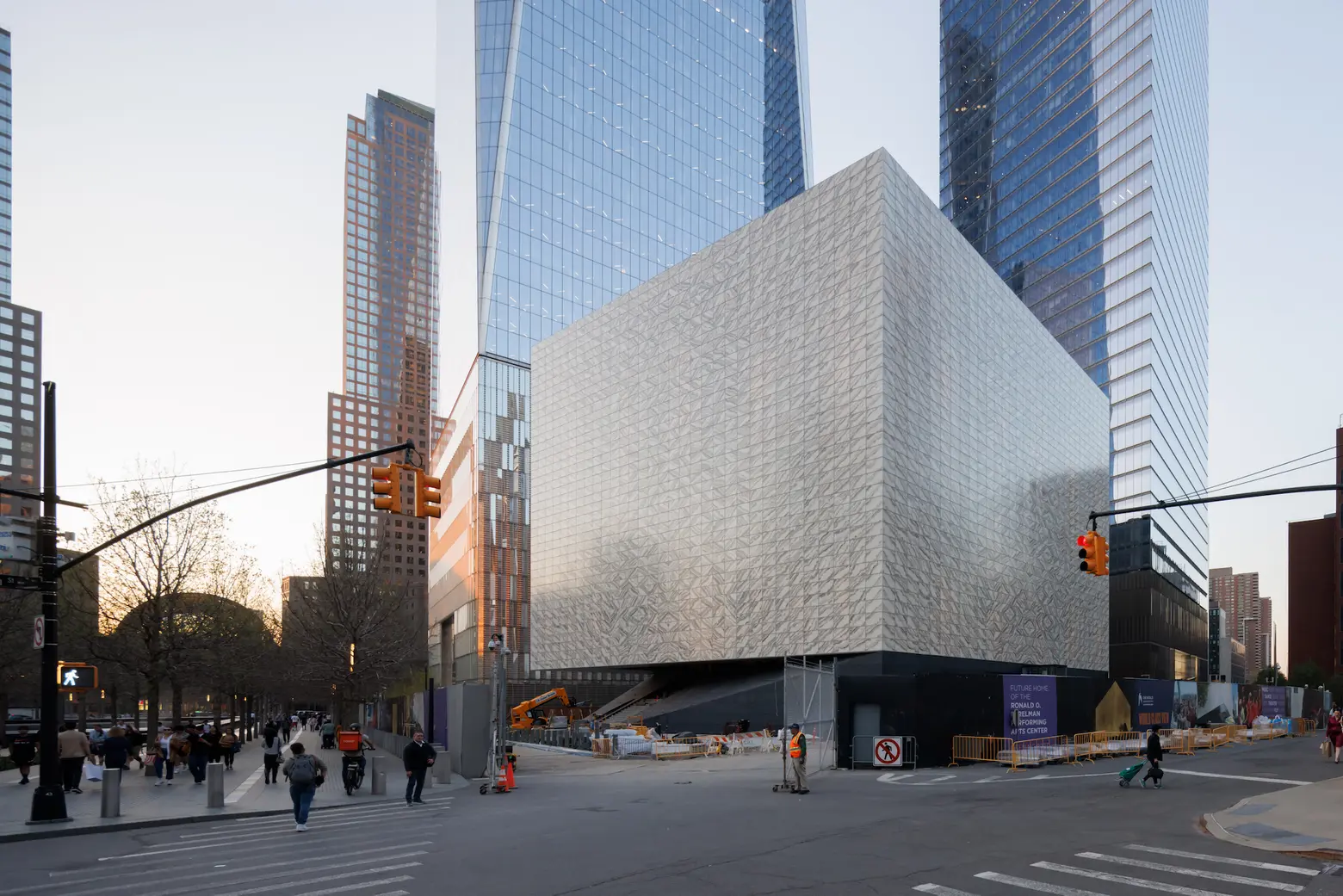 Images courtesy of Iwan Baan unless otherwise noted
A new arts center at the World Trade Center was included in the 2003 master plan for Lower Manhattan after September 11. Two decades later, the Perelman Performing Arts Center (PAC) is opening this fall. On Wednesday, the center announced the lineup for its augural season, including wide-ranging programs across theater, dance, music, film, and more. Located at 251 Fulton Street, PAC is a unique, cube-shaped building with a glowing marble facade and flexible performance spaces within. The center kicks off its season on September 19 with a five-night pay-what-you-wish event, "Refuge: A Concert Series to Welcome the World," which will include performances from musicians from around the world.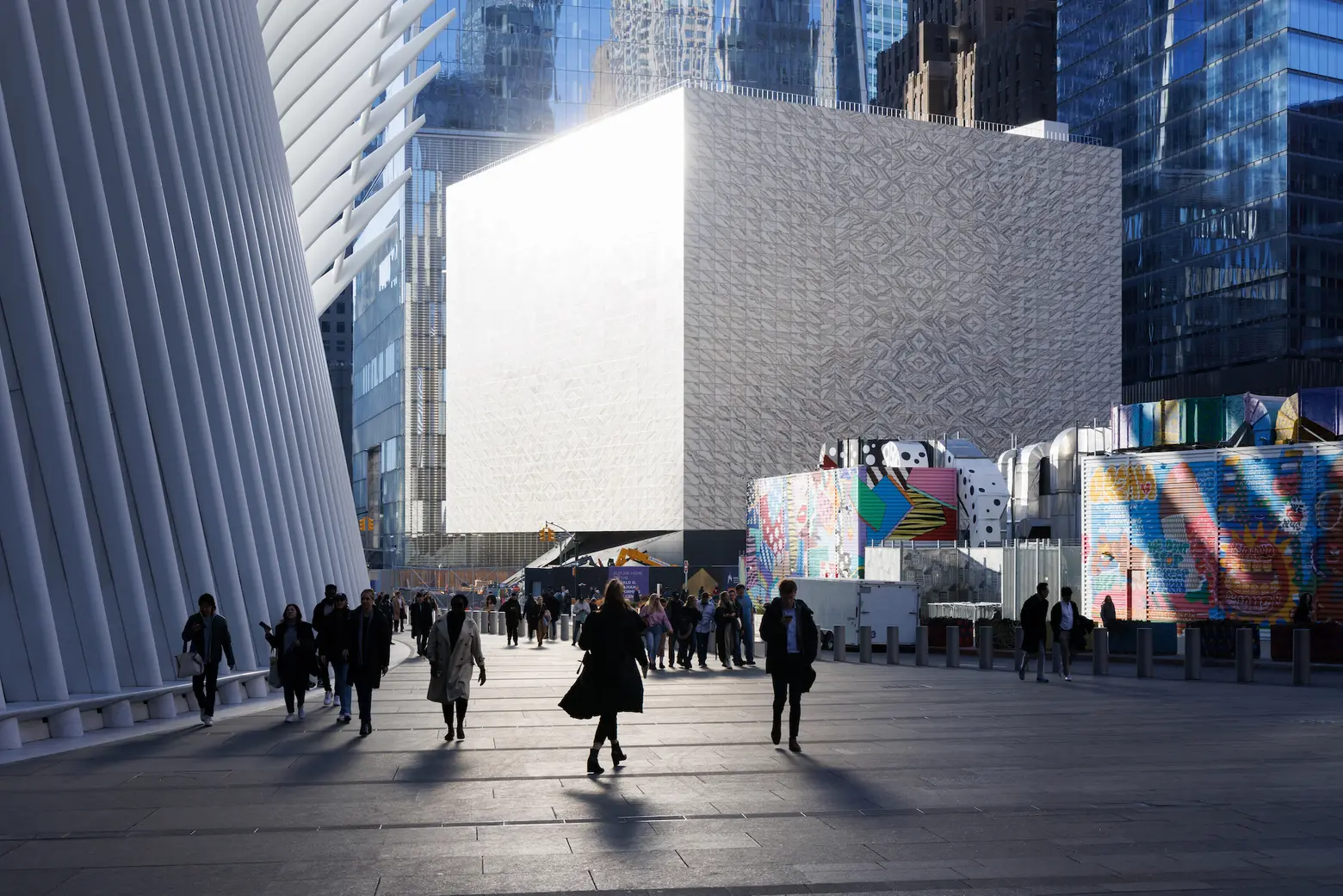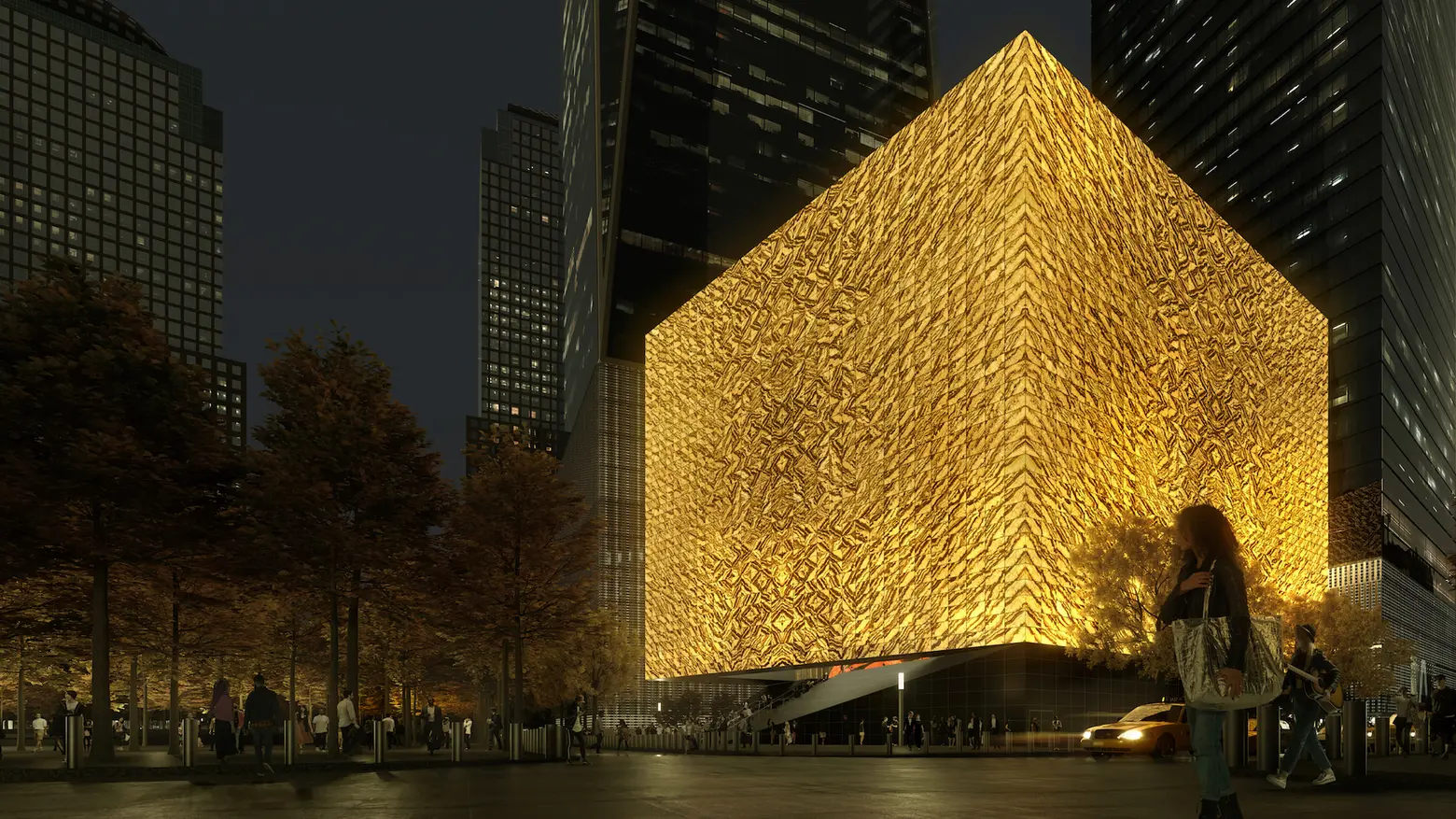 The center at night; Rendering © Luxigon
"The opening of Perelman Performing Arts Center is going to add light and hope to the World Trade Center site in a manner that respects its role as a place for reflection. PAC NYC's impact will extend far beyond downtown, as we know the impact of the power of the arts – bringing energy and excitement to bolster neighborhoods, spur investment and build a stronger city," former Mayor Michael Bloomberg, chair of the PAC NYC board of directors, said.
Named for billionaire and building benefactor Ronald O. Perelman, PAC is a 138-foot-tall cube-shaped building designed by architecture firm REX in collaboration with executive architect Davis Brody Bond, theater consultant Charcoalblue, and acoustician Threshold Acoustics.
The striking facade comprises nearly 5,000 half-inch thick marble tiles that have been matched to create a symmetrical pattern that is identical on all four sides of the building. The facade allows light to stream in during the day and appear to glow at night.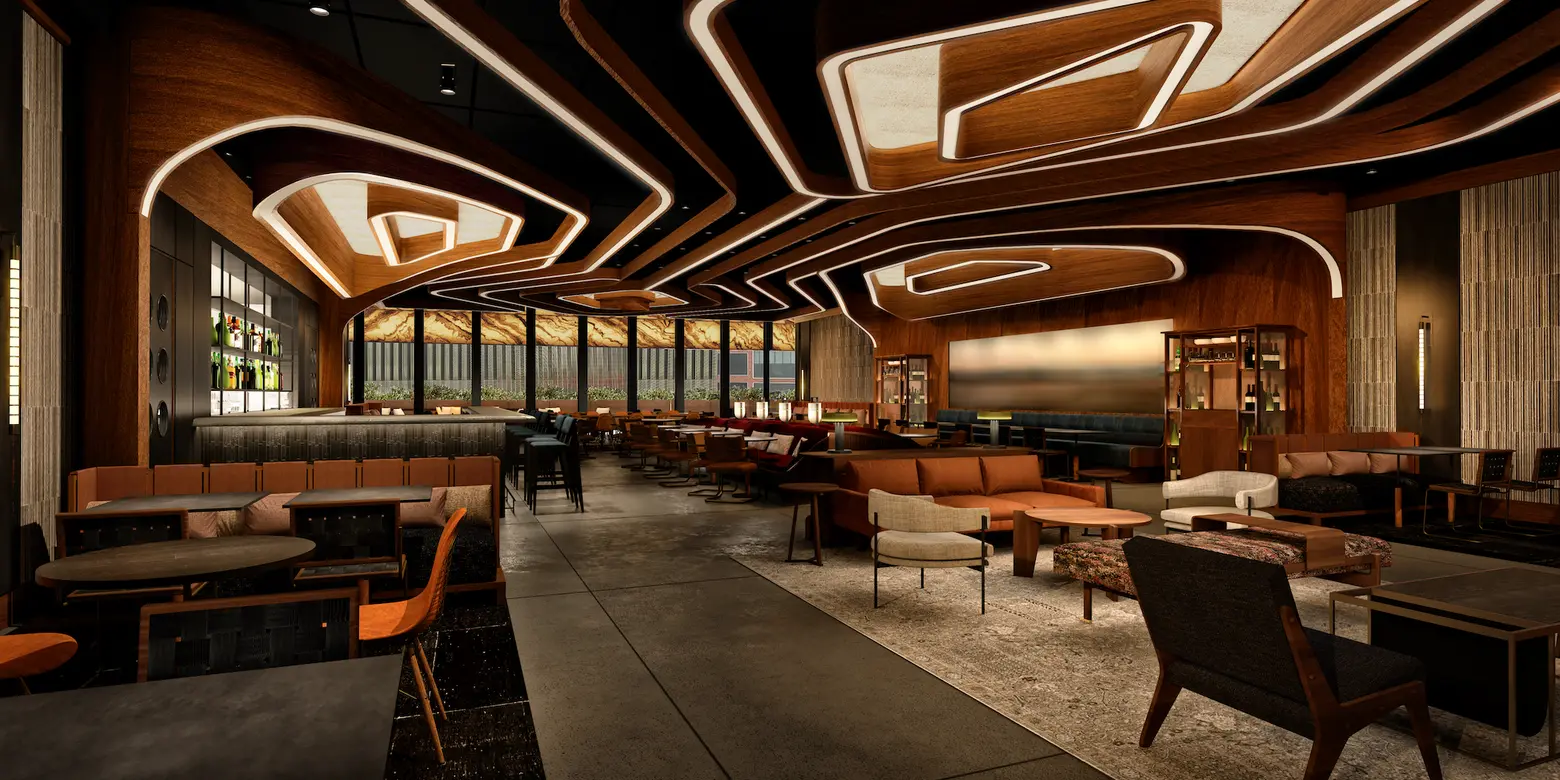 Rendering of the restaurant courtesy of Rockwell Group
Designed by David Rockwell's Rockwell Group, the center's lobby and restaurant features a glowing ceiling visible from the outside, creating an inviting and immersive entrance into the building. The restaurant, helmed by chef Marcus Samuelsson, offers a new gathering space, along with a connected bar and outdoor terrace.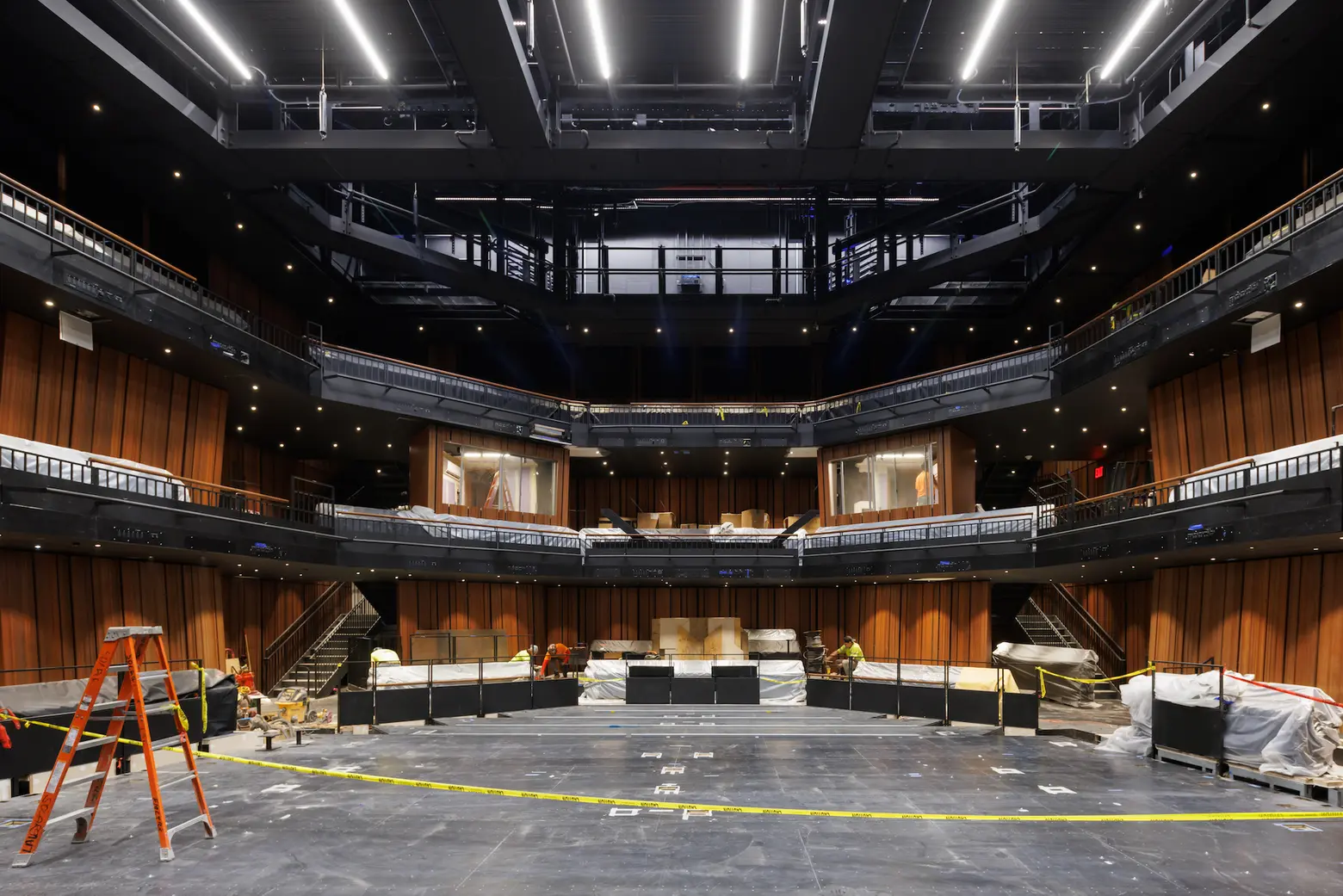 The facility consists of three separate performing arts centers: the John E. Zuccotti Theater which has seating for 450 people, the Mike Nichols Theater which seats 250, and the Doris Duke Foundation Theater which seats 99. With large movable walls and adjacent scene docks, the theaters can be combined or changed into 10 proportions and more than 60 configurations.
Highlights from this season's programming include a reimagining of Andrew Lloyd Webber's musical "Cats," "Between Two Knees," a play presented by an Indigenous sketch comedy group, "Motion/Matter: Street Dance Festival," a celebration of NYC and global street dance, and "Circle Songs: A Holiday Concert Series," a four-night concert series leading up to the holidays.
PAC will also team up with the Tribeca film festival to present screenings and special events during the 2024 Tribeca Festival. Plus, in partnership with Creative Arts Agency, the center will host several conversations with authors, entertainers, and other storytellers, including actor Kerry Washington, actor Jada Pinkett Smith, and "Today" show co-host Jenna Bush Hager with Barbara Pierce Bush.
"We have invited some of the most compelling talents in theater, opera, music, and dance to work with us and with each other, to create and present new works that bring PAC NYC to life, here in the world capital of performing arts," Bill Rauch, the center's artistic director, said. "Our program, which celebrates and brings together an array of artistic disciplines, will anchor a robust and diverse inaugural season that will inspire, entertain, and engage all audiences."
The PAC was first conceptualized in Daniel Libeskind's 2003 master plan for rebuilding the area around the World Trade Center after the September 11 terrorist attacks. Frank Gehry initially designed the arts center but his plan was discarded in 2014 due to fundraising issues and construction delays on the Fulton Street Transit Center that sits underground.
In 2015, the PAC selected REX as the architect for the project. Joshua Prince-Ramus, founding principal of REX, said that his main goals were to create a building "that fosters artistic risk," and "lets the artistic director control the experience from the moment you enter the lobby, to getting to your seat and back out the door."
PAC NYC memberships for the inaugural season are now available for $10. Members get early access to purchase tickets and other perks. On June 20, both PAC members and Citi cardmembers can purchase tickets through a presale.
Tickets for many of the events, which start at $39, go on sale to the public on Friday, June 23, at 10 a.m.
More information about PAC's inaugural season can be found here.
RELATED: