St. Nicholas Greek Orthodox Church finally reopens at the World Trade Center
All photos © Alan Karchmer for Santiago Calatrava unless otherwise noted
The only house of worship that was totally destroyed during the September 11 attacks finally reopened to the public this week. Designed by Santiago Calatrava, the new St. Nicholas Greek Orthodox Church and National Shrine, now located at 130 Liberty Street, resumed regular parish life with a prayer service on Monday. Inspired by Byzantine architecture, Calatrava designed a facade that appears to glow from within; the church will be illuminated every night as a beacon of hope at the site.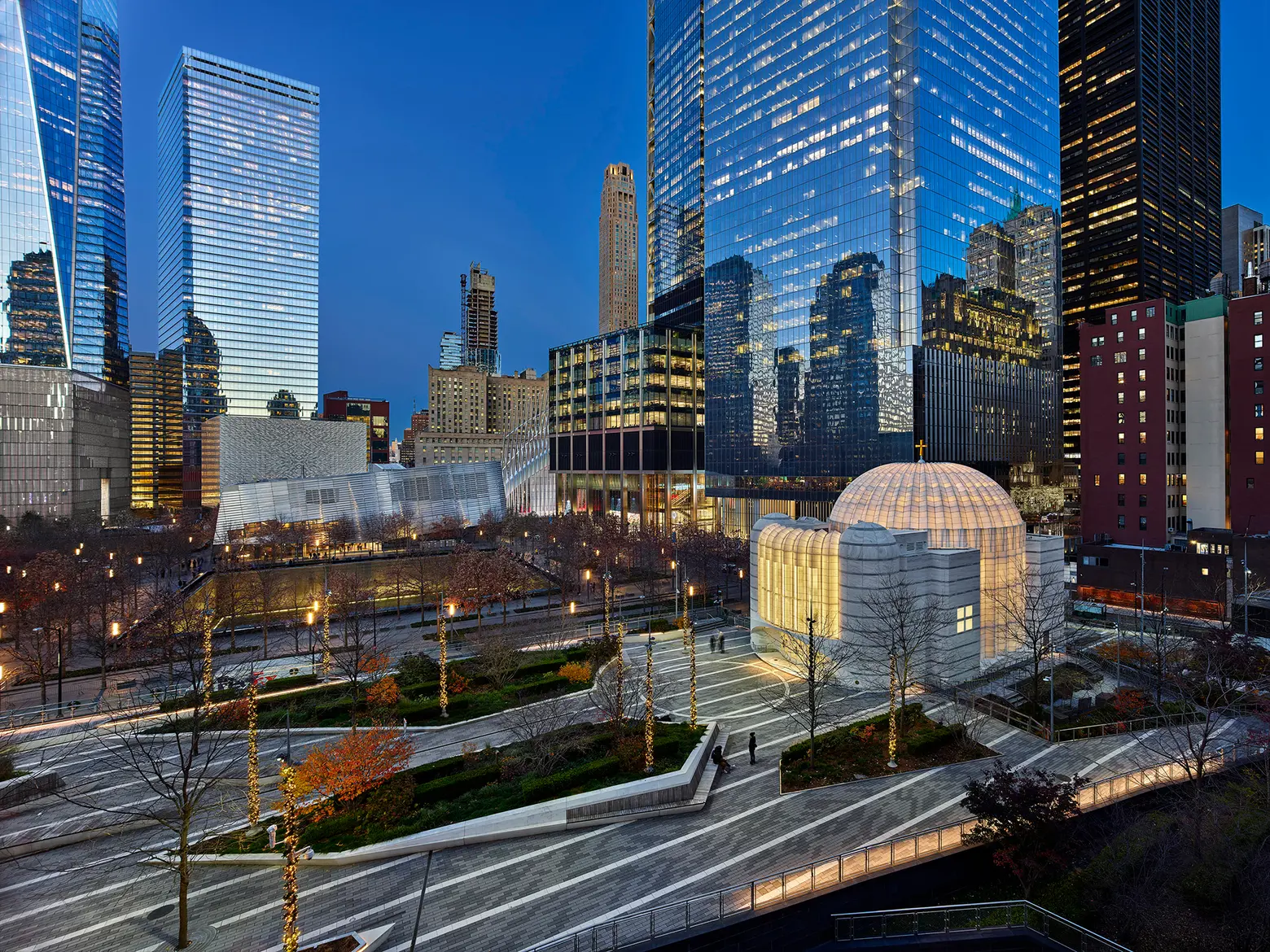 Calatrava, the same architect behind the now-iconic transportation hub World Trade Center Oculus, designed the new church to resemble the Byzantine churches of Hagia Sophia and the Church of the Holy Savior in Istanbul.
The drum and dome are divided into 40 faceted panels in honor of the 40 windows in the Hagia Sophia dome, according to the architect. The towers are clad in Pentelic marble, inspired by a mosaic of the Madonna and Child Enthroned at the Hagia Sophia. Its dome is adorned with a six-foot-three-inch Justinian cross.
A symbol of hope at the World Trade Center site, the dome will be illuminated every night.
"To see the St. Nicholas Greek Orthodox Church and National Shrine finally open is emblematic of Lower Manhattan's storied future and defining past," Calatrava said in a statement to The Architect's Newspaper.
"I hope to see this structure serve its purpose as a sanctuary for worship but also as a place for reflection on what the city endured and how it is moving forward. Architecture can have an intrinsic symbolic value, which is not written or expressed in a specific way but in an abstract and synthetic manner, sending a message and thus leaving a lasting legacy."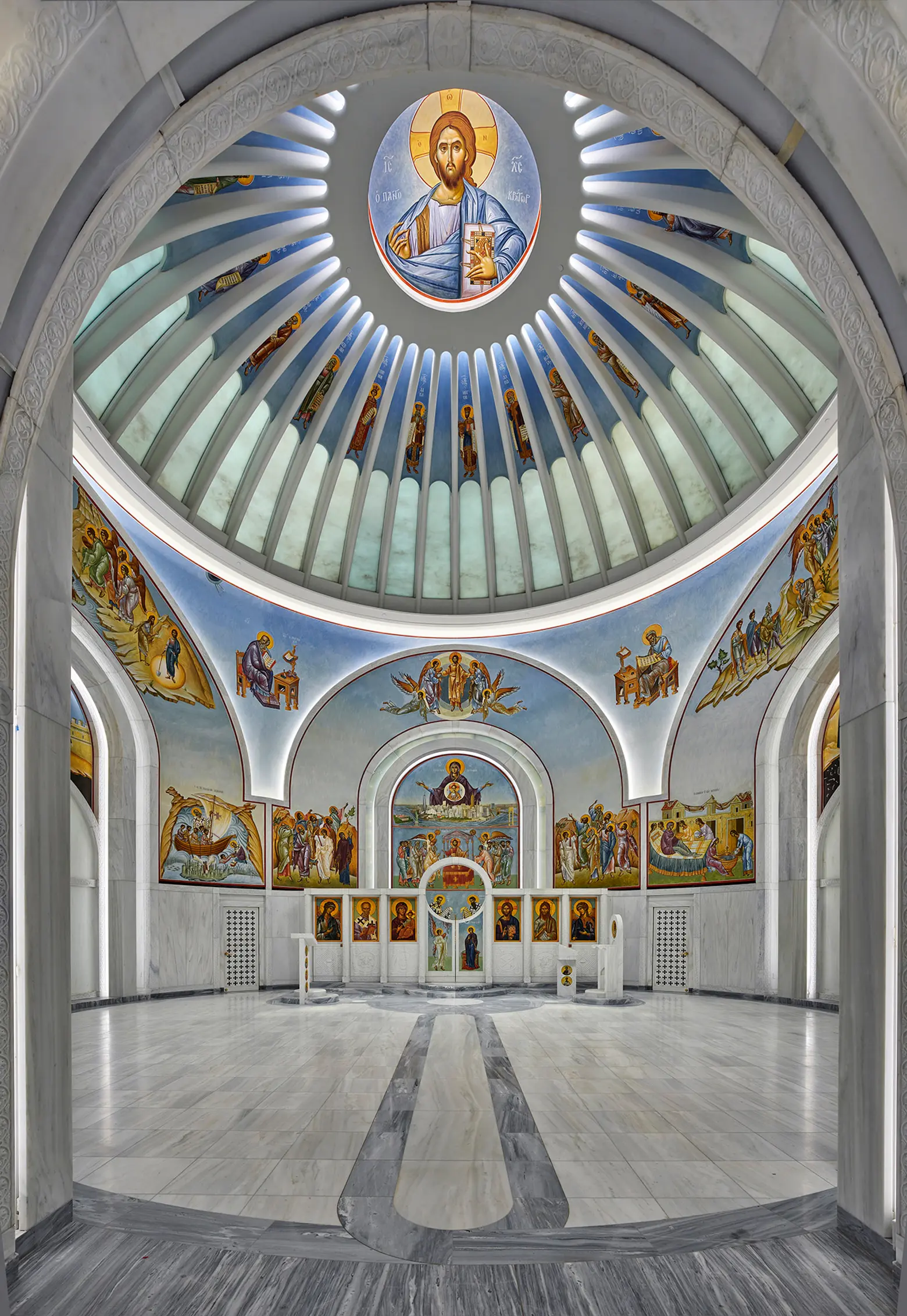 Photo credit: The Friends of St Nicholas
Originally located at 155 Cedar Street, St. Nicholas Church was completely destroyed during the September 11 attacks. The original building was constructed in 1832 as a tavern and was purchased by congregants and converted into a church in 1922.
Work to rebuild the church in the Financial District's Liberty Park began in 2015 and its 50-foot dome was completed in late 2016. Initially projected to cost $20 million, the cost skyrocketed to $58 million, causing construction to come to a halt in 2017 due to the Greek Orthodox Archdiocese of America's lack of funding.
In late 2018, the Port Authority offered to financially support the church's construction, since the new location is on land in Liberty Park the agency owns.
In early 2020, former Gov. Andrew Cuomo announced the launch of Friends of St. Nicholas, a non-profit organization that would work alongside the Port Authority to resume the construction of the church. Work began once again in August 2020.
Last year, on the 20th anniversary of 9/11, the nearly complete church was lit for the first time to commemorate the lives lost during the attacks.
RELATED:
Photos © Alan Karchmer for Santiago Calatrava unless otherwise noted