Construction suspended at the World Trade Center's St. Nicholas Shrine amid financial woes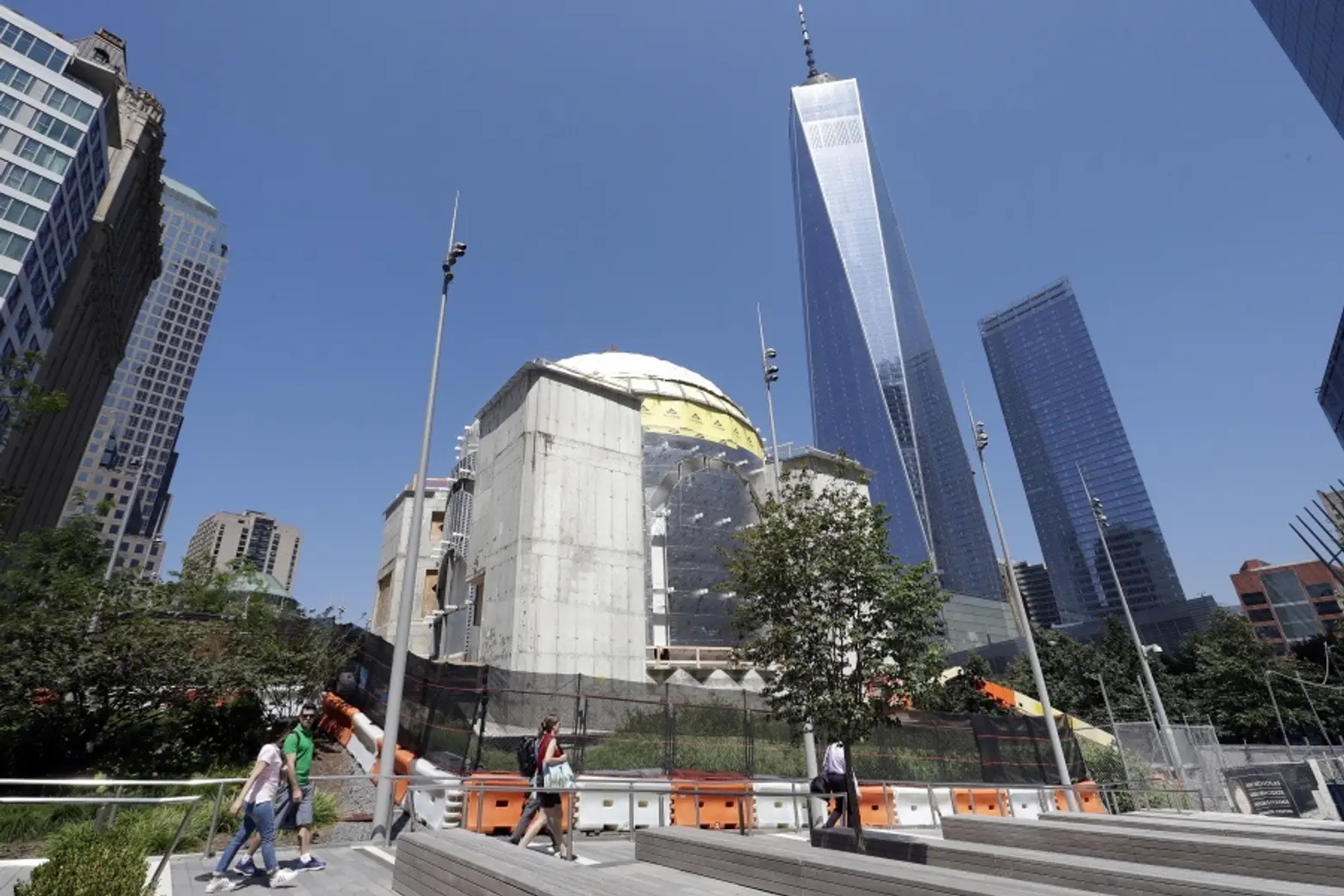 Construction company Skanska USA stopped work at the St. Nicholas Greek Orthodox Church this month after the Greek Orthodox Archdiocese of America failed to make payments on the project. The cost of rebuilding the church, which was destroyed in the terror attacks on 9/11 more than sixteen years ago, increased to an estimated $78 million from a 2013 estimate of $20 million. While the archdiocese raised $37 million in donations, it was still unable to pay its bills, prompting an independent investigation of the church's financial mismanagement, as the New York Times reported. Since learning of its deficit, the archdiocese has cut 25 percent of its staff and 25 percent of its expenses. A new treasurer and a chief financial officer have also been hired.
Designed by Santiago Calatrava, the architect behind the Oculus at the WTC transit hub, the Byzantine-inspired structure topped out last November with a 6-foot-3-inch Justinian cross. When its 50-foot dome was completed in 2016, the price rose to $40 million. And just this month, the cost skyrocketed to somewhere between $72 million and $78 million, with $49 million already pledged.
To understand the reason behind these soaring costs, the archdiocese ordered an audit to be conducted by PricewaterhouseCoopers and BakerHostetler LLP, according to a statement. The organization said it "will reevaluate its fundraising strategy moving forward and will continue to explore ways to cut costs, concurrently maintaining the historic vision of the church."
While construction at the main worksite will be suspended temporarily, the archdiocese says other aspects of the development will continue, like the dome's skylights and parts of the marble and glass fused curtainwall and lighting system.
Before Sept. 11, St. Nicholas Shrine was located at 155 Cedar Street. Debris from the second tower fell on top of it and totally destroyed the four-story tower. In 2011, the Port Authority of New York and New Jersey leased the church the site of Liberty Park for $1 a year for 198 years.
Skanska says they are hopeful that construction of the project will continue in the future. Tom Webb, Skanska's executive vice president, told Commercial Observer: "We regret that stopping work was the only viable option at this point in time. We are confident that they will find the funding to complete this work at some point in the future."
[Via NY Times]
RELATED: