Where to see pieces of the Berlin Wall in NYC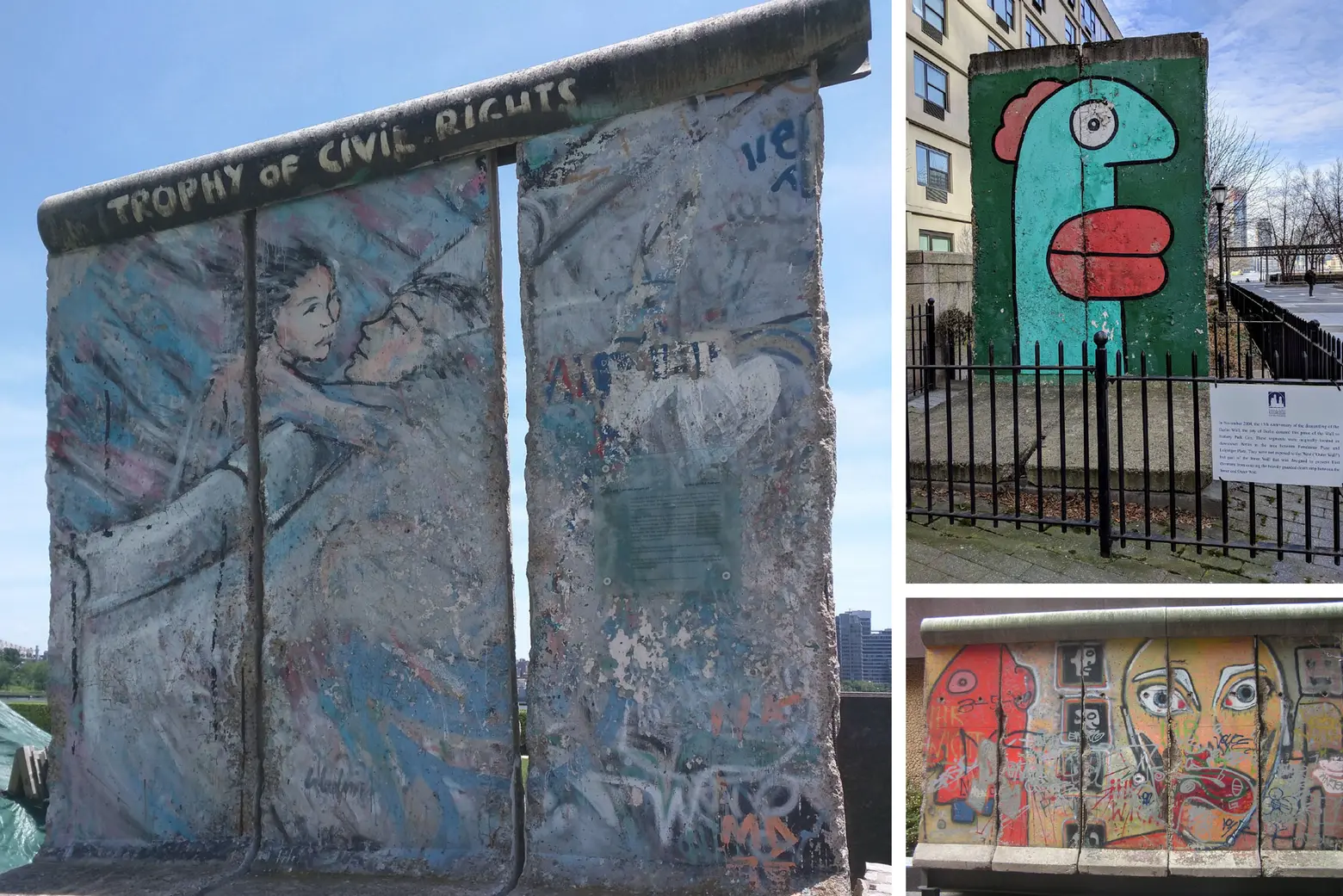 This Saturday, November 9th, marks the 30th anniversary of the Berlin Wall coming down. Many people might know of pieces of the wall on display in various museums such as the Newseum in DC and the Ronald Reagan Presidential Library in southern California, but did you know there are four places in NYC to see segments of the Berlin Wall? One is in a touristy Times Square museum, another at the United Nations, a third at a public plaza in Battery Park City, and the last inside a public office building lobby in Midtown (though recent reports say this piece has been moved to storage).
1. Kowsky Plaza, Battery Park City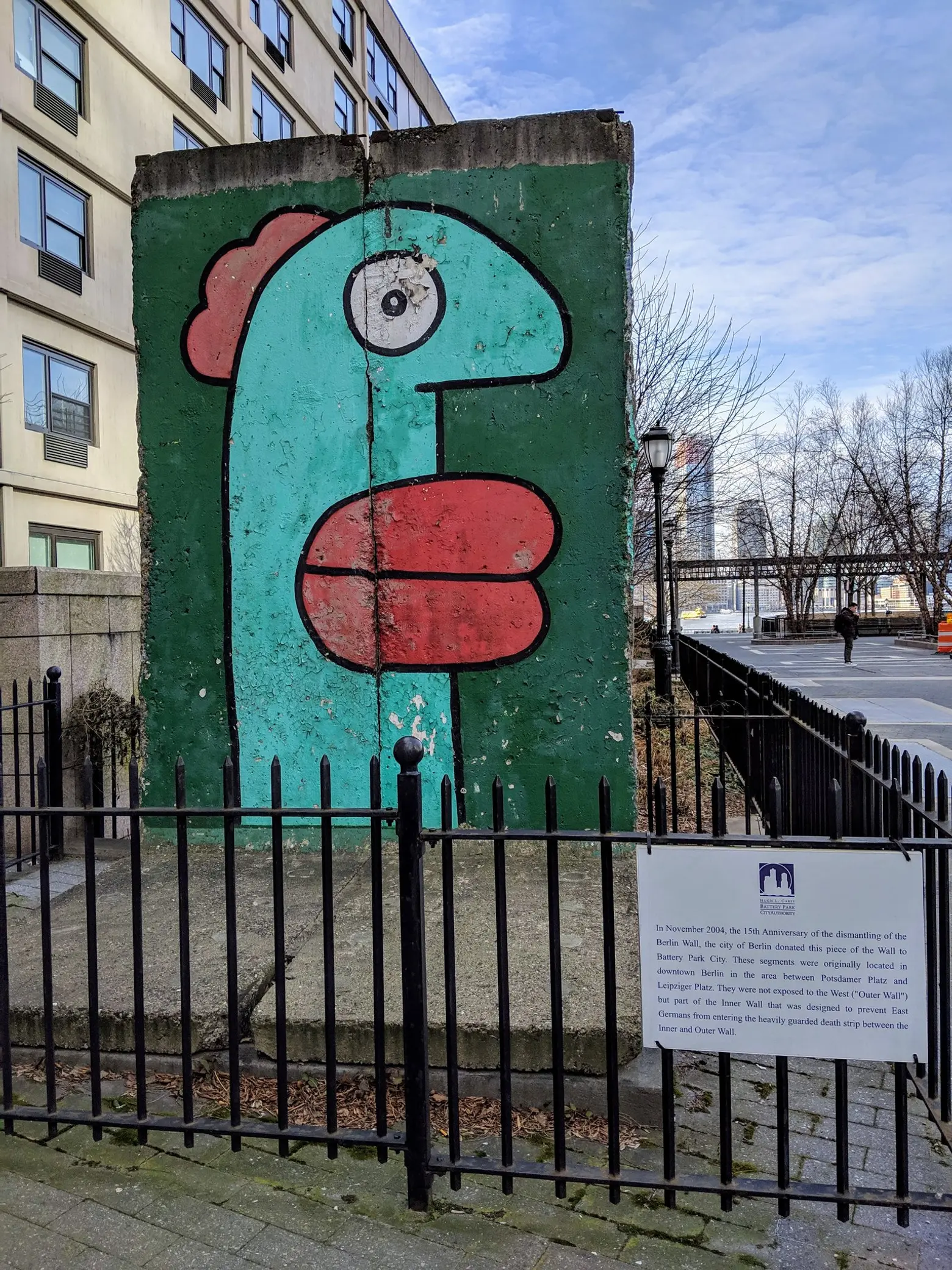 Photo by Travis Wise via Flickr
French artist Thierry Noir is believed to be the first artist to illegally paint on the Berlin Wall. Chasing the music scene he'd heard about there, Noir moved to West Berlin in 1982, a time when painting on the wall was considered vandalism. In a 2013 interview with Street Art London, Noir admits that at the time he didn't know much "about the political aspect of the wall, because at school in France we never learned anything about the wall," but his decision to leave his mark on it "was like a delivery, to show that I am stronger than the wall; I can paint it."
As Art Nerd tells us, Noir decided to paint his "Heads" because he could complete them quickly while working undercover. On his own website, he says that his work on the wall "subverted this iconic symbol of war into a symbol of hope, granting it a real human significance."  After he began, other West Berlin artists joined in, completely covering the wall over the next five years. When the wall was finally torn down between 1989 and 1981, its roughly 88,000 sections were disassembled, most of which were used for German reconstruction projects. Several hundred, however, were sold or auctioned and put on display in various cultural institutions, universities, and public spaces around the world.
The section of the wall that we see above came from the area in downtown Berlin between Potsdamer Platz and Leipziger Platz, a segment of the inner wall that was put up to keep East Germans from escaping to West Berlin. In 2004, on the 15th anniversary of the Berlin Wall coming down, the German Consulate gifted this segment to the Battery Park City Authority in recognization of their commitment to education through public art. Located in Kowsky Plaza, it's 12 feet high, eight feet wide, and weighs 2.75 tons.
2. 520 Madison Avenue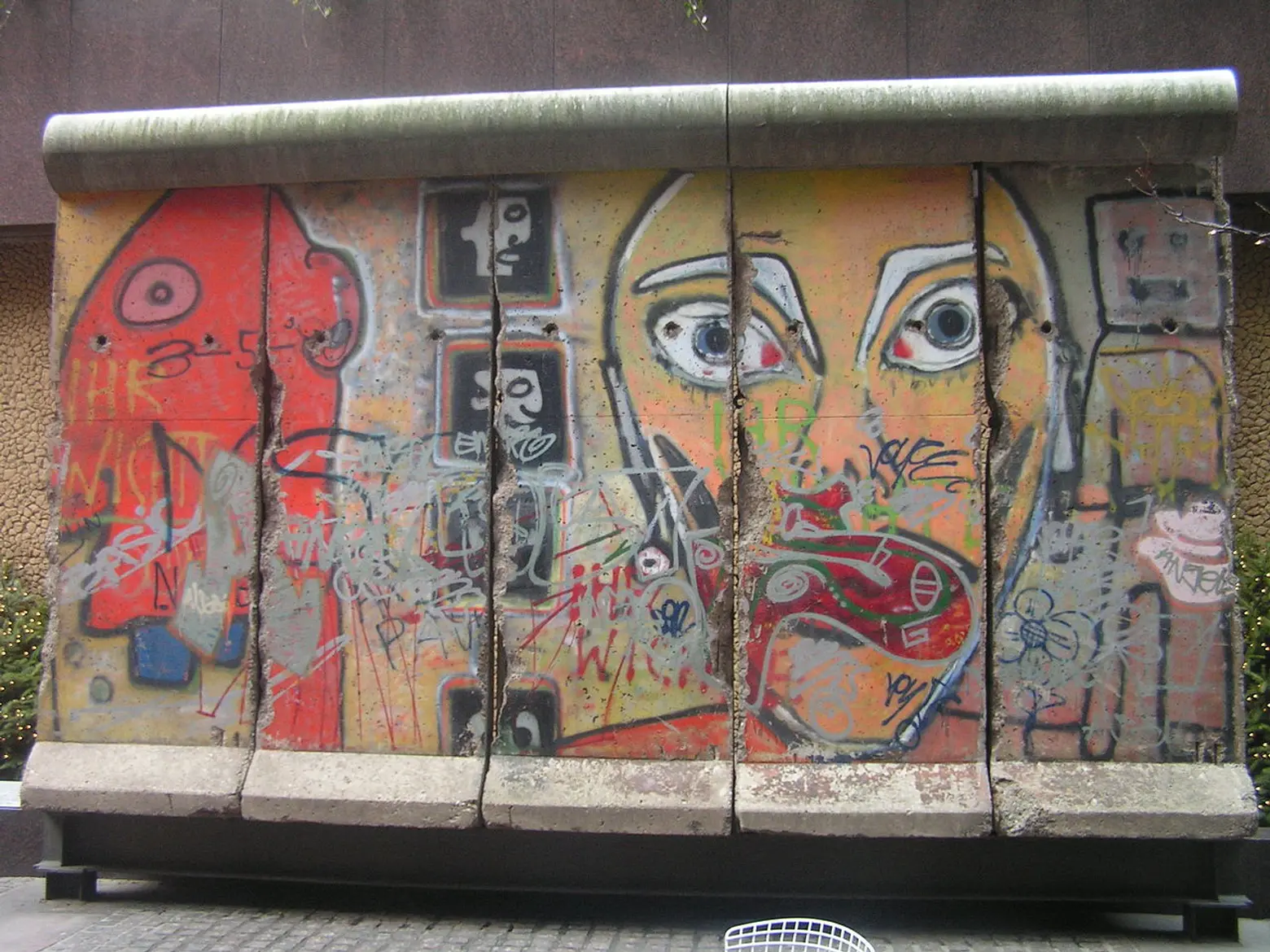 Photo while still at Paley Park by Gaurav1416 via Wikimedia Commons
A five-section, 33,000-pound slab of the wall in Midtown also features the work of Thierry Noir, this time with German artist and musician Kiddy Citny. Real estate developer Jerry Speyer of Tishman Speyer purchased the segment, which had come from the Waldemarstrasse area, early on in 1990. He then had it installed in Paley Park, a small pocket park known for its waterfall located on East 53rd Street between Park and Madison Avenues, directly behind Tishman Speyer's office tower at 520 Madison Avenue.
In a 2015 New York Times article, Speyer explained that he loved Berlin from his days living there as an exchange student. When the wall came down in 1989, he went back and learned that certain segments of the wall were being sold off. As the Times explains, "He and a business partner headed to a parking lot in which hundreds had been assembled, helter-skelter… As if solving a giant jigsaw puzzle, the Tishman Speyer executives pieced together a contiguous five-segment section…" for which they paid $50,000.
By 2014, though, the wall was in need of some restoration work, largely due to its placement near the Paley Park waterfall. It was disassembled and moved to a New Jersey warehouse where conservators were able to restore it. In 2017, the sections were back in place inside the publicly accessible lobby of 520 Madison Avenue, safe from the elements. However, last year, they mysteriously vanished again. In a story published just two days ago, the Wall Street Journal reported that Tishman Speyer said the wall was in storage but gave no further explanation. Hopefully, they will make their way back soon.
3. United Nations Plaza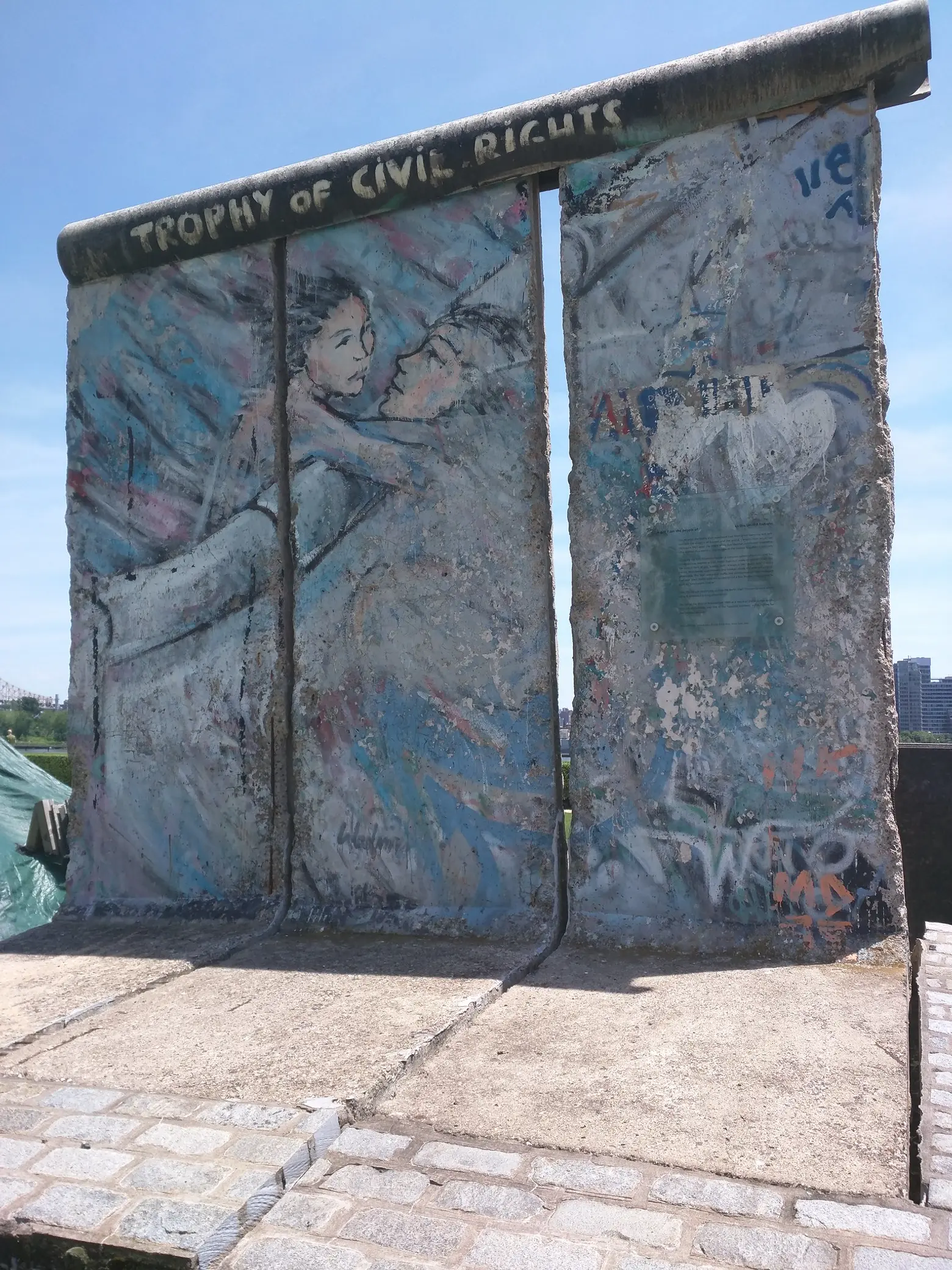 Photo by Tyler Bell via Flickr
In 2002, Germany gave the United Nations a gift of three pieces of the Berlin Wall. According to a story from the UN at the time, then Secretary-General Kofi Annan said the wall symbolizes "the lesson that divisions in the human community are not so insurmountable as we feared; that gaps of misunderstanding and material well-being can be bridged; and that we can, like the couple depicted here, join hands and unite for a better world." This segment of the wall is on display in the UN garden. It was done by artist Kani Alafi. It's interesting to note that the graffiti at the top, "Trophy of Civil Rights," was added after the wall came down.
4. Ripley's Believe it or Not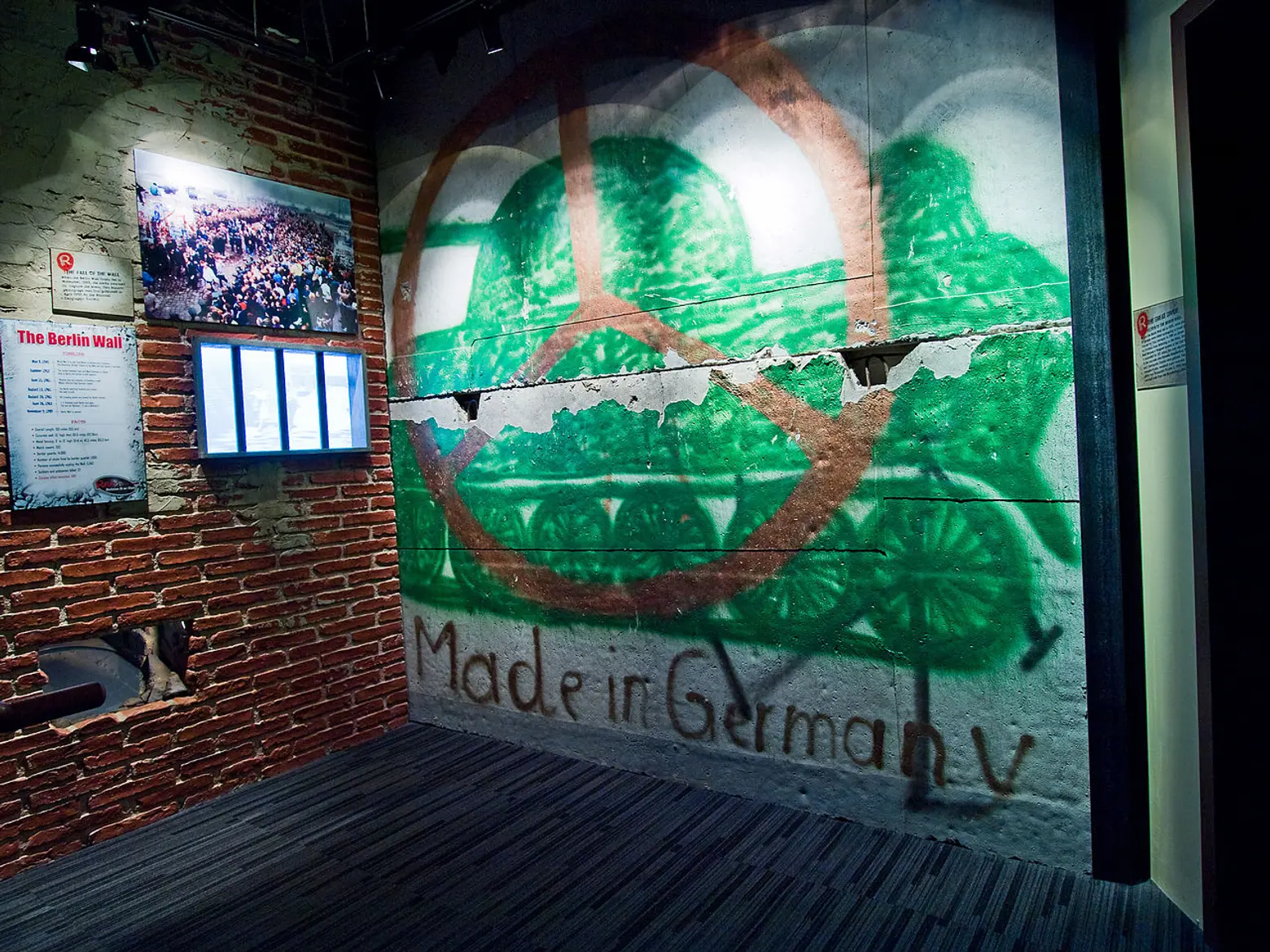 Photo via Wikimedia Commons
As Untapped Cities explains, Edward Meyer, former Vice President of Exhibits and Archives at Ripley's Believe it or Not, was in Berlin when the wall came down and was lucky enough to purchase many segments. In total, the Ripley's chain of museums owns 32 wall pieces divided among 16 10-foot-by-10-foot sections, one of which is on display in their Times Square location. As Ripley's explains on their site, "they had to be moved 200 miles by barge from Berlin to Hamburg, and then shipped via ocean freighter across the Atlantic to New Orleans before being trucked to our headquarters in Orlando. Though we arrived three days after the fall, it took over a year to get the pieces back to America."
+++
In the aforementioned Wall Street Journal article, German historian Anna Kaminsky estimates that only about 650 segments of the Berlin Wall remain today, but there is no record of where they are or who owns them. A group called The Wall Net is working to document all the pieces throughout the world that they can.