Where to find New York City's secret waterfalls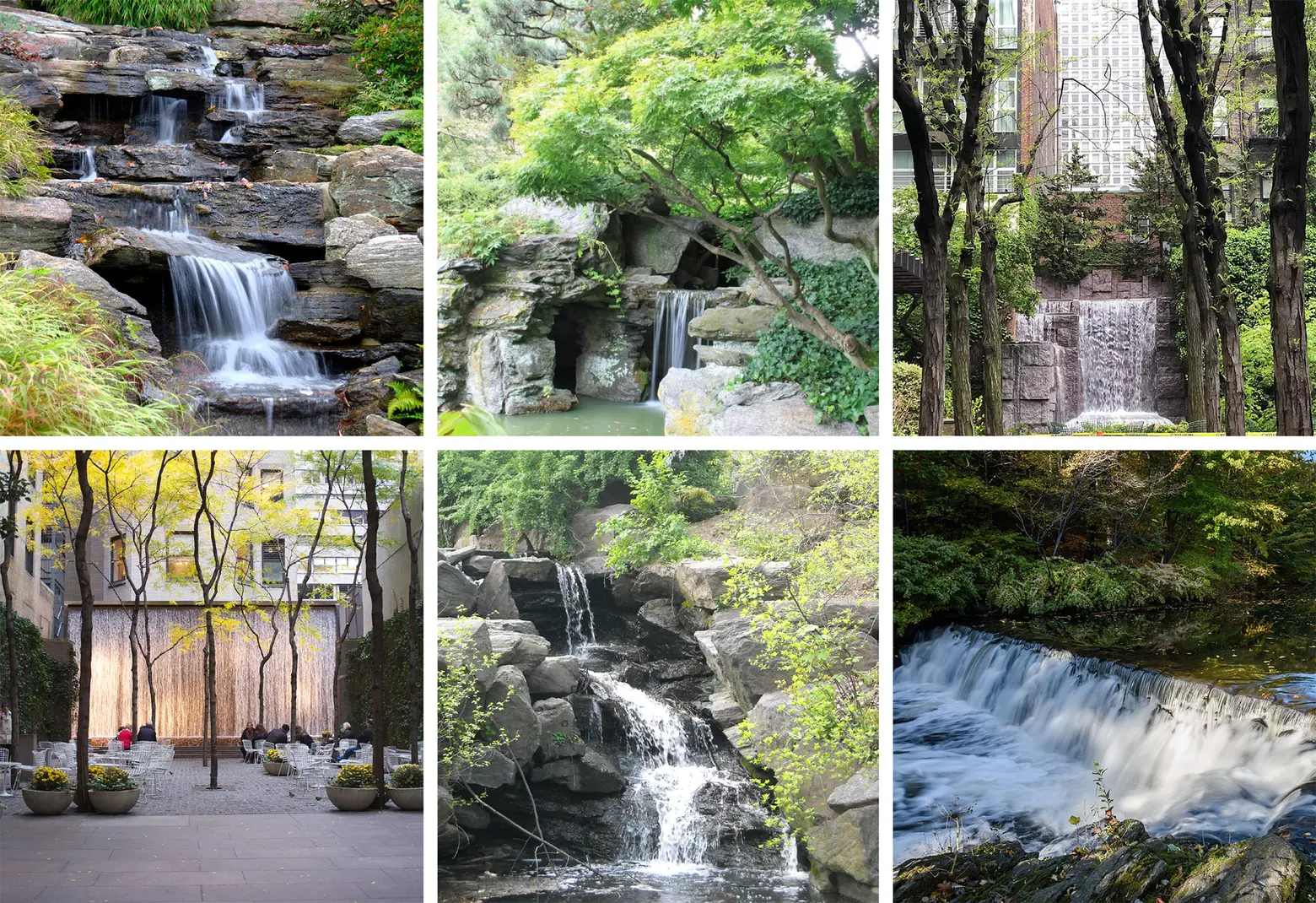 New York state is home to many spectacular waterfalls that are worthy of any bucket list, but if you know where to look, there are a surprising number of waterfalls to discover right here in the concrete jungle of New York City. They're not all "secrets," but they do tend to exist well off the beaten path, tucked into the more remote parts of Central Park or in small Midtown plazas. Once you've found one, you'll likely have a new favorite spot perfect for escaping the city's unrelenting noise—if only for a short while.
Bronx River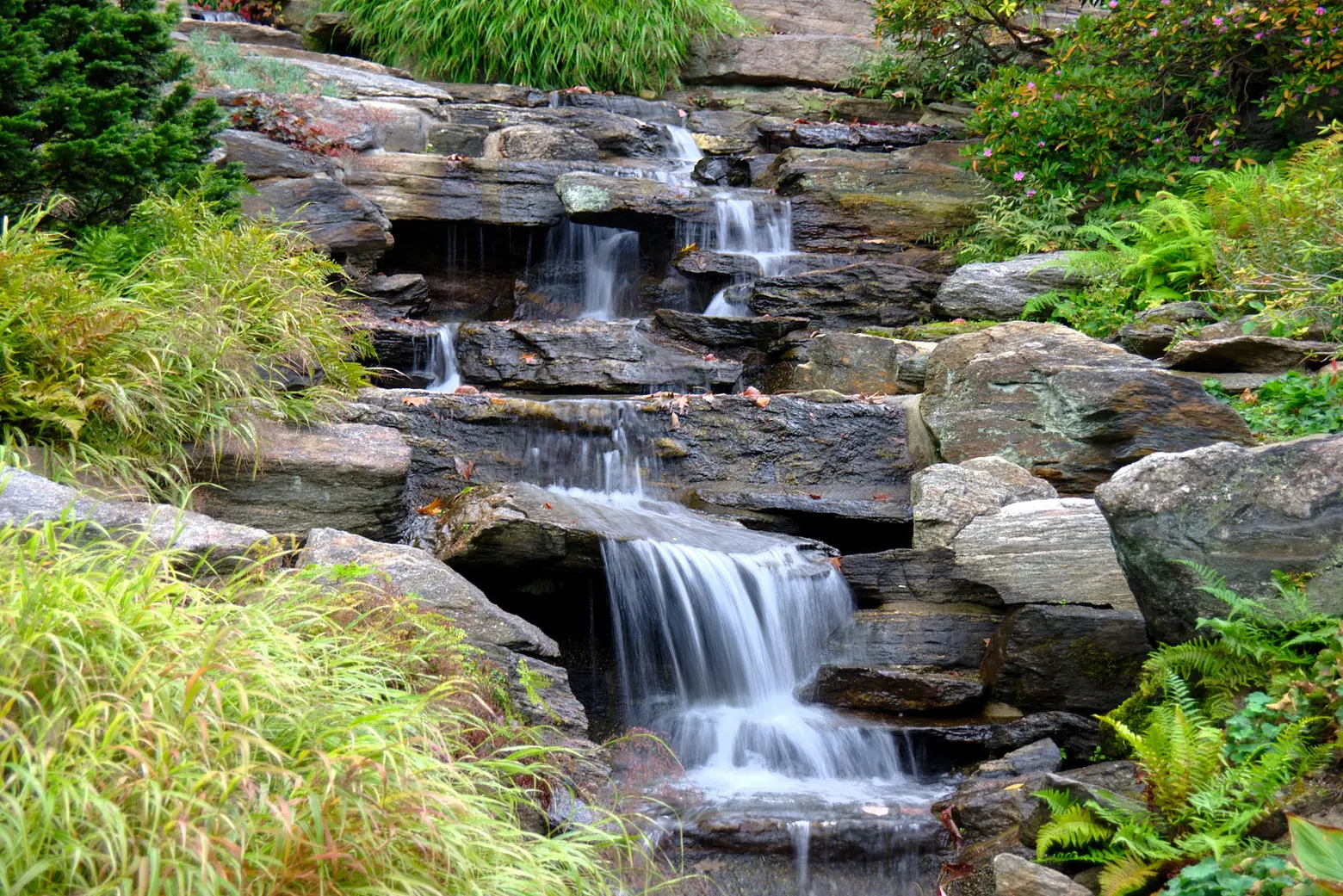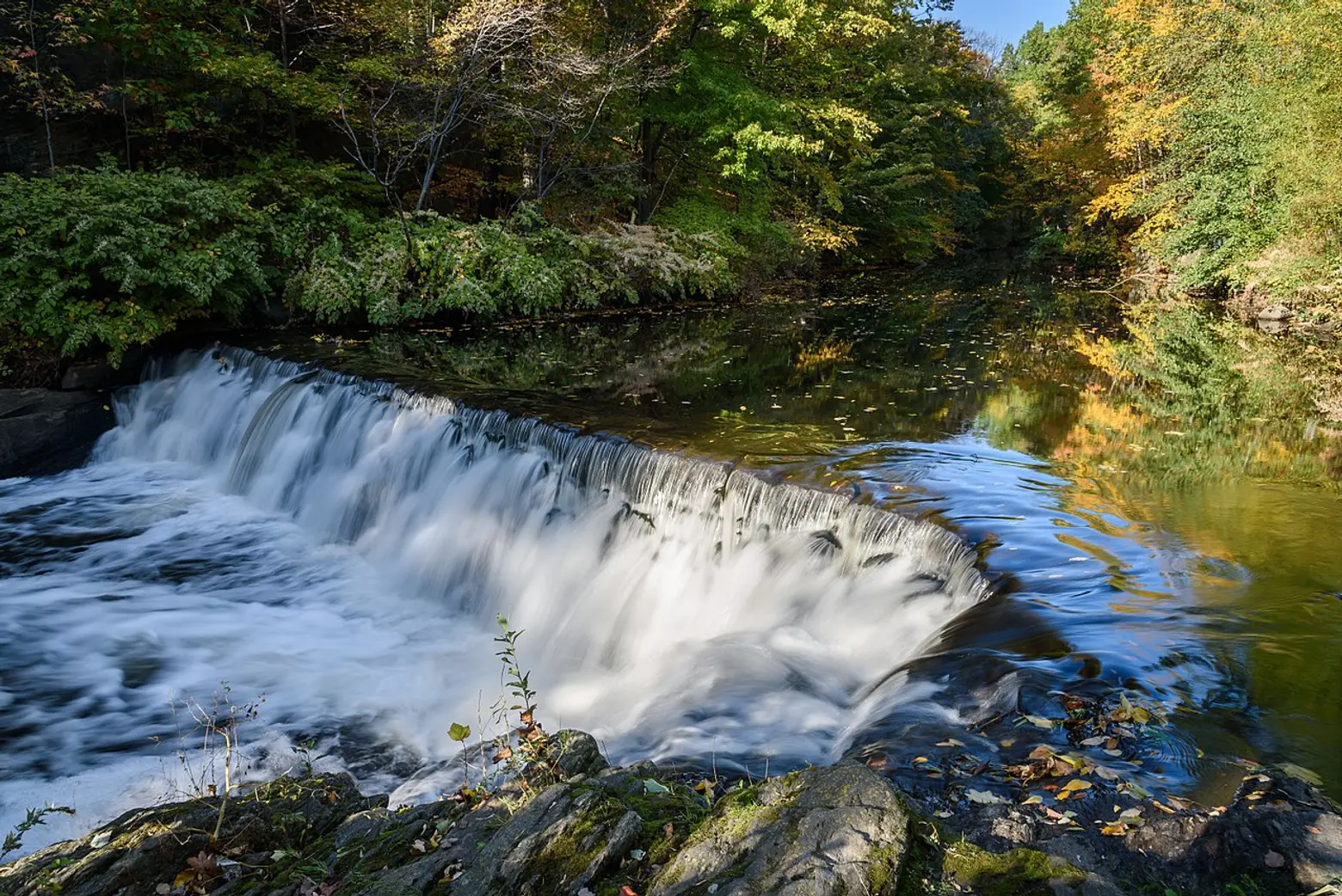 Top: Rock Garden Cascade by Joseph Bylund via Flickr cc; Bottom: River Park Waterfall by King of Hearts via Wikimedia Commons
There are several dams along the Bronx River, some of which were once connected to water mills dating as far back as the mid-1700s. On the grounds of the New York Botanical Garden, you'll find the seven-foot-high Snuff Mill Waterfall–constructed in 1840—and the Rock Garden Cascade that was built in the 1930s. Near the Bronx Zoo entrance at 180th Street and Boston Road, the 13-foot-tall River Park Waterfall is located next to a large playground. Also at the Bronx Zoo, near the Bronx Park East entrance, are the Twin Dams Falls, both about 10-feet high and best observed from the Mitsubishi Riverwalk Outlook. They're all roughly within walking distance of each other, though if you want to see them all you should plan to make a day out of it.
Morningside Park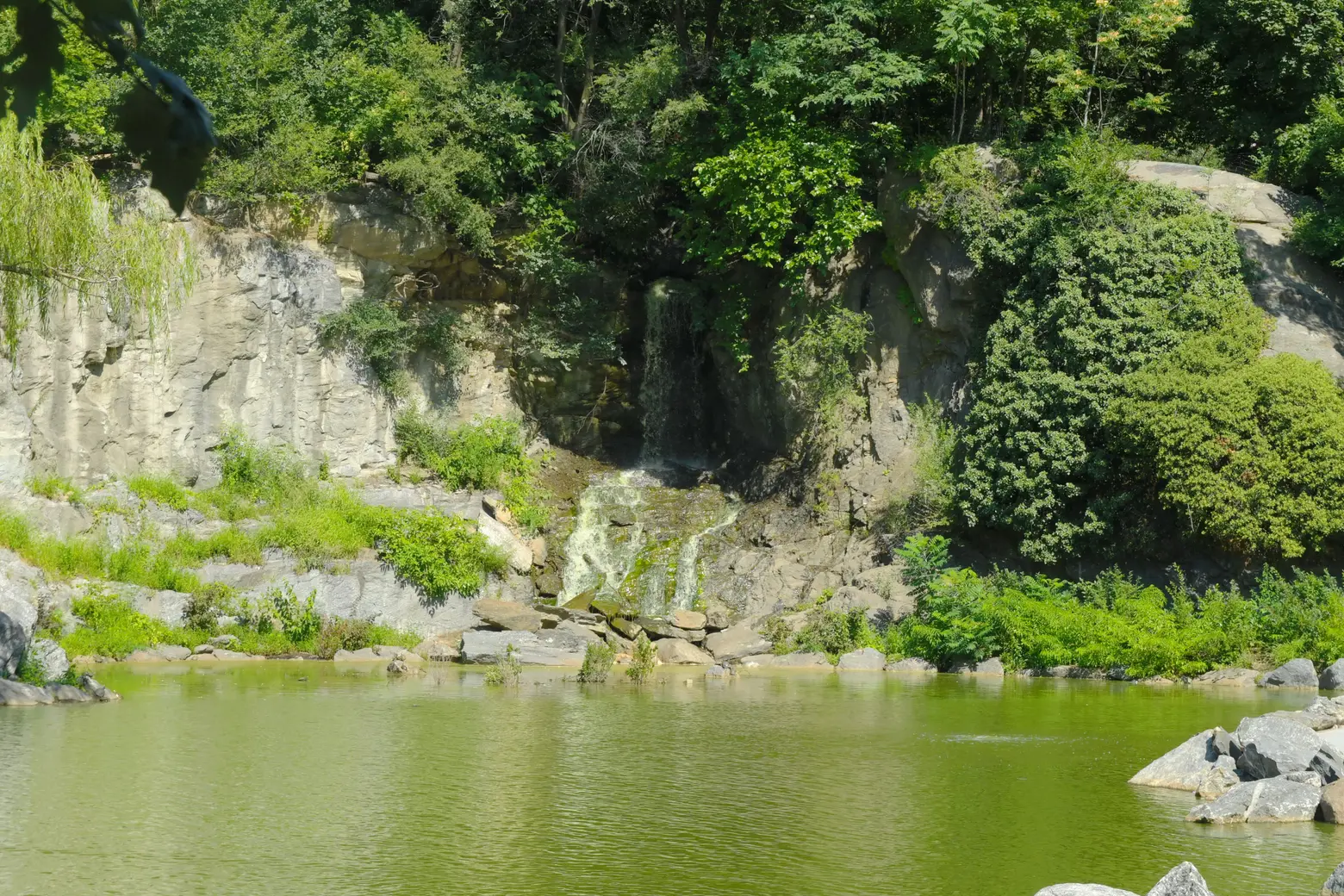 Credit: Malcolm Pinckney / NYC Parks
In 1963, Columbia University proposed building a gym in Morningside Park, but major protests led by students and community activists eventually stopped the project, which was accused of perpetuating segregation. But Columbia had already gone forward with demolition, leaving an excavated crater and construction fencing on the site for more than a decade after the controversial gym project was scrapped. After several redevelopment proposals were put forward, NYC Parks started a $12 million restoration project in 1987. The first phase of that work converted the abandoned gym site into a pond—which had been part of Olmsted and Vaux's original design for the park—and a waterfall. The dramatic, 20-foot-high waterfall is near 113th Street and across from the park's baseball fields.
Central Park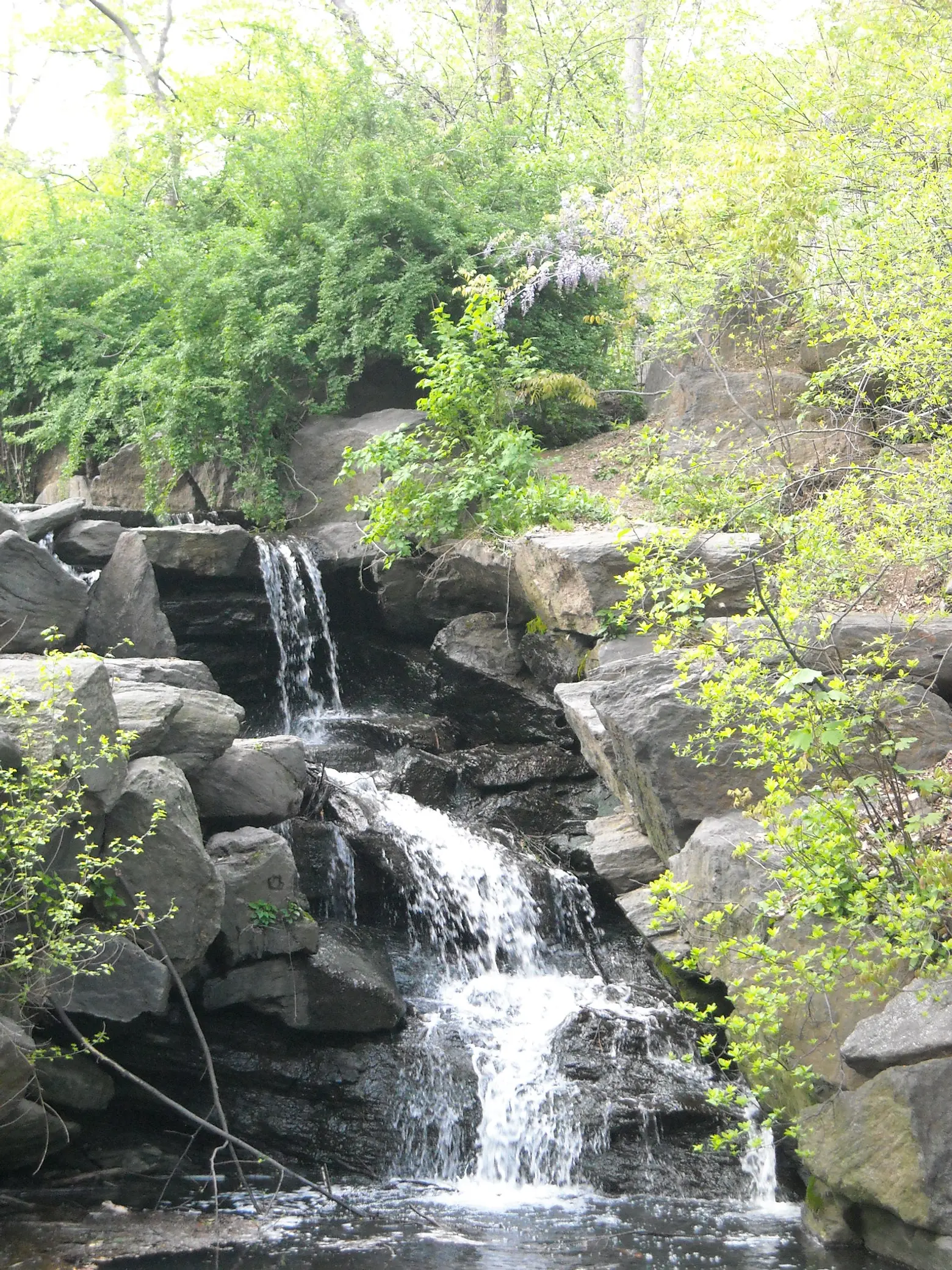 Image of the North Woods waterfalls in Central Park. Top by Eric Gross via Flickr cc; Bottom by Sandra Lee Schubert via Flickr cc
Chasing waterfalls is a perfect reason to explore the Northern ends of Central Park. There are five man-made waterfalls in the Park which are supplied with the same water you get in your tap via a hidden pipe by the Pool Grotto on West 100th Street. The most dramatic is the 14-foot cascade in the area of the North Woods known as the Loch, which is Scottish for "lake." To find it and the others, the Central Park website suggests you enter the Park on the Westside through Glen Span Arch at 102nd Street and simply follow the water.
The Waterfalls of Turtle Bay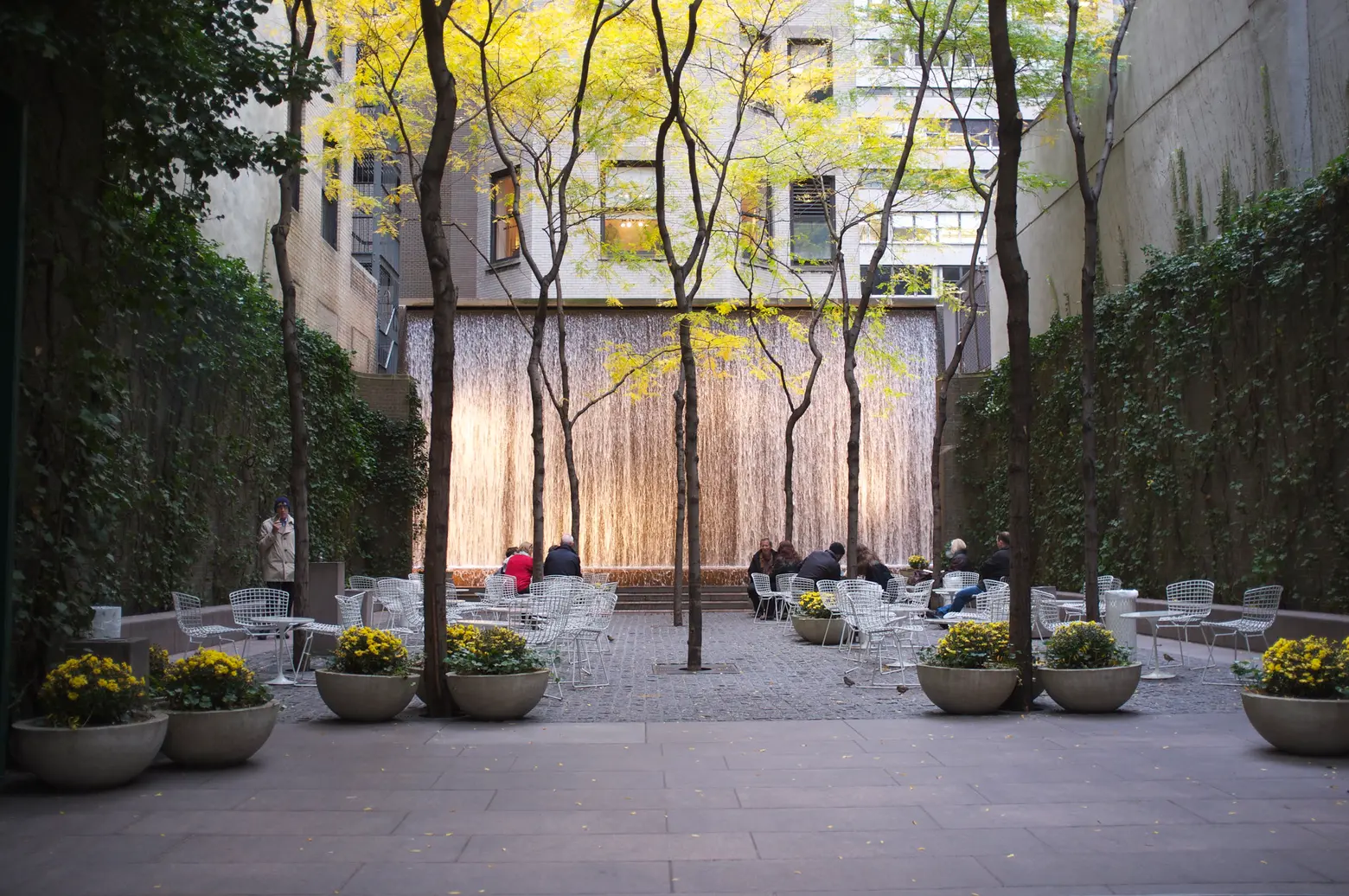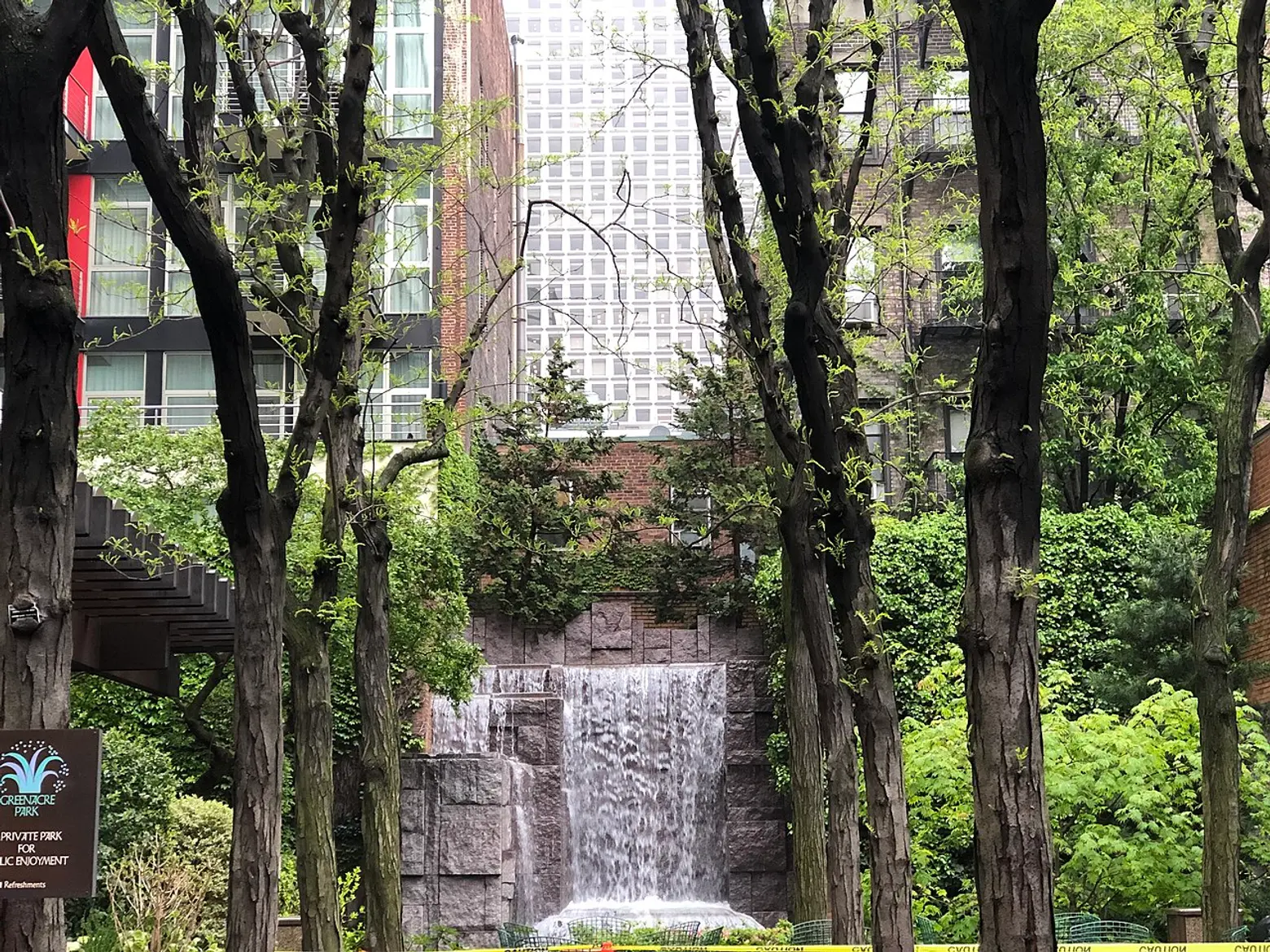 Top: Paley Park by Aleksandr Zykov via Flickr cc; Bottom: Greenacre Park by Fuzheado via Wiki Commons
Looking for a reason to spend time in Midtown and actually enjoy it? Luckily there are a bunch of hidden waterfall escapes located between 40th and 51st Streets—some more secretive than others. You may already be familiar with the oasis of Paley Park, located at West 52nd Street between 5th Avenue and Madison, which provides a perfect place to eat your lunch while zoning out to the relaxing sounds of the 20-foot waterfall in the background. Another better-known spot is Greenacre Park at 51st Street and Third Avenue, which boasts a stepped waterfall that is so loud it completely drowns out the city noise.
Explore a bit further and you'll find several other secluded spots. There's a garden with stone benches and several small waterfalls right outside of 100 United Nations Plaza, a curved cascade at East 47th Street between Second and Third Avenues, and the crowd-pleasing waterfall tunnel at West 48th Street between Sixth and Seventh Avenues.
National September 11 Memorial and Museum

The waterfalls that form the centerpiece of Michael Arad's 9/11 Memorial, titled "Reflecting Absence," are actually the largest man-made waterfalls in North America. By now you probably already know that they cover the exact footprints of the original Twin Towers—each is about an acre in size. The falls release about 26,000 gallons of water a minute over the 30-foot, black granite walls, as the sound of the falling water creates an appropriately overwhelming and contemplative experience.
Brooklyn Botanic Garden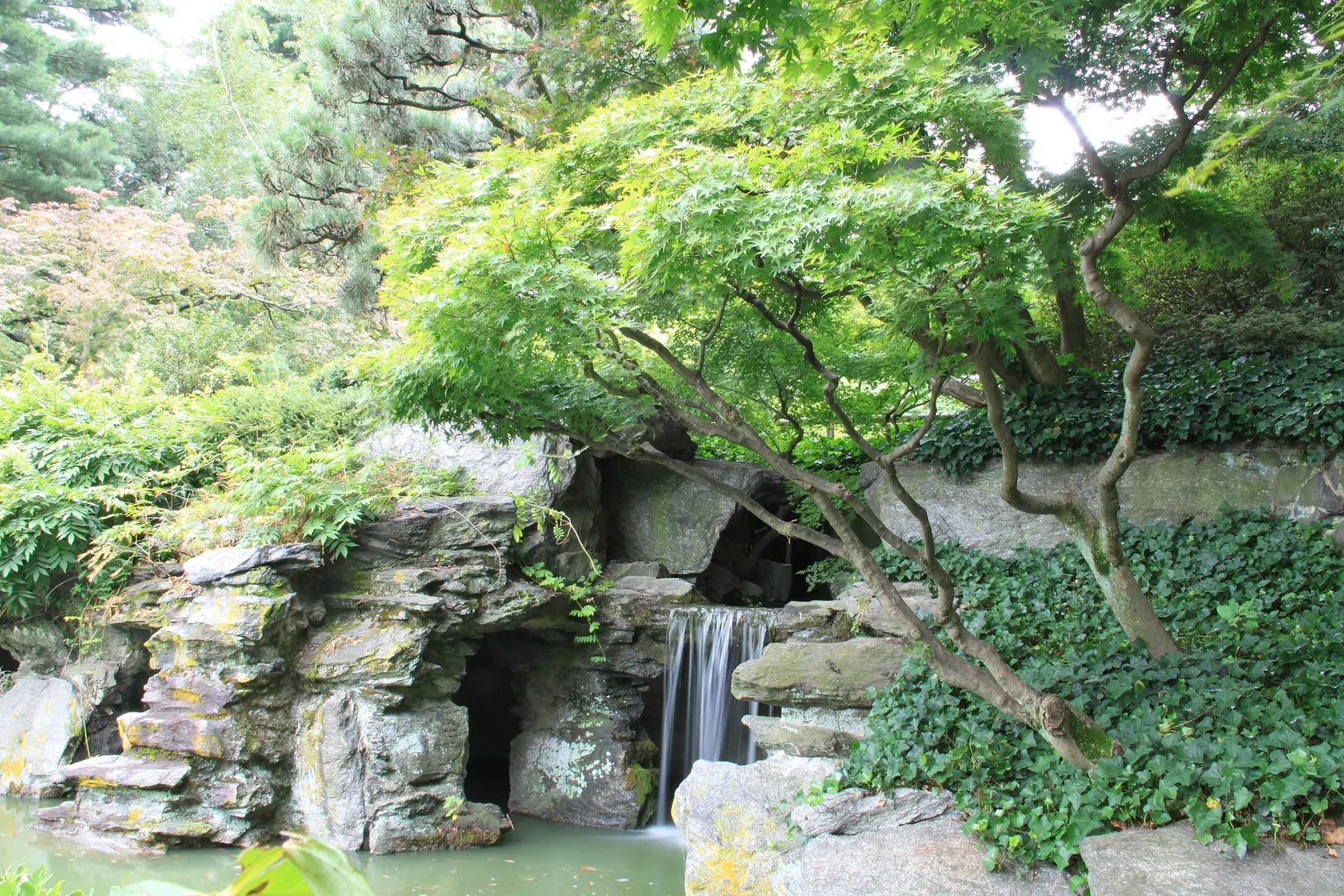 Photo of the Japanese Hill and Pond Garden by Caroline Léna Becker via Wiki Commons
Constructed between 1914 and 1915, the Japanese Hill-and-Pond Garden at the Brooklyn Botanic Garden is one of the oldest Japanese-inspired gardens outside of Japan. Waterfalls are an important element of Japanese gardens, where they represent the cascades commonly found in Japanese mountain streams. Designed by Japanese landscape architect Takeo Shiota, the three-acre garden features man-made hills contoured around a pond, a waterfall, and an island. Architectural elements include wooden bridges, a viewing pavilion, and a Shinto shrine.
Editor's Note: This story was originally published on August 20, 2019. 
RELATED: