This sidewalk 'front porch' was designed to help students return to school in COVID times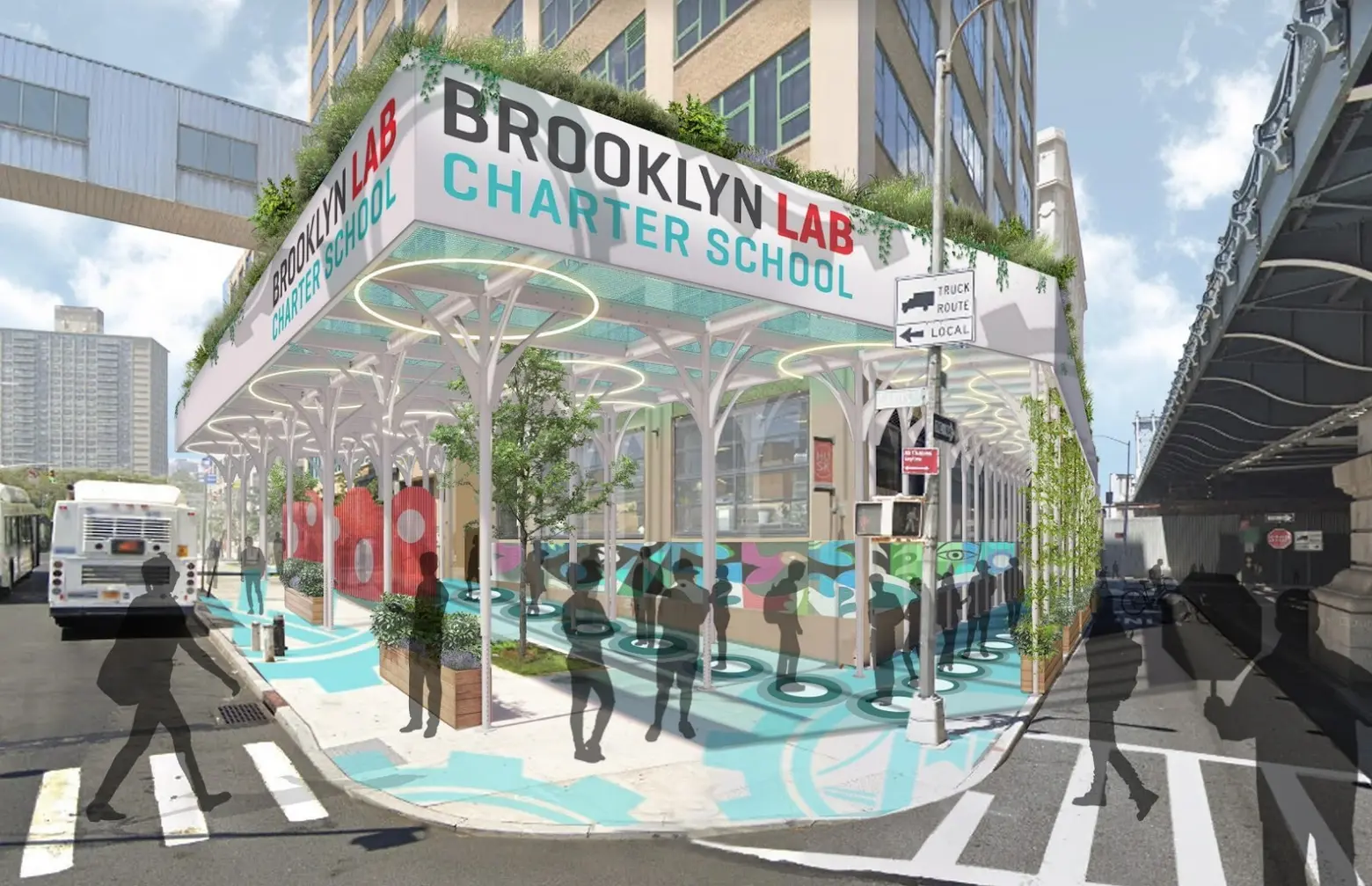 Brooklyn Laboratory Charter Schools/SITU/WXY
The list of anxieties surrounding a return to school for students and their parents is seemingly endless, but the architects at SITU and WXY have designed an outdoor lobby that they hope can help alleviate some of this stress. Built upon the work of design-forward scaffolding firm Urban Umbrella, the "Front Porch" concept has been installed at the Brooklyn Laboratory Charter School to "allow students and faculty to be protected from the elements while queuing to enter, while hand sanitizing and having their temperatures taken," according to a press release.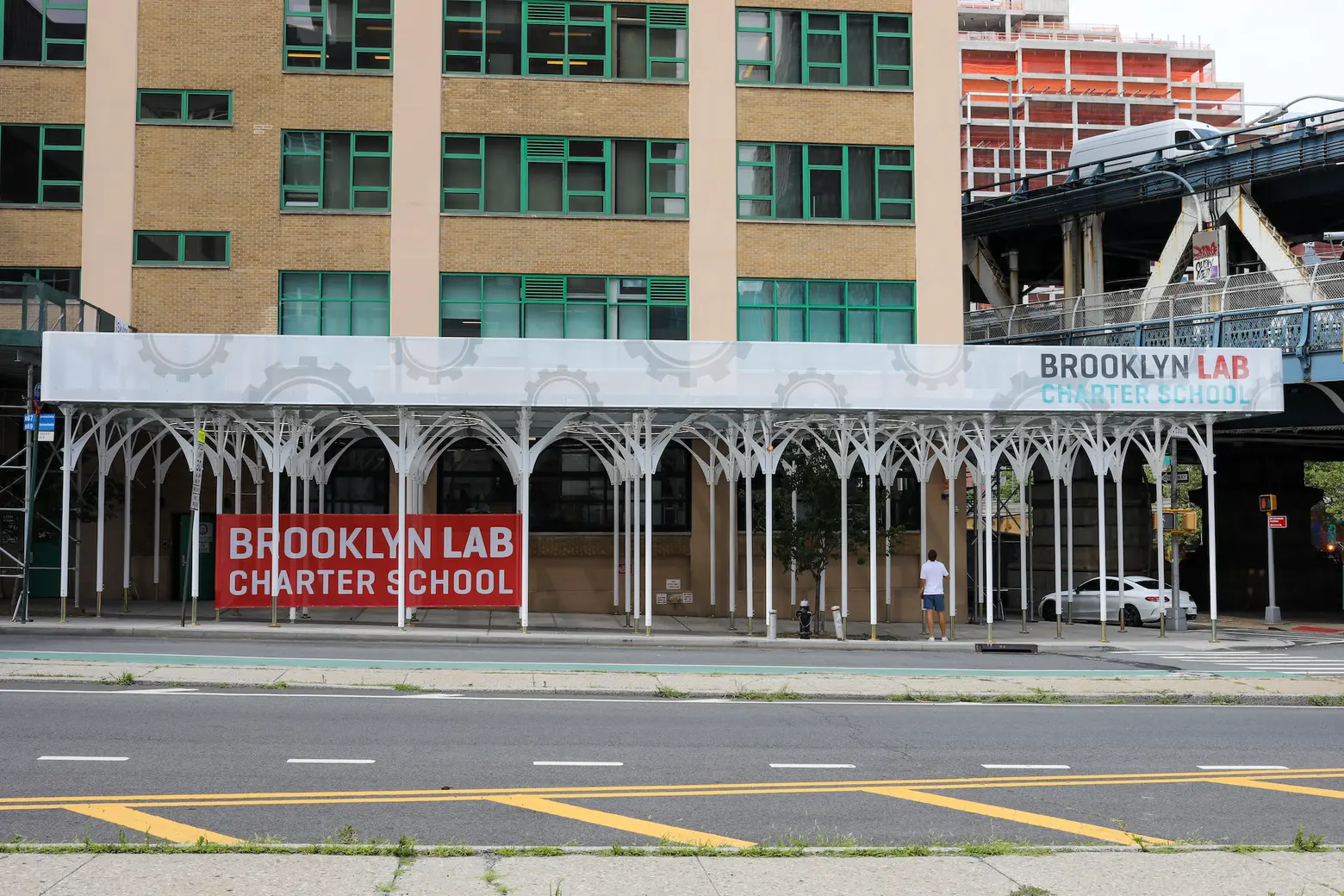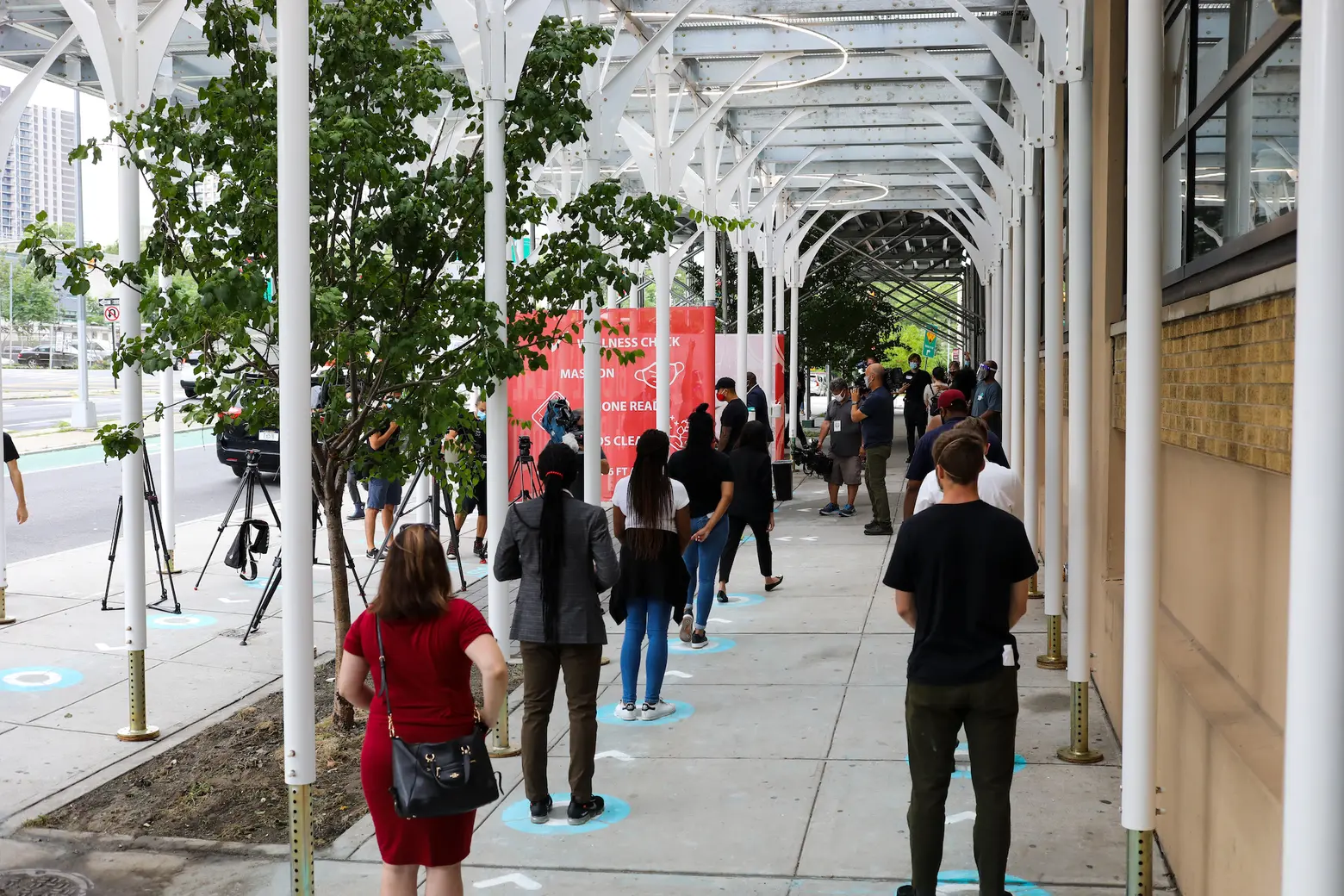 Photos courtesy of Urban Umbrella
The Front Porch came about when Brooklyn LAB realized its indoor lobby was not large enough to accommodate people while they wait to be screened for entrance. Benjamin Krall, founder and chief executive officer at Urban Umbrella, said that he's "delighted to see that our sidewalk shed alternative… can be 'hacked' to help create a safe and healthy learning environment for children." The company, therefore, created a customizable COVID Comeback Kit that they hope can help offices, restaurants, and stores, serving as temporary, covered patios for outdoor dining (even year-round if combined with heaters), curbside pick-up lockers, hand-sanitizer stations, and line-filing systems.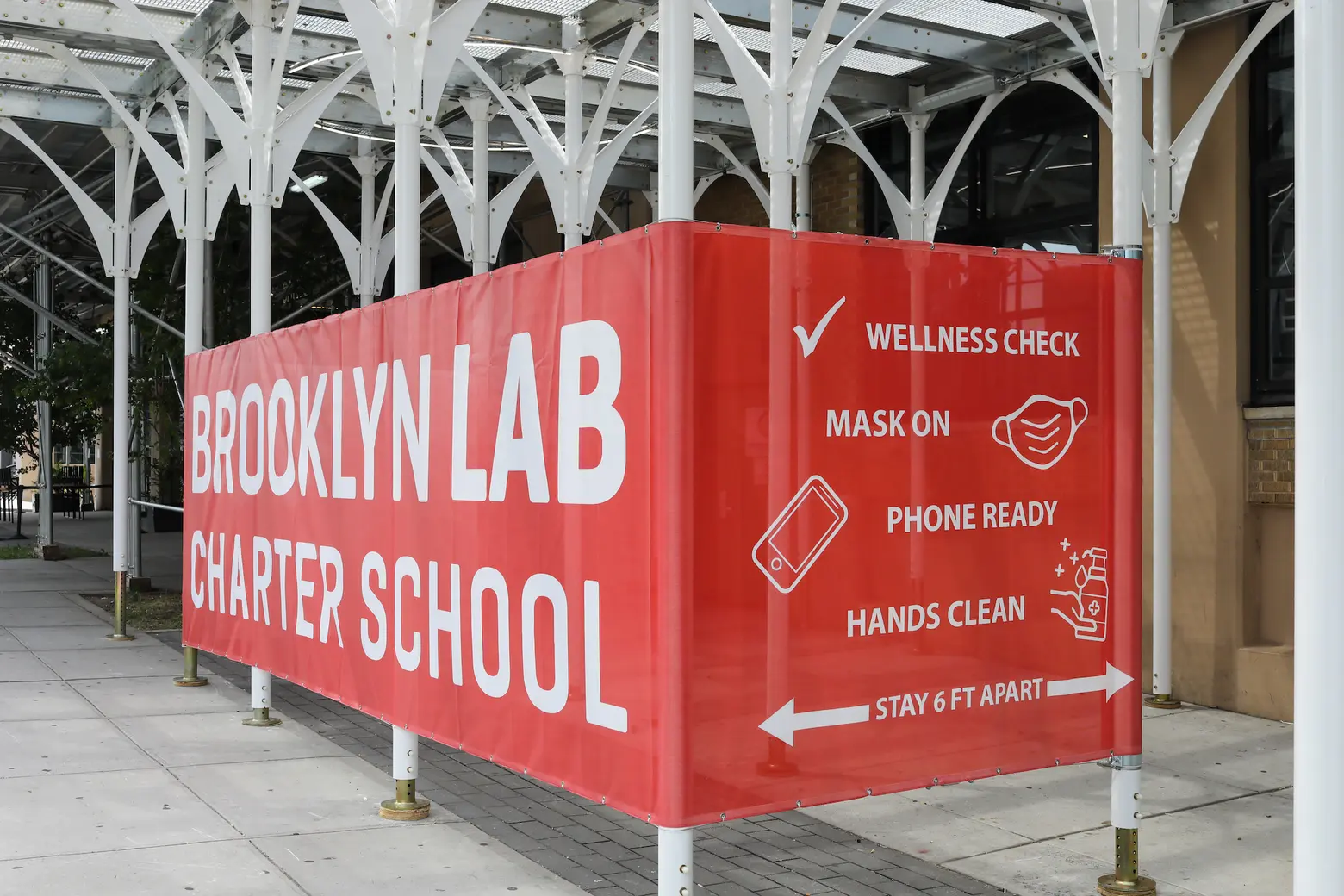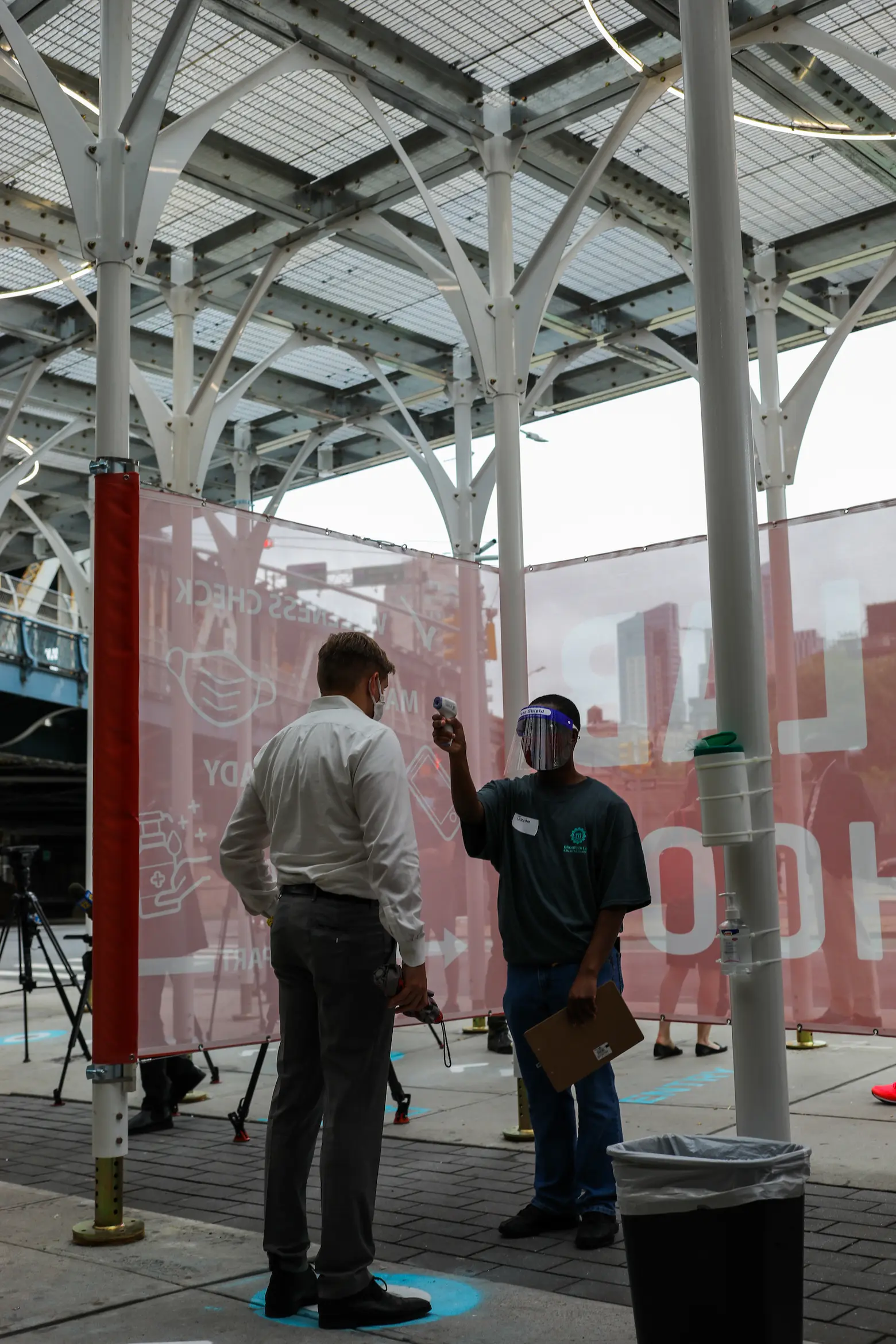 Photos courtesy of Urban Umbrella
At Brooklyn Lab in Brooklyn Heights, the structure will incorporate advanced thermal imaging stations, outdoor hand-washing stations, outdoor heaters, and physical social-distancing markers. It will also do double duty as outdoor classrooms throughout the day.
The Front Porch was designed with polycarbonate ceiling panels that allow natural daylight to filter through, natural materials including wood planter boxes, colorfully painted floors, and a greeting station to allow wellness checks to be completed privately. There will be banners featuring student artwork displayed on the shed structure, which can be changed periodically as part of an arts program.
"LAB is imagining the Front Porch as a place to share information about school activities, host community gatherings, and give students and community members the chance to connect in ways that bring out the best of Brooklyn," says Aaron Daly, Chief Operating Officer, Brooklyn Laboratory Charter Schools.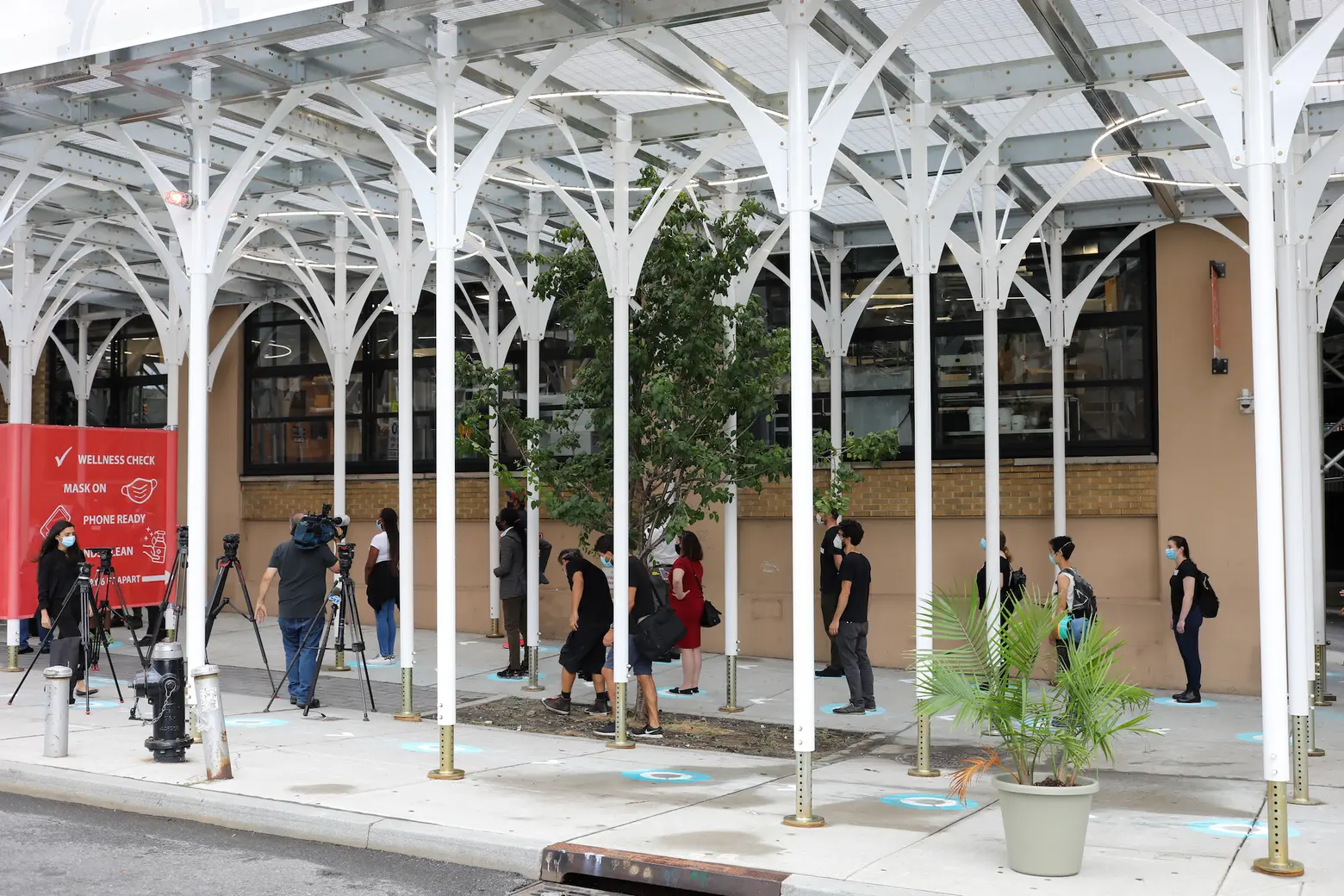 Photo courtesy of Urban Umbrella
The Front Porch came out of Brooklyn LAB's May 2020 Back to School Facilities Tool Kit, which used input from families, public health experts, students, and teachers to create a visual plan for upgrading facilities to support social distancing and other health-related requirements. The concept also built upon Urban Umbrella, which was created as a complete overhaul of scaffolding, combing design and practicality by eliminating the cross-bracing that visually obstructs building entrances.
"School is about much more than education, and this fall, it is vital that families have options that make them feel safe," said Brooklyn Borough President Eric Adams. New York City's 1,800 public schools are set to open next month, though not full time. Last month, Mayor Bill de Blasio and Schools Chancellor Richard A. Carranza announced a preliminary reopening plan where students will attend in-person classes only one to three days per week, depending on a school's physical capacity.
RELATED: