The MTA considers a 'car-free busway' as L-train alternative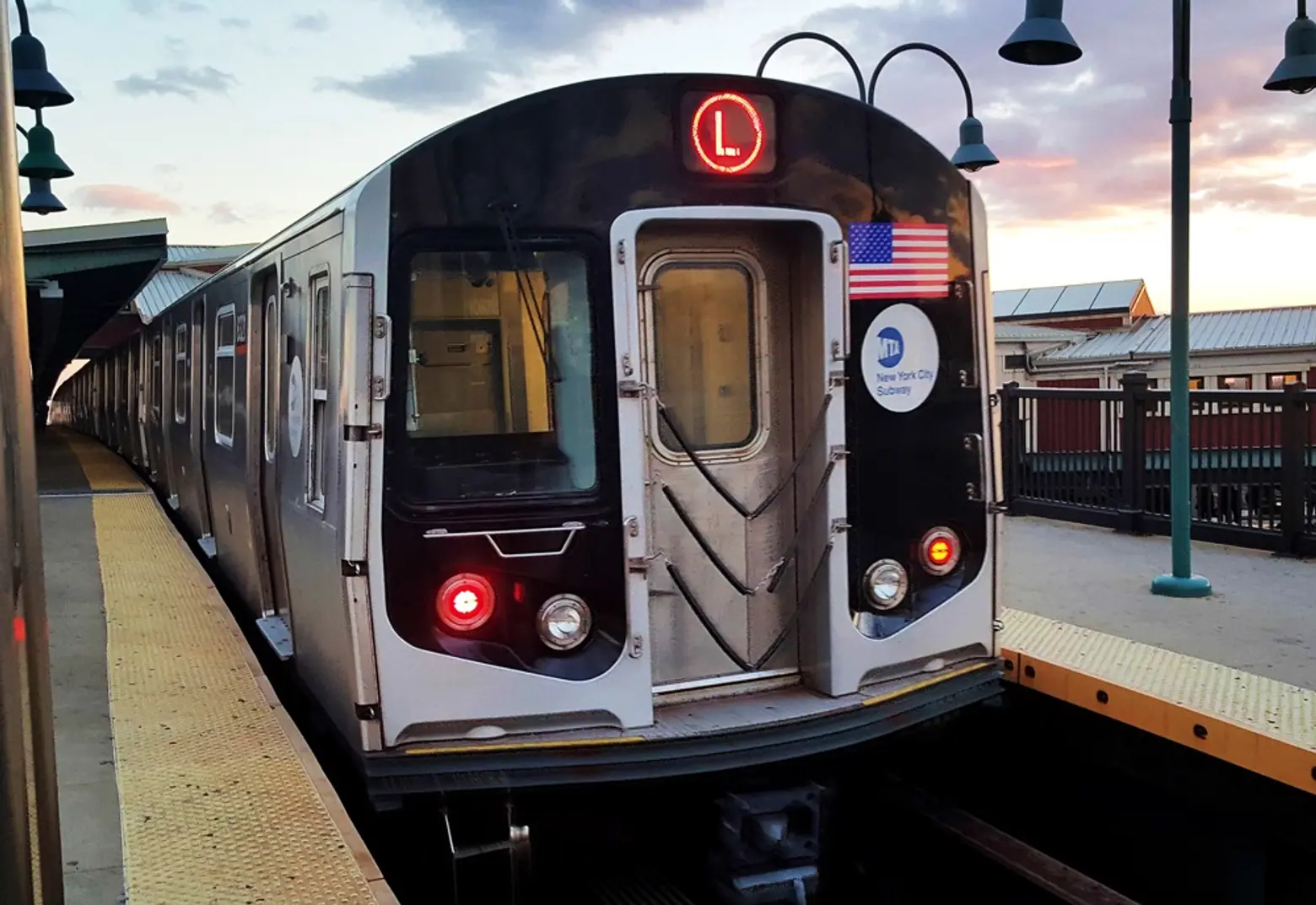 L train via Wiki Commons
To mitigate the nightmare commuters will face during the 15-month L-train shutdown, the MTA and the Department of Transportation presented four possible alternatives that would make a portion of 14th Street a car-free busway. Streetsblog NYC reported that during a Manhattan Community Board 6 meeting on Monday, the agencies laid out the following options: a standard Select Bus Service (SBS) along 14th Street, enhanced SBS that includes turn and curb restrictions, a car-free busway in the middle lanes along 14th and a river-to-river car-free busway. Agency officials predict between 75 and 85 percent of the daily 275,000 daily L riders will use other subway lines, with bus service possibly absorbing between 5-15 percent of displaced trips.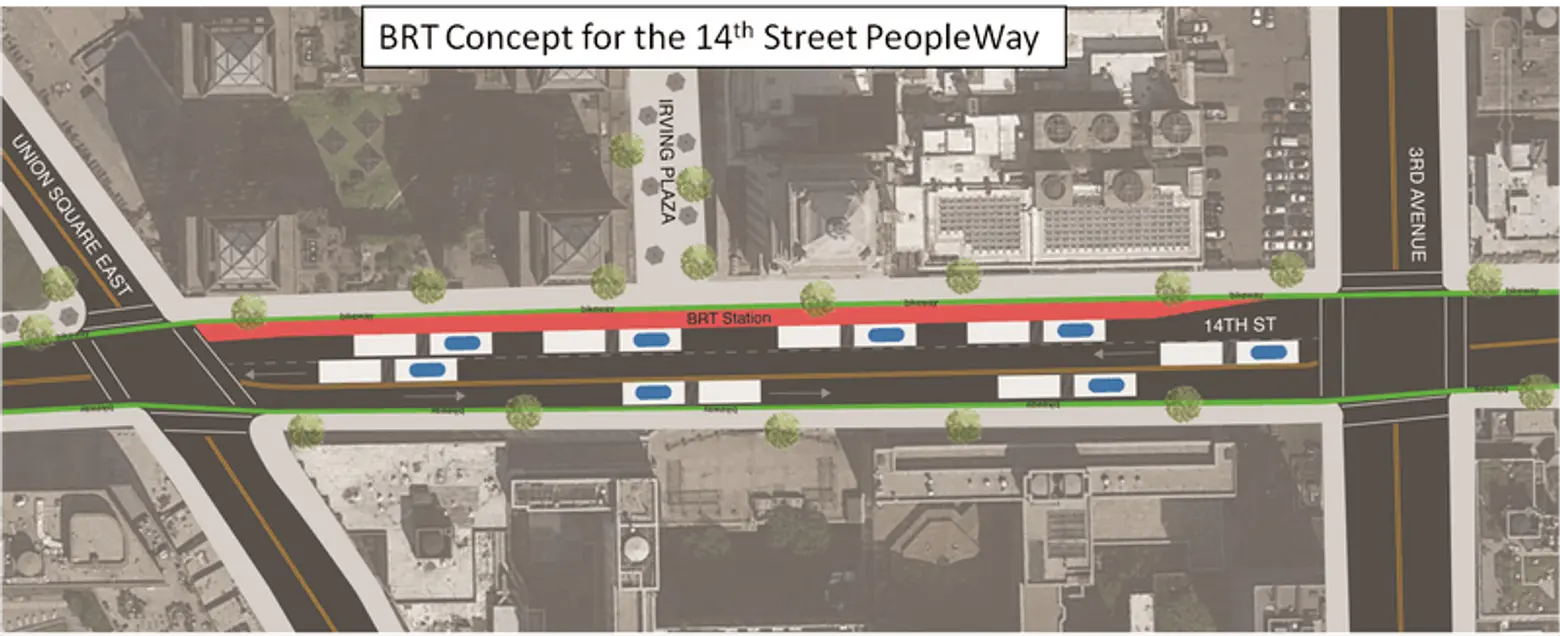 A concept from BRT Planning International that includes both an exclusive busway and bike lanes
The MTA has already arranged 200 buses to serve the additional riders while the L train is out of service. These inter-borough shuttle buses would follow the path of the L train, starting at the Grand Street stop, crossing the Williamsburg Bridge and then moving up First Avenue to 14th Street, and back down Second Avenue. The other two routes would connect to the Broadway-Lafayette station. If the MTA designates street space for buses in Manhattan and Brooklyn, this could solve traffic issues typical city buses face.
However, if just five percent of displaced riders use bus service, the subways would become overcrowded and difficult to access. To prevent this from happening, the agency said "attractive" bus service will hopefully be implemented.
Streetsblog pointed out that the presentation did not touch on crosstown bikeways on 14th Street as a solution, even though the agencies anticipate that roughly 5-7 percent of L train riders will bike, take taxis or drive personal cars instead. Officials did not present a plan for creating safe bike lanes on 14th Street, despite saying more people will be riding their bikes on the street.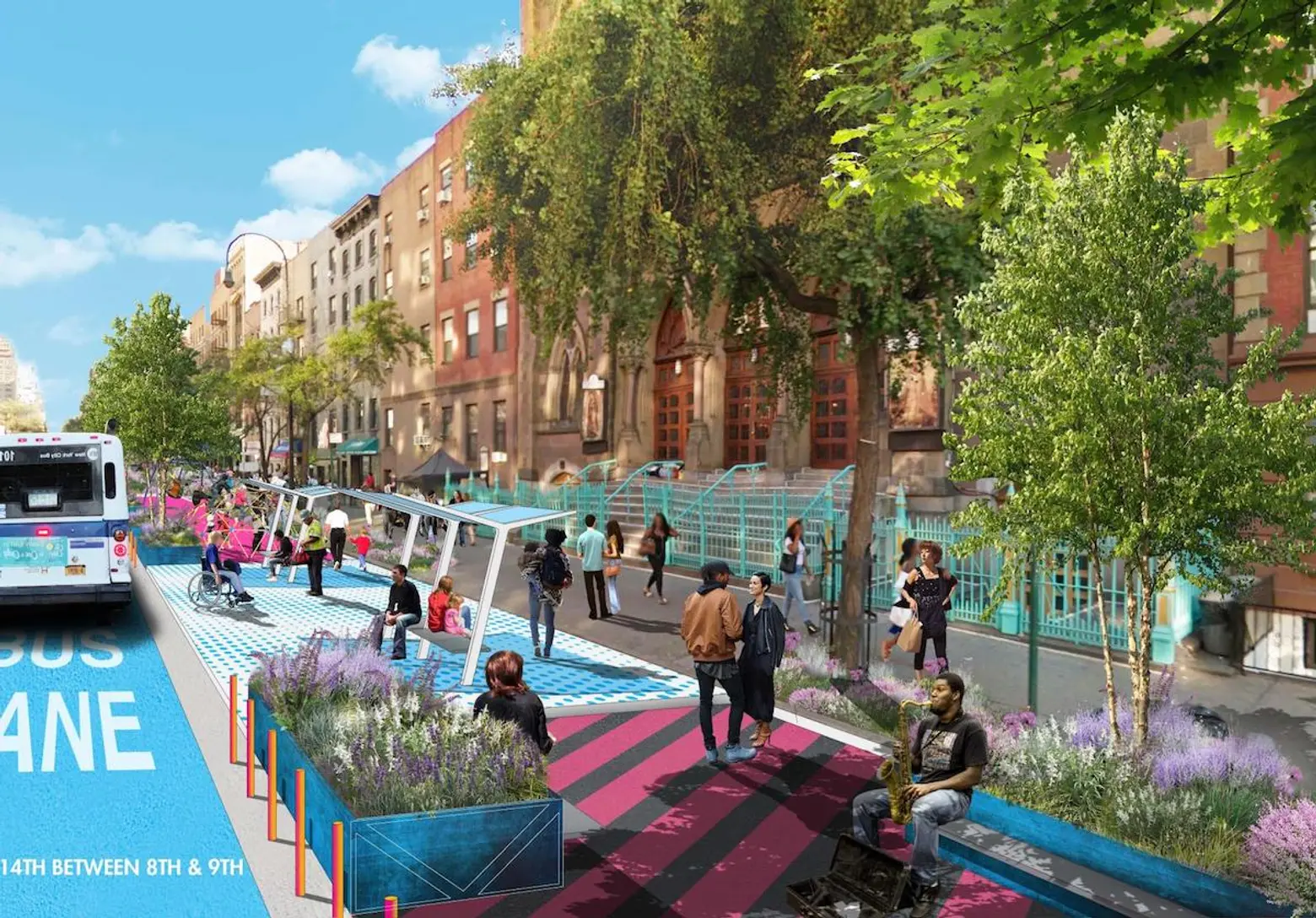 Rendering of car-free 14th Street courtesy of 14 ST.OPS via Transportation Alternatives
As 6sqft previously covered, the advocacy group Transportation Alternatives held a contest to find pedestrian-centered proposals for main street corridors along 14th Street. The winning proposal, 14TH ST.OPS, visualized a car-free 14th Street with six-stop shuttle buses in their own lanes, plus protected bus lanes.
[Via Streetsblog NYC]
RELATED: