Union Square's Regal movie theater is here to stay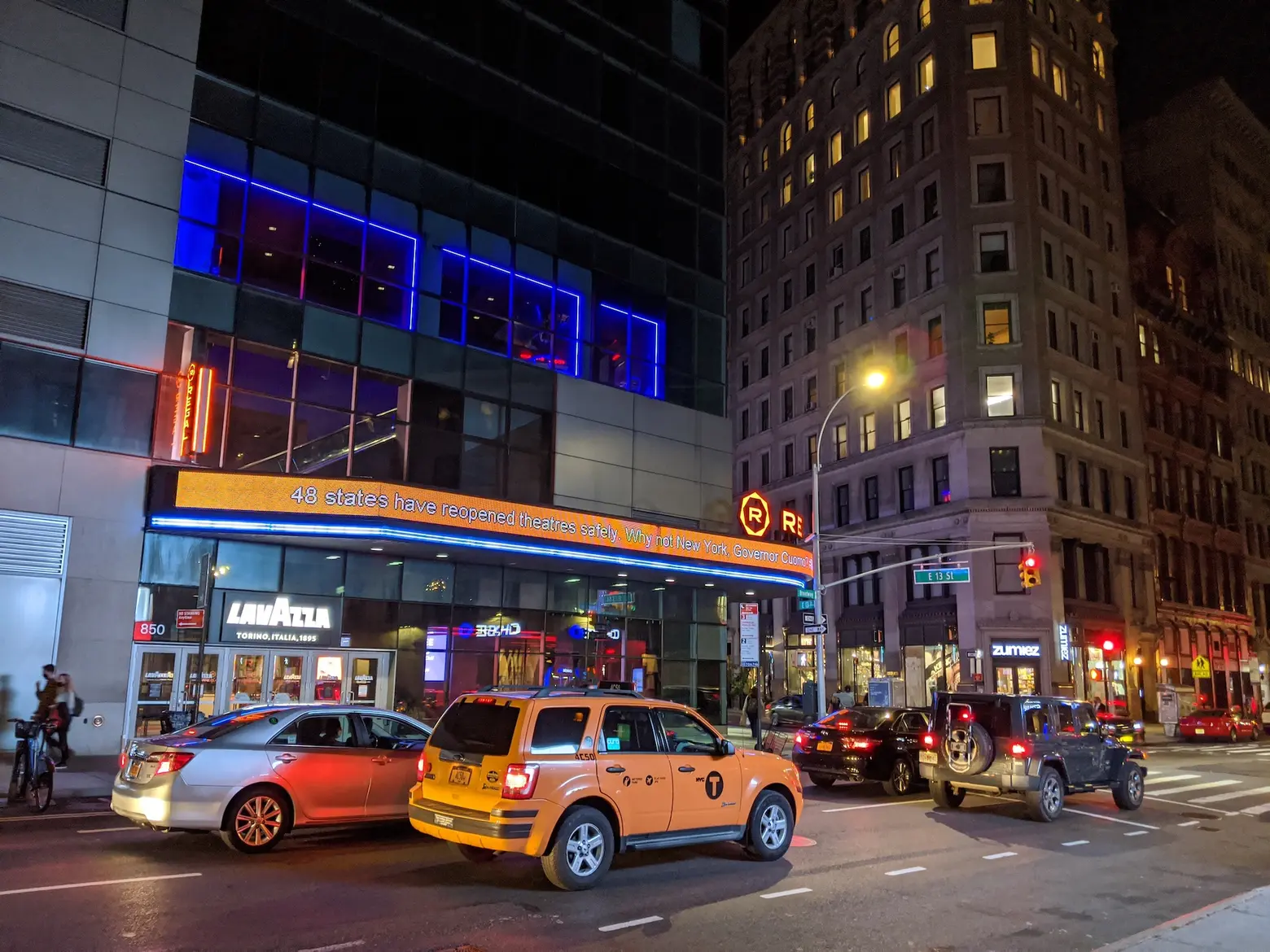 Just months after New Yorkers lamented the loss of Regal Union Square, the company announced a deal to keep the movie theater open after all. Regal last week said it had signed a new long-term lease with Related Companies to continue the operation of its theater at Broadway and 13th Street for "many years to come." In January, the country's second-largest movie theater planned to close 39 locations, including Regal Union Square, as part of its Chapter 11 bankruptcy proceedings, as EV Grieve reported.
A Union Square staple since 1998, the theater had undergone a multi-million dollar enhancement in 2020, completed right before the start of the pandemic. The theater received a new lobby, bar, leather seats, and the Pepsi 4DX auditorium, which added special effects like motion-synchronized seats, wind, fog, rain lightning, snow, bubbles, vibrations, and scents, according to EV Grieve.
"Regal Union Square is a state-of-the-art theatre featuring the latest advancements to the moviegoing experience," Mooky Greidinger, CEO of Cineworld, the parent company of Regal, said in an official statement.
"In cooperation with our partners at Related, we are excited to enter into a long-term lease agreement for this premiere entertainment destination providing moviegoers from the area the best place to watch a movie for many years to come."
In January, Regal Cinemas announced it would close 39 U.S. locations after its parent company Cineworld filed for bankruptcy, according to Variety. The decision to file for bankruptcy came after the company experienced a staggering decline in box office sales during the pandemic and monthly rents increased by roughly 30 percent from 2019 to 2022.
"We are thrilled to continue our long-term relationship with Regal in the heart of Union Square," Chad Jones, senior vice president at Related, said. "The best-in-class cinema experience will continue to bring the magic of the movies to thousands of Manhattan residents as well as visitors from around the world."
RELATED: