New mural on 14th Street in Union Square celebrates human connection to nature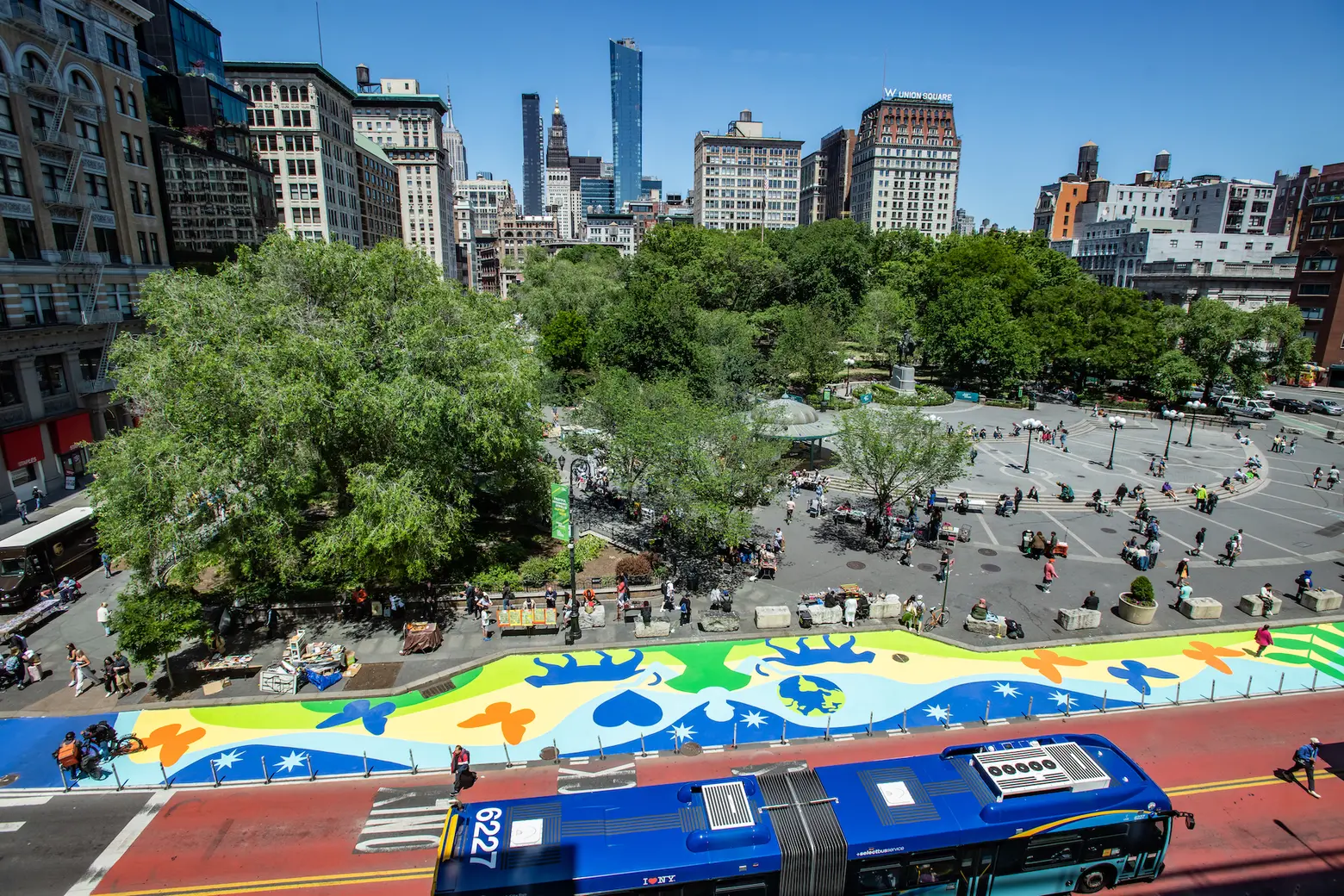 All photos courtesy of Jane Kratochvil
A new street mural along the 14th Street Busway in Union Square celebrates the intricate connection between humans and nature. Designed by Brooklyn-based artist Vanesa Álvarez, "Union with the Universe" uses serene designs and shades of color, inviting observers to slow down and take a moment to connect with the world around them. Unveiled on Wednesday, the mural was installed over a period of five days with the help of Street Plans, a Brooklyn-based urban planning and design firm, and other community groups.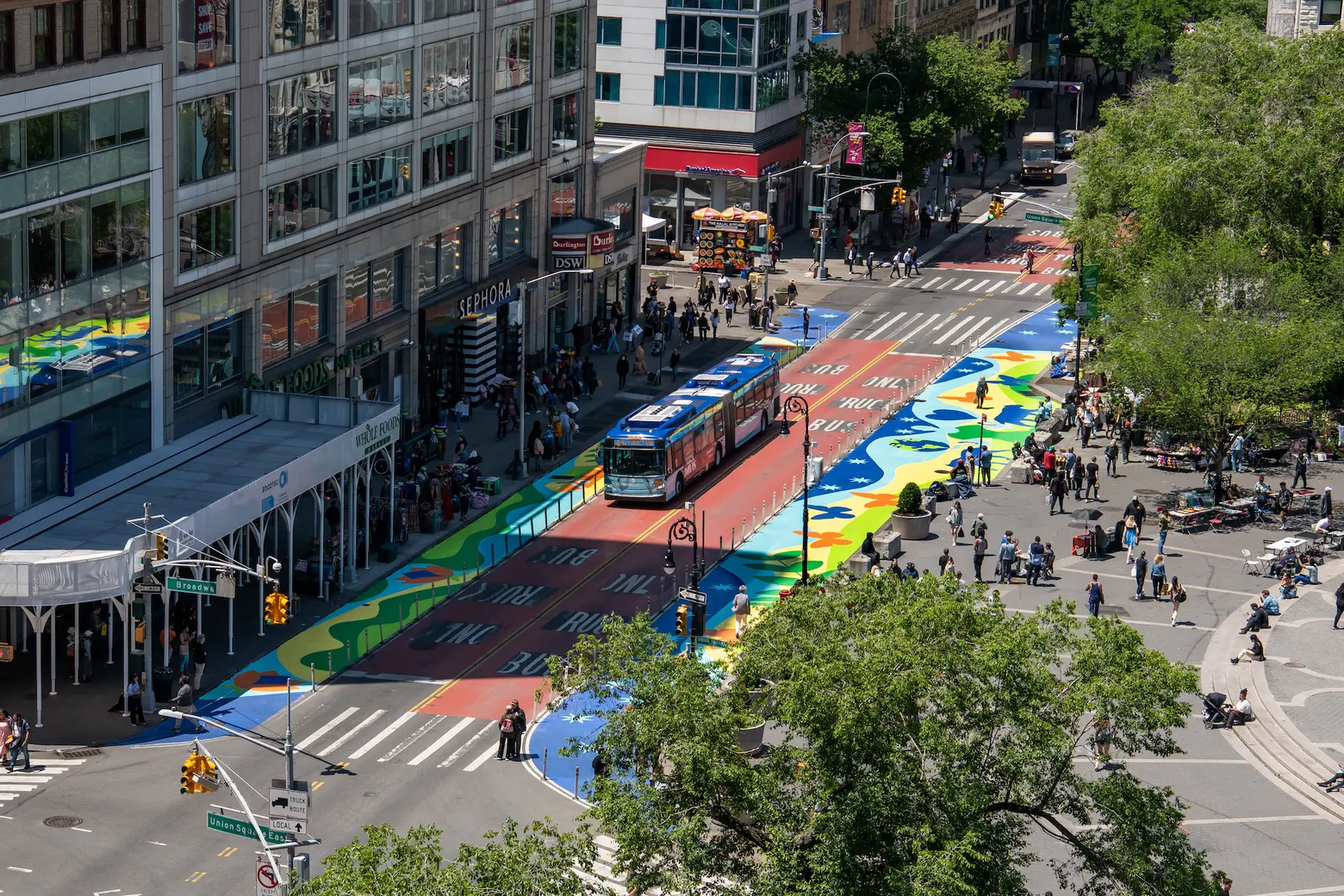 The mural uses motifs and designs found throughout Álvarez's upcoming illustrated series, which features striking compositions of waves, mountains, and the sky, envisioning a scene of Earth's tranquil lands before human development. Also found in the design are roses, the state flower of New York, and butterflies, both meant to represent metamorphosis and migration patterns.
"Union with the Universe" pays respect to Union Square's legacy as an area where generations of New Yorkers have come to advocate for social change. As one of the most frequented areas in the city, hundreds of thousands of people will see the artwork every single day.
The installation of the mural required roughly 100 volunteers who covered 7,500 square feet of pedestrianized roadway with 80 gallons of paint.
"It's a dream to debut 'Union with the Universe' with New York locals and visitors alike, particularly in such a lively neighborhood like Union Square. The piece is inspired by natural imagery that celebrates life through colors that stimulate optimism and creativity," Álvarez said.
"I hope that the mural elicits both a sense of calm as well as reflection on how we as people are interconnected to nature wherever we are. As New York – and to a larger extent, the world – navigates a new normal where life is moving quickly again, people need reminders to slow down and reconnect with each other."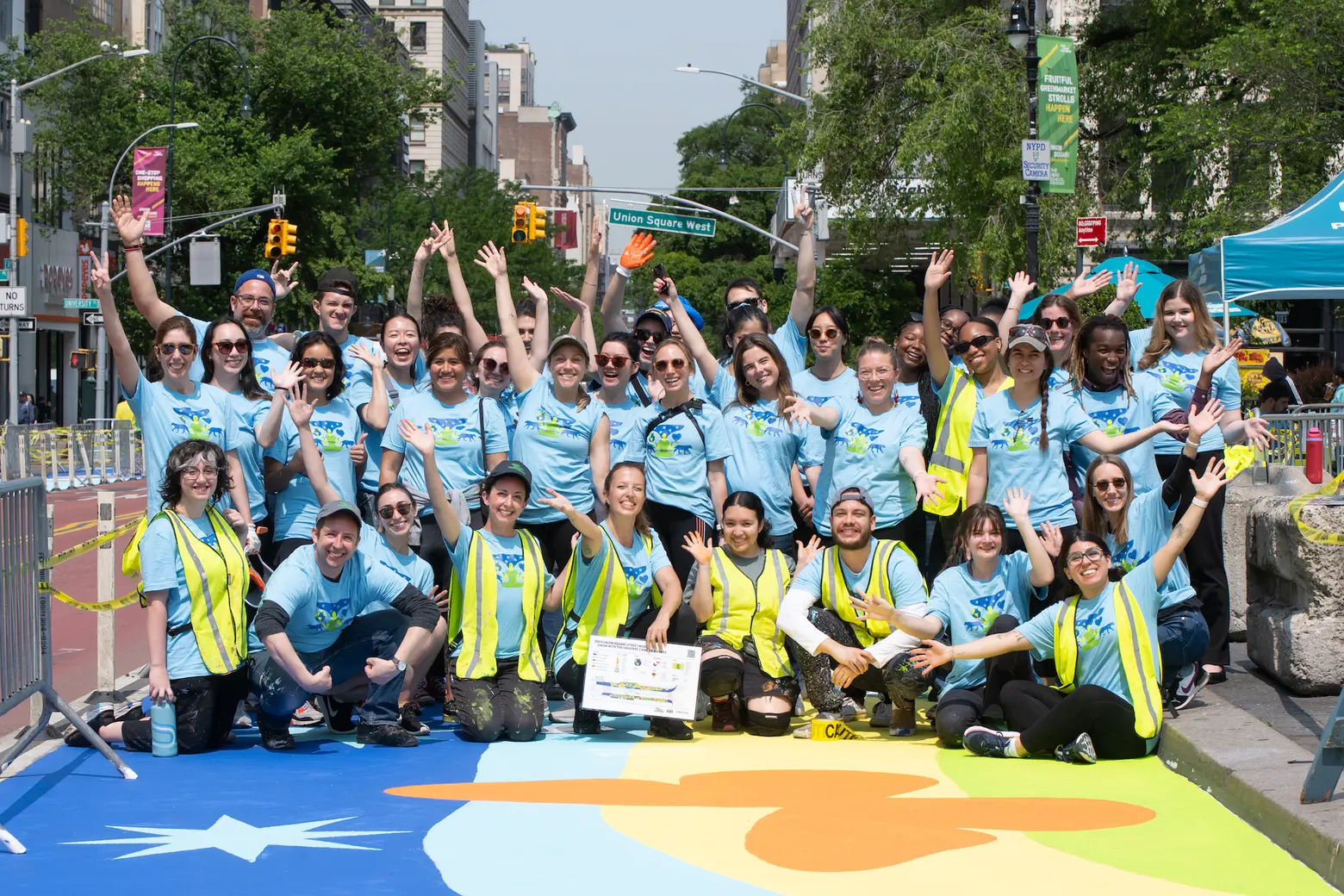 The mural is presented by the NYC Department of Transportation's Art Program and marks the third year that stunning art has adorned pedestrian spaces on the 14th Street Busway.
Last year, artist Ji Yong Kim's Ripples of Peace and Calm used elements of traditional East Asian paintings to call for peace and calm at a point when the city was experiencing a spike in violence against Asian New Yorkers.
"We look forward to welcoming Vanesa Álvarez and her vision to Union Square in celebration of the mural as a beloved community event and piece of artwork for everyone who comes through 14th Street," Manhattan Borough President Mark Levine said. "The Union Square busway mural is a beautiful piece of community artwork, and I hope the uplifting message resonates with New Yorkers and visitors alike."
In 2021, street artists GERALUZ and WERC's debuted their mural Collective Vision, which highlighted the strength of nature and unity and depicted a ruby-throated hummingbird that represented the "power of resilience in standing together against injustice and extinction."
RELATED: