New design for Marsha P. Johnson State Park adds more greenery, scraps rainbow-striped mural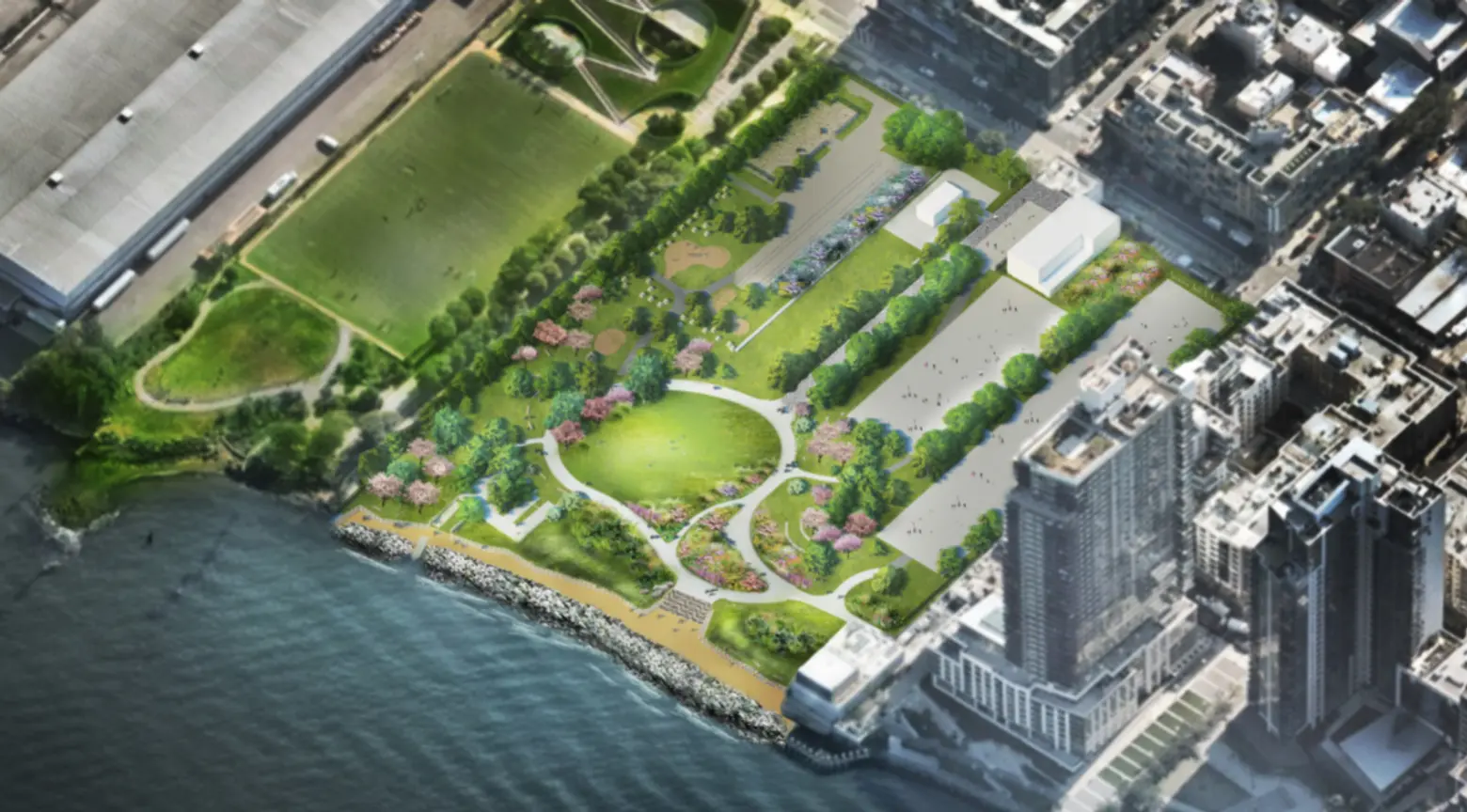 All renderings courtesy of NY State Parks/ Starr Whitehouse, unless otherwise noted
A new design was unveiled last week for Marsha P. Johnson State Park in Williamsburg following backlash regarding the state's original proposal. During the local community board's Parks and Waterfront Committee meeting last Thursday, Starr Whitehouse Landscape Architects and Planners presented a revised plan that incorporates more greenery and plantings to the Brooklyn waterfront site and ditches the rainbow-striped plastic mural that opponents criticized, as first reported by Brooklyn Paper.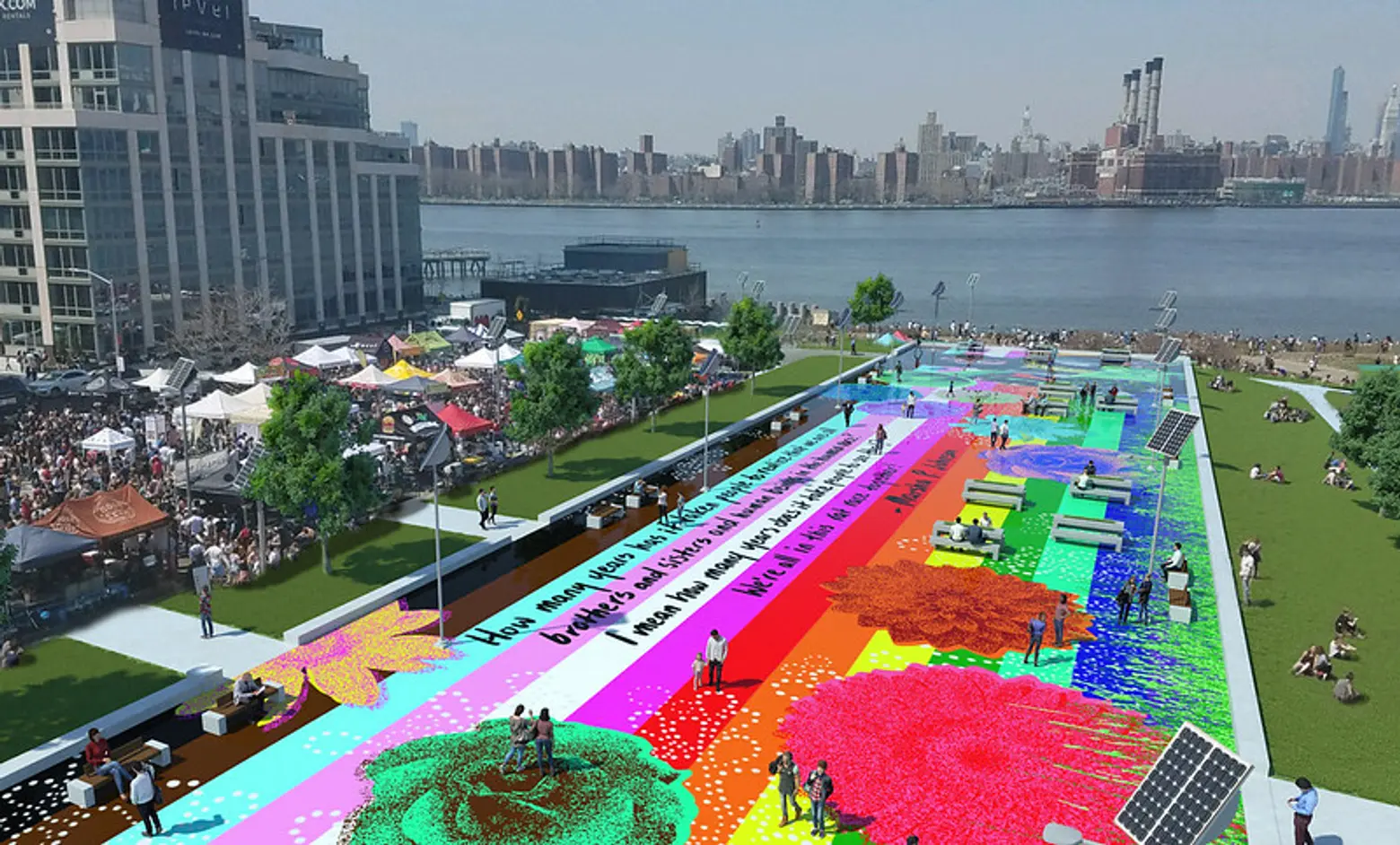 Original renderings of Marsha P. Johnson State Park, courtesy of Gov. Andrew Cuomo's Office and NY State Parks
Last August, Gov. Andrew Cuomo dedicated the park, formerly named the East River State Park, to Marsha P. Johnson, a Black transgender rights activist who played a significant role in Stonewall Uprising and was a founding member of the Gay Liberation Front.
"Marsha P. Johnson was one of the early leaders of the LGBTQ movement and is only now getting the acknowledgment she deserves," Cuomo said in a press release announcing the dedication. "Dedicating this state park for her, and installing public art telling her story, will ensure her memory and her work fighting for equality lives on."
Initial renderings released alongside the governor's announcement showed a bright rainbow-striped mural featuring the activist, large flower sculptures, and industrial park furniture. As part of this first plan, the large, vibrant mural would be placed on one of the park's two concrete slabs and the eight-foot-tall flower sculptures, a nod to the flower crowns Johnson was known to wear, would contain information about Johnson and the LGBTQ civil rights movement.
Community members, including Johnson's family and Black trans activists, called on the state's Parks Department to revise their design to include more natural elements, as well as feedback from the public. A petition launched in March to "stop the plastic park," which has since collected over 2,100 signatures.
"Rather than using harsh thermoplastic colors and extended cement slabs, the spirit of Marsha P. Johnson should be celebrated with natural flowers and landscaping," the petition reads. "Marsha P. Johnson was known to spend her last dollar to buy flowers to lift her spirits. With real flowers and other natural elements, we can bring the peace and beauty she craved to heal and support all who use this historic and beloved park."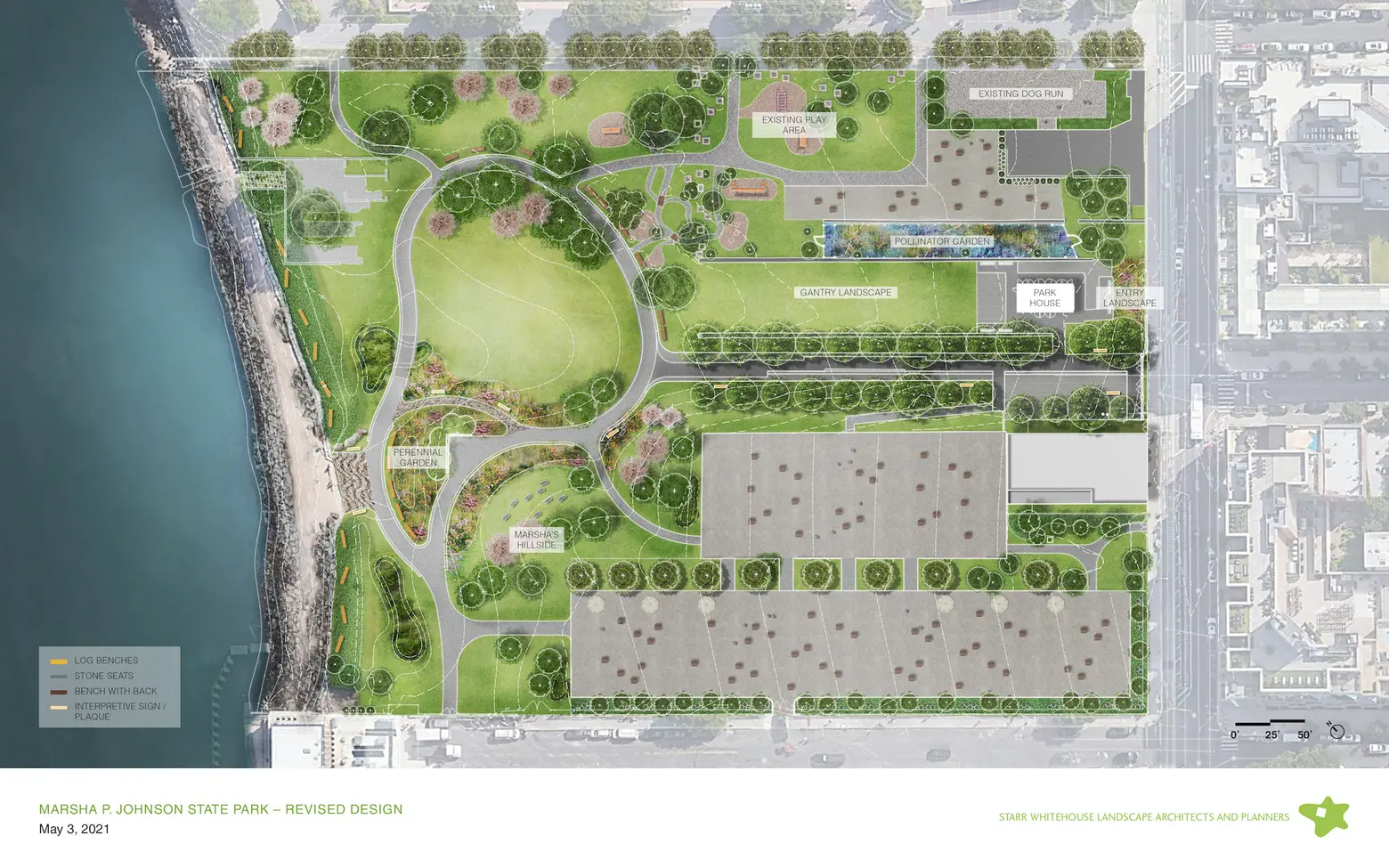 In March, the state halted construction at the park and held a series of listening sessions and virtual meetings, as well as sent out an online survey.
As a result, the revised design adds more flowers, trees, and plantings. The strip of the park that originally held the large flowers will be left as a grassy area for the moment but could be revisited in the future, according to Leslie Wright, State Parks NYC regional director.
"We've had really great conversations and just really appreciate everyone's passion for joining in on the project," Wright said during the committee meeting last week.
Construction of phase one will be complete by June and open by the end of August. In the fall, the state will host additional listening sessions and meetings to gather feedback on the potential commemorative elements in the park.
RELATED: 
Renderings courtesy of State Parks/ Starr Whitehouse Landscape Architects and Planners