Campaign to save Union Square South sites connected to women's history continues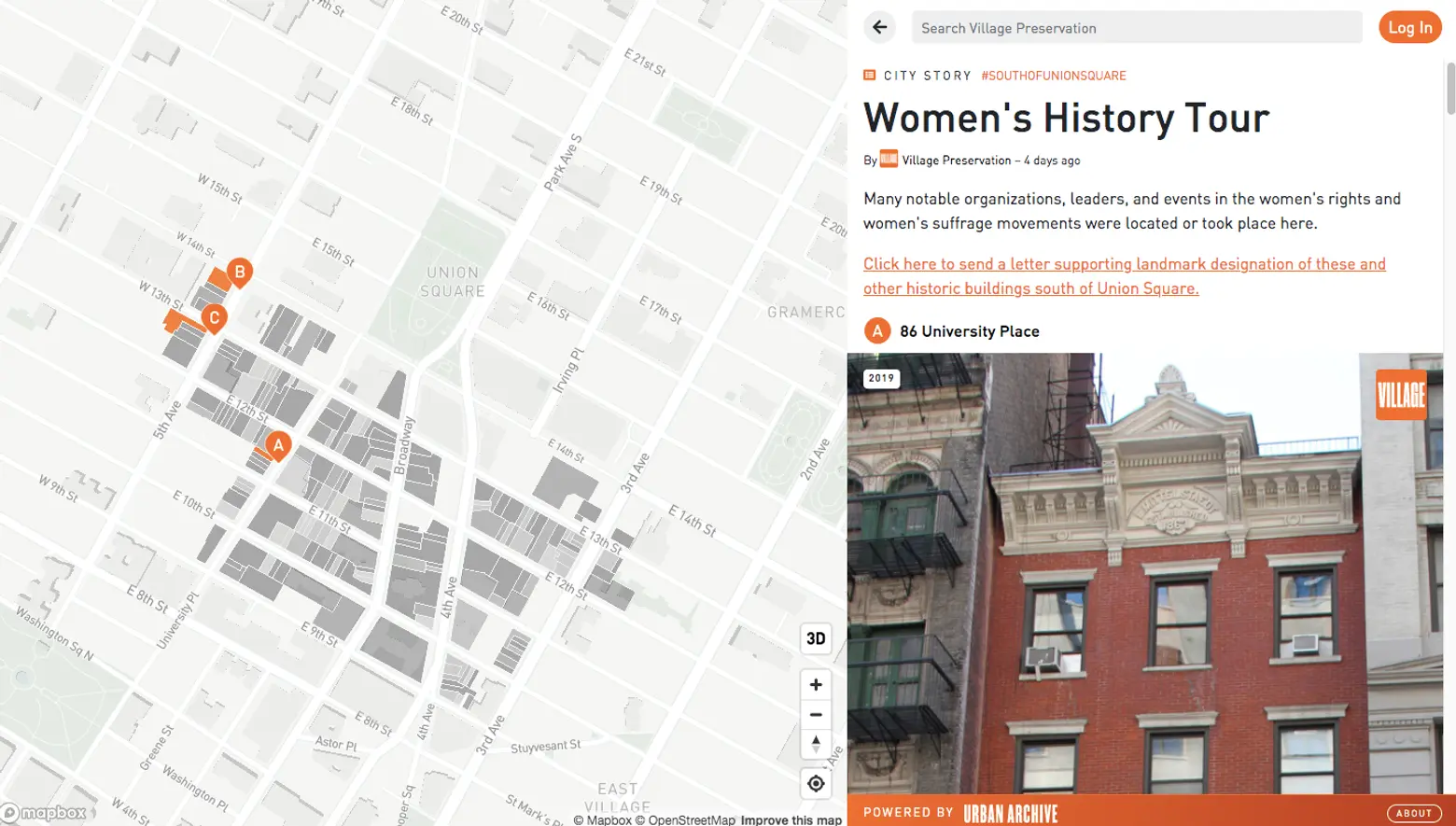 On the first day of Women's History Month, a preservation group is renewing calls to landmark nearly two dozen sites related to women's history in New York City. Village Preservation on Monday kicked off a campaign effort urging the city's Landmarks Preservation Commission to designate several buildings located south of Union Square that have a connection to trailblazing women, organizations, or historic events. It's part of the group's broader effort to protect nearly 200 buildings in the area which is slated for new development.
The Union Square South area stretches from Third to Fifth Avenues between 9th and 14th Streets, where Greenwich Village meets East Village. For the last few years, Village Preservation has researched and documented the history of this area, which they found to be "overflowing with history connected to many of the great American artists, writers, musicians, publishers, activists, innovators and artisans of the last century and a half," as Andrew Berman, the group's executive director, described in a 2019 6sqft article.
Much of the area south of Union Square remains unprotected, which has caused concern for Berman and other preservationists as the neighborhood sees a number of new developments, including the 14th Street tech hub now known as Zero Irving. Coinciding with the start of Women's History Month, Village Preservation's renewed campaign highlights specific sites related to women's history and which have been rejected landmark status by the LPC thus far.
Some of these include the headquarters of the New York City Woman Suffrage League at 10 East 14th Street, Martha Graham's first dance studio at 64-66 Fifth Avenue, the home of the country's first woman doctor, Dr. Elizabeth Blackwell, at 80 University Place, the home base for the Social Reform Club at 45 University Place, and many more sites related to writers, performers, and activists dedicated to the feminist movement.
Explore an Urban Archive-developed interactive map of notable organizations, leaders, and events in the women's rights and suffrage movements here.
Village Preservation has advocated for years for a new historic district to be designated, but the LPC has so far rejected the proposed district. In June 2019, the commission designated seven buildings on Broadway as individual landmarks, seen as a reflection of the thoroughfare's "rapid commercial development." In January, the agency voted to calendar 70 Fifth Avenue, the former headquarters of the NAACP and the Women's International League for Peace and Freedom.
"This vital history of our city and country, acknowledging the struggles and accomplishments of women, remains unrecognized and unprotected," Berman wrote in a letter last month to Mayor Bill de Blasio and LPC Chair Sarah Carroll. "I strongly urge you to reassess prior decisions and to consider these sites, and the entire proposed South of Union Square Historic District, for landmark designation."
City Council Speaker Corey Johnson and Manhattan Borough President Gale Brewer have voiced support for the proposed historic district, which includes nearly 200 buildings and significant sites. In a letter to the LPC last month, Brewer said these sites, like the seven structures on Broadway already landmarked, should be protected from demolition.
"While this was an important step, many other sites in the area, such as Book Row along Fourth Avenue, the old headquarters of the NAACP, and the National LGBTQ Task Force along Fifth Avenue, deserve to be preserved," Brewer said.
RELATED: