New 'Virtual Village' platform offers 36 free history tours of Union Square South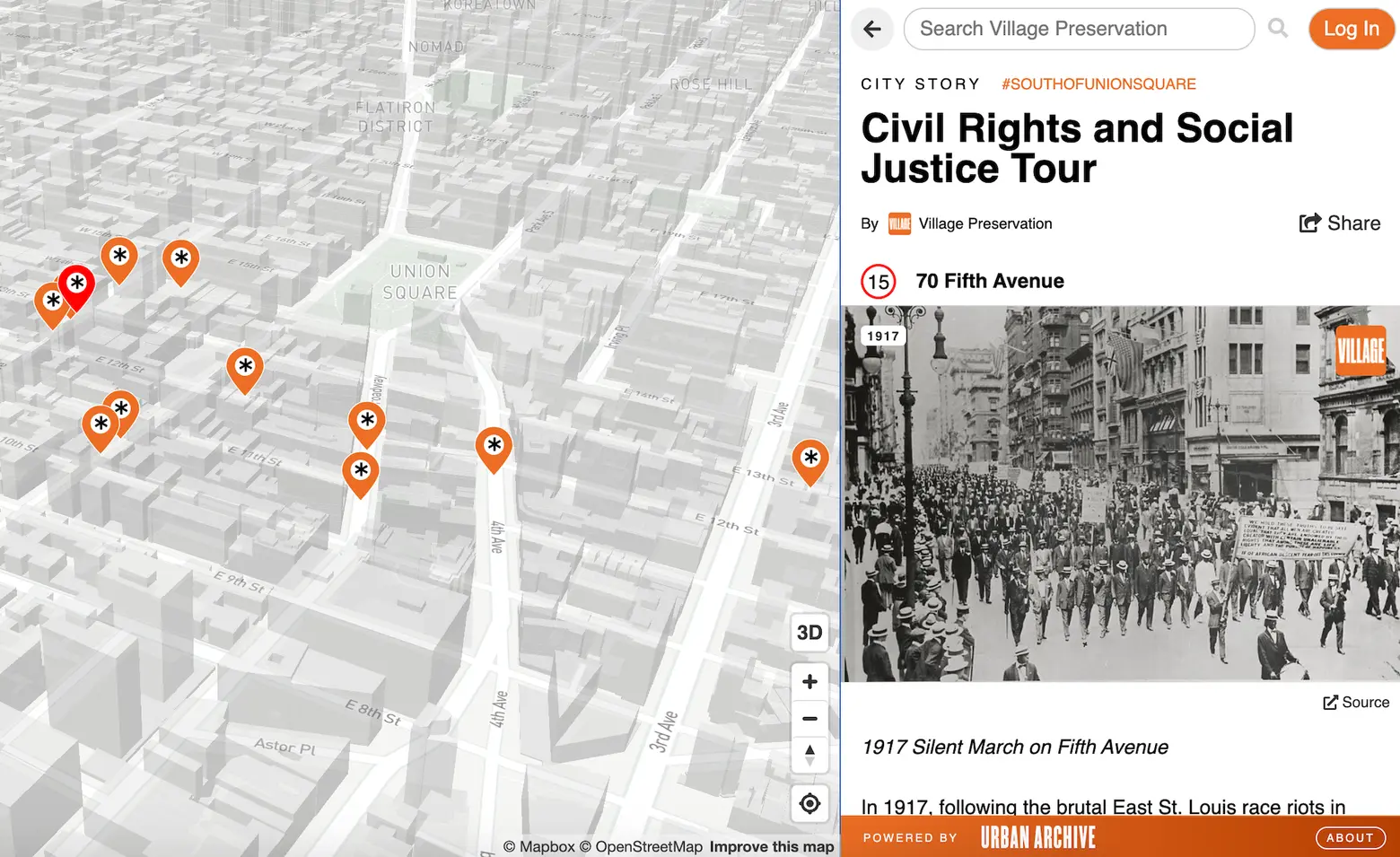 Non-profit Village Preservation has launched a new online platform called Virtual Village, which is part of their larger efforts seeking landmarks protections for the "South of Union Square" area, where Greenwich Village meets the East Village. The interactive online tool offers 36 free, guided walking tours of the neighborhood, ranging from architectural topics like the Cast Iron Tour to cultural topics like the German History Tour to social topics like the Women's History and LGBTQ Tours.
Village Preservation has been working for several years to research, document, and educate about the incredible history of the Union Square South area, which roughly encompasses Third to Fifth Avenues between 9th and 14th Streets. As the organization's executive director Andrew Berman previously wrote, "Aside from being rich in 19th- and early-20th-century architecture, this area is overflowing with history connected to many of the great American artists, writers, musicians, publishers, activists, innovators and artisans of the last century and a half."
Though much of Greenwich Village, and now even parts of the East Village and Noho, have had historic districts and individual landmarks designated by the Landmarks Preservation Commission, Union Square South is sorely lacking. This has become increasingly concerning for community groups and local neighbors in recent years, as the city has dubbed this area "Silicon Alley" and has pushed through many new developments, including the contested 14th Street tech hub.
"The area South of Union Square is an important piece of New York's DNA, yet because it almost entirely lacks landmark protections, its history and great historic buildings are being lost every day," said Berman. "We hope that this tool will bring increased awareness to the critical need to preserve these sites, which for nearly two centuries have made our city a unique, vibrant, and progressive cultural hub and incubator of enormous national and global influence."
Virtual Village is an interactive map powered by Urban Archive. There are nearly 200 sites highlighted, which have been grouped into 36 thematic tours that can be enjoyed virtually or as self-guided walking tours. Some highlights include:
70 Fifth Avenue: Headquarters of the NAACP from 1914 to 1925.
49 East 10th Street: A rowhouse that was home to famed abstract expressionist Jackson Pollock around 1931.
10 East 14th Street: A cast-iron structure that was the headquarters of the New York City Woman Suffrage League.
Hotel Albert: During the postwar era, it was a haven to writers, artists, and musicians including Robert Louis Stevenson,
Richard Wright, Anais Nin, Diane di Prima, Jim Morrison, Carly Simon, Joni Mitchell, and James and Taylor. The Mamas & the Papas and the Lovin' Spoonful also wrote their respective hits "California Dreamin'" and "Do You Believe in Magic" here.
64-66 Fifth Avenue: The location of Martha Graham's first dance studio.
You can explore the full map and all the tours here >>
RELATED: