The 7 best beaches for surfing near NYC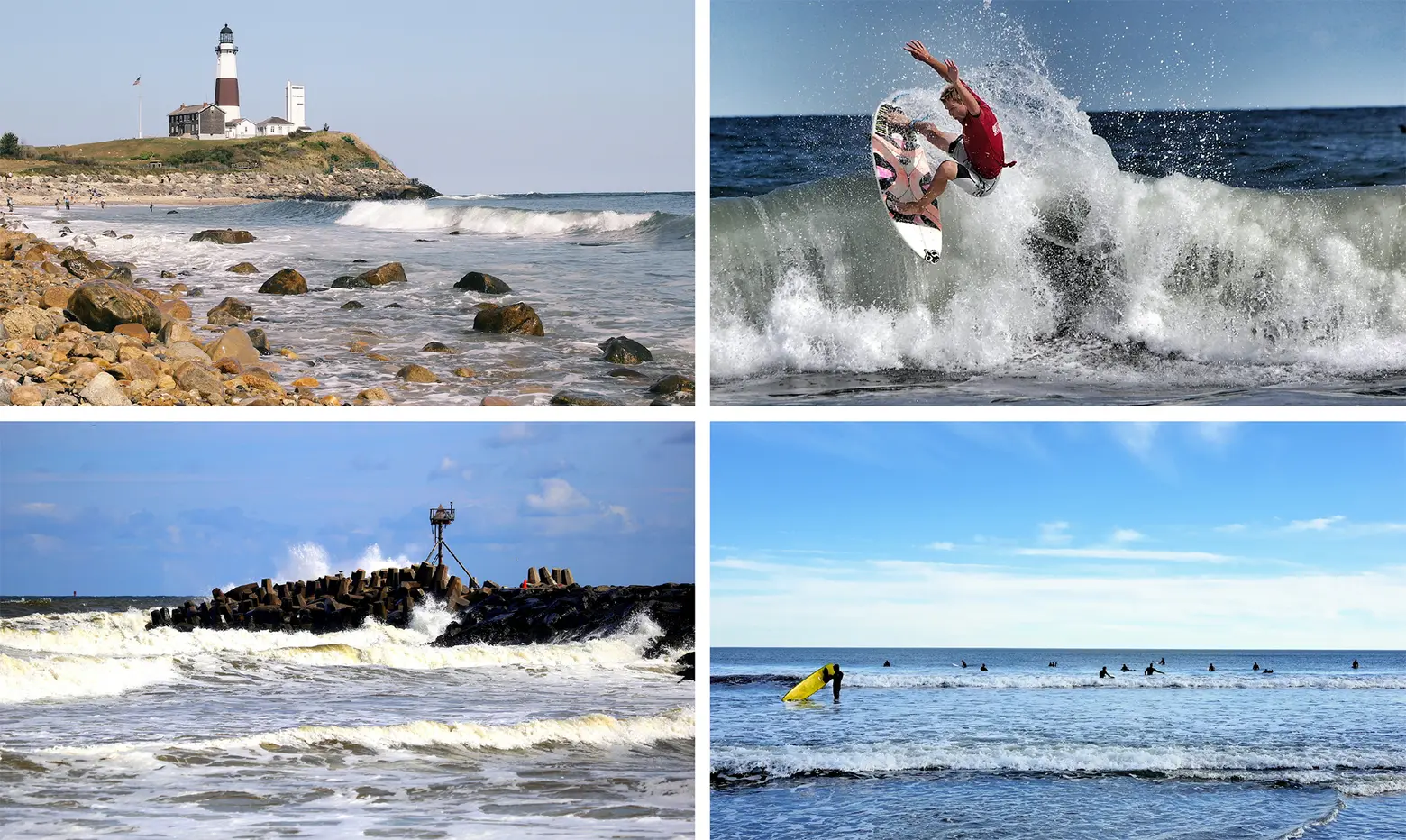 Whether you're a seasoned surfer or are looking to learn the sport, you don't have to go far from New York City to ride some waves. Ahead, we've rounded up the seven best beaches in the area for surfing, from the Rockaways, NYC's only legal surfing beach, to spots on Long Island and the Hamptons to the greatest of the Jersey Shore. We'll also fill you in on other things to do in these towns and where to rent boards or take lessons.
NEW YORK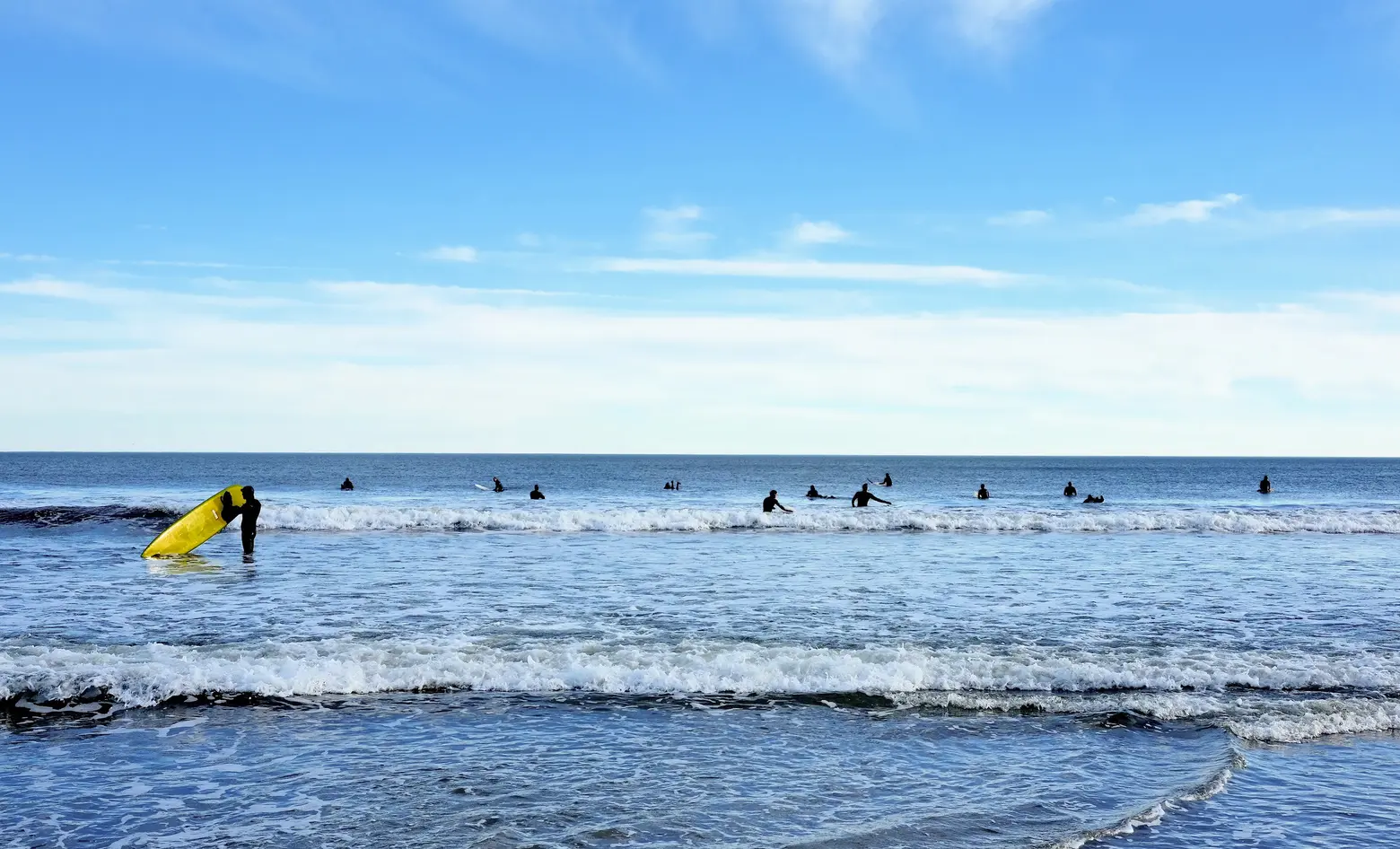 Photo by Lars Ploughmann via
1. The Rockaways
The Rockaways is the only beach in NYC where you can legally surf. It's accessible via the A train and the Rockaway S shuttle (it extends to connect with the A at Rockaway Boulevard in the summer), as well as the NYC Ferry. In recent years, it's increased its cool factor with food trucks, drink spots (try Connolly's for their famous frozen pink lemonades and pina Coladas), taco stands (try Tacoway Beach), as well as a bustling boardwalk and hip hotels. Beach 92nd Street, Beach 67th Street, and Beach 69th Street are considered the best surfing beaches. The waves are usually two to three feet and tend to break consistently, making this a really good spot for beginners. Beach 92nd Street can get some bigger waves, but also tends to get very crowded. If you're looking to take a lesson, Locals Surf School offers packages for individuals, pairs, or groups, as well as surf camps and kids' programs. Conatus Surf Club, Surfs Up NY, and Rockaway Surf School are other great options for lessons.
2. Long Beach
Sean Collins, the lead surfing weather forecaster for Surfline, explained to the Wall Street Journal that Long Beach's overall surf appeal has to do with the underwater Hudson Canyon that's located off the western end of Long Island. "There are swells that don't hit the canyon right, so they just come in normally," he explained, "But when Long Beach is at its best quality, that Hudson Canyon is definitely working to grab that swell, twist it around and multiply it." The best surfing spot is probably Lido Beach, where "south swells with north winds produce powerful, hollow, A-frame peaks," according to Surfline. A close runner-up is Lincoln Boulevard, where jetties help produce consistent waves that are better for beginners. Wherever you go on Long Beach, do be prepared for a crowd in the summer. Unsound surf shop and Long Beach Surf Shop are the places to go for board rentals, while Skudin Surf has you covered for lessons.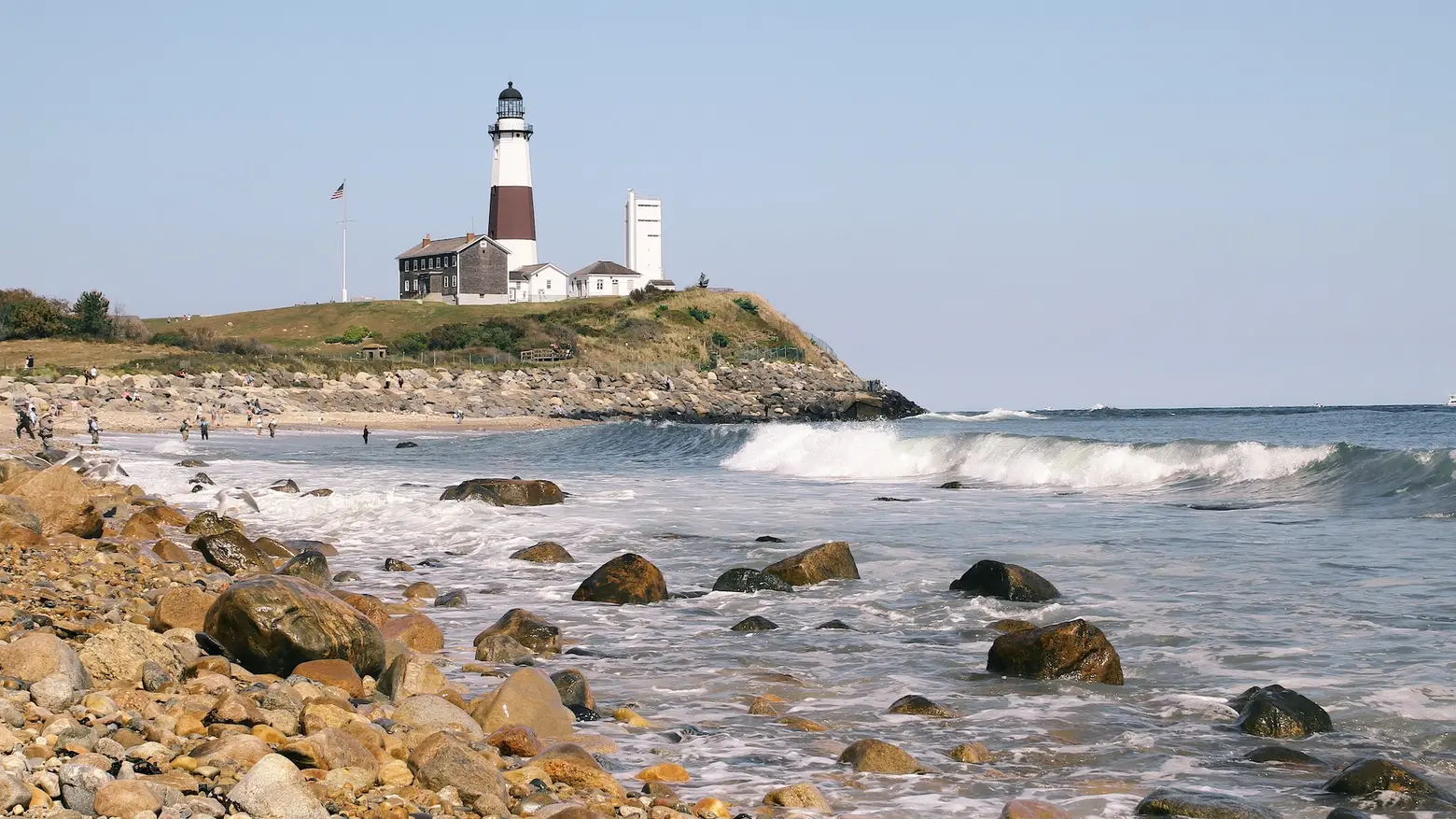 Photo via PxHere
3. Montauk
Its location at the very tip of Long Island affords Montauk some of the very best and biggest waves in the region (as well as a lengthy drive or trip on the Jitney). And though it has the Hamptons' most raucous party scene, the beaches and ocean still retain that laid-back fishing village feel. Ditch Plains is considered the top surfing spot in Montauk and is probably best for experienced surfers. Because of its rocky bottom, the consistent break is often compared to spots in Southern California.  The Montauk Lighthouse (the oldest in the state) is not just a historic attraction but also a marker for some of the best surf. To the south and west of the lighthouse is Turtle Cove, which can see waves of up to 20 feet on a good day. According to Surfline, Terrace is the beach where the locals go. They explain, "its sand-covered reef [produces] some of the only credible tubes in Montauk" and it is "one of the best south-facing breaks in all of Long Island." Air + Speed Surf Shop offers rentals, lessons, and camps, and Sunset Surf Shack rents boards and wetsuits.
4. Fire Island
Sure, it requires some effort to get here–you'll have to take the Long Island Railroad to the Sayville station, followed by a shuttle and a ferry trip— but Fire Island is a magical, car-free place (most people walk, bike, or scuttle around in golf carts) full of protected beaches, resort communities, and outdoor activities (hiking and fishing are very popular). Technically a barrier island, Fire Island is good for surfing because of a series of sandbars and jetties, but this also means that the conditions are a bit unpredictable and can change quickly depending on where the sandbars are located and how the break is. "The best breaks Sandbar breaks can be found in Atlantique, Point O' Woods, and Smith Point. For a steeper, faster wave, surfers head to the Ocean Beach jetties. There is an east and west jetty, both with quality waves," explains fireisland.com. For board rentals, hit up Bungers in Sayville (before boarding the ferry).
NEW JERSEY
5. Sandy Hook
Sandy Hook is part of the Gateway National Recreation Area and therefore is maintained by the National Park Service. In addition to pristine, rolling beaches, there are dune and beach trails for running and hiking, bike paths, kayaking, and even a former military installation (there's also a nude beach if that's your thing). It's accessible via the high-speed Seastreak Ferry, which adds another layer of ocean fun. The reason Sandy Hook is great for surfing is that its location at the northern tip of the Jersey Shore creates a classic point break. "The Cove at Sandy Hook is at the third jetty…It faces northeast and creates mainly right-hand waves is at its best with any on a bigger south swell," says Deep Swell. In addition, they say, "good sandbars create hollow beach breaking waves." Do note that concessions are very limited, so most visitors bring a cooler.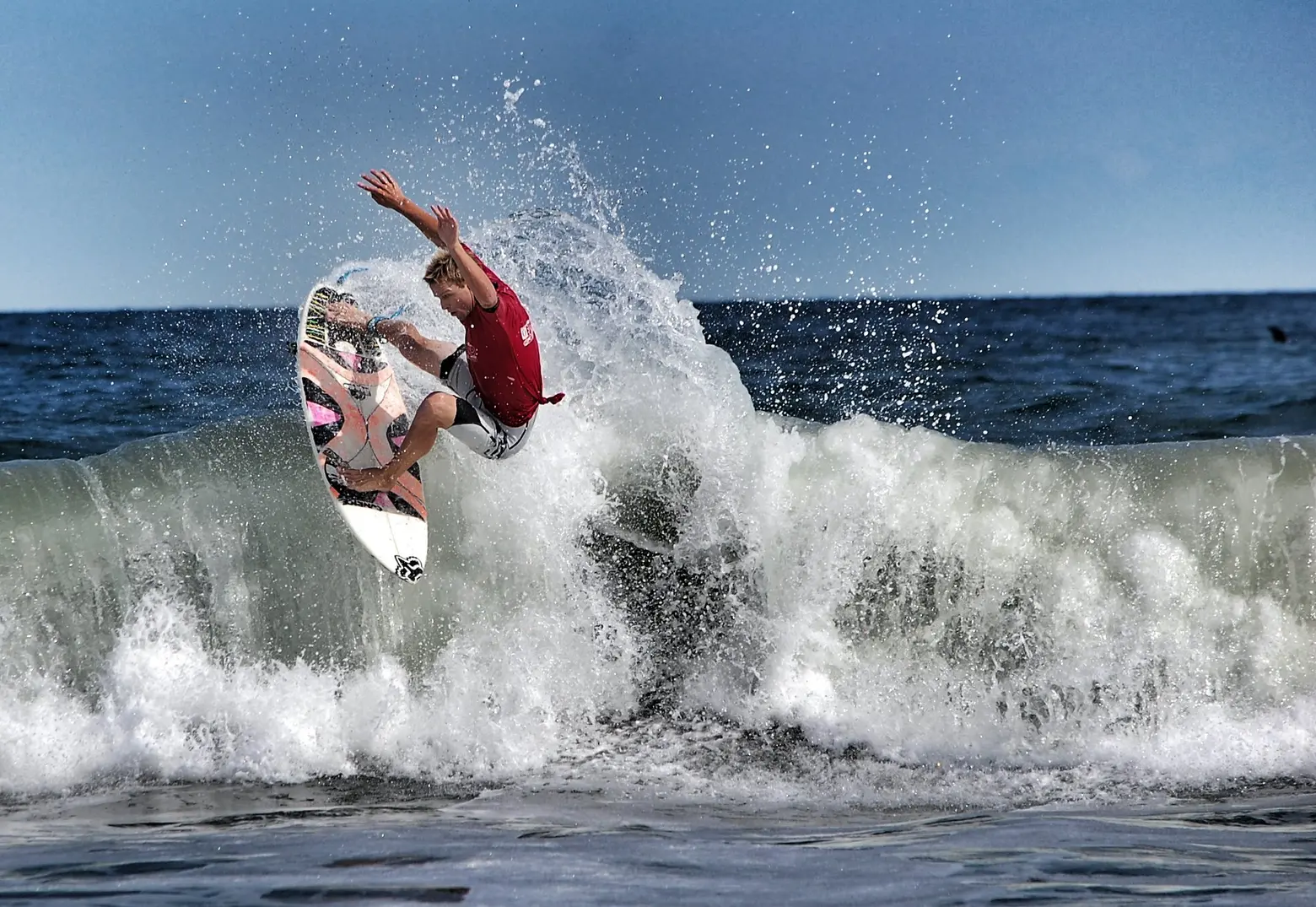 Surfing in Belmar. Photo by Catherine E. Bailey via Flickr cc
6. Belmar
This Jersey Shore town gets flooded with tourists in the summer since it's got some of the most happening bars in the area (D Jai's and Bar Anticipation, specifically) and plenty of Airbnbs. In recent years, it's seen a bit of a restaurant renaissance and the addition of the cool new BeachHaus Brewery. To catch the waves, head to the 16th Avenue beach, which "breaks pretty well on all swells, and is a good spot to catch if it's not summer," according to Surfline. Eastern Lines Surf Shop is just across the street, and they also offer surfing lessons, as does the local Summertime Surf school. But do keep in mind, that Belmar can get packed in the height of the summer. It's accessible via NJ Transit.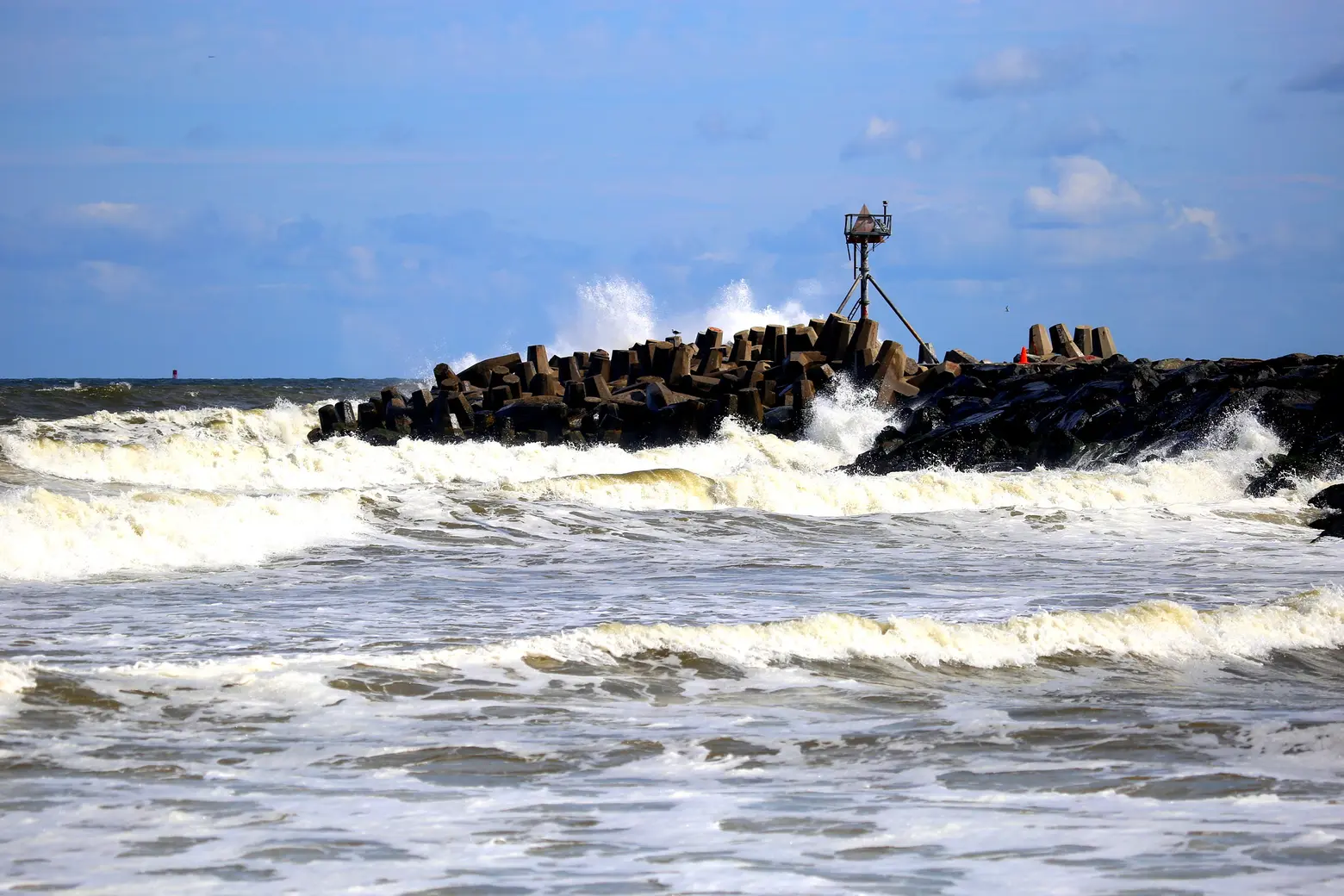 Waves breaking at the Manasquan Inlet. Photo by apardavila via Flickr cc
7. Manasquan Inlet
Full disclosure: 6sqft's editor are both from Manasquan, BUT this surfing locale is known all across the country. The adorable shore town, just a square mile with a quintessential Main Street USA feel, has a full stretch of family-friendly beaches, but the Inlet is where you'll catch the waves. Since there's a very long jetty here, you'll get "some of the longest rides on the coast because the waves peak further out," according to app.com. Surfline explains that the inlet "can handle up to 20-foot faces, with two fast, bowl-shaped peaks and the occasional quality left." The vibe is also desirable, as Mansaquan tends to be full of locals who all know one another. To pick up gear, head to the town's long-time surf shop Inlet Outlet, or to Brave New World on the other side of the Inlet in Point Pleasant. For a bite, there's Carlson's Corner and the Riverside Cafe just off the inlet. Summertime Surf also gives lessons in Manasquan, but a really cool group is Pink Pineapple, an all-girls surf camp.
RELATED: