The 7 best beaches in NYC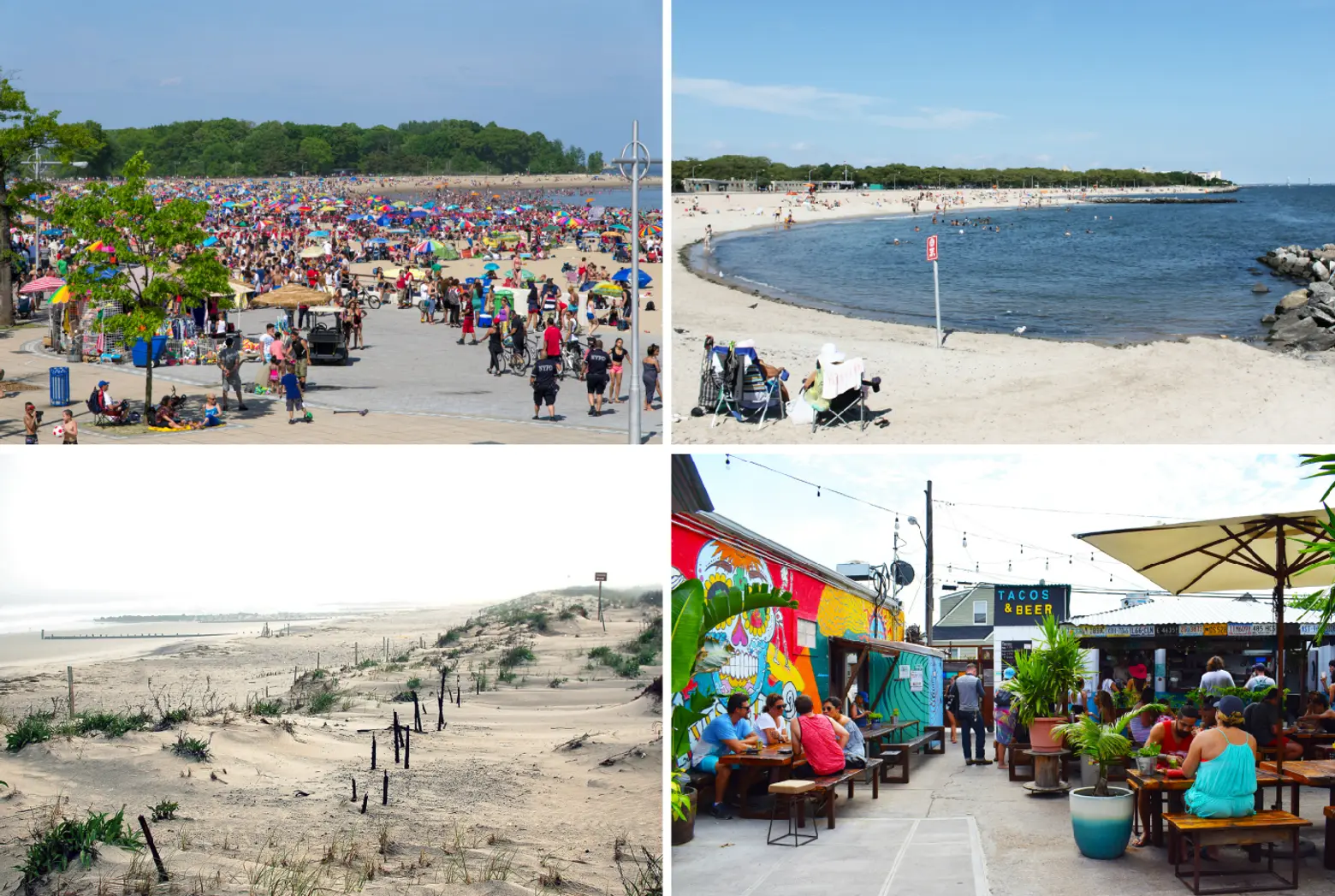 With Memorial Day just around the corner, most New Yorkers have two options–sit in endless hours of traffic trying to get to the beaches on the Hamptons or down the Jersey Shore, or have a staycation in the city. And while the latter may sound boring (and hot!) there are plenty of beaches to hit up within the boroughs. From the Rockaways to Fort Tilden, we've rounded up the seven best sandy spots in New York City.
1. Rockaway Beach – Rockaway, Queens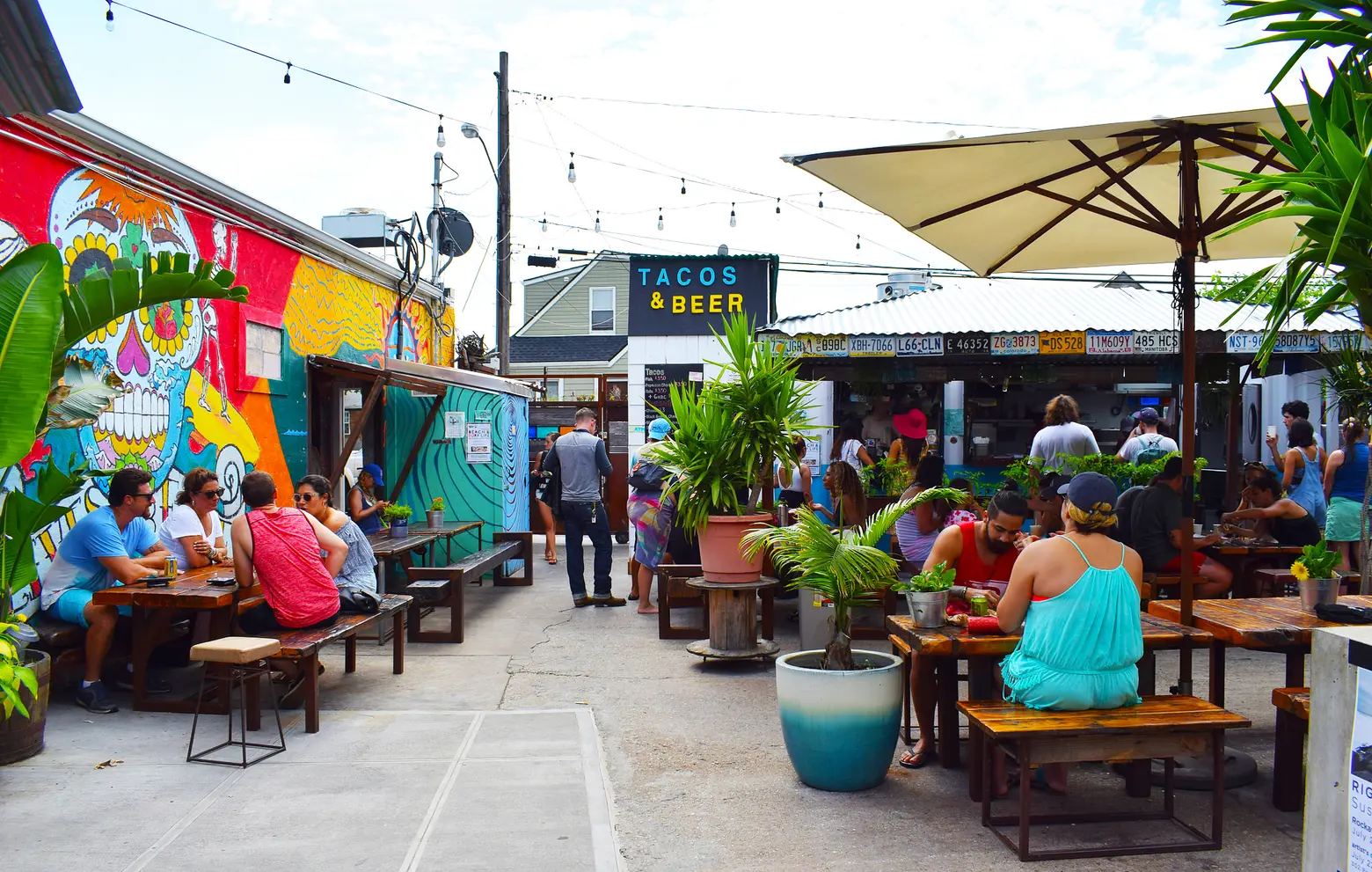 Rockaway Beach Surf Club via Mig Gilbert/Flickr
Rockaway is ideal for beach-goers who get bored sitting on the sand for too long, thanks to its bustling boardwalk and slew of bars and eateries. Easily accessible off the A train and the Rockaway S shuttle (which extends to connect with the A at Rockaway Boulevard in the summer), as well as via the NYC Ferry, Rockaway is a two-mile strip of sand and surf-ready water, and though it gets crowded on the weekend, the lively atmosphere is part of the fun. Post-beach highlights include hip burger spot Ripper's, the Rockaway Beach Surf Club bar (which is also home to hot taco food truck Tacoway Beach), and Connolly's, which serves up the best Pina Coladas in New York City.
2. Jacob Riis Park – Far Rockaway, Queens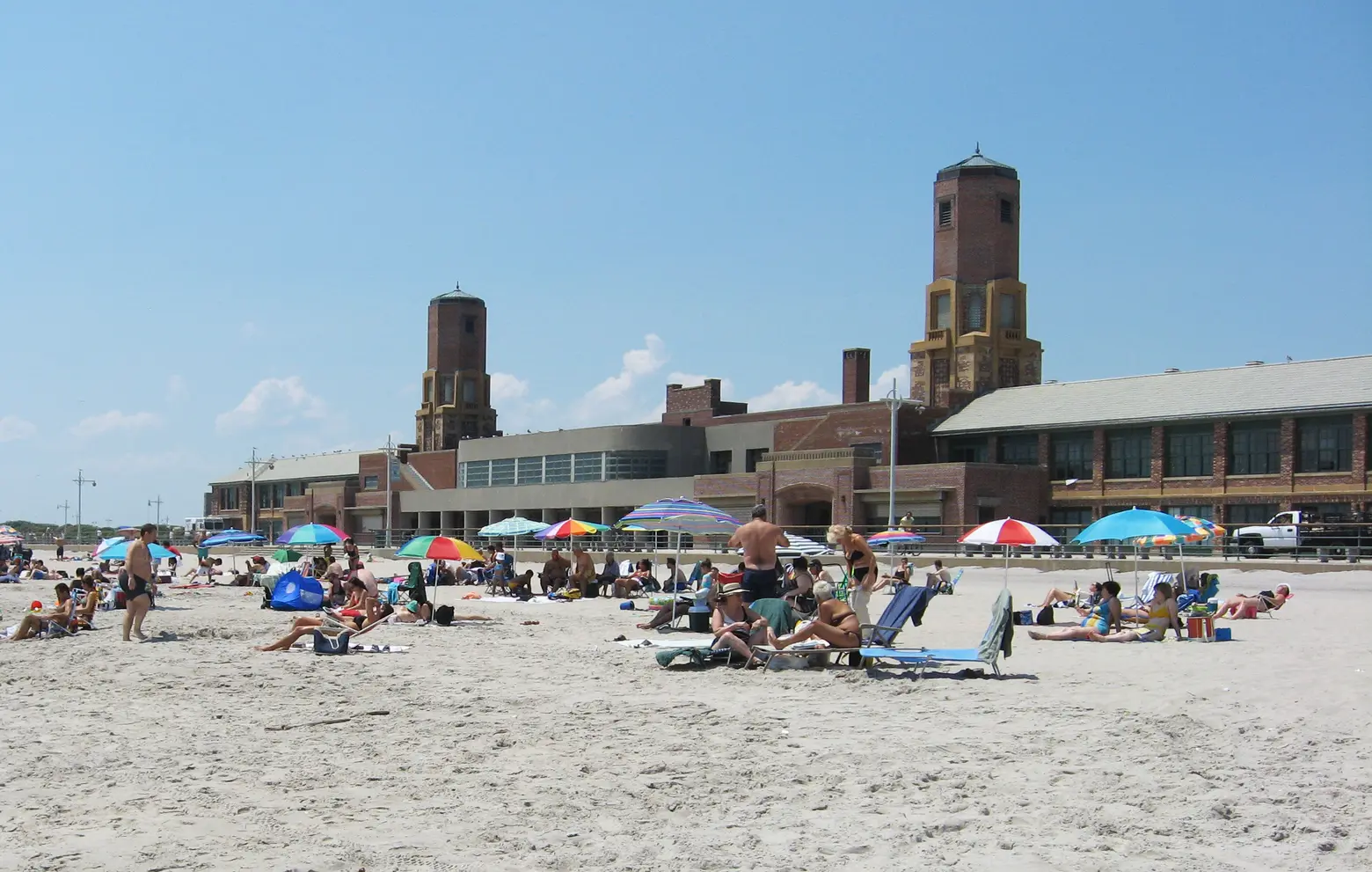 Jacob Riis Park and bathhouse via Padraic/Flickr
Located right next to Fort Tilden, Jacob Riis Park tends to be a bit quieter than Rockaway, in part because it's harder to get to (you can take the A to a bus, or drive, or bike), and also because it lacks some of Rockaway's trendier amenities. Still, Riis Park is no ghost town, and crowds gather in the summer to post up on the beach's pristine sand and enjoy the Riis Park Beach Bazaar, where you can score bites from a rotating selection of vendors and purchase drinks and crafts. Be sure to take in Riis Park's famous abandoned Art Deco bathhouse, commissioned by Robert Moses in 1933.
3. Fort Tilden – Rockaway, Queens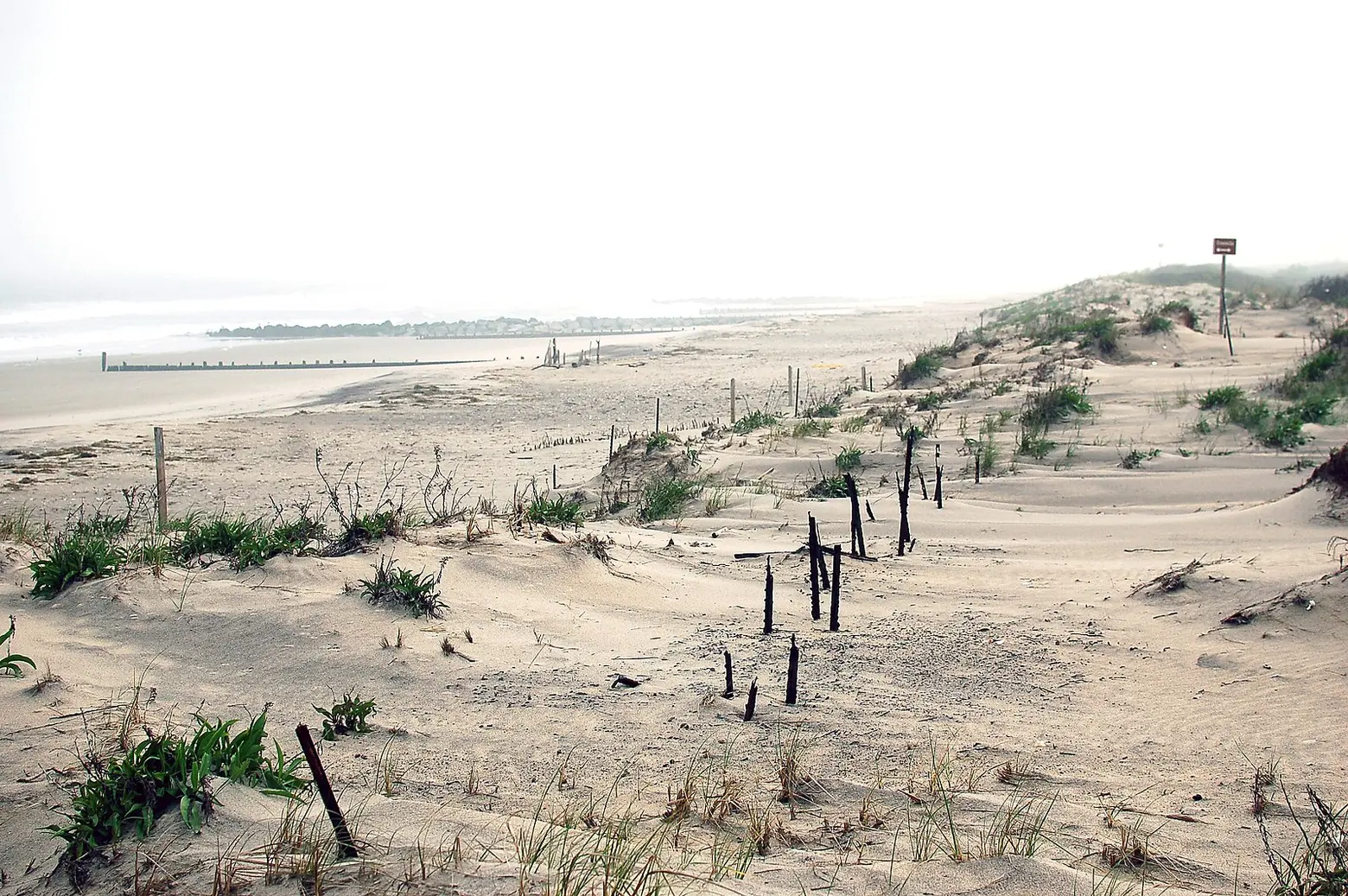 Fort Tilden via Wiki Commons
Once the quietest of the three Rockaway beaches, Fort Tilden has become plenty popular over the last few years, even without easy access (you'll have to bike, drive, or hop on a bus) and snack bars. But if you head out there early enough, you can still soak up some of Fort Tilden's much-heralded seclusion, characterized by white sand and topless sunbathers. Note that there are no lifeguards or bathrooms here, which is something to keep in mind if you're planning to stay for a while, and you must bring your own sustenance, lest you starve in the sun.
4. Brighton Beach – Brighton Beach, Brooklyn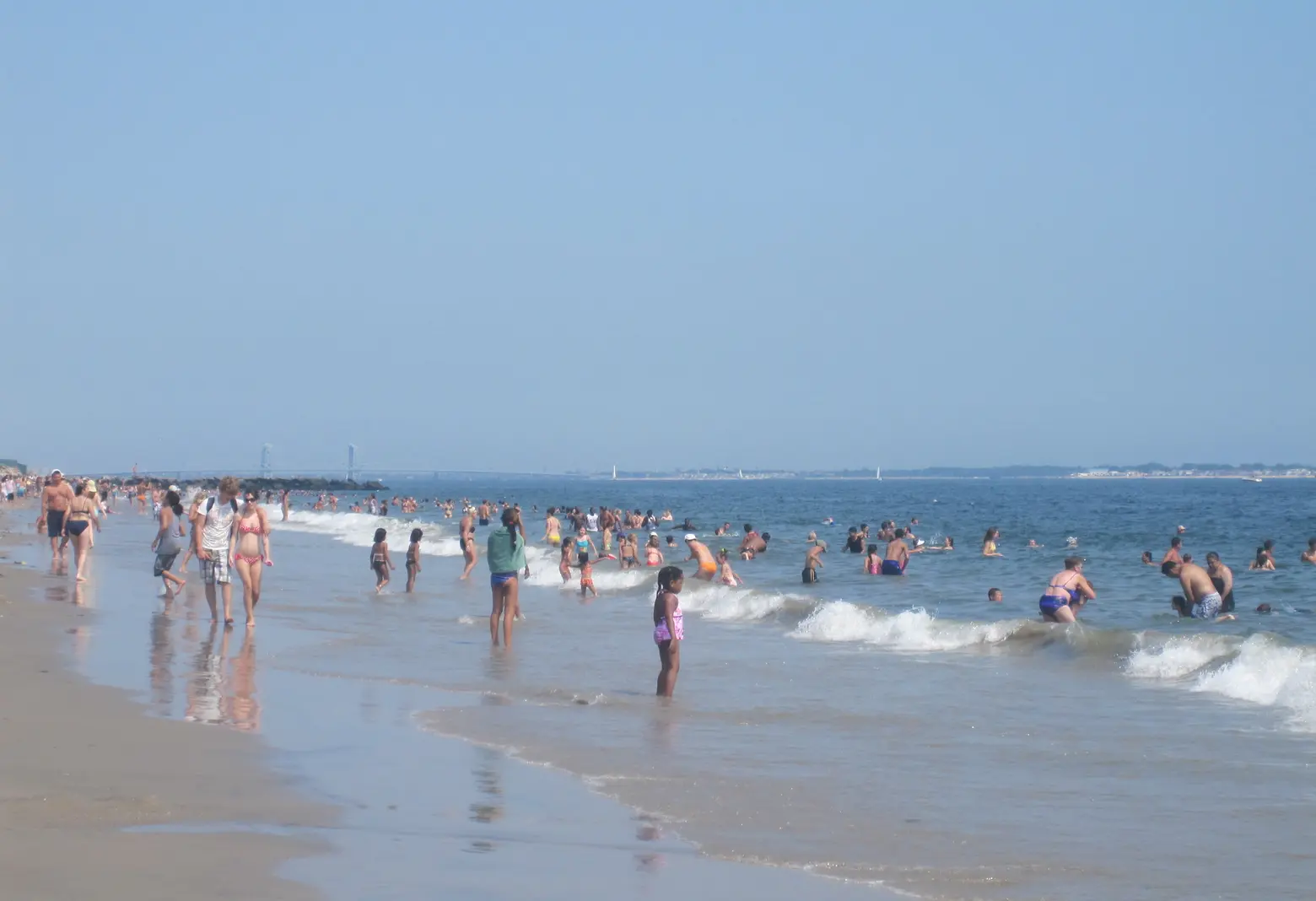 Photo by Billy Hathorn on Flickr
Conveniently located off the B and Q trains, Brighton Beach isn't the nicest or least crowded of the city's beaches. But what it lacks in hipness, it more than makes up for in cultural capital. The beach itself is fairly clean, if oft-packed on hot summer days, and if you get there early enough you can catch a good spot before the sunbathing hordes. Best of all, the neighborhood itself is full of Russian eateries, snack shops, retailers, and bars, including the popular beachside spot Tatiana, where you can get dumplings, borscht, and ample vodka when you need a quick break from the sun.
5. Coney Island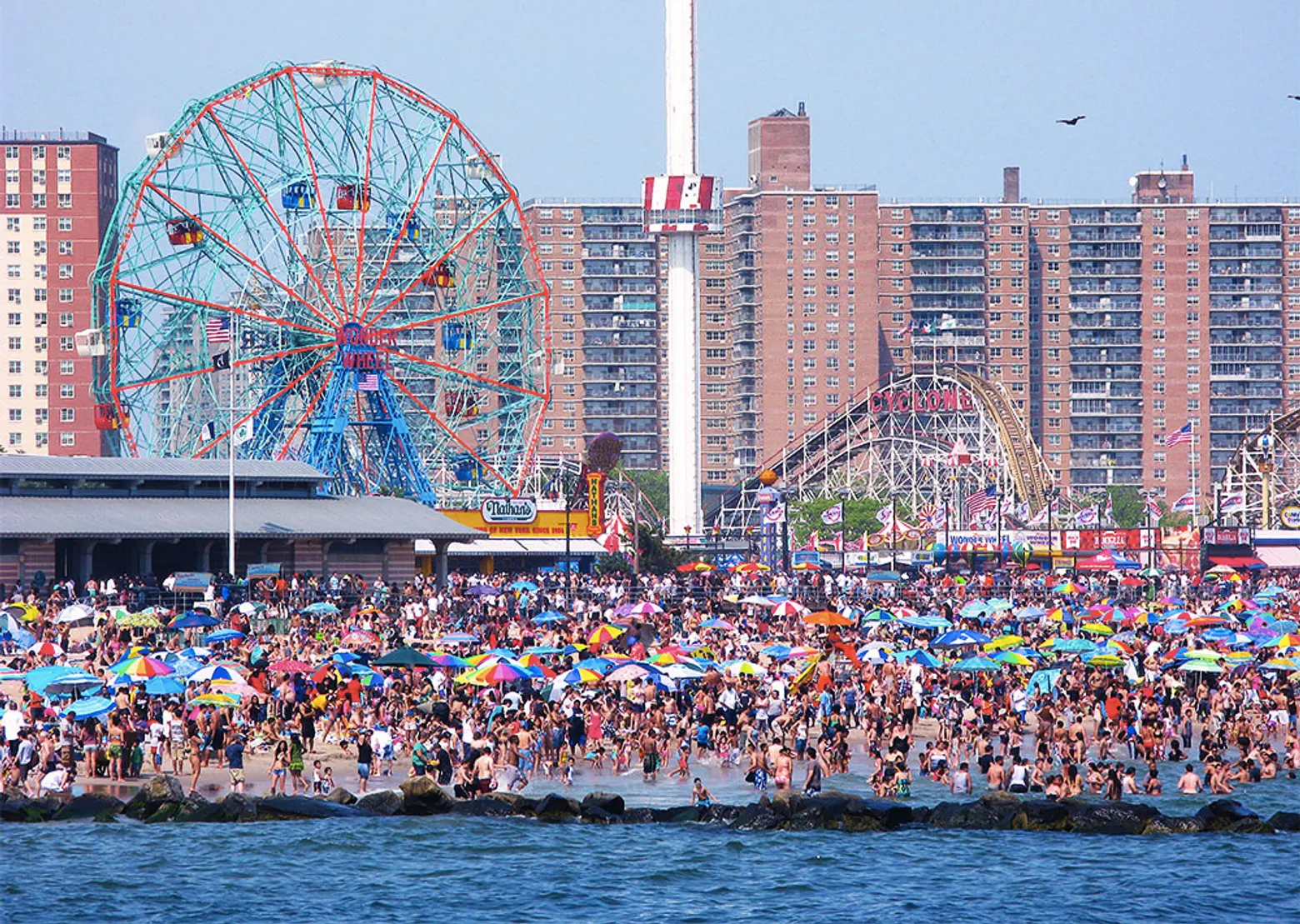 Via Wiki Commons
Like neighboring Brighton Beach, Coney Island's real highlight is its surrounding activities, and not necessarily the beach itself, which can be a little rough around the edges. But it's still a great spot for sunbathing, swimming, and people-watching (lots of classic NYC characters gathered around here). When you need a break, you can wander Coney Island's famed boardwalk, home to the original Nathan's Hot Dogs, the original hot dog Feltman's, and beloved local bar Ruby's. When you've digested (or, on second thought, perhaps before you eat), you can try out some of the rides, like the historic Cyclone at Luna Park, or the new iteration of the classic Thunderbolt.
6. Orchard Beach – The Bronx, NY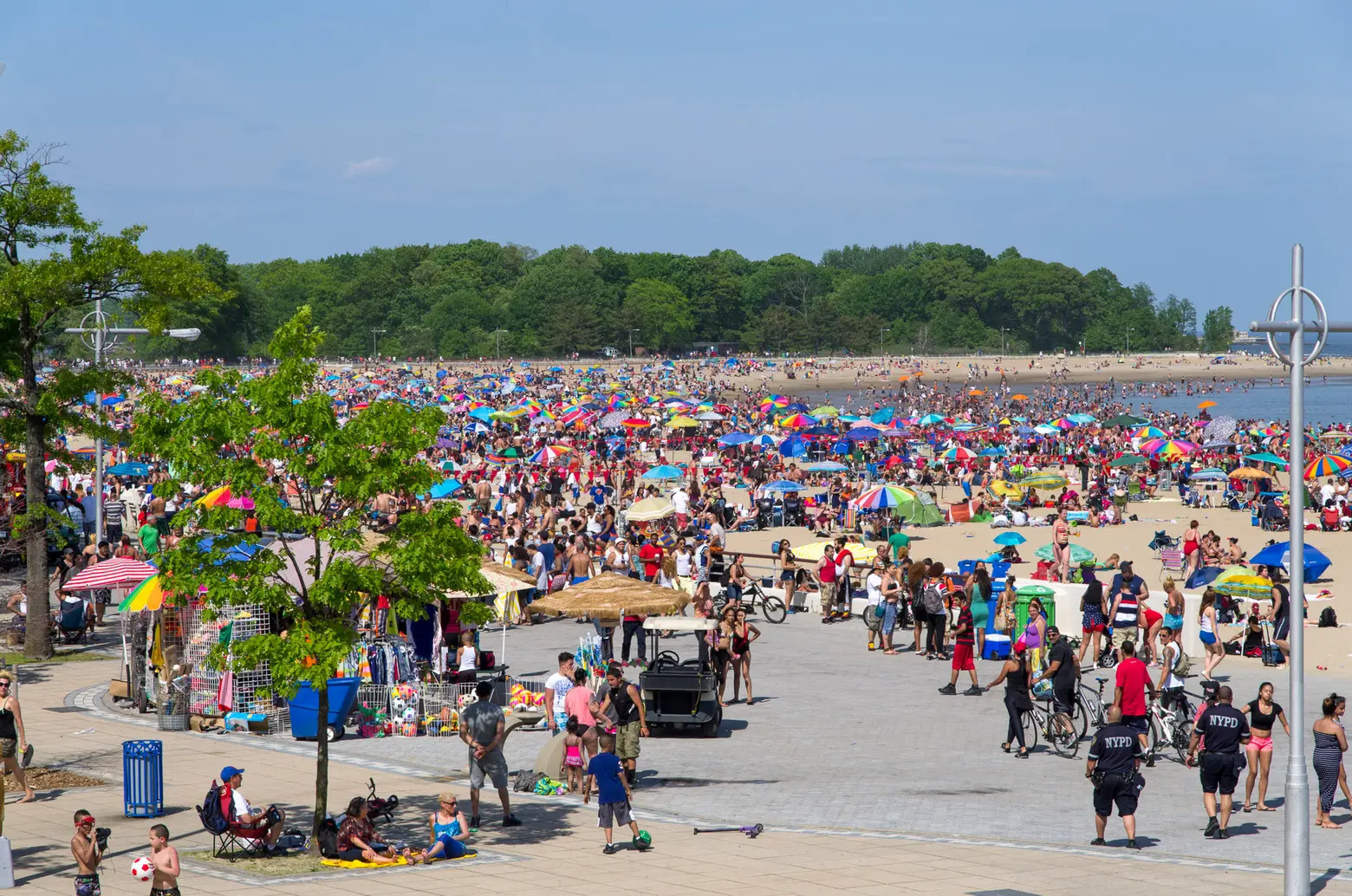 Orchard Beach via Dan DeLuca/Flickr
Orchard Beach is the Bronx's only public beach, which means it's crowded as all heck on summer weekends, but if you can manage to squeeze in here during a sunny weekday, you're golden. Note that Orchard Beach is a bit smaller than some of the offerings in Queens and Brooklyn, plus it's on the calm Long Island Sound, so you'll have to leave your surfboard at home. The beach still offers up beautiful Sound views and lots of clean sand to sunbathe on, plus you can escape the beach for a hot second to stroll through the rest of Pelham Bay Park, which features bridle and bike paths, the historic Bartow-Pell Mansion, and plenty of resplendent salt-water shoreline.
7. Manhattan Beach Park – Manhattan Beach, Brooklyn
Manhattan Beach Park via Teri Tynes/Flickr
Manhattan Beach Park is, confusingly, in Brooklyn, located east of Brighton Beach. This tiny little beachfront is a nice escape from some of the city's more crowded locales, probably because there's no accessible subway stop (you can take the Q to Sheepshead Bay and walk or take a bus) or nearby parking during summer months. There's also a playground and lots of grill spots, should you wish to bring a family or make friends with one.
+++
Editor's note: The original version of this story was published on May 21, 2018, and has since been updated.