90 years ago today, Coney Island's iconic Cyclone roller coaster opened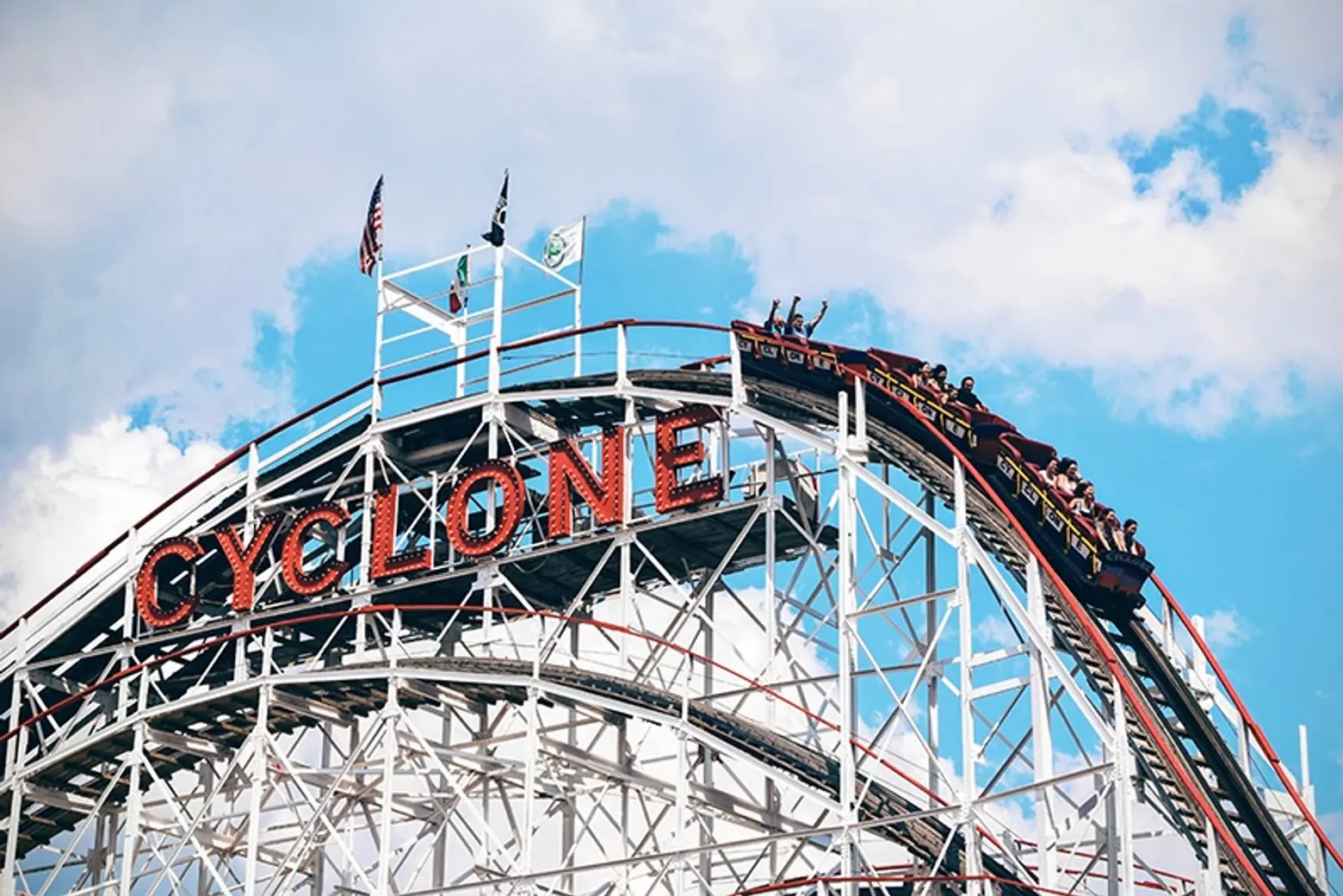 On June 26, 1927 the Coney Island Cyclone opened in Brooklyn. The iconic wooden coaster, located on the corner of Surf Avenue and West 10th Street, is one of the oldest functional amusement rides in the United States. While it only cost $.25 to ride when it first opened, today it costs about $10. Found at Luna Park, the coaster takes you over 2,640 feet of track at 60 miles per hour, with 12 drops (the highest an 85-foot, 60-degree plunge) and 27 elevation changes in roughly two minutes.
Video of the Cyclone in action in 1940

Brothers Jack and Irving Rosenthal bought the land in Coney Island and hired the country's leading coaster designer Vernon Keenan to develop a ride to compete with the Thunderbolt and the Tornado, two already successful wooden coasters on the Island. The Rosenthals spent between $146,000 and $175,000 on the coaster's construction, including three eight-person cars. Interestingly, the Cyclone was built on the same plot of land that previously held the Switchback Railway, American's first roller coaster that opened in 1884.

Photo of the Cyclone from 1935, via the Museum of the City of New York
In the 1960s, the Cyclone was almost put out of service with fewer people visiting Luna Park than the decades prior. In an effort to attract more visitors, New York City bought the Cyclone for $1 million and prepared to demolish it, until a successful "Save the Cyclone" campaign triumphed in the 1970s. After being refurbished in 1974, the Cyclone opened again in the summer of 1975 under the ownership of Astroland's Dewey and Jerome Albert. Astroland closed in 2008, and in 2011, Luna Park took over its operation, embarking on a project to remove and replace the original track.
The Cyclone was officially declared a New York City Landmark July 12, 1988 and later was placed on the National Register of Historic Places on June 26, 1991.
RELATED: 
Lead image via Keith Putnam/Flickr