See BIG and WXY's vision for a pedestrian-friendly Downtown Brooklyn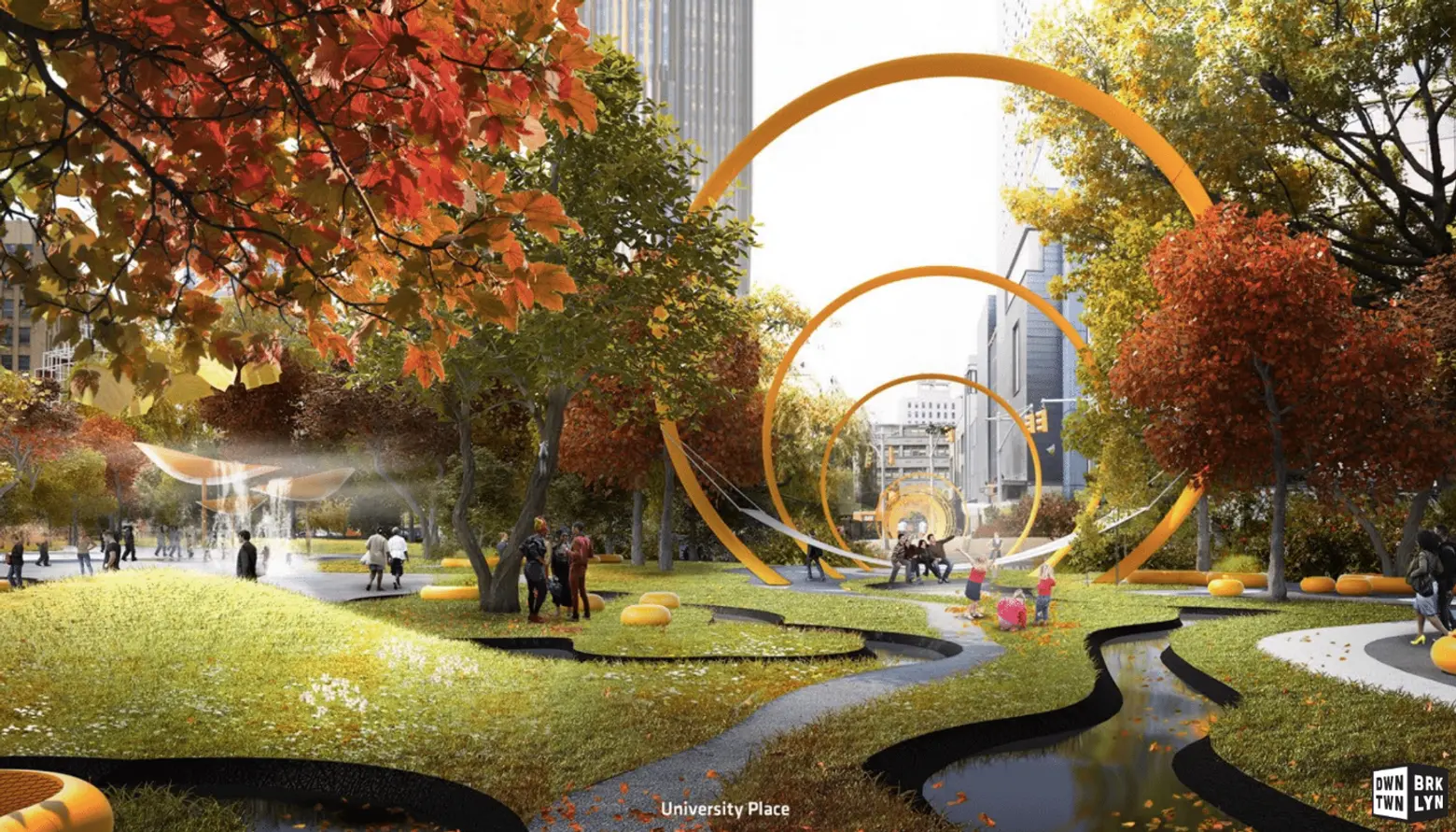 A plan to improve the streets and public space of Downtown Brooklyn was unveiled on Thursday, as officials look to accommodate the area's booming population. Created in collaboration with the Downtown Brooklyn Partnership, Bjarke Ingels Group, and WXY architecture + urban design, the "Public Realm Action Plan" calls for fewer cars, more bike lanes, a bus-only lane, and more parks and plazas. As first reported by CityLab, the proposal takes ideas from already-implemented street redesigns, like the new 14th Street busway.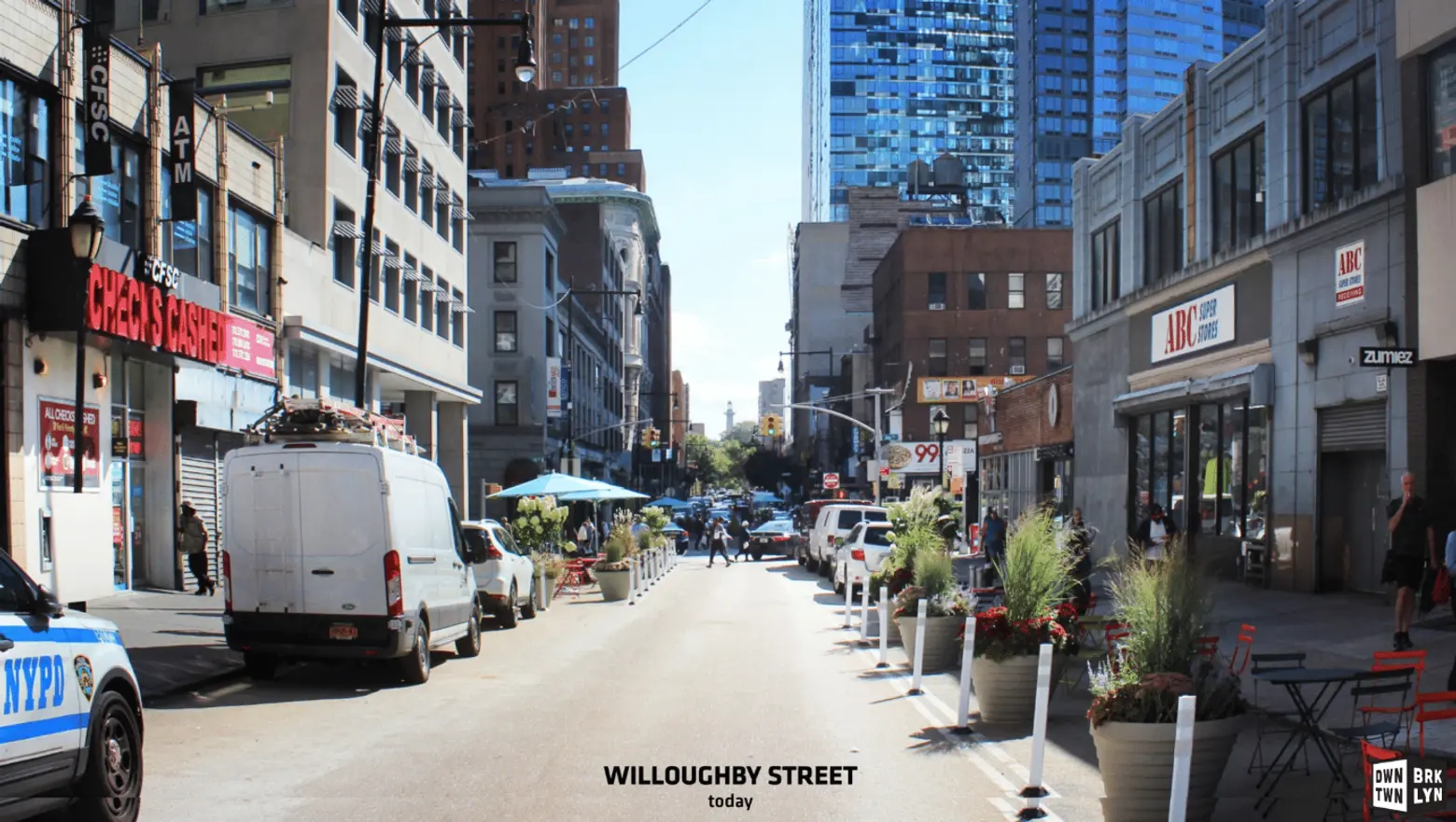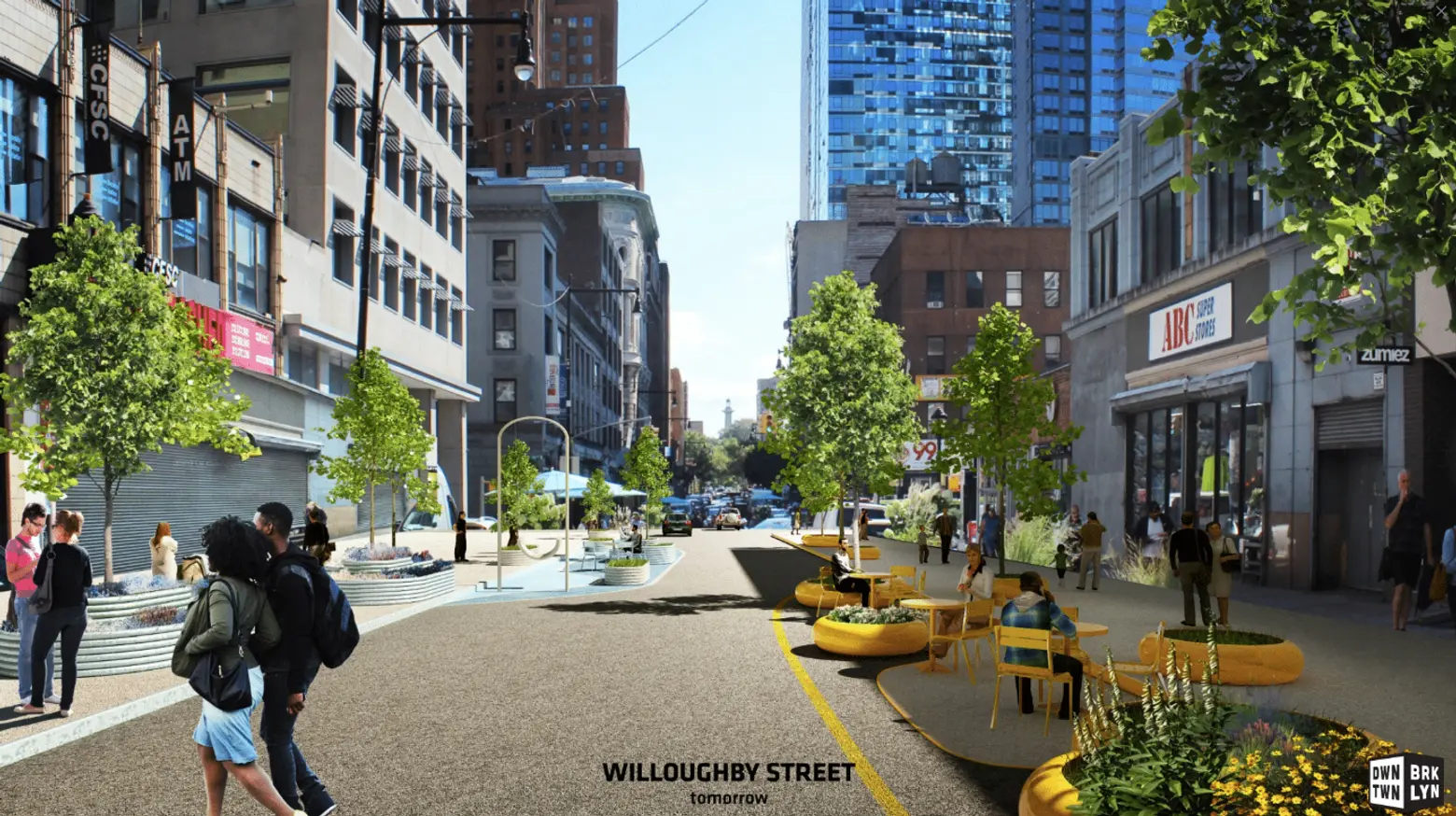 "Downtown Brooklyn has transformed into a true mixed-use community over the last 15 years, and with its population set to double in the next decade, now is the moment for a bold public realm vision that's far more welcoming to pedestrians–from its streets to its plazas and parks," Regina Myer, the president of DBP, said in a press release.
"We want to go further than any business district in the city by reorienting streets away from cars and toward pedestrian, cyclist, and mass transit use. We want to breathe new life into our public spaces. And we want to create an identity worthy of Brooklyn's Downtown."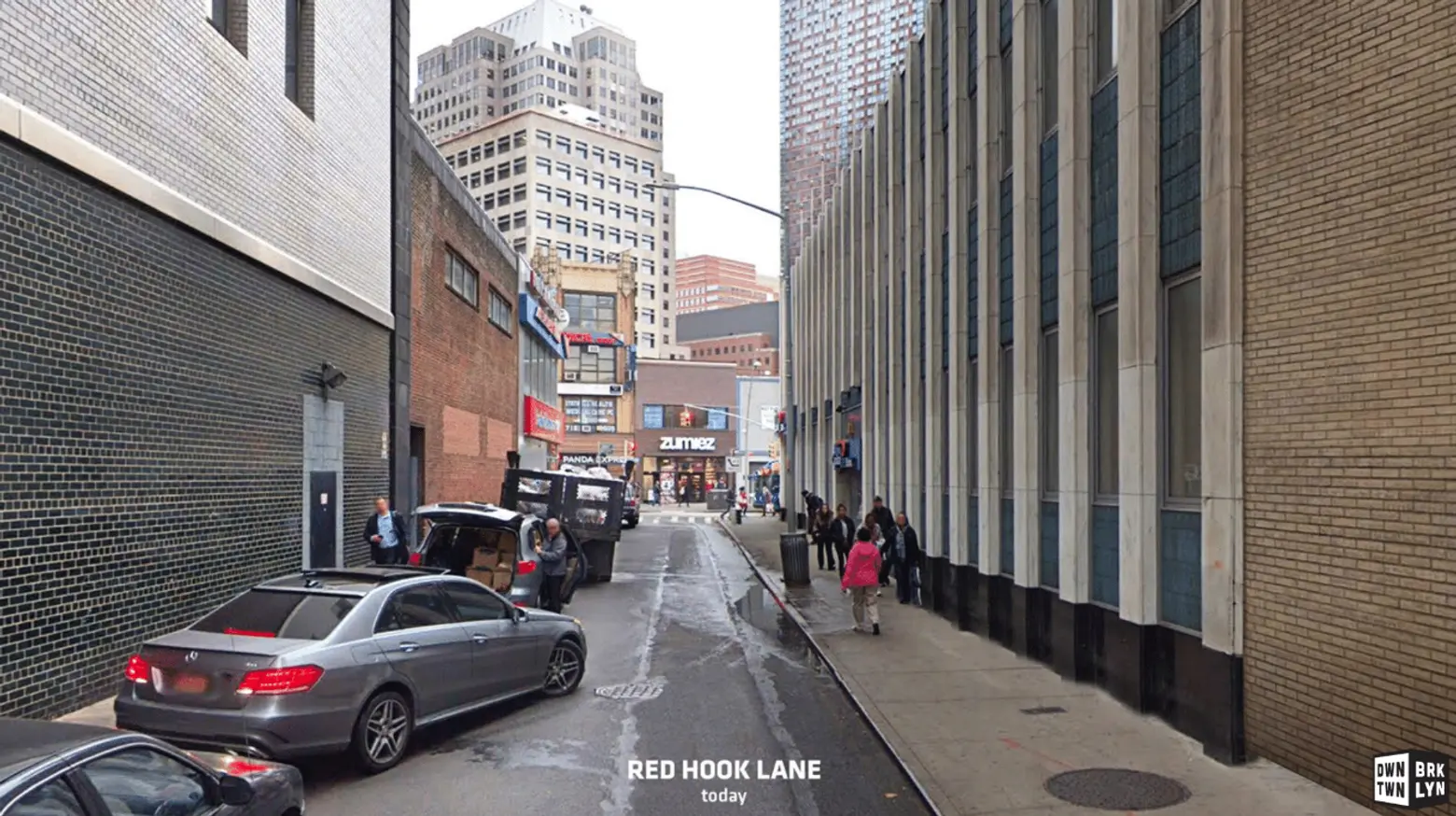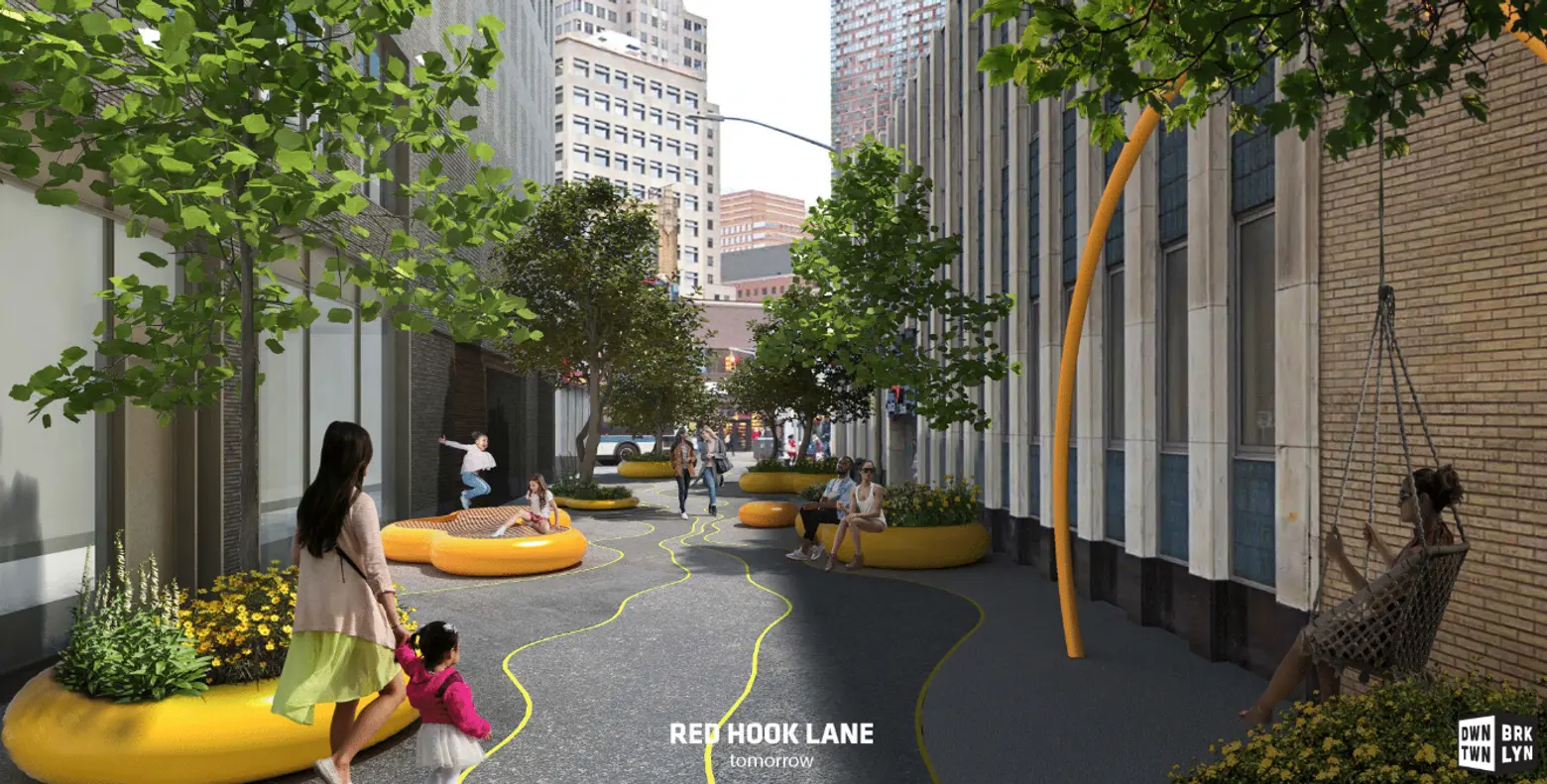 Since its rezoning in 2004, Downtown Brooklyn's unprecedented economic and population growth put a new strain on the area's sidewalks, streets, and public infrastructure. The new vision for the area, which contains 240 acres bounded by Atlantic Avenue, Tillary Place, Court Street, and Ashland Place, aims to address congestion, gaps in the bike network, the lack of green space, and overall "disorienting street grid connections."
DBP tapped BIG and WXY in February to study the area and create the implementation plan. "Downtown Brooklyn is the ultimate mixed-use district–and this action plan offers a design framework for its shared streets, parks, and public spaces today and tomorrow," Claire Weisz, the principal of WXY, said.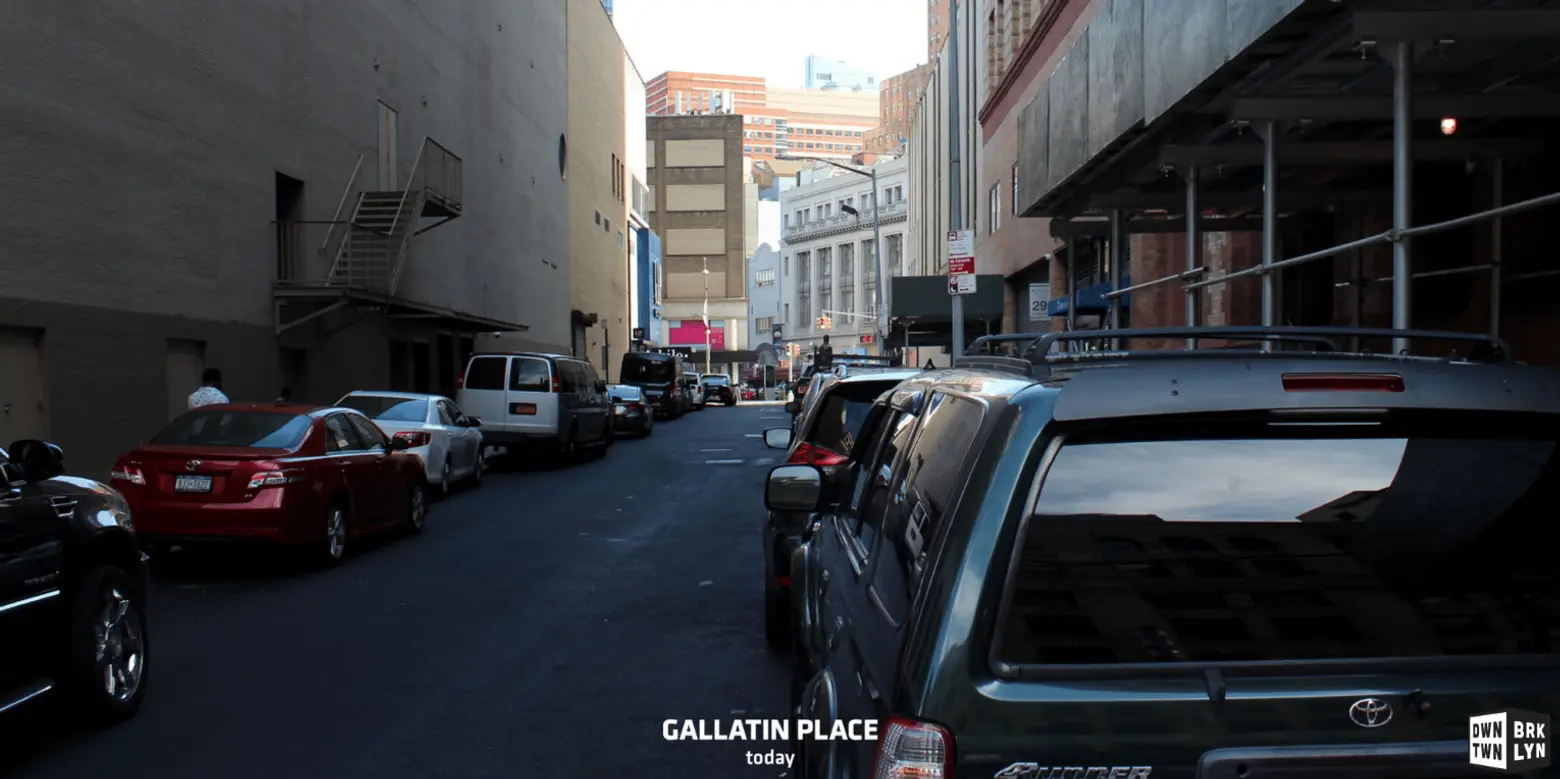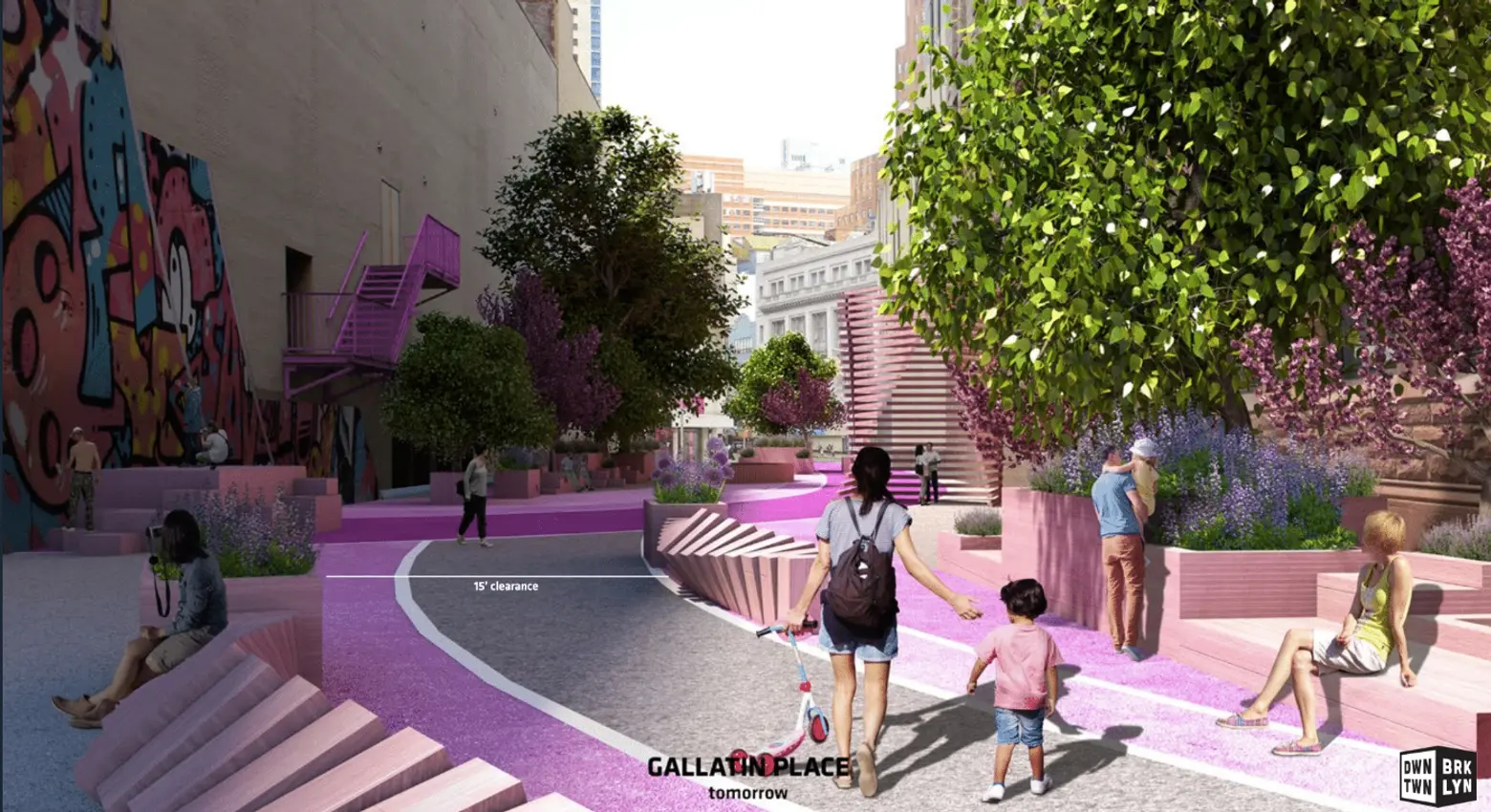 Recommendations from the vision include reducing car access at the core of Downtown Brooklyn, making pedestrian crossings safer at high traffic intersections, adding bike lanes (on Flatbush Avenue, Fulton, Schermerhorn Street, and Adams Street), and creating a one-way bus lane on Fulton Street.
The proposal also calls for developing green space and improving existing spaces like Columbus Park at Borough Hall and University Place at LIU Brooklyn. And sustainable elements would be added, including plantings, bioswales, and 900 new trees.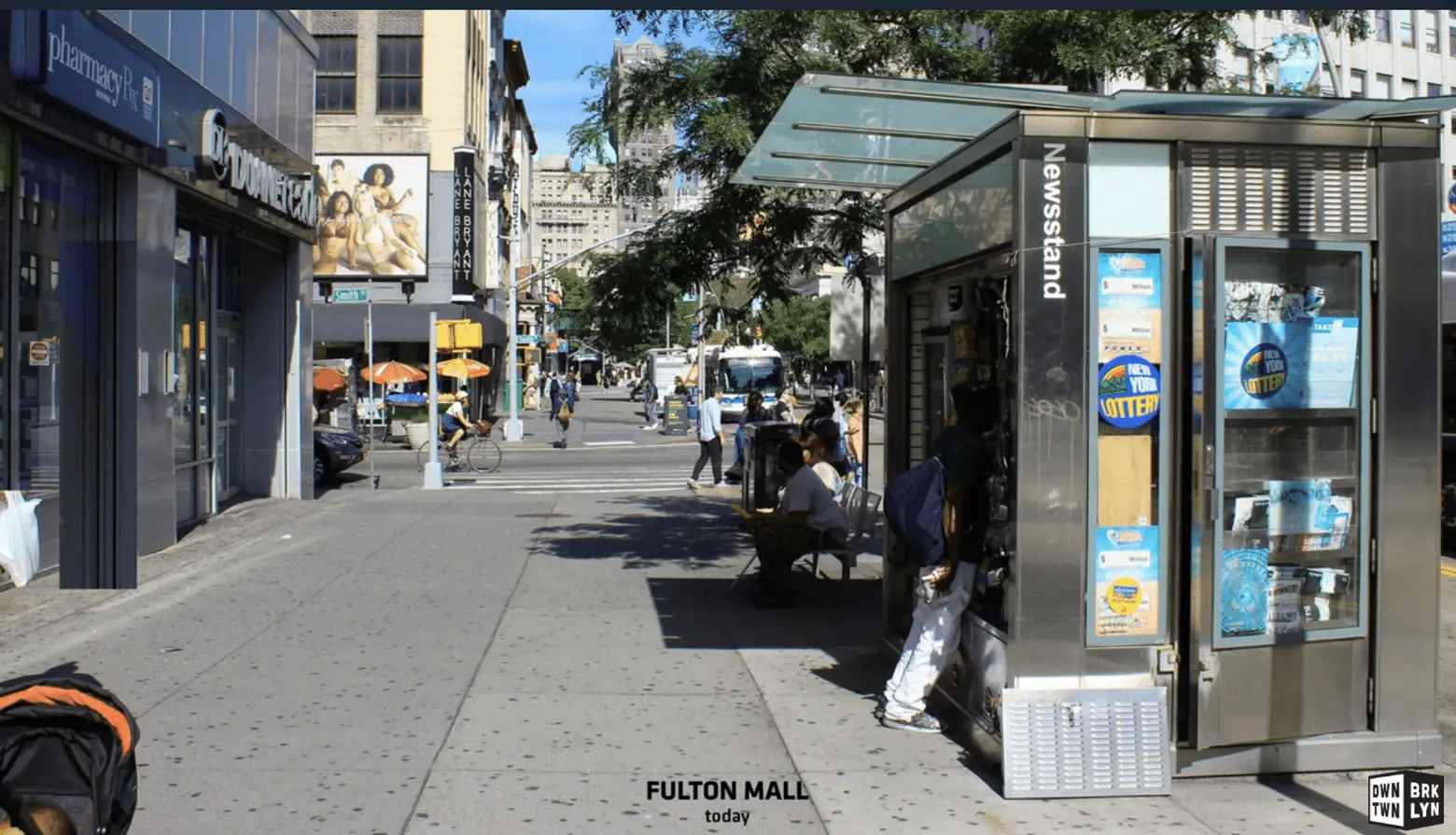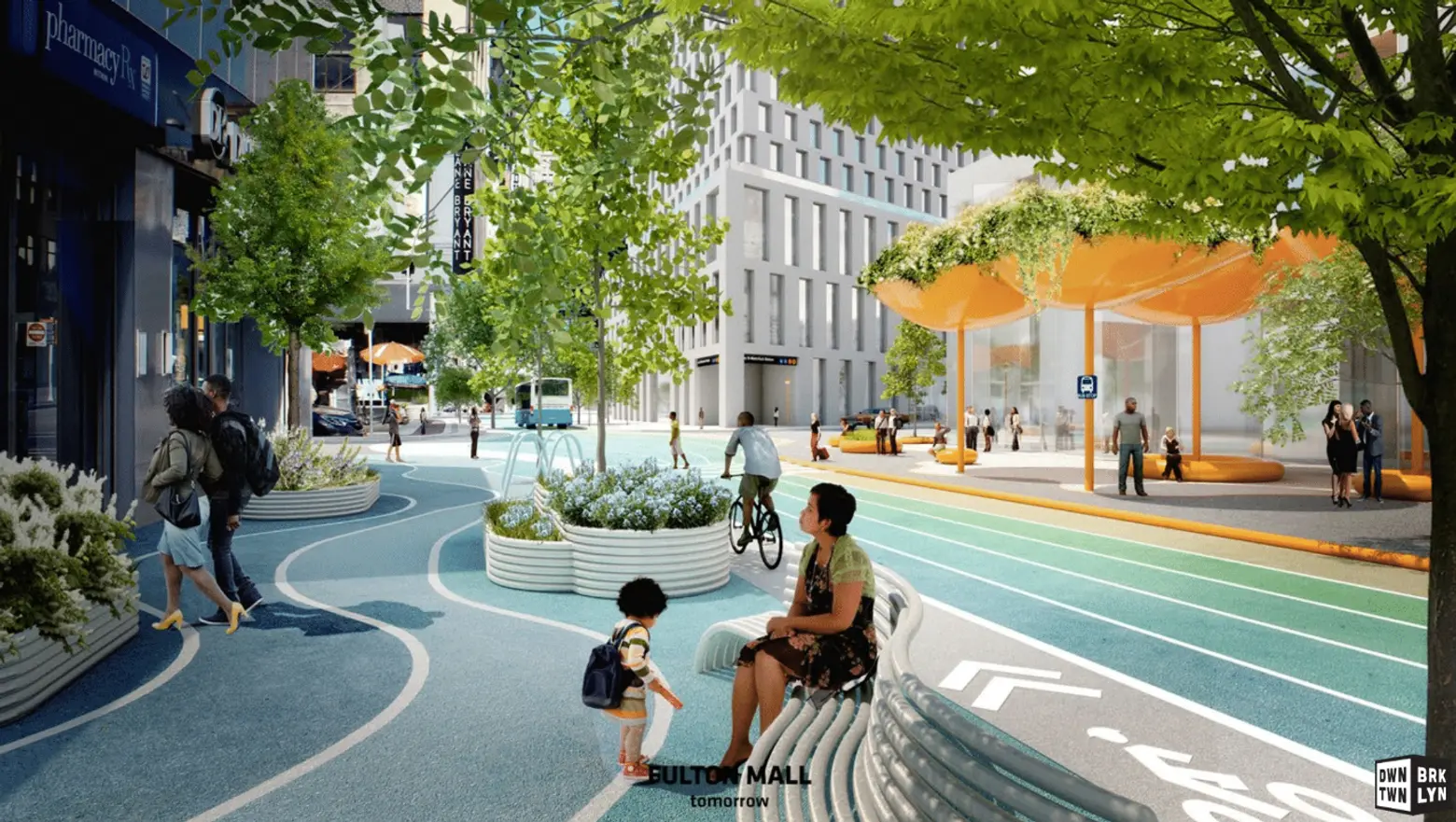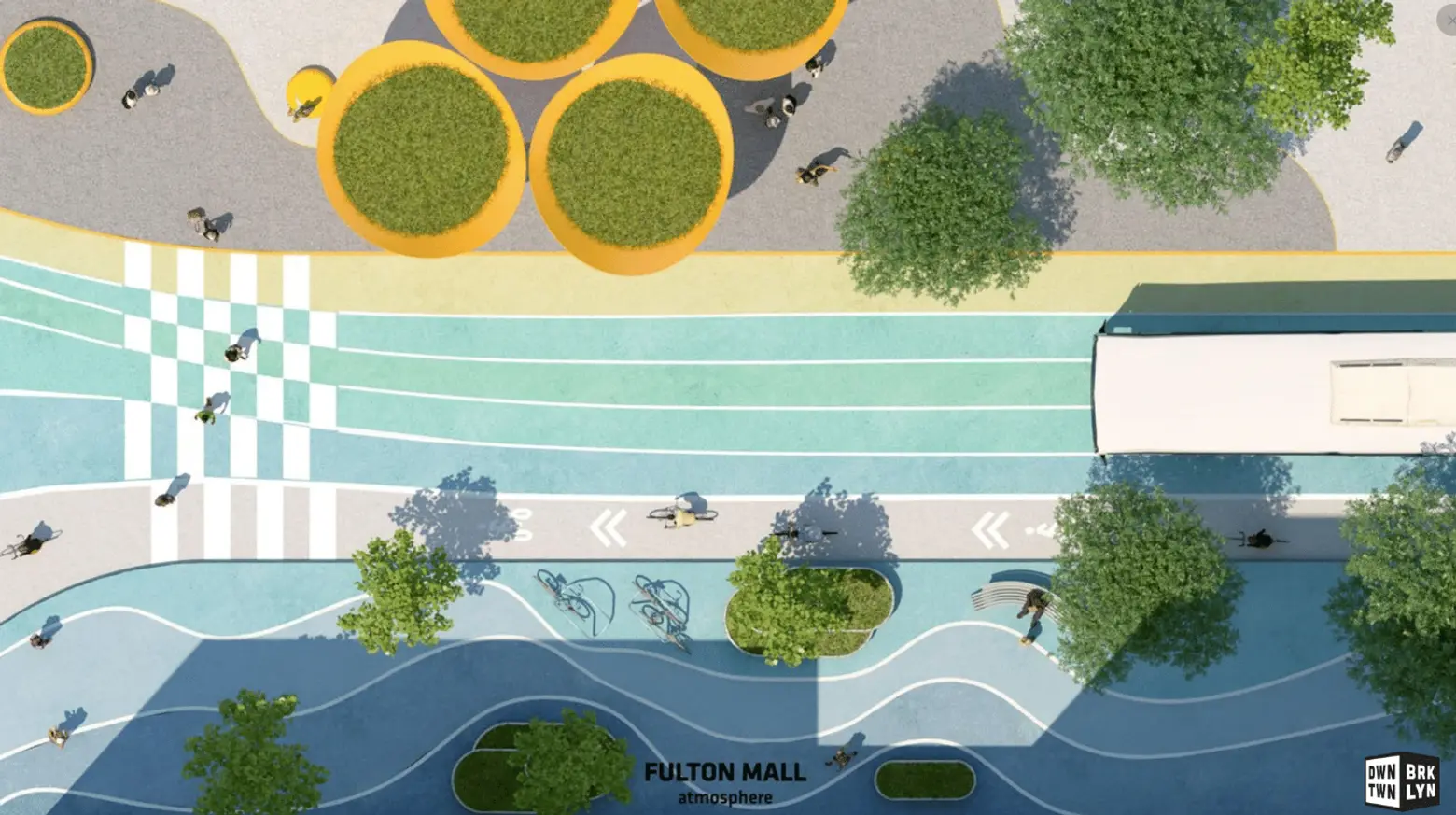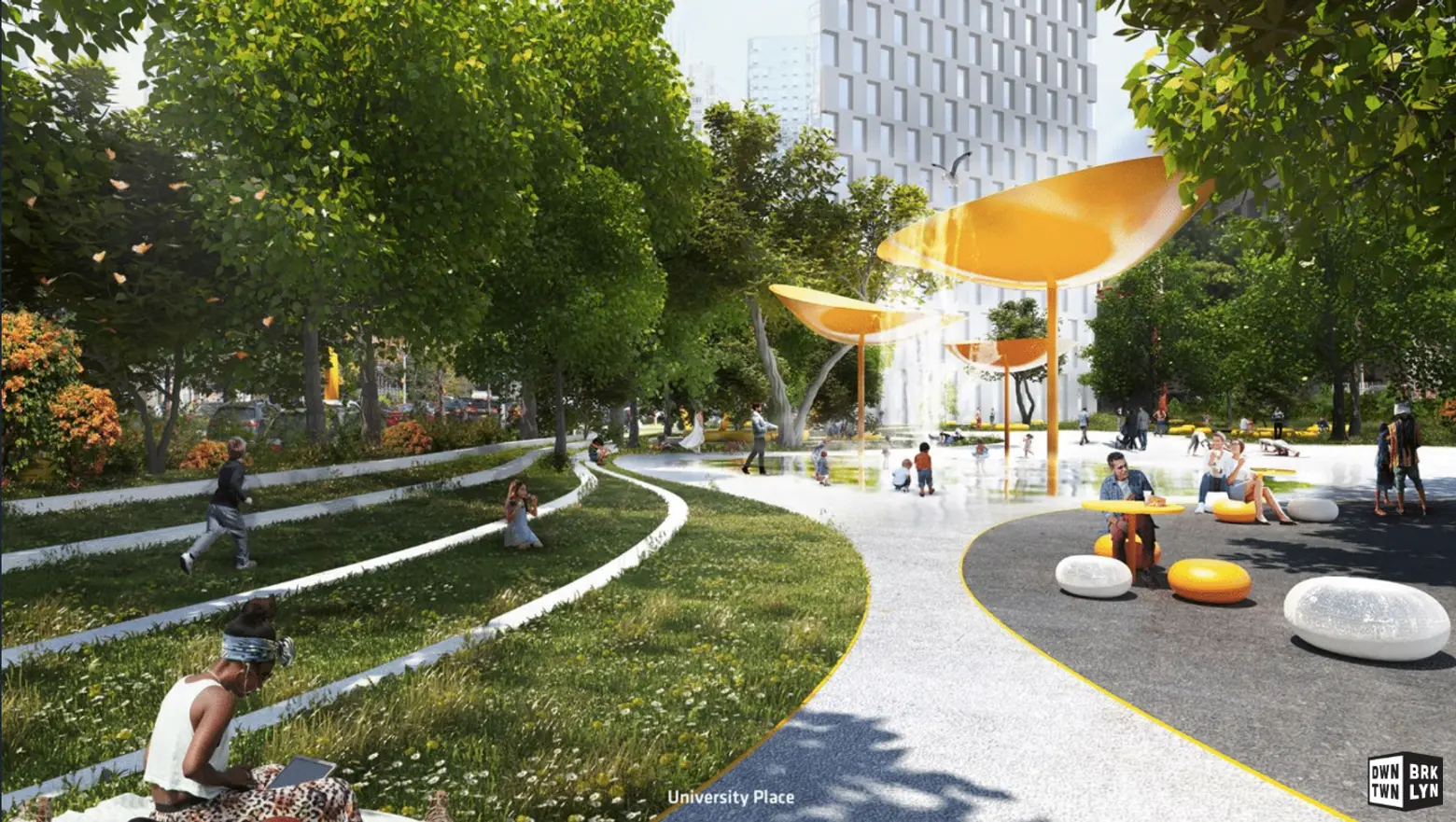 "Working closely with DBP, WXY and the wider local community, we look forward to creating a greener, safer and bolder Downtown – our proposal paints the already lively character of the neighborhood with a distinct color palette and new public furniture collections," BIG's Bjarke Ingels said in a statement.
"Brooklynites can enjoy a cohesive streetscape experience, one with improved walkability, pedestrian and cyclist safety, double the greenery and new art beacons."
RELATED:
All renderings and images courtesy of the Downtown Brooklyn Partnership