Work starts on transforming Hudson Street to a 'grand allée' with wide sidewalks and bike lanes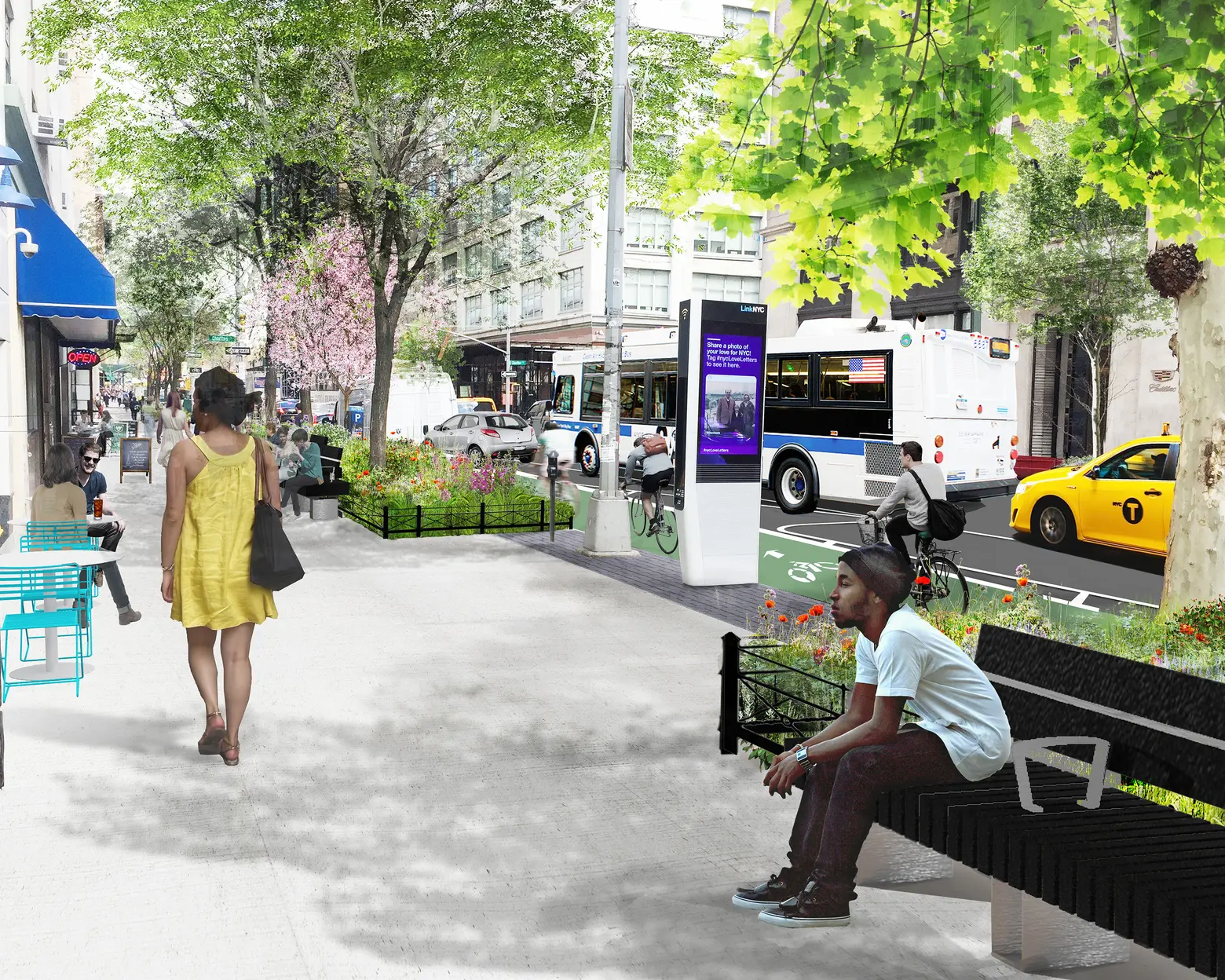 Courtesy of Matthews Nielsen Landscape Architecture, P.C. with attribution to W Architecture and Landscape Architecture, LLC
In May, the city announced plans to make Hudson Street between Canal and West Houston Streets in Hudson Square into a grand boulevard with wider sidewalks, parking-protected bike lanes, and small outdoor "living rooms" with seating surrounded by greenery are moving forward with design and construction teams on board. And now, work has officially commenced on the first phase of the project, shortly after Disney revealed its forthcoming Hudson Square headquarters, which will bring 5,000 new employees to the area.
Prima Paving Corporation, Sam Schwartz Engineering, and Mathews Nielsen Landscape Architects have been chosen as design-build consultants for the public-private project, which is being overseen by the city's Economic Development Corporation, the Department of Transportation, and the Hudson Square BID. The design-build concept, which is being utilized for the first time by the city for a public-private project, means that contracting both the design and construction components to the firms, which will act as a team, can streamline the process.
According to a press release, the planned project includes:
More than 8,000 square feet of areas landscaped with trees, shrubs, and perennials
New benches providing 168 new seats
2,255 square feet for sidewalk cafes
A bike lane on Hudson Street from Houston to Canal Streets
New bike racks to hold 20 additional bicycles
Continuous tree pits and permeable pavers to maximize stormwater capture and support healthier trees
Phase one will encompass work on Hudson Street between West Houston and Spring Streets and is expected to be completed by fall 2020. Phase two extends south on Hudson Street to Canal Street. Work here will start when phase one finishes and is expected to be completed by summer 2021. Disney's new HQ is not expected to break ground until 2022.
The initiative is part of a $27 million public-private streetscape plan called "Hudson Square is Now." It has already added 250 trees throughout the neighborhood and given Spring Street Park an update. The Hudson Street project is the final piece of this five-year master plan. The Hudson Square BID will assume the responsibility for maintaining the completed streetscape.
In 2012, the Hudson Square Connection announced a $27 million, five-year neighborhood improvement plan focused on pedestrian safety, traffic flow, and the overall streetscape in order to address the influx of residential, retail, and creative-sector commercial development in the rezoned area bounded by West Houston Street, Canal Street, 6th Avenue, and Greenwich Street at the intersection of Hudson Square, Soho, and the South Village. Additional projects in the plan include the renovation of Hudson Square Park and Freeman Plaza.
Since the 2013 rezoning of the 18 blocks that make up Hudson Square, the neighborhood has transformed from a former printing district to an area of luxury rentals and modern office space. The rezoning allowed for more than 3,300 new residential units, 140,000 square feet of retail and office space and 75,000 square feet of community facilities.
Editors' Note: This story was originally published on May 23, 2019 and has been updated.
RELATED: