Preservationists call for landmarking of Little Syria vestiges in Lower Manhattan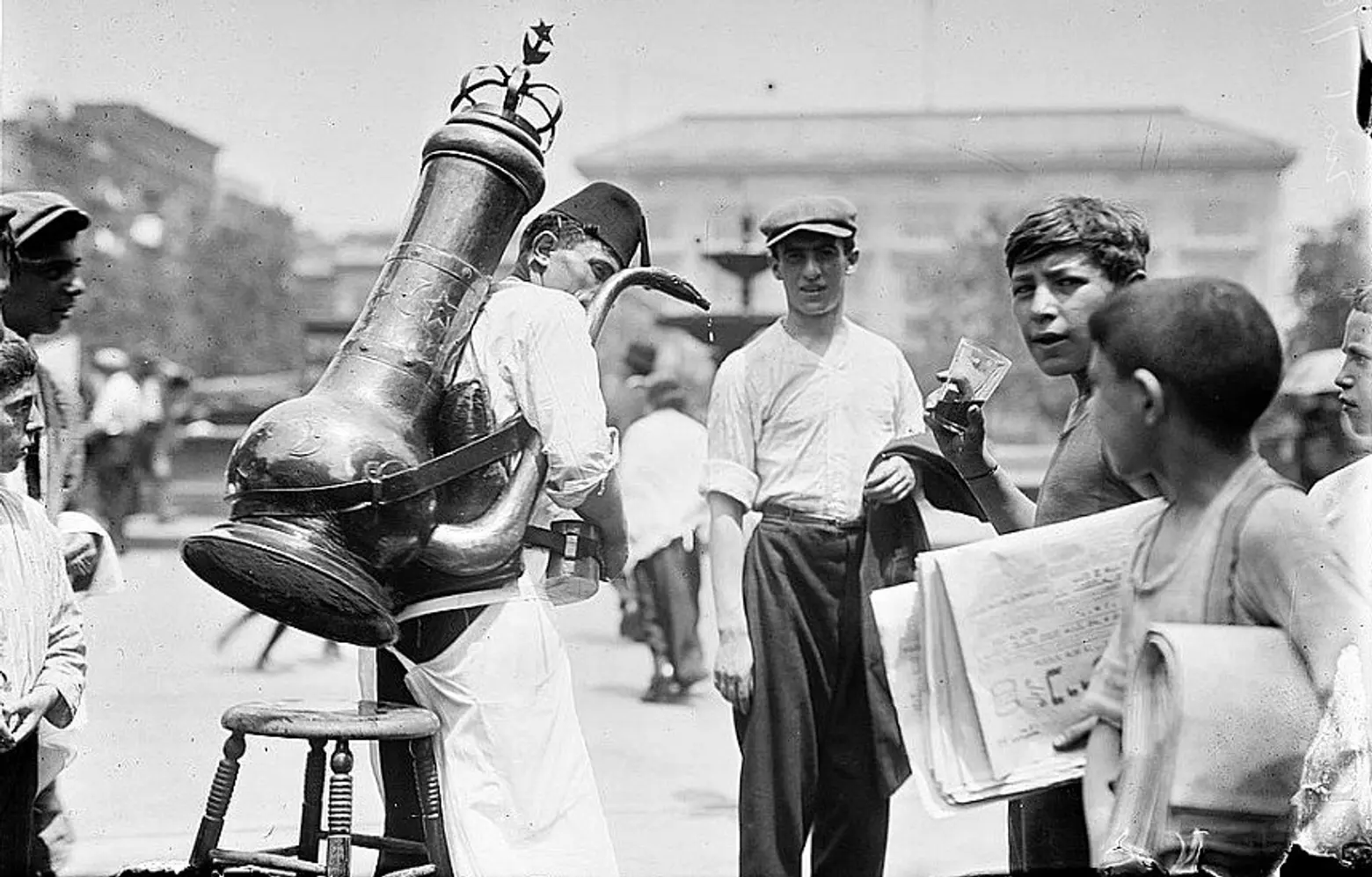 A man wearing a fez selling drinks in Little Syria in the early 1900s, via Wiki Commons
Three structures on Lower Manhattan's Washington Street–St. George's Syrian Catholic Church at 103 Washington Street, The Downtown Community House at 105-107 Washington Street, and the block's sole surviving tenement at 109 Washington Street--are the last standing architectural vestiges of the once-thriving community of Little Syria. The area served as home to immigrants from Lebanon, Syria, Palestine, Greece, Turkey, Armenia, Moravia, Slovakia, Poland, Hungary, Lithuania, Ukraine, Germany and Ireland that flourished on the Lower West Side in the Late 19th and Early 20th Centuries. Before that surviving history is lost, local preservationists are calling for the structures to become part of a mini historic district, citing a "landmarks emergency."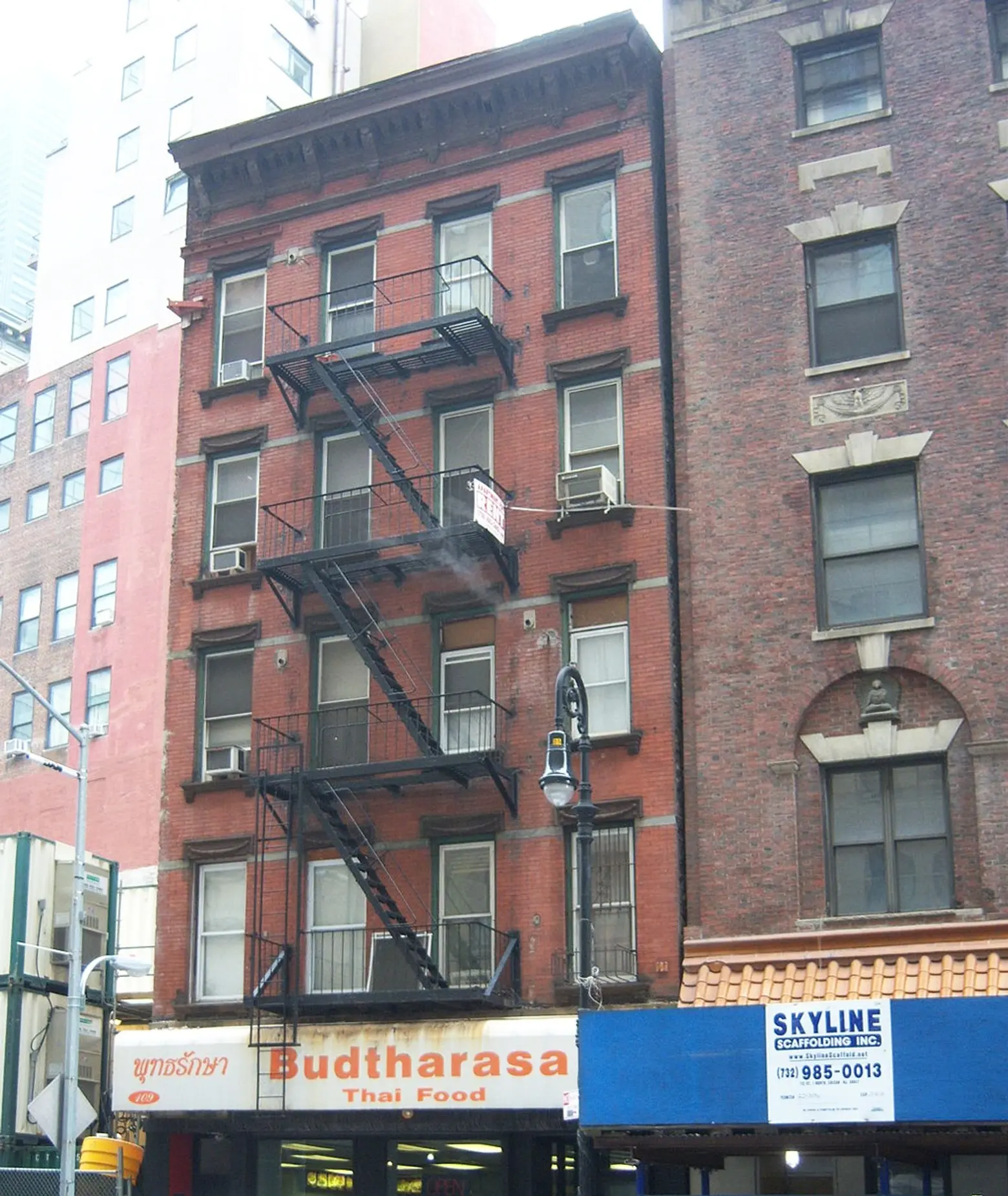 109 Washington Street, via Wikimedia Commons
Preservation groups including the Washington Street Advocacy Group, Friends of the Lower West Side, and the Washington Street Historical Society have long worked to preserve, honor, commemorate, and share the history of Little Syria, as well as to establish a "mini historic district" on Washington Street. But the Washington Street Historic District – once a preservationist's dream – is now being hailed a Landmarks Emergency.
Last month, the Washington Street Advocacy Group released a new report, "Voluntary Destruction: Historic Preservation in the Lower West Side since September 11, 2001," written by Todd Fine, president of the Washington Street Advocacy Group and Doctoral Candidate at the CUNY-Graduate Center. Fine's report examines the relationship between redevelopment and historic preservation in Lower Manhattan. He explains that in the wake of 9/11, a coalition of preservation organizations came together under the umbrella of the Lower Manhattan Emergency Preservation Fund and identified 36 sites that could be part of a proposed historic district south of the World Trade Center. In an area so badly damaged and so deeply scarred, preservation seemed paramount. But, according to Fine, 26 percent of those buildings have been demolished and 18 percent of the remaining structures have been significantly altered, while just 10 percent have been landmarked.
The report argues that "nearly all funding to support historic preservation since September 11 has been private and inadequate. The result is that, through tax incentives and subsidies, city, state, and national governments have voluntarily driven the erasure of a section of New York City important to the collective history of post-Revolutionary New York, American immigration, and New York City finance."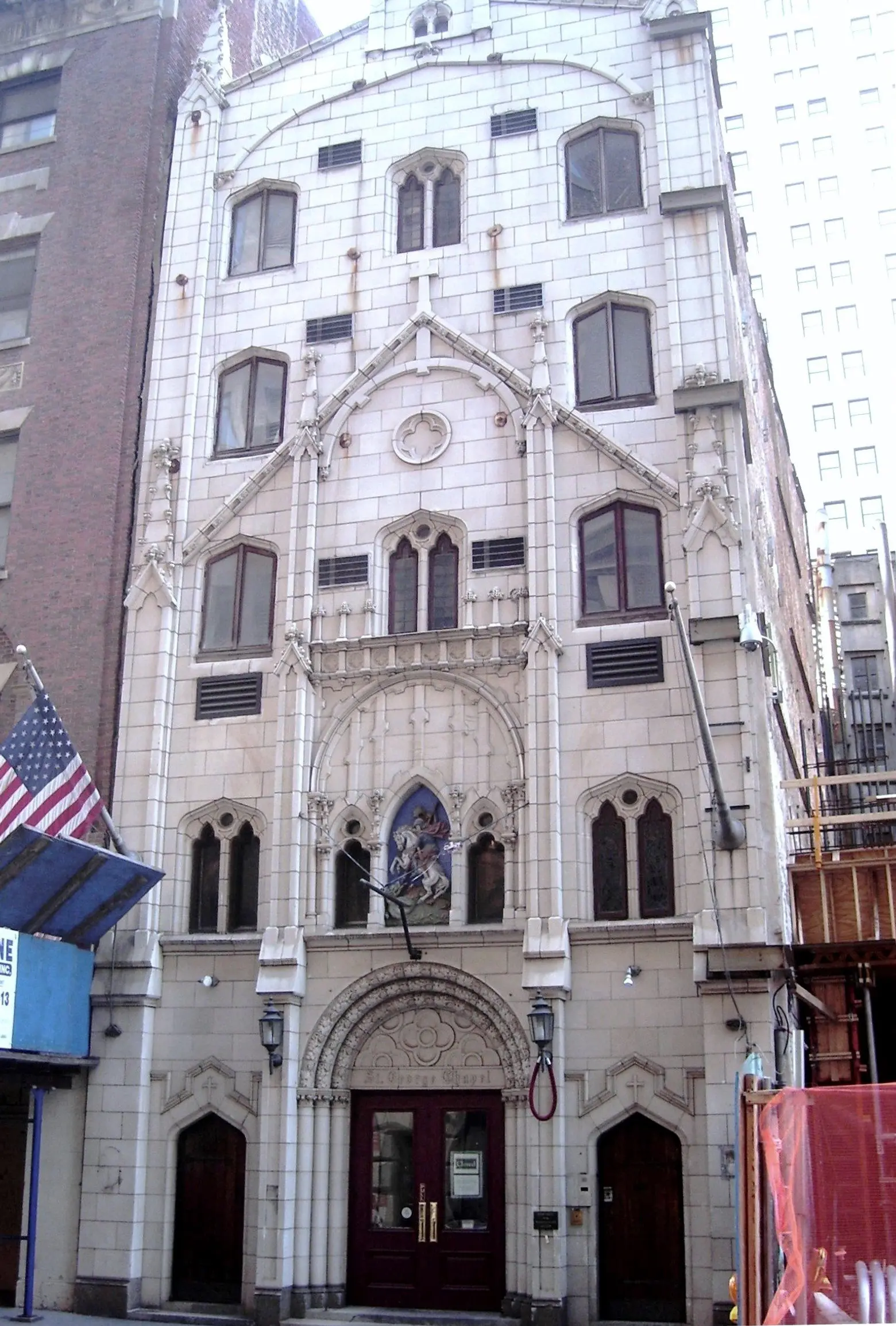 St. George's Syrian Catholic Church via Wiki Commons
The idea of a "mini historic district" on Washington Street was first put forth in 2003 by local historian and tour guide Joseph Svehlak, whose mother had grown up in the neighborhood. He argued that the three Washington street structures were a "trilogy" of buildings that together told the story of Little Syria. But the Landmarks Preservation Commission would not consider the buildings together. In 2009, St. George's Syrian Catholic Church was designated an individual landmark, but the LPC would not hold hearings for the Community House or 109 Washington Street.
In the decade since, grassroots community action has brought renewed urgency to the fight for a historic district on the Lower West Side. For example, in 2018 the Historic Districts Council awarded the Friends of the Lower West Side a 6 to Celebrate grant, and with it, Friends of the Lower West Side applied to the LPC for a historic district designation including five properties. According to Fine's report, the LPC has yet to move on the issue at all, declining even to take a tour of the area.
You can find out more about the report, and the effort to save Washington Street, here.
RELATED: