NYU reveals design for $1B 23-story building at controversial Greenwich Village site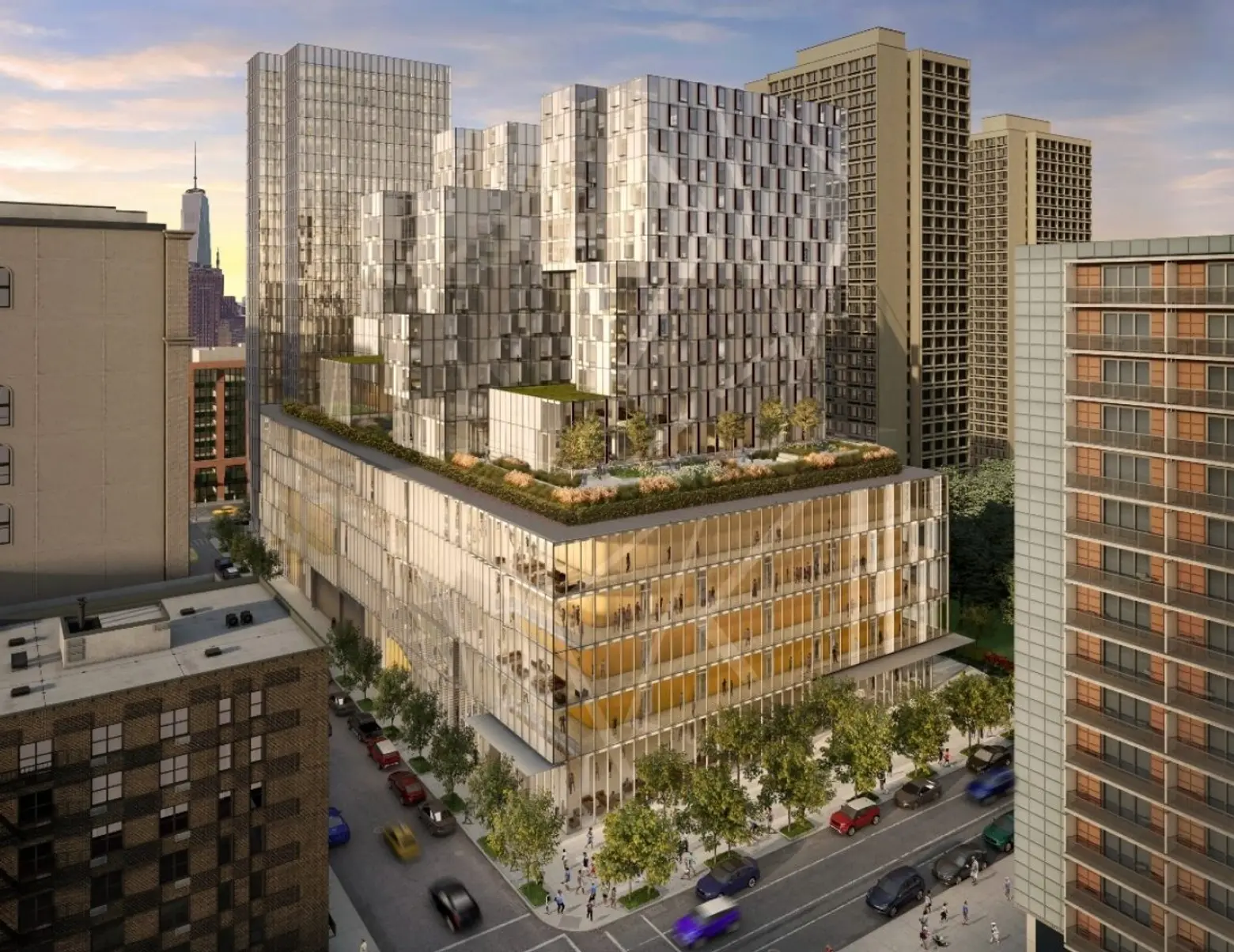 NYU's controversial plan to replace their Coles Sports Center site at the corner of Mercer and Houston Streets received approvals way back in 2012, but due to community opposition and lawsuits, they only filed plans and began demolition this October. The Wall Street Journal now shares the first renderings of the hulking, 23-story, 735,000-square-foot building at 181 Mercer Street designed by Davis Brody Bond (who's also responsible for the 9/11 Museum) and KieranTimberlake. It will cost a whopping $1 billion and host a bevy of uses, including 60 classrooms, common spaces, two cafes, practice/instruction rooms for the arts, three theaters, a giant athletic facility that'll have four basketball courts and a six-lane lap pool, 30 to 60 faculty apartments, and a 420-bed freshman dorm.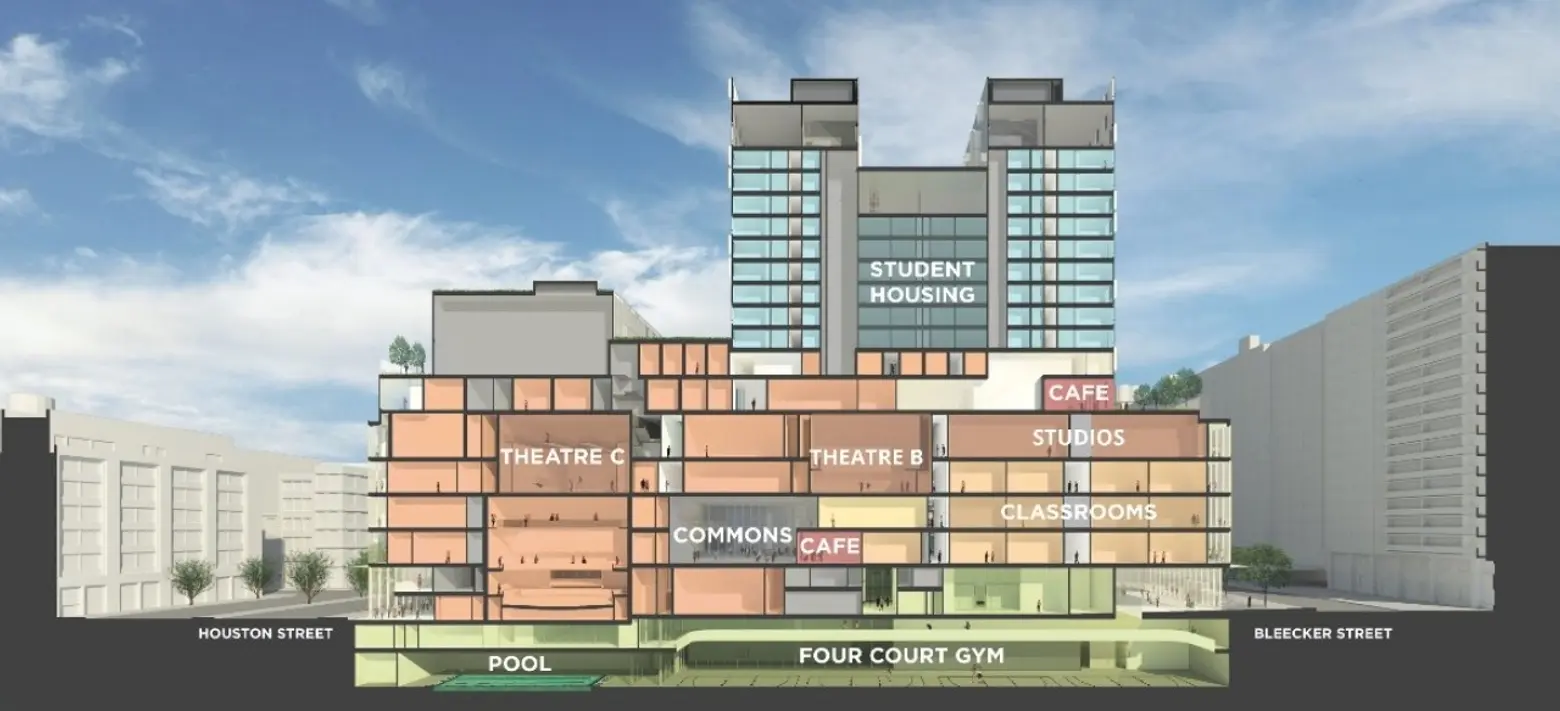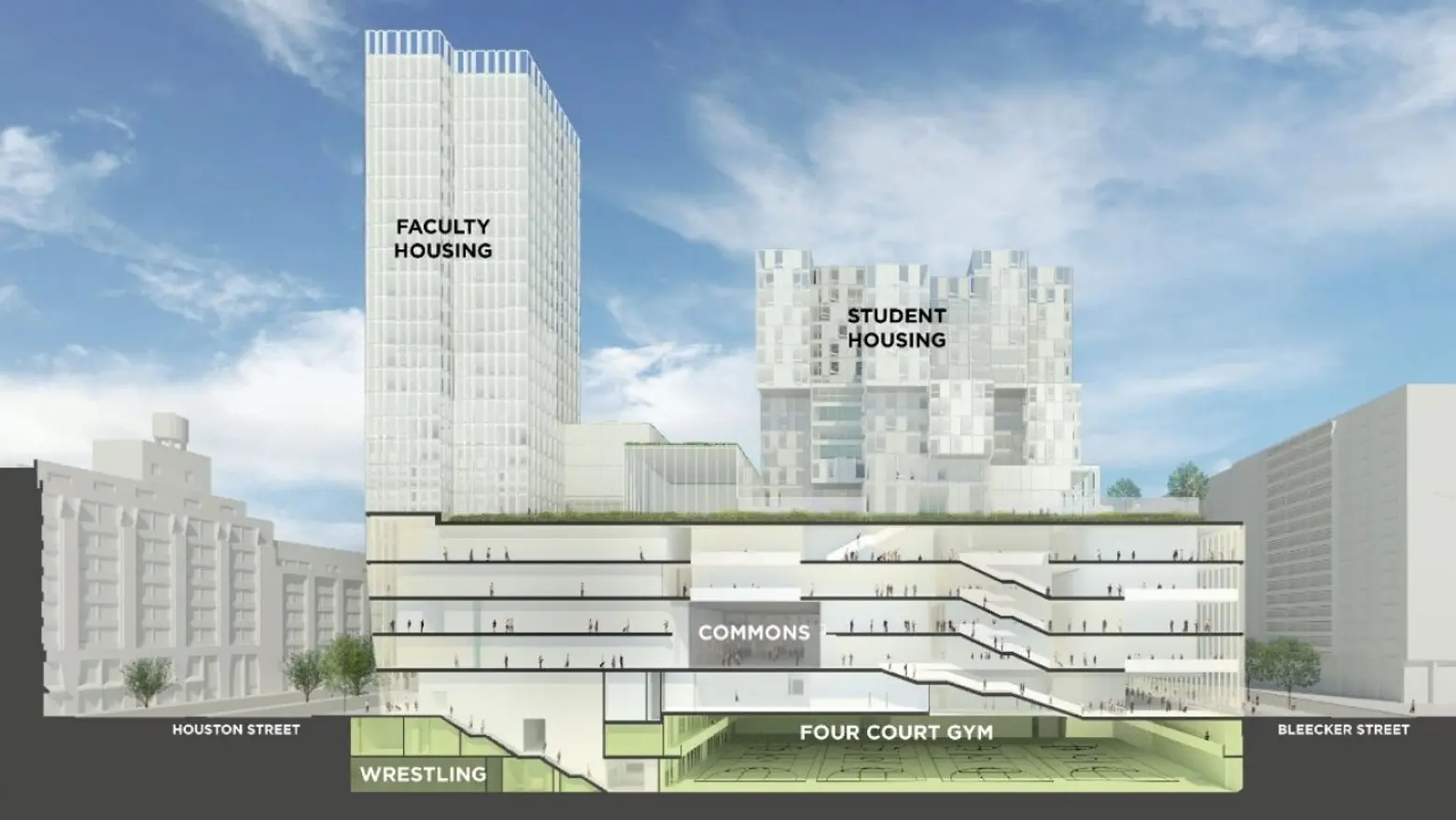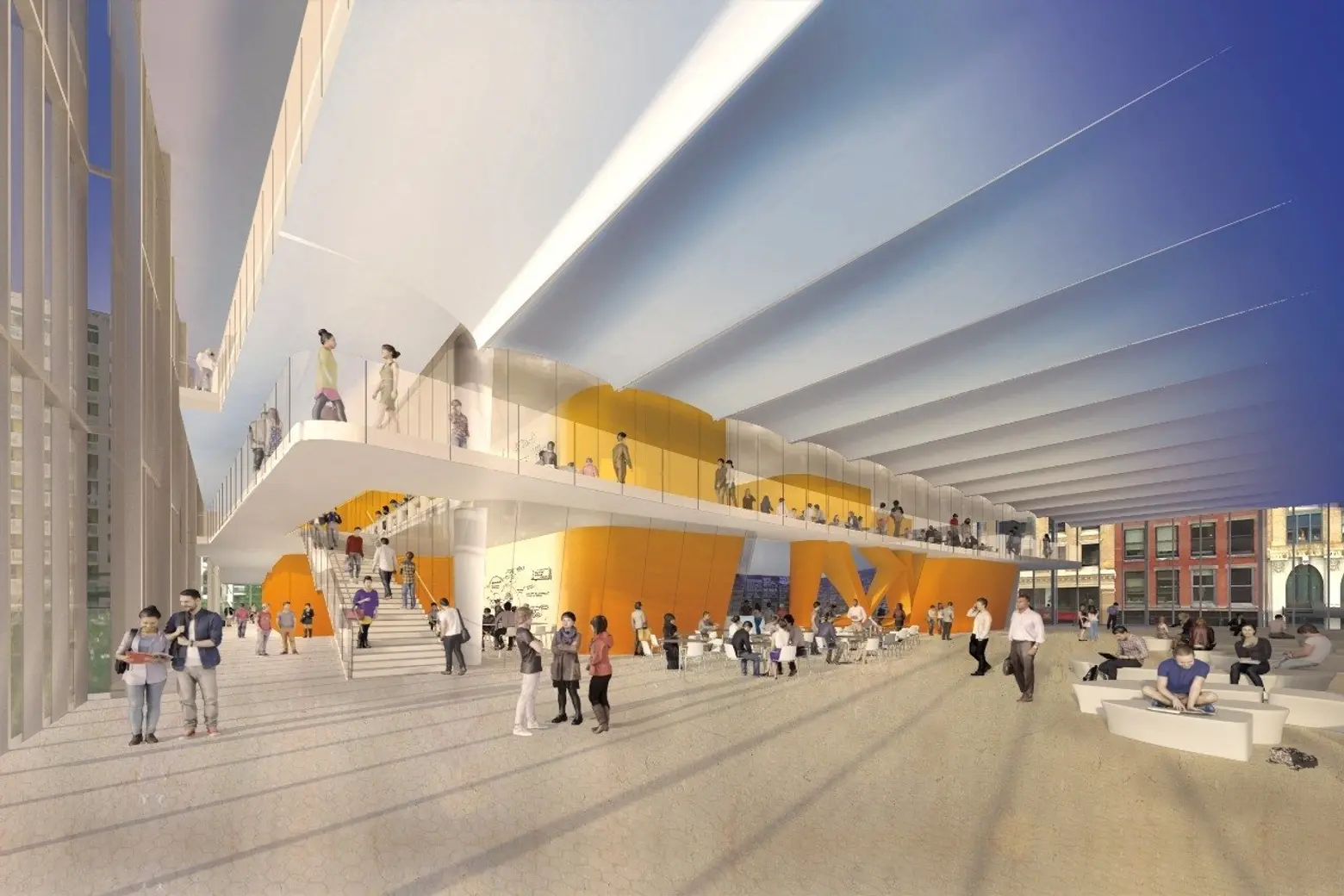 The arts spaces break down into 50 practice rooms, 20 group and individual music instruction rooms, an orchestral ensemble room, and 10 multi-use practice rooms. One of the three performance spaces will be a 350-seat proscenium theater.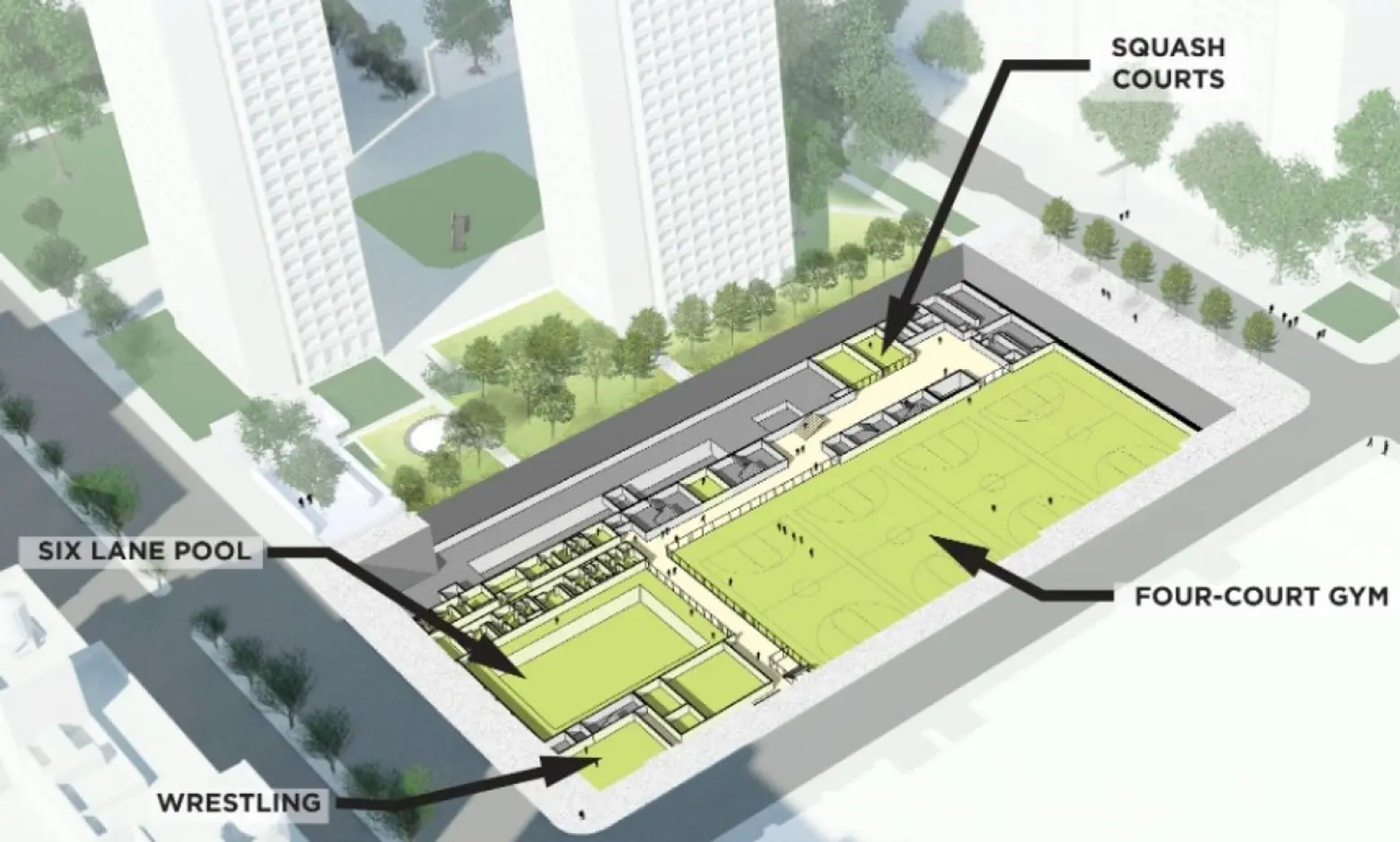 In addition to the basketball courts and pool, the two-level basement gym will offer special areas for wrestling, fencing, and squash, and it will do double duty as a 2,700-person assembly space.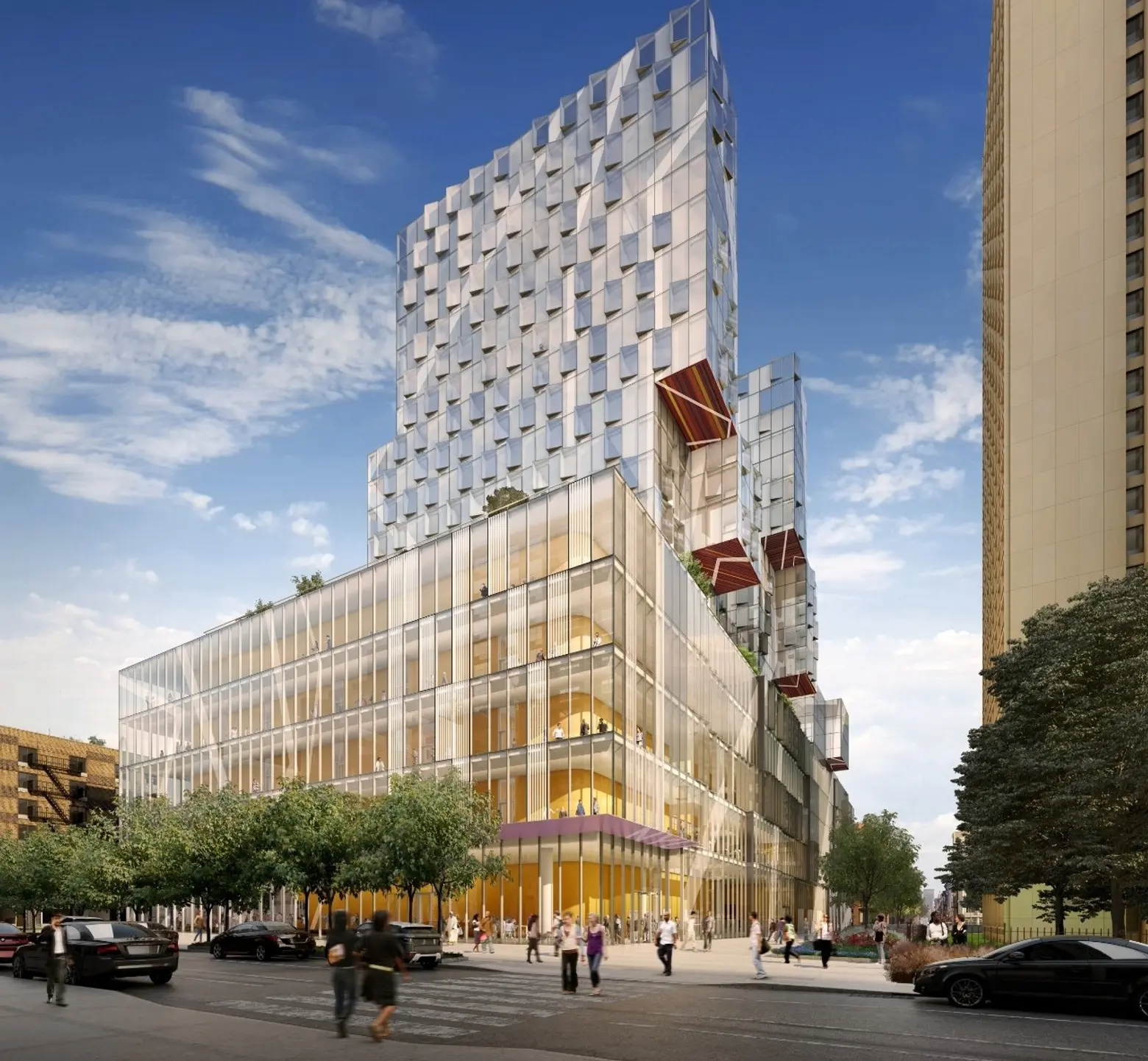 Greene Street Walkway from Bleecker Street looking southeast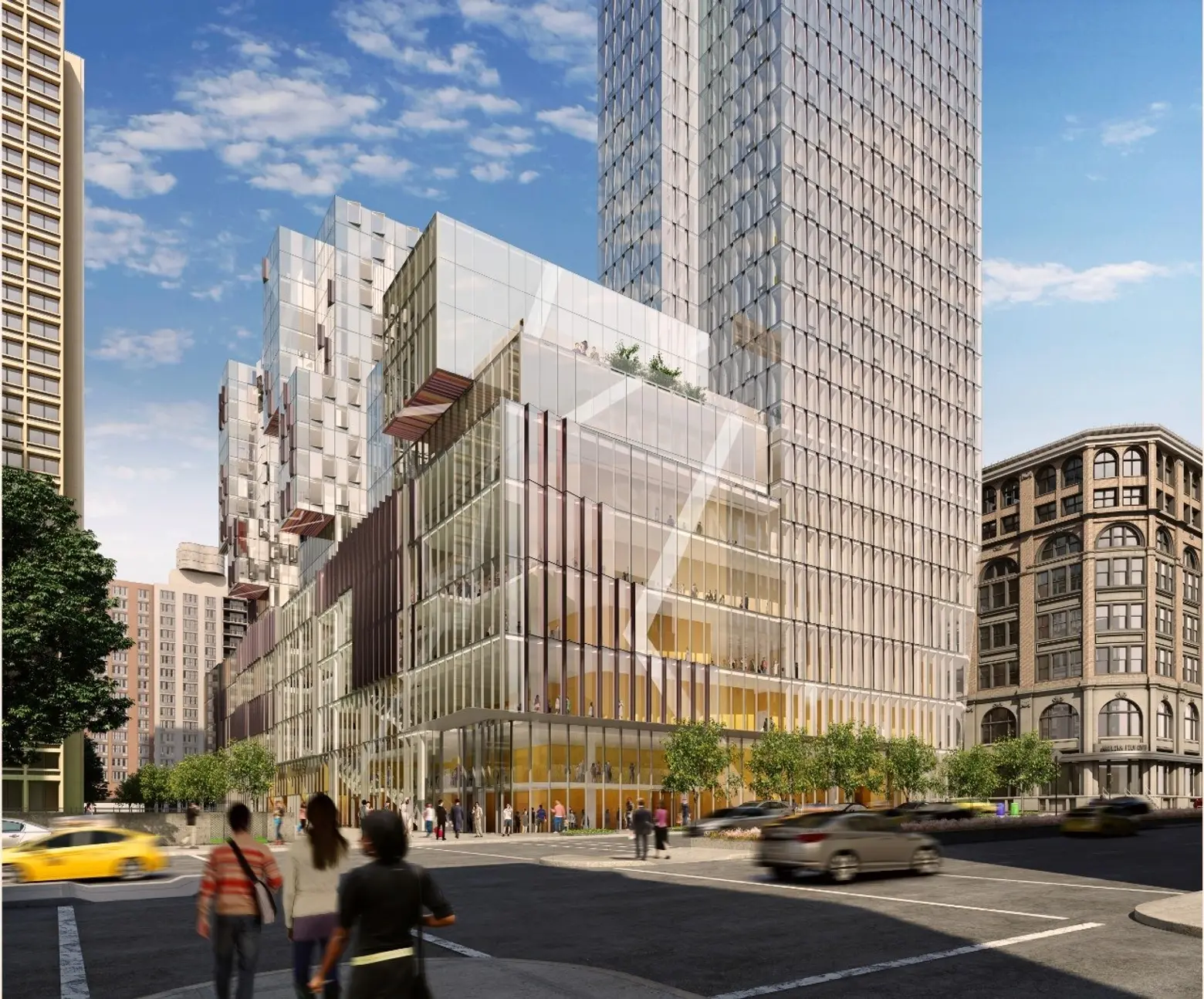 From Houston Street looking northeast; this corner is slightly truncated, nodding to the Angelika's curved facade
As far as the exterior, the glassy behemoth will have a five-story transparent base topped by peripheral terraces and the housing towers–the faculty housing tower will reach 275 feet, and three smaller towers will hold the dormitory. The University says its design emphasizes "transparency, lightness, green roofs, and common spaces," and Richard Maimon, a partner at KieranTimberlake, said, "It is a shift from an opaque box to something that is very much transparent to every pedestrian and everyone in the neighborhood."
Part of this literal and figurative transparency will come via a new pedestrian path that will run from 181 Mercer to I.M. Pei's University Village, a large faculty housing complex. There's also space reserved for a community office on the ground floor, a public atrium, and limited use of the gym for some local residents. As the Journal notes, "In an unusual twist, the design puts the hallways and staircases along the outside of the building, providing a view into student life from the street."
Introducing 181 Mercer from NYU Media Production on Vimeo
Interestingly, the development-happy University only used 80% of the massing allowed by the City on 181 Mercer. The building is part of the highly contentious $6 billion, 1.9 million-square-foot NYU 2031 expansion plan. As 6sqft previously explained, "the development agreement allows NYU to develop only one parcel of land at a time, with Coles being the first." Construction is expected to begin in February and last until 2021.
[Via WSJ]
RELATED:
Renderings via studioAMD