17 of NYC's oldest bars and restaurants you can still dine at today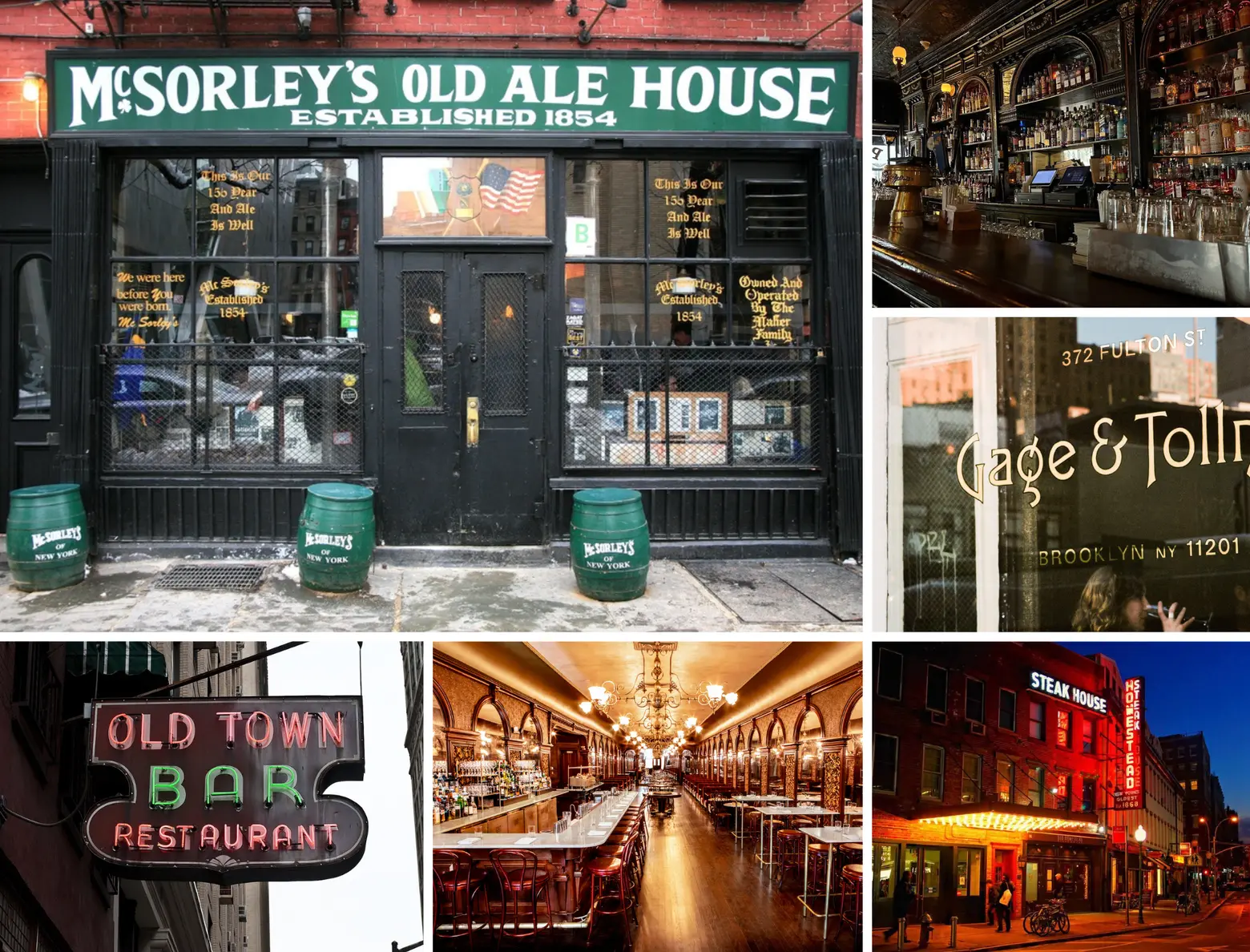 Photo of Gage & Tollner by Hamish Smyth for Order Design.
The Statue of Liberty was erected in 1886. The Brooklyn Bridge was completed in 1883. Grand Central Terminal opened to the public in 1913. Fraunces Tavern, a famed Financial District watering hole, has been serving New Yorkers since 1762.
"Fraunces Tavern's remarkable ability to remain in business throughout its long history is attributed to its resilience in the face of numerous disasters and challenges. These include surviving the 1775 British bombings, the 1975 FALN bombing, weathering Hurricane Sandy in 2012, and navigating the COVID-19 pandemic," said Edmund Travers and Dervila Bowler owners/operators of Fraunces Tavern Restaurant.
"The key factors behind its enduring success include its iconic status, historical significance, dedicated management, loyal patronage, and adaptability in evolving with changing times and circumstances."
Many of New York City's oldest eateries and watering holes predate some of the city's most iconic landmarks and have "lived" through eras and eras of change.
"NYC is a unique world capital. Though not as old as some of the great European capitals, NYC has a unique and valuable history to preserve and unfortunately, it's vanishing quickly," said a spokesperson for Pete's Tavern, which has been in business since 1864.
Owners of NYC's historic restaurants have a unique task of preserving the past while staying relevant and profitable in today's ever-changing world. It's a task that's not always easy, according to Pete's Tavern.
"Due to many factors including the recent Pandemic, high rents, a transient population, changing customers' tastes and rising costs for all inputs, historic restaurants face many obstacles to their longevity – especially at a single location."
But a passion for history and for the city keeps these restaurants — many of them family-owned for generations — alive and well hundreds of years after their founders served their first beer, burger, or plate of pasta.
"NYC has a rich and diverse history that encompasses so many cultures, communities, people, and events. Preserving its history allows us to understand and celebrate the city's roots that have made it one of the greatest cities in the world," said Dennis Turcinovic, owner and operator of Delmonico's Restaurant Group.
Here are 17 still-functioning NYC restaurants that opened their doors prior to 1900.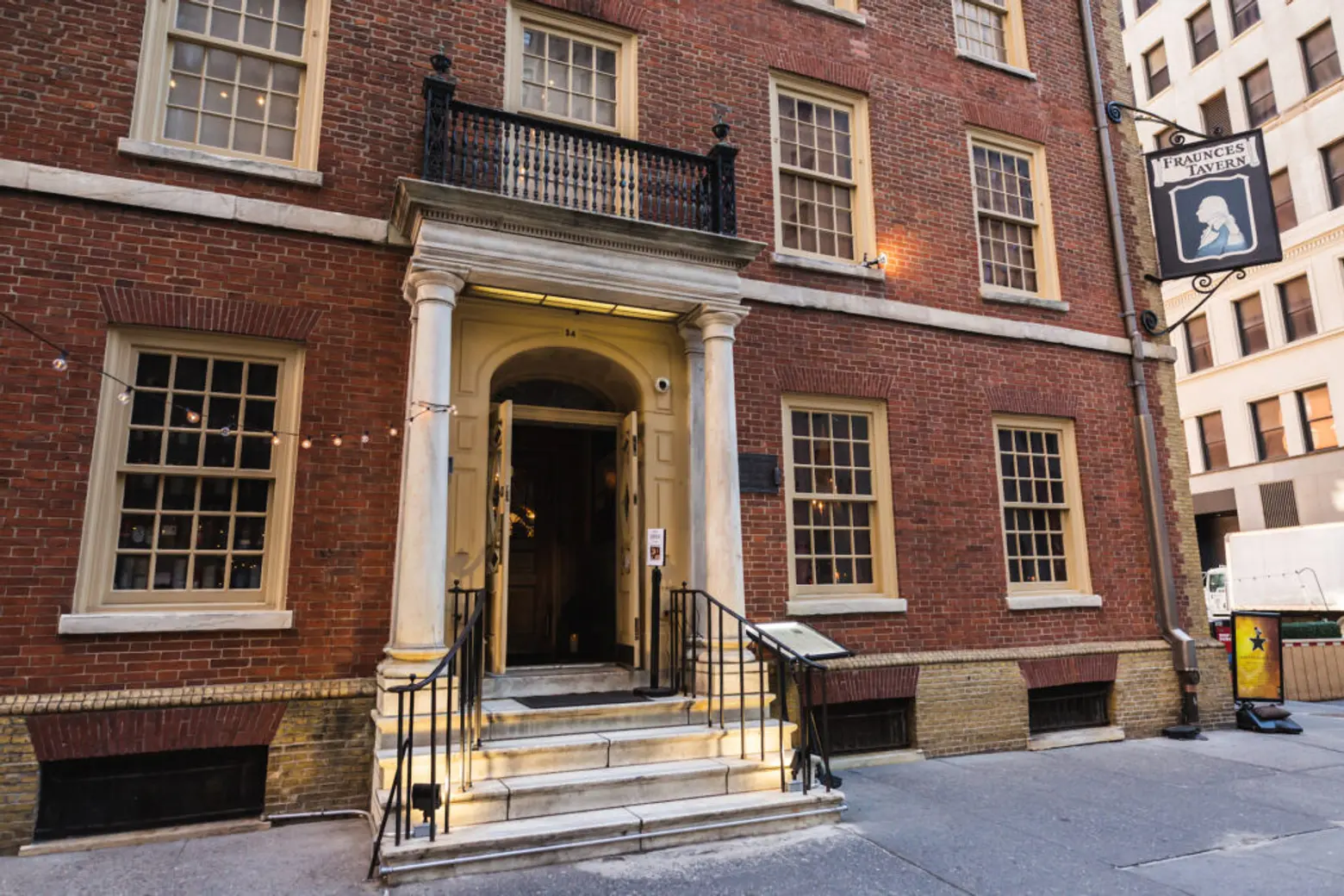 Located downtown in the Financial District, Fraunces Tavern bills itself as New York's oldest bar and restaurant. And old it is. Founded in 1762, Fraunces Tavern is on the National Register of Historic Places, recognized as a "watering hole for many of the Founding Fathers of the United States of America," according to its site.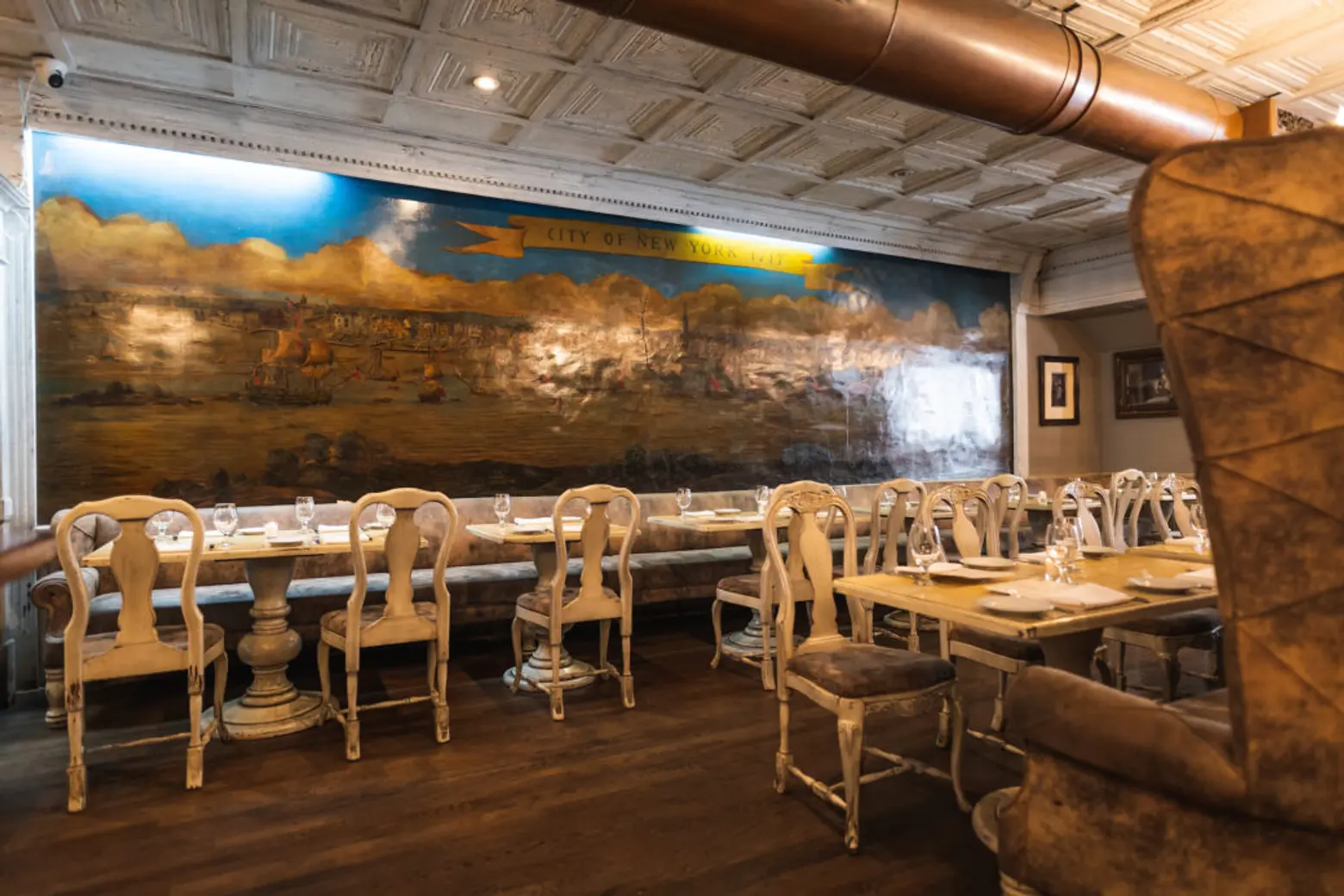 Its early American history can be expired at the Fraunces Tavern Museum where visitors can explore rooms where George Washington held meetings as well as a collection of Revolutionary War artifacts. But, of course, the age-old pastime of eating and drinking is still alive and well too. Fraunces Tavern has five bars with menus that include unique beers, cocktails, and whiskey. The food menus include traditional and upscale American bar fare and some U.K. favorites like fish and chips and pot pie.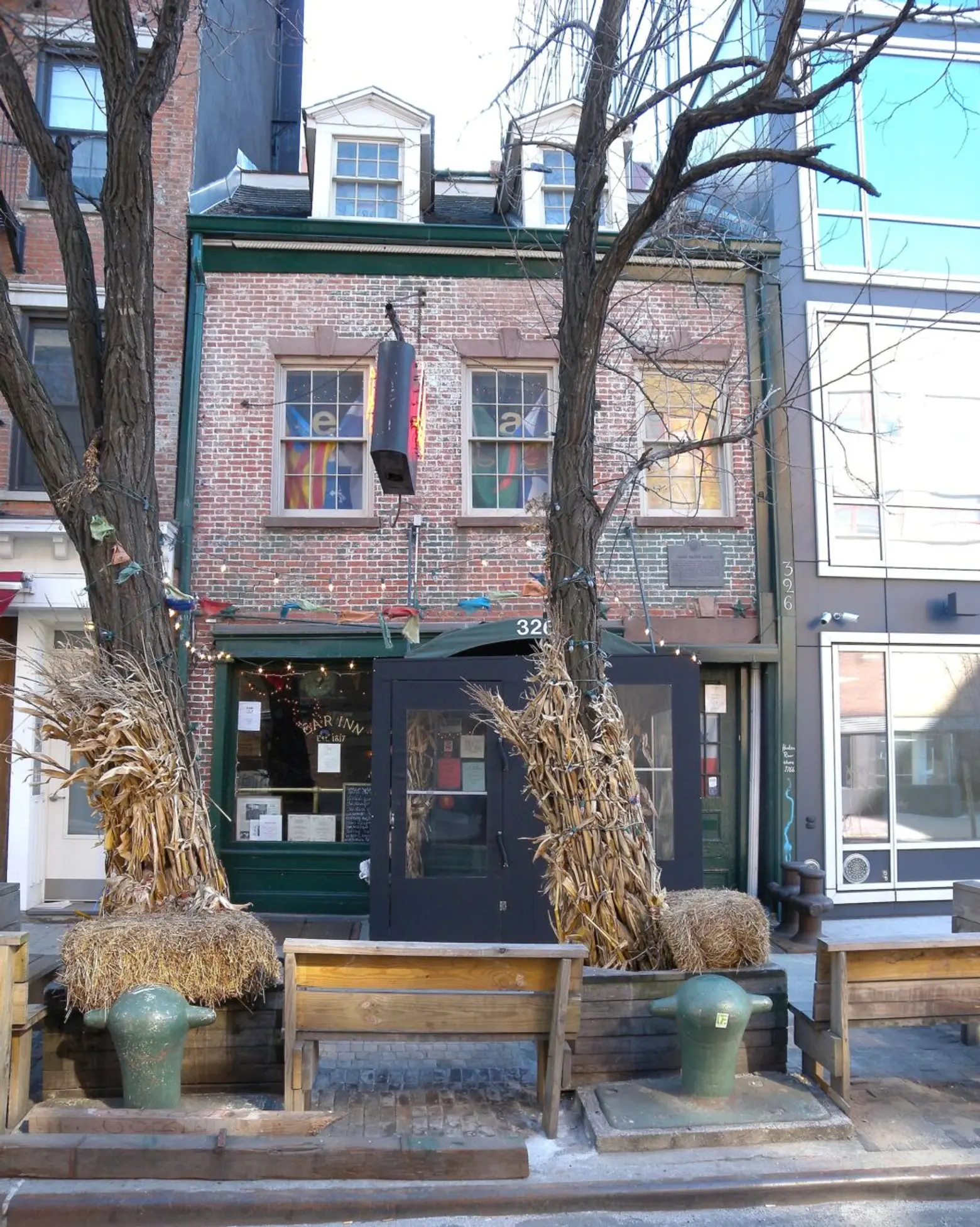 Another bar with a connection to George Washington, The Ear Inn on Spring Street is located in the James Brown House, a designated NYC landmark. Brown "was the first owner of the home, and according to lore an aide to George Washington during the Revolutionary War," Village Preservation reports. "Some have even suggested that Brown was depicted in the famous Emmanuel Leutze painting of the victorious Delaware River crossing." The Ear Inn was established in 1817, and the townhouse in which it resides remains "virtually untouched." But according to the bar's site, the unique name only dates back to the 1970s. "They called it The Ear Inn to avoid the Landmark Commission's lengthy review of new signage, simply covering the round parts of the long-standing neon "BAR" sign, leaving it to read "EAR." And so, a modern legend was born." The menu features American fare.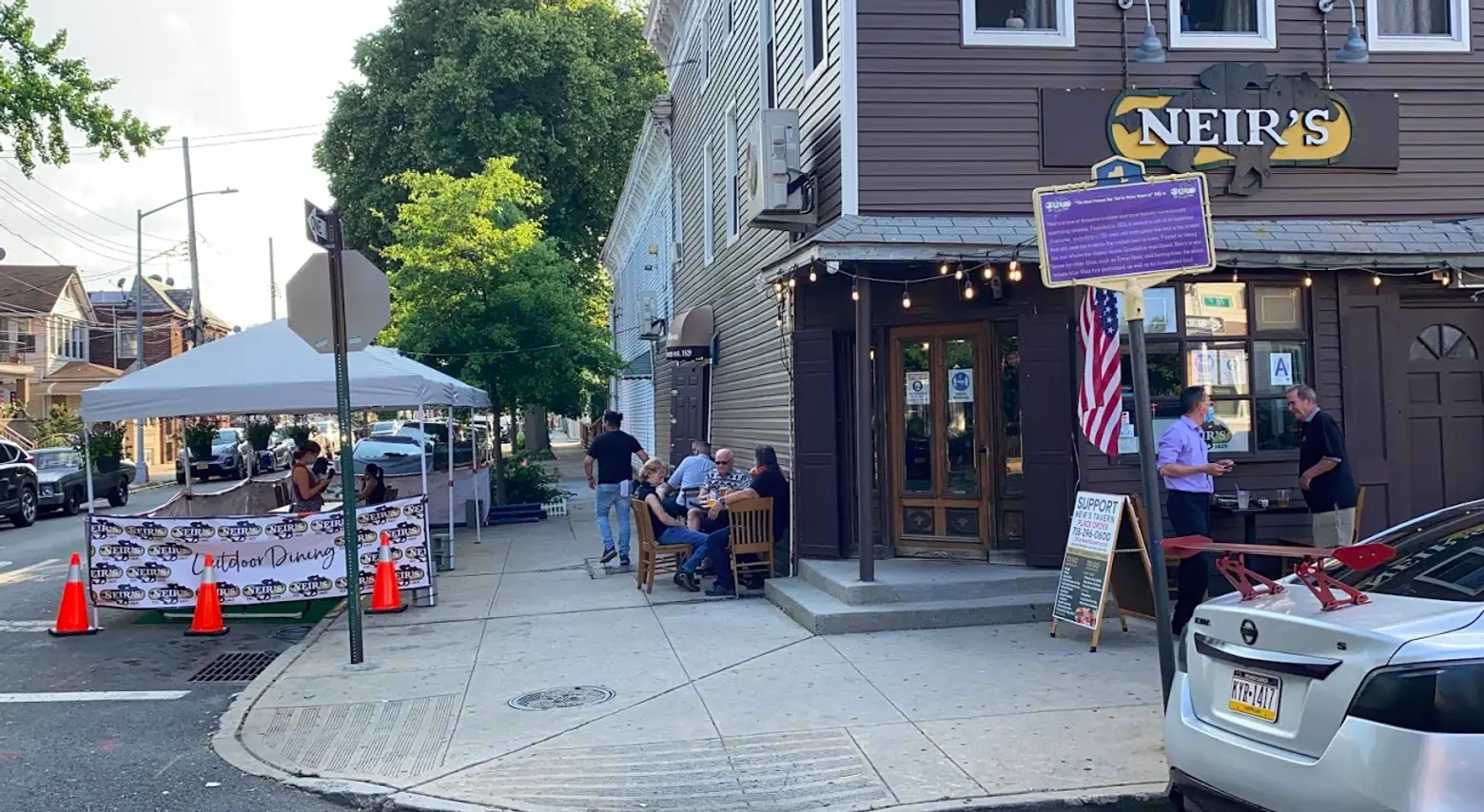 Proudly described as the "most famous bar you've never heard of," Neir's Tavern in Queens has been featured in two films: 1990's "Goodfellas" starring Robert De Niro and Joe Pesci and 2011's "Tower Heist" starring Eddie Murphy and Ben Stiller. According to its site, Neir's is also "known as the tavern where as a child, Mae West used to dance (and possibly first performed) in the ballroom, which featured a wooden balcony with small hotel rooms around the upper walls, similar to the Wild West dancehalls of the movies and television." The bar has operated in its current space continuously since it was established in 1829, though the name Neir did not come into play until 1898. In the 1890s it became the meeting spot for jockeys from the old Union Course Race Track, and to this day, it features a horse and jockey logo. The menu includes traditional pub fare, including a "Goodfella" burger with a special "Goodfella" sauce
A true piece of history, Delmonico's was one of the first fine dining establishments, not only in the city but in the United States. It was also the first dining establishment to call itself a "restaurant," have a cookbook and, according to Dennis Turcinovic, owner and operator of Delmonico's Restaurant Group, serve women at a table without men. Starting as a successful pastry shop, the Delmonico brothers then purchased a "triangular plot of land" to open their soon-to-be iconic restaurant.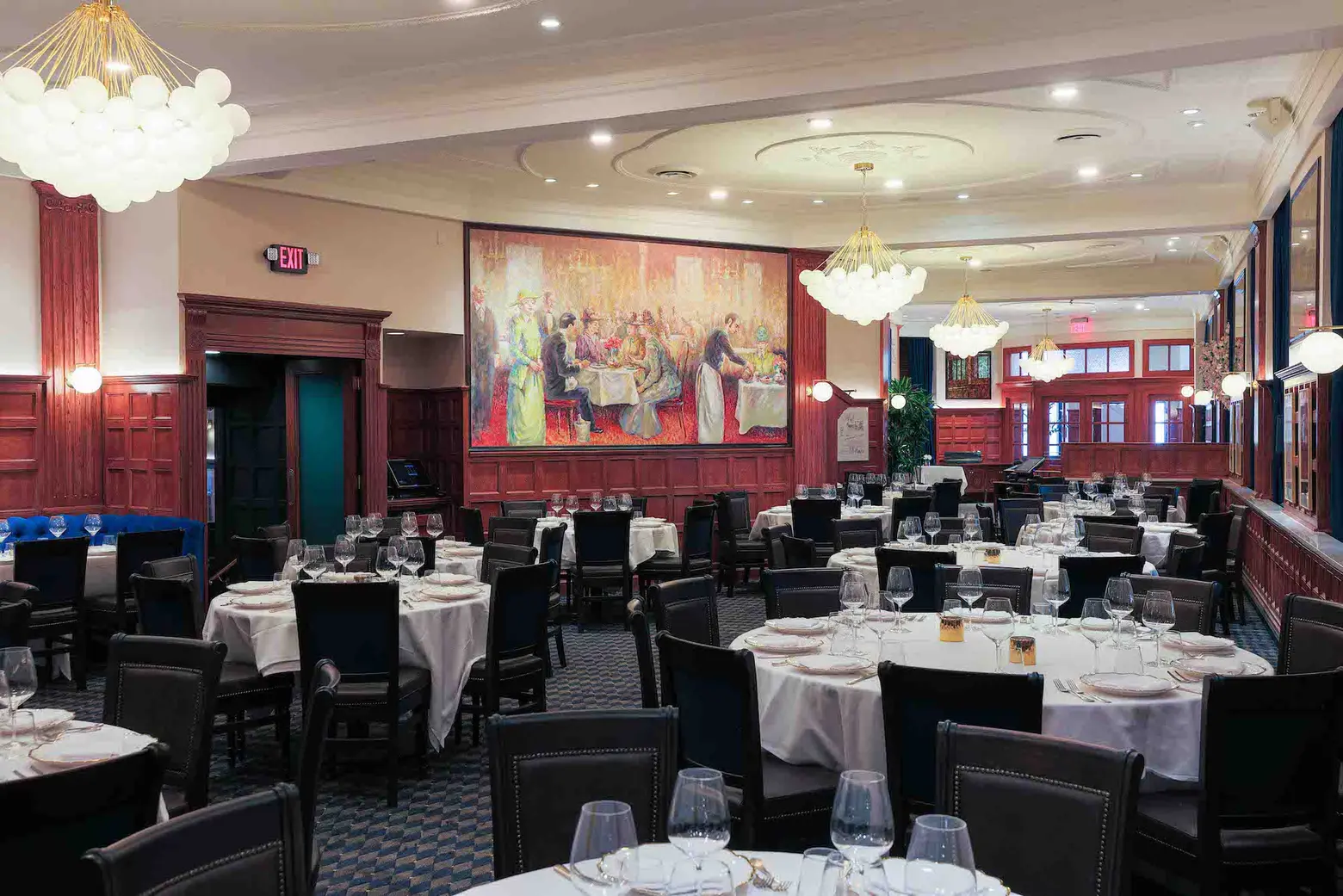 It's also where Baked Alaska — served then as "Florida, Alaska" — was served for the first time as a commentary on the United States' purchase of Alaska. "Charles Ranhofer, an expat Parisian pastry chef at the legendary Delmonico's restaurant in New York City, was renowned for dishes doubling as cultural commentary," according to NPR. "The price tag reflected its grandeur — the cost of the dessert then would equal about $40 today. And Delmonico's, established in 1837 and still in business today, was a who's who of the dining scene, drawing personalities like the Rockefellers and Charles Dickens." Other signature dishes include the Delmonico's Steak and Lobster Newberg.
Today, the clientele is a mix of tourists from around the world and loyal customers who were "thrilled" when the restaurant reopened in September after being shuttered since the start of the pandemic, Turcinovic said. The menu is upscale and includes land and seafood dishes, a raw bar, and the original Baked Alaska, which today costs $24.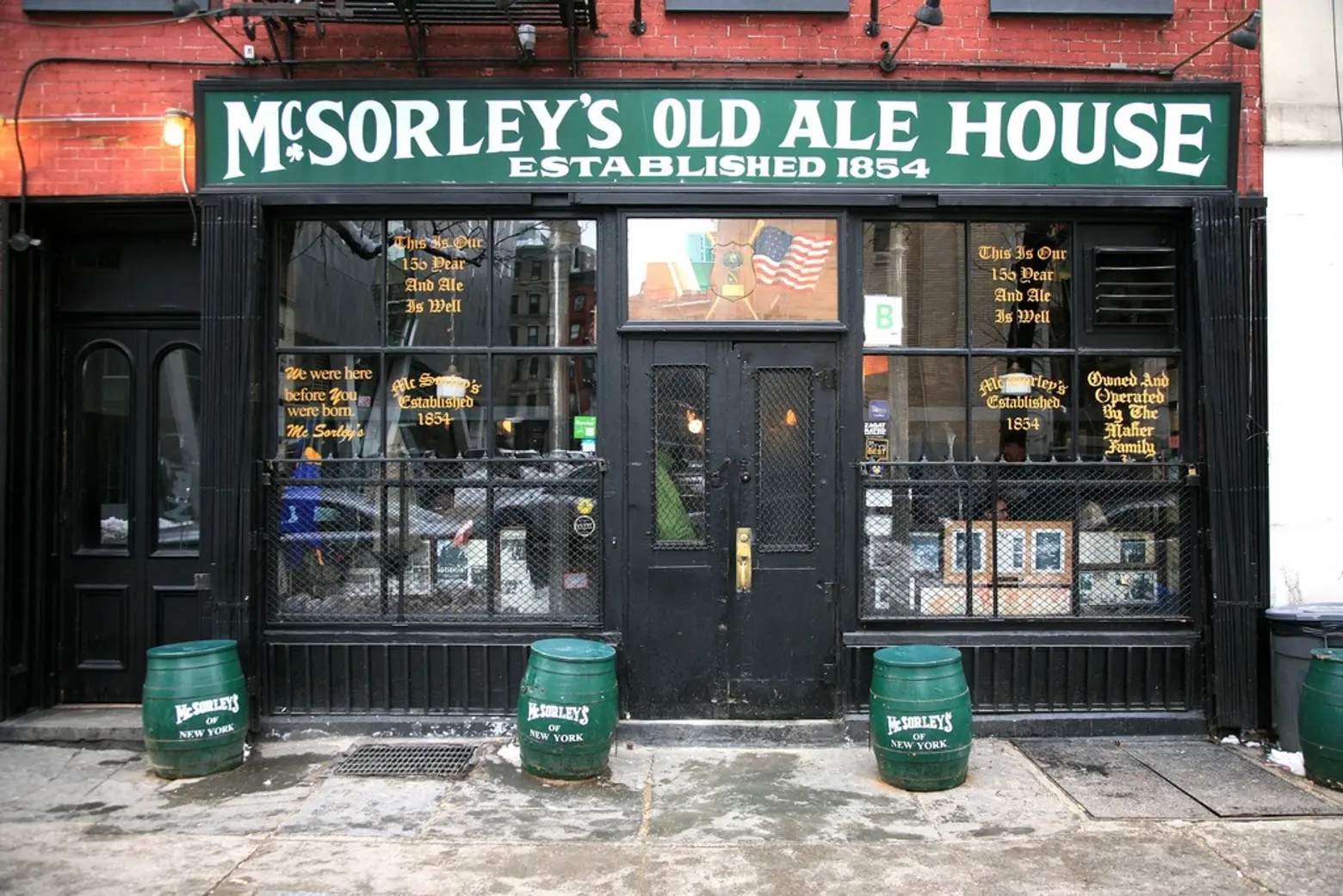 The origins of the East Village's famed Irish bar date back to 1854 when ​​John McSorley opened an ale house on East 7th Street called The Old House at Home. "In the beginning the building was not five stories tall–there was nothing in the neighborhood that tall," the official historian of McSorley's told 6sqft in 2015. It wasn't until 1908 that the name New Yorkers know and love today donned the building (which grew into a tenement in the 1860s).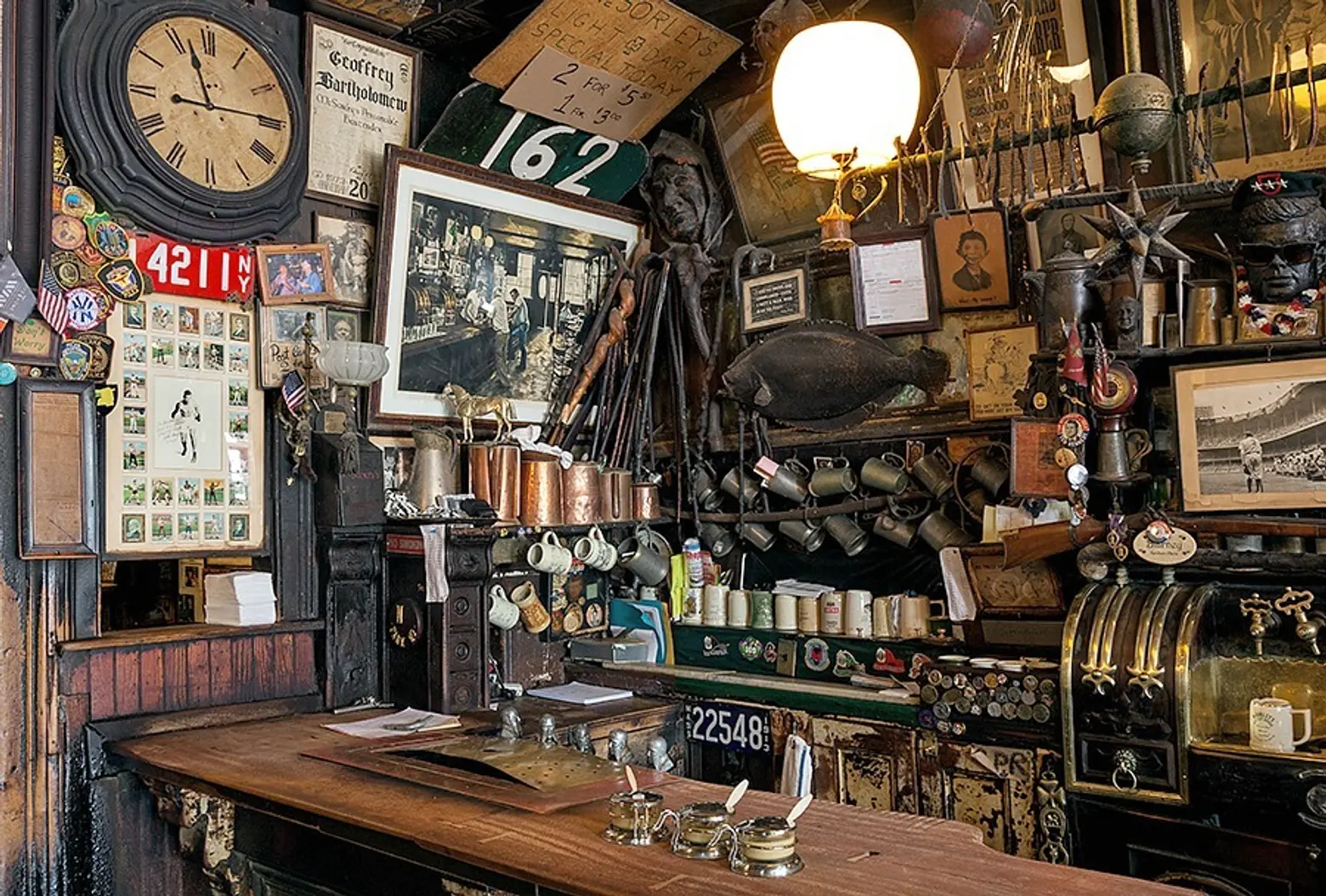 "The sign over the front door falls in a storm (in 1908)," the bar's history details. "It is replaced by one that reads "McSorley's Old Time Ale House". Later the word 'Time' is removed." With original details like its old bar taps, wooden bar, and pot-bellied stove, the bar remained a mainstay of the neighborhood through the ages. In 1923 E.E. Cummings penned the poem "Sitting in McSorley's," and in 1940, The New Yorker published an article titled "The Old House at Home" about "McSorley's, the oldest Irish saloon in the city." In more recent history, McSorley's was the last bar in New York City to only admit men. It wasn't until 1970 that women were allowed to enter (due to a lawsuit) and 1986 that women had a restroom to use in the establishment.
Out in Staten Island, Killmeyer's Old Bavaria Inn dates back centuries, but Nicolas Killmeyer purchased the property around 1855, according to the restaurant's site. "The next generation of Killmeyers expanded the original building, made the upstairs hotel, and commissioned the beautiful Mahogany bar in 1890." Through the years, the business changed hands and names until in 1995, the current owners bought and named it. As the name implies, the menu consists of traditional German dishes and beer.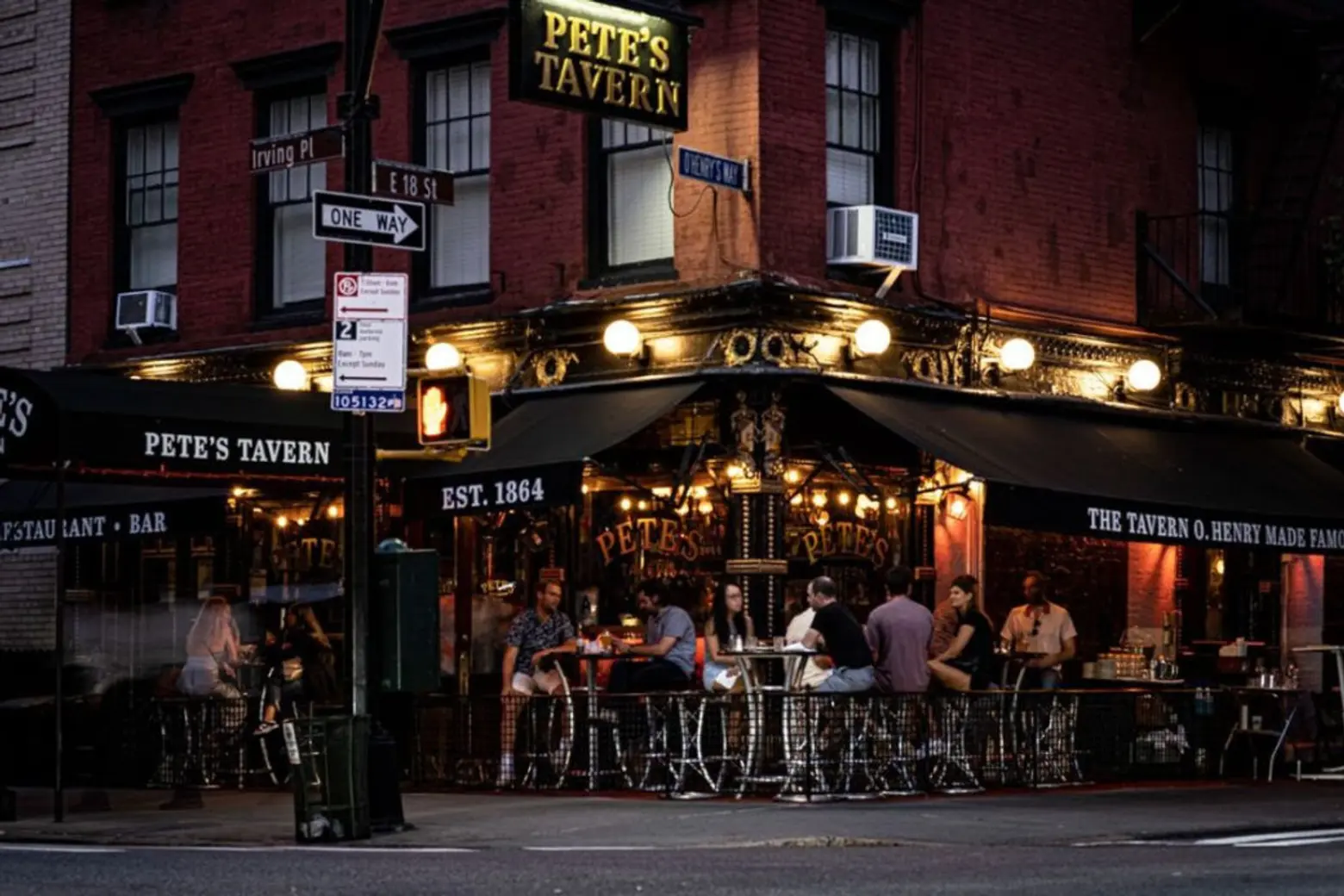 Pete's Tavern in Gramercy celebrated 159 years of business on Sept. 26, and a spokesperson said the secret to the bar's appeal is in the walls. The building at Irving Place was built in 1828 and originally served as a hotel. Fast forward to today, and the current owners are dedicated to preserving history and even unearthing new stories.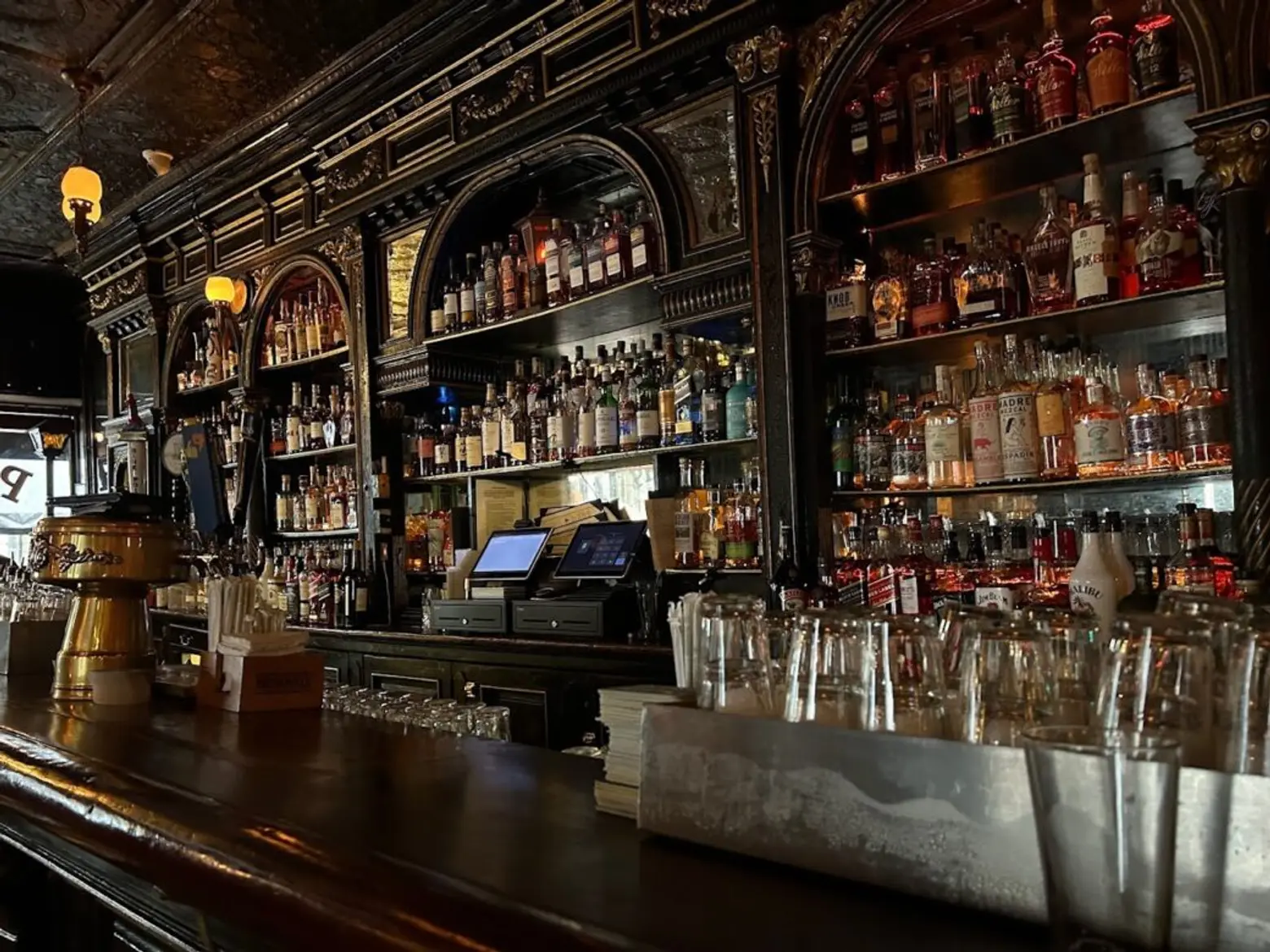 The 1864 Project was started this year as a way to collect "memorable stories, recollections and pictures from Pete's past," a spokesperson said. "We have learned even more about the history of this incredible place that somehow remained a working bar during Prohibition." The stories are disseminated in a newsletter and featured online (those interested in submitting can email [email protected]). The current story online tells of a patron who painted Pete's Tavern in 1966 and still has the painting hanging up. And like the building itself, much of the staff has been around for decades — two people for more than 50 years. The menu features a range of cuisines from Italian dishes to burgers and salads plus a full bar menu.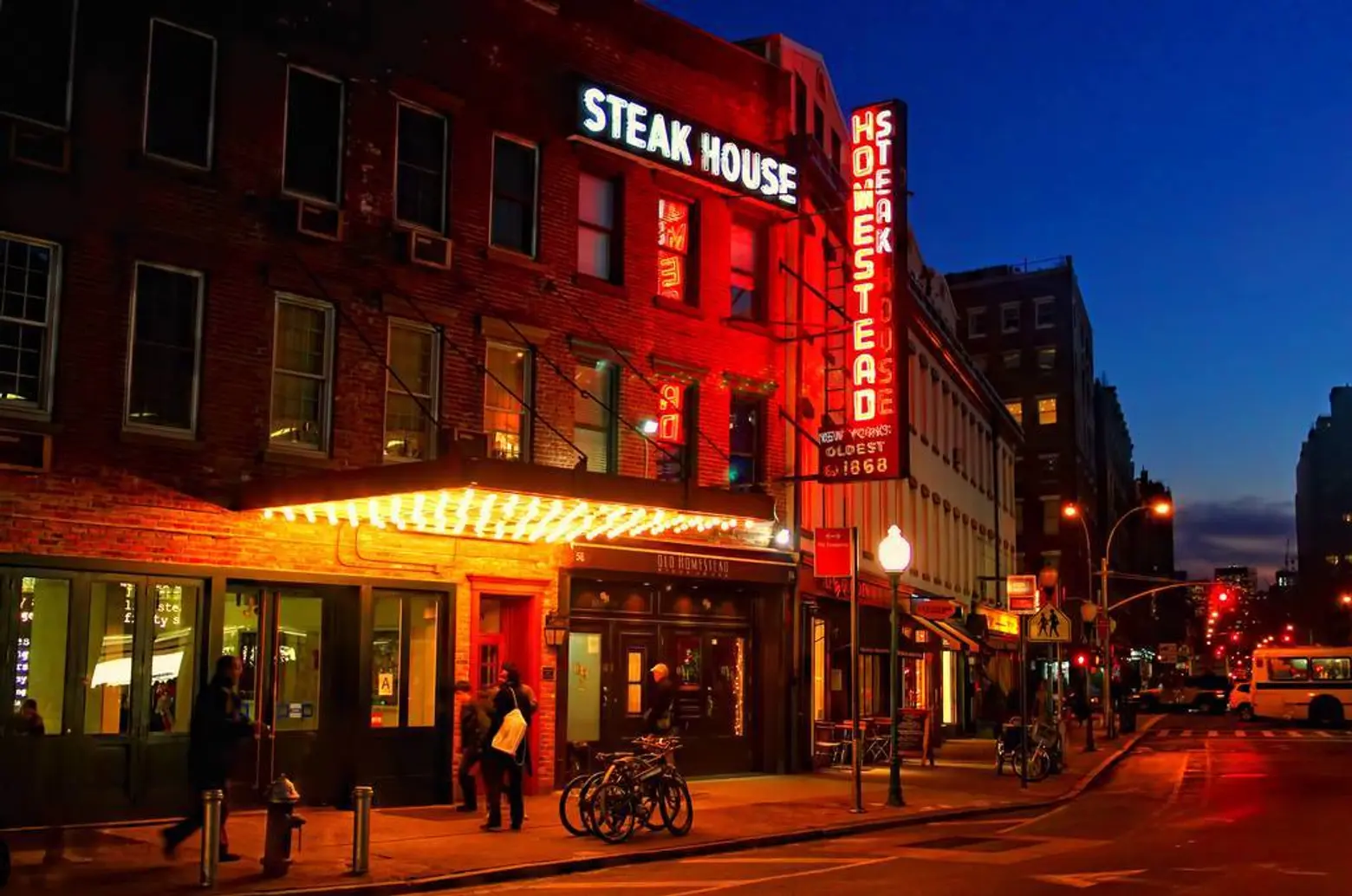 Aptly located in the Meatpacking District is the Old Homestead Steakhouse. Before the neighborhood became synonymous with trendy clubs and high-end hotels, the little corner of Chelsea was home to slaughterhouses and meatpacking plants, so it's no surprise beef was and still is on the menu at this long-standing neighborhood restaurant. The current owners made the historic eatery a family business 70 years ago when former dishwasher Harry Sherry decided to buy it. Today, his grandsons, who learned the business from the ground up as he did, run the show but admit to not changing much. "Why change something that has worked for 150 years?" owner Greg Sherry is quoted as saying on the website. The menu boasts 10+ beef and steak dishes (including wagyu) as well as burgers and seafood options.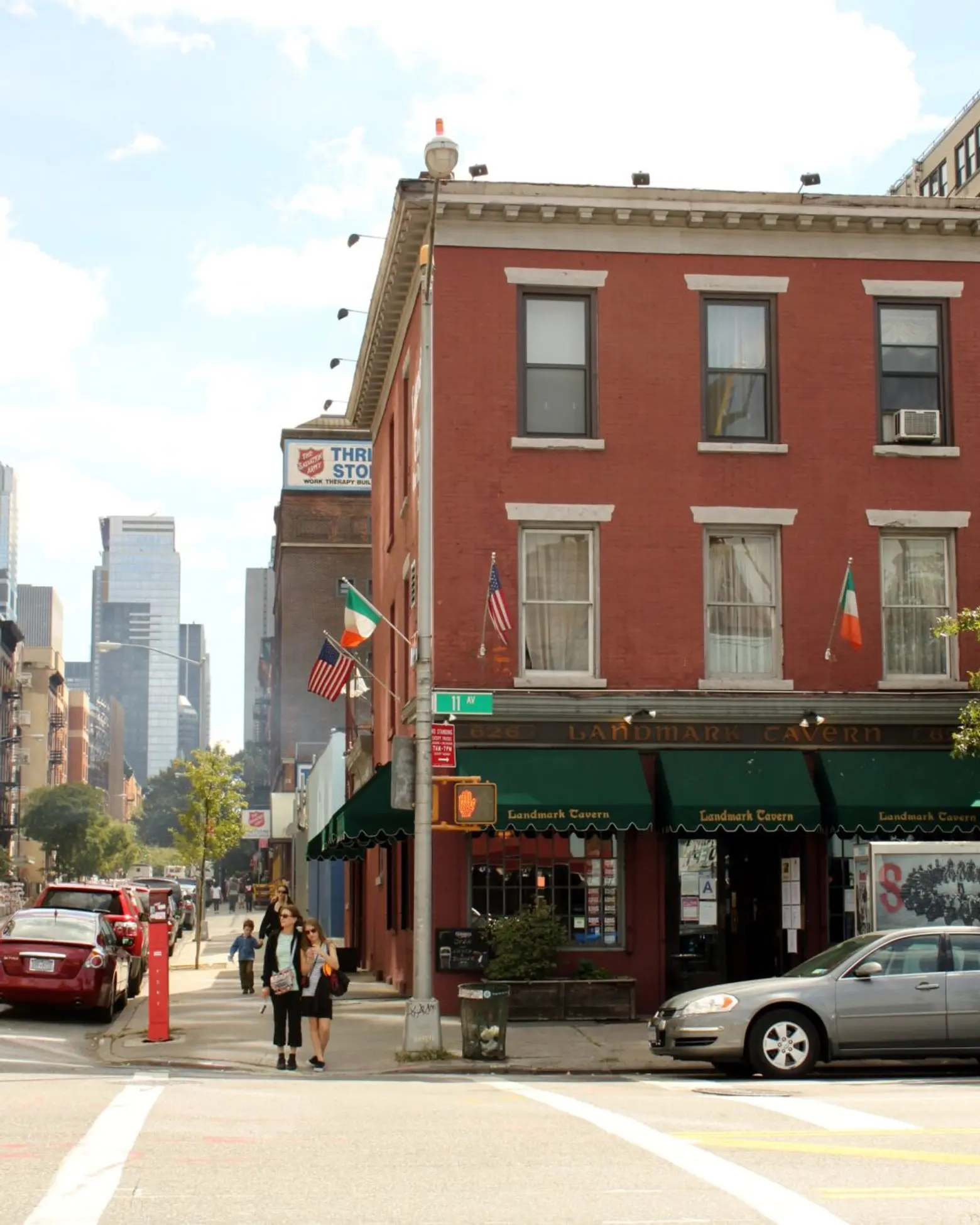 NYC is chock full of Irish Pubs, especially around Midtown, but what makes Landmark Tavern special is that it actually used to be a waterfront eatery on the Hudson River when 11th Avenue was the end of the west side. According to the website, it was a saloon and the owners' home until Prohibition when it became a speakeasy. Today, it's a local haunt for New Yorkers — some might say, literally. Legend has it, the Landmark Tavern is haunted by multiple ghosts. The spirits one can be sure to find there, though, are the ones behind the bar along with a menu of American and traditional Irish fare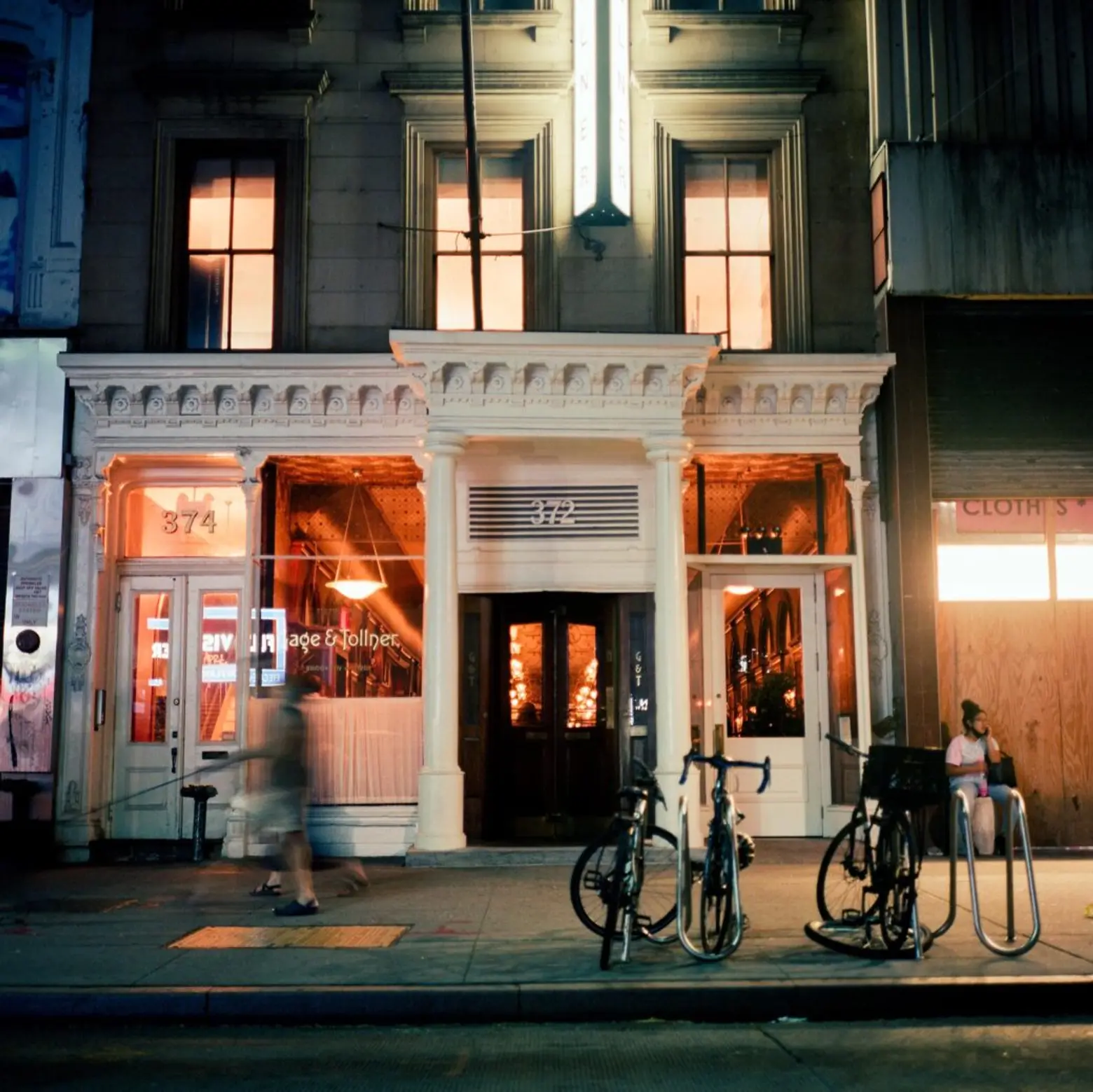 Downtown Brooklyn lost its iconic restaurant Gage & Toller for a while. Opened in 1879 and achieving landmark status for its dining room in 1975, the restaurant was "Brooklyn's answer to Delmonico's," the New York Times wrote in 2020. "The restaurant was an elegantly appointed dining temple that served seafood, chops, and steaks, and it attracted celebrities like Mae West, Lillian Russell, Jimmy Durante, and members of the Brooklyn Dodgers." It served patrons for over 100 years until it shuttered in 2004. T.G.I. Friday's replaced it, and then Arby's.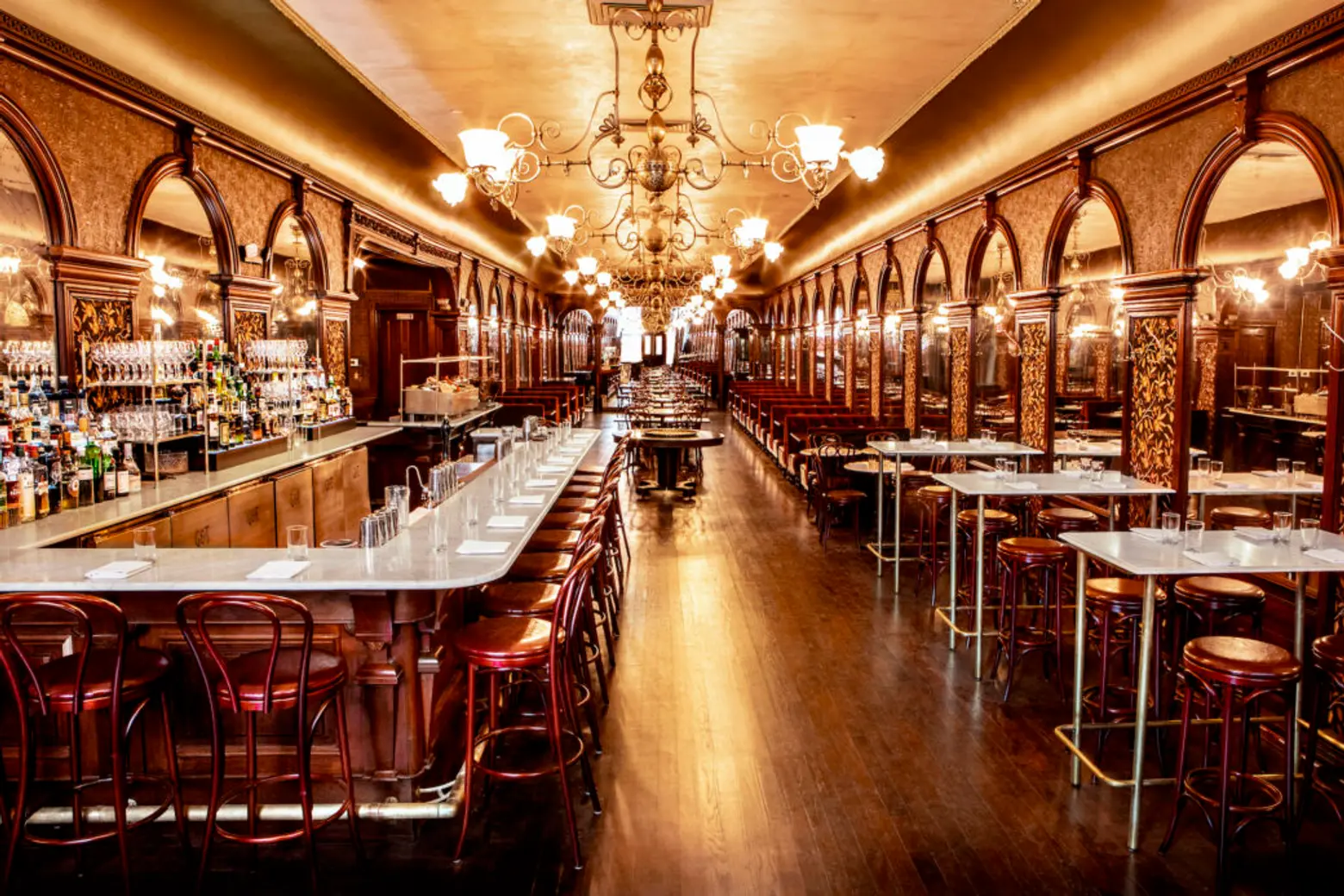 The restaurant sat vacant until 2020 when a group of restaurateurs decided to revive the Victorian eatery. Sohui Kim, Ben Schneider, and St. John Frizell joined forces to revive Gage & Tollner to its former glory, but their targeted opening date of March 2020 proved to be bad timing. Finally, in 2021, Gage & Toller officially reopened taking "inspiration for our food and beverage offerings from the Gage & Tollner archives, honoring and elevating beloved longtime classics with meticulously sourced ingredients and diligent technique," the website describes. In the ornate dining room, upscale menu items while Sunken Harbor Club upstairs serves up tropical libations.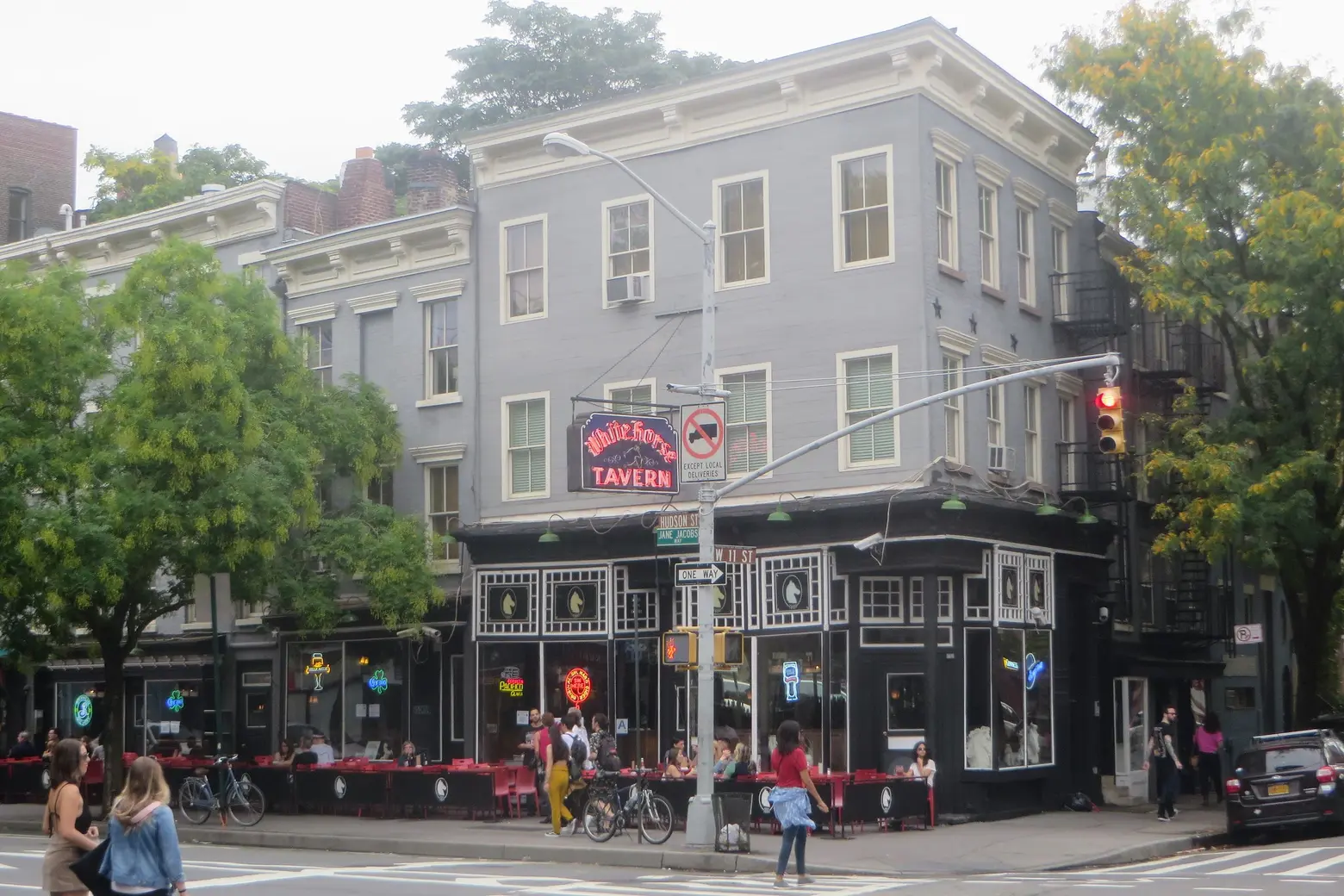 Though it has been around since 1880, Whitehorse Tavern in the West Village achieved legendary status in the 1950s. Poet Dylan Thomas often frequented the tavern, and "The White Horse Tavern is famous for being where Dylan Thomas had his last drinks before his untimely death just a few days after turning 39," according to the bar.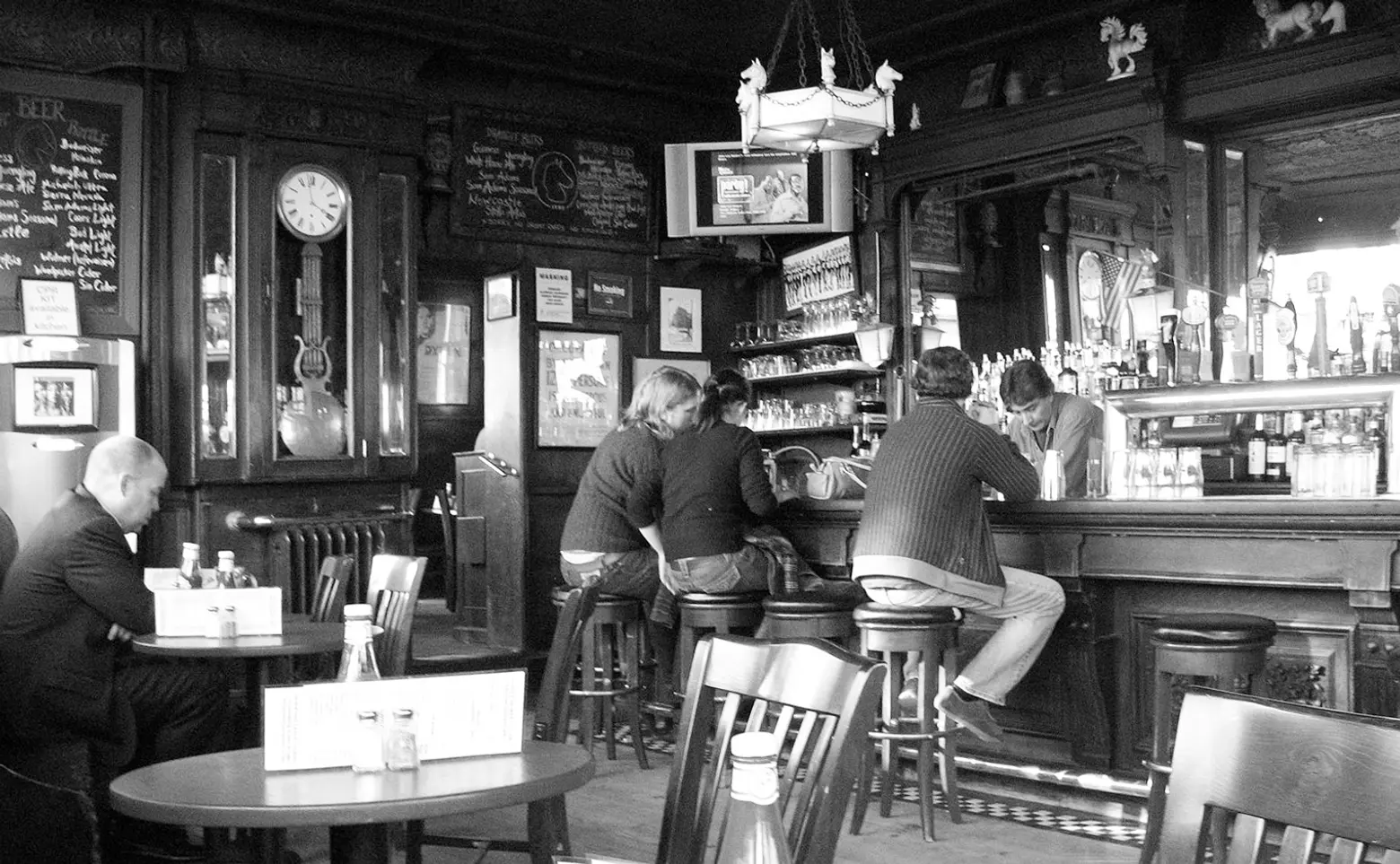 The beatnik and jazz movements also passed through Whitehorse's doors with names like Jack Kerouac, Anaïs Nin, and James Baldwin on the clientele list. "Legend has it that the idea for the Village Voice…was born over drinks at the bar, known colloquially as 'The Horse,' Gothamist writes. Today, the Village is still bustling with artists and students and Whitehorse Tavern remains a watering hole for New Yorkers and tourists alike, instantly recognizable by its neon sign and greenery. The menu features classic American pub fare as well as a raw bar.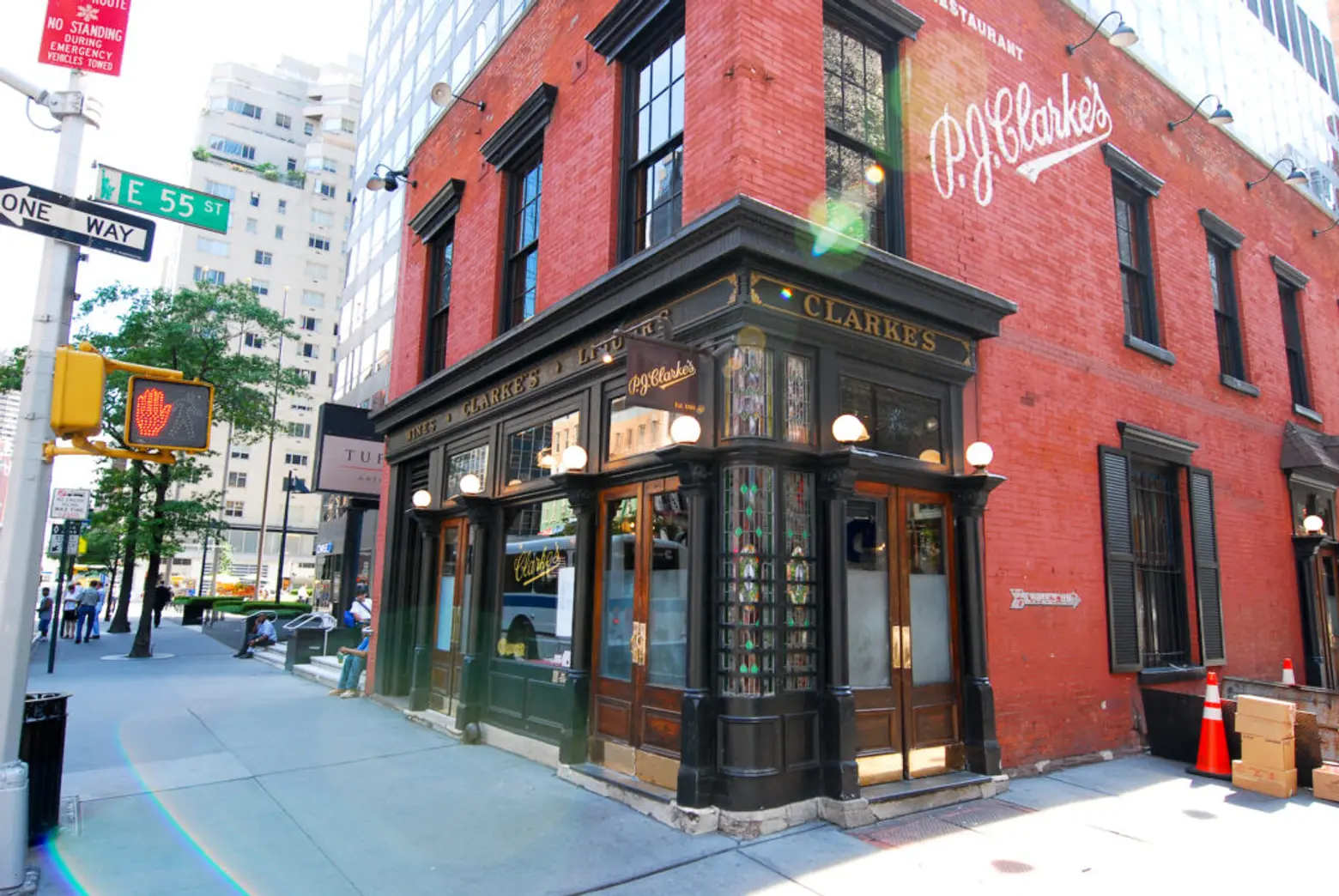 P.J. Clarke's started as a saloon serving mostly Irish Immigrants, and in fact, got its current name from an Irish bartender who purchased it in 1912, according to the restaurant's history. After making it through prohibition, the bar became a watering hole for famous crooner Frank Sinatra who "regularly closed the place down at Table #20 and Johnny Mercer wrote 'One for My Baby' on a bar napkin." Buddy Holly and Nat King Cole were also familiar faces in the joint and Holly even proposed to a woman there. Later the Kennedys were frequent customers. Today, P.J. Clarke's has three NYC locations as well as spots in Washington, D.C. and Philadelphia.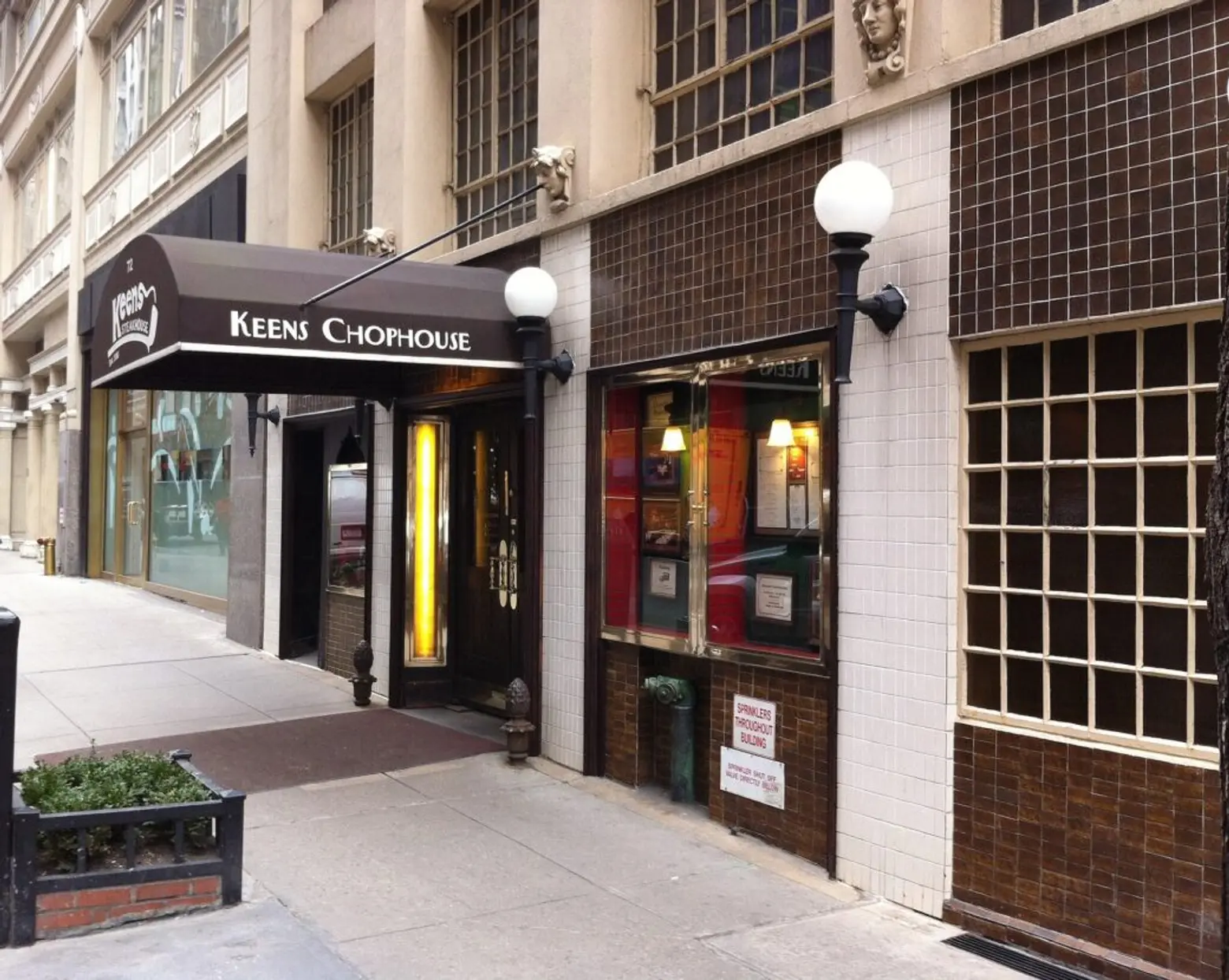 Located in Herald Square — and the lone survivor of what once was the Herald Square Theatre District — Keens Steakhouse was originally "part of the Lambs Club, a famous theatre and literary group founded in London," according to its site. In 1885 it became an independent eatery and a hot spot for theater actors. "By the time Keens celebrated its 20th anniversary, you could glance into the Pipe Room and see the jovial congregations of producers, playwrights, publishers and newspaper men who frequented Keens."
And speaking of pipes, according to Keens, the restaurant houses the largest collection of wooden churchwarden smoking pipes in the world, which was a popular pastime of the time. "The membership roster of the Pipe Club contained over ninety thousand names, including those of Teddy Roosevelt, Babe Ruth, Will Rogers, Billy Rose, Grace Moore, Albert Einstein, George M. Cohan, J.P. Morgan, Stanford White, John Barrymore, David Belasco, Adlai Stevenson, General Douglas MacArthur and 'Buffalo Bill' Cody," the site writes. The menu is a traditional chophouse one with red meat and seafood as the stars.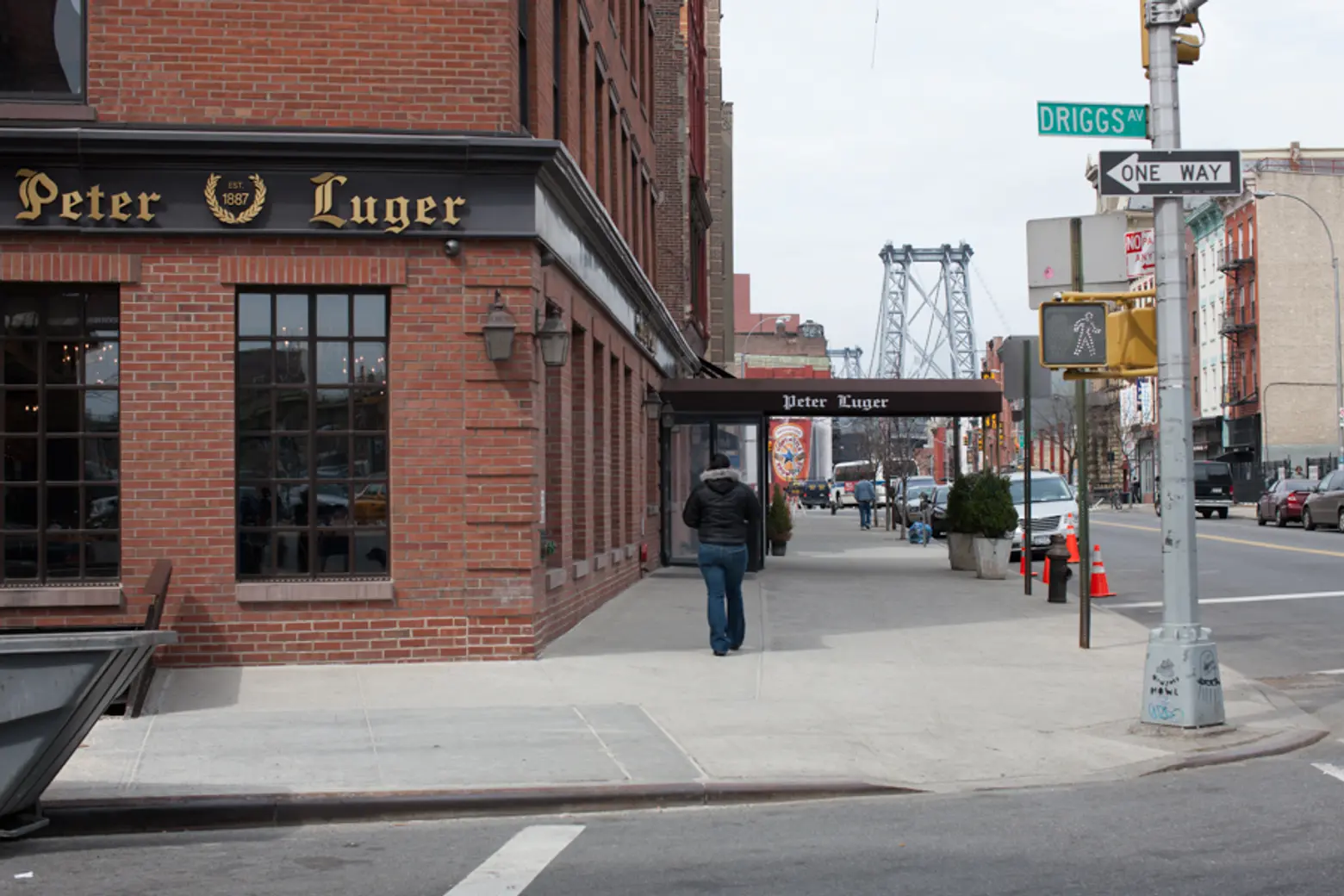 Williamsburg's most famous steakhouse opened in 1887 as "Carl Luger's Café, Billiards and Bowling Alley." Today, the restaurant is owned by the Forman family who established a silverware company across the street from the restaurant in the early 1920s. Sol Foreman frequented the eatery so much with clients that when owner Peter Luger died, he bought the restaurant at auction in 1950 and turned it into what it is today. "The critical job of inspecting and purchasing meat fell to his wife, Marsha Forman. Marsha spent two years learning this special skill from a retired USDA grader, who took her to the wholesale houses in the meat market along New York City's West Side Highway. In keeping with tradition, and to ensure the highest quality of meat, the selection process is still performed by members of the family, who visit the wholesale markets to inspect the selection of short loins," the site details. In the hipster neighborhood, Peter Luger's menu stays classic and simple with red meat and seafood.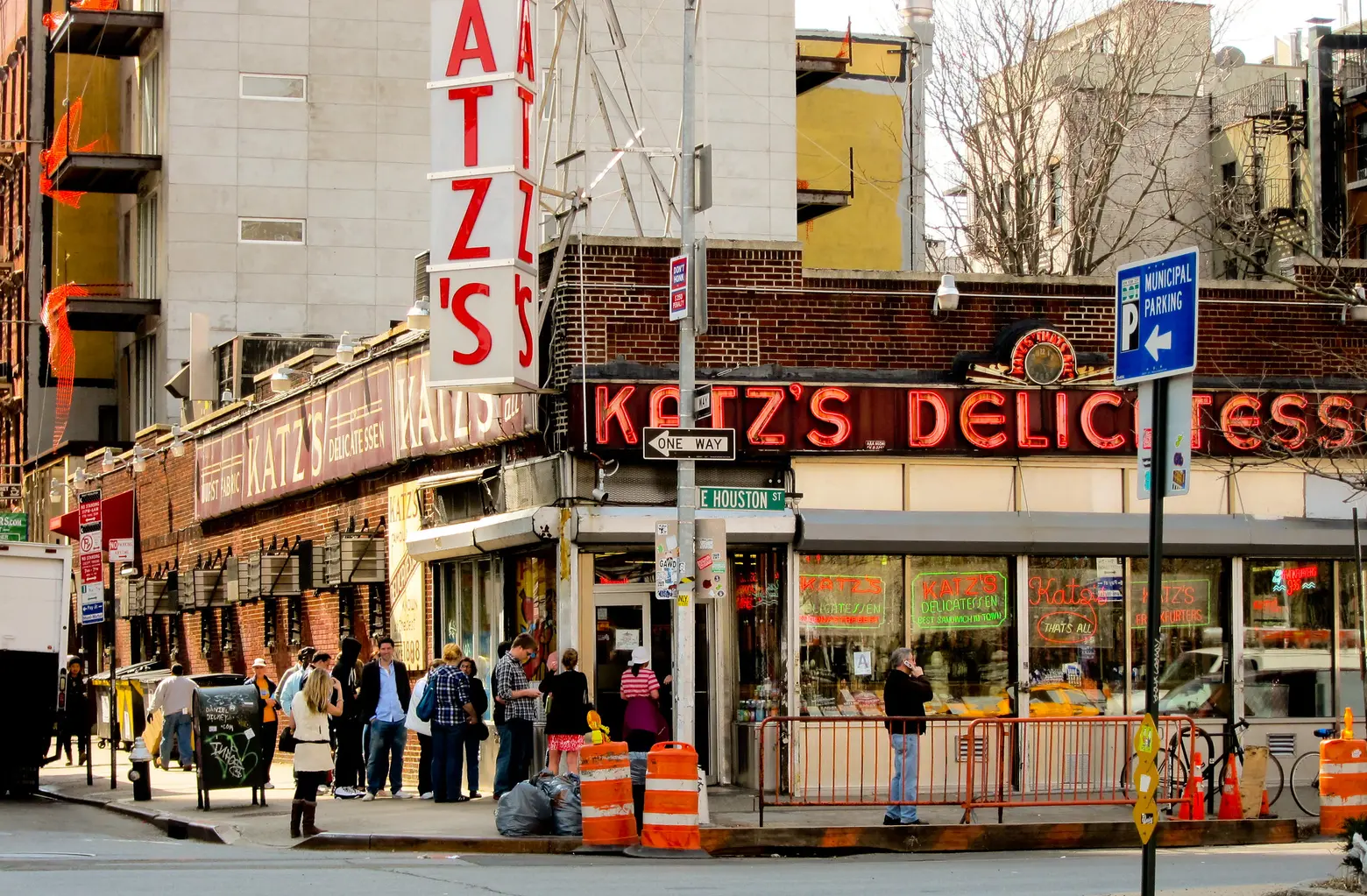 Everyone knows that famous scene from 1989's "When Harry Met Sally." But Katz's history started 100 years before Meg Ryan and Billy Crystal stepped foot inside this Lower East Side landmark. Once named "Iceland & Katz," Katz's deli got its current name in 1910, and seven years later it moved to its current location across the street from where it first opened.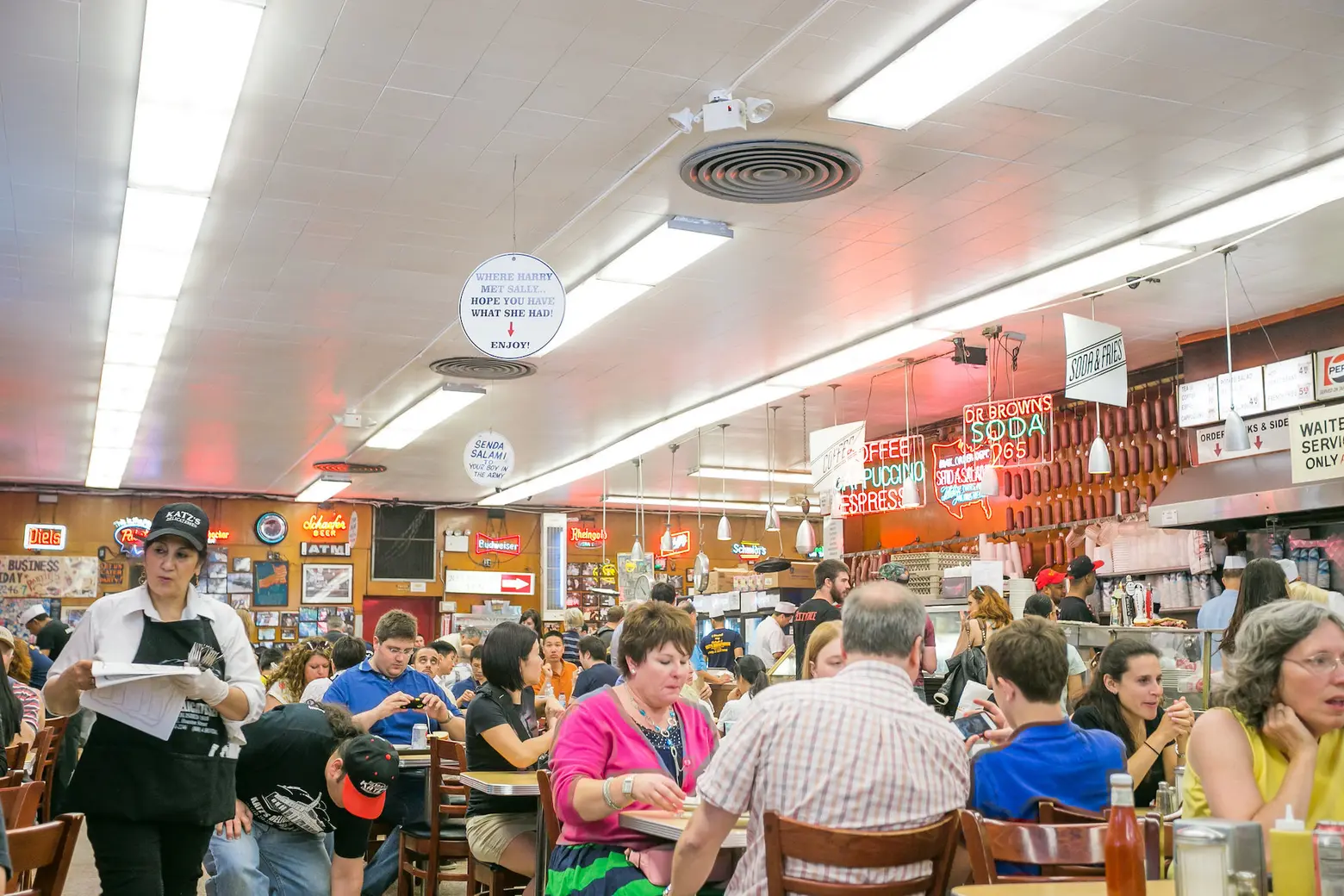 Serving Jewish delicacies like matzoh ball soup, knishes, and pastrami, "during the peak of the Yiddish theater, the restaurant was forever filled with actors, singers and comedians from the many theaters on 2nd Avenue, as well as the National Theater on Houston Street. Although the age of the Yiddish theater has passed, Katz's still has its fair share of famous customers, whose photos now line our walls," the site details. Those celebrities include the likes of Barack Obama, Lionel Richie, Sarah Jessica Parker, and Matthew Broderick. But on any given day (or late night), local customers line up for Katz's true NYC comfort food.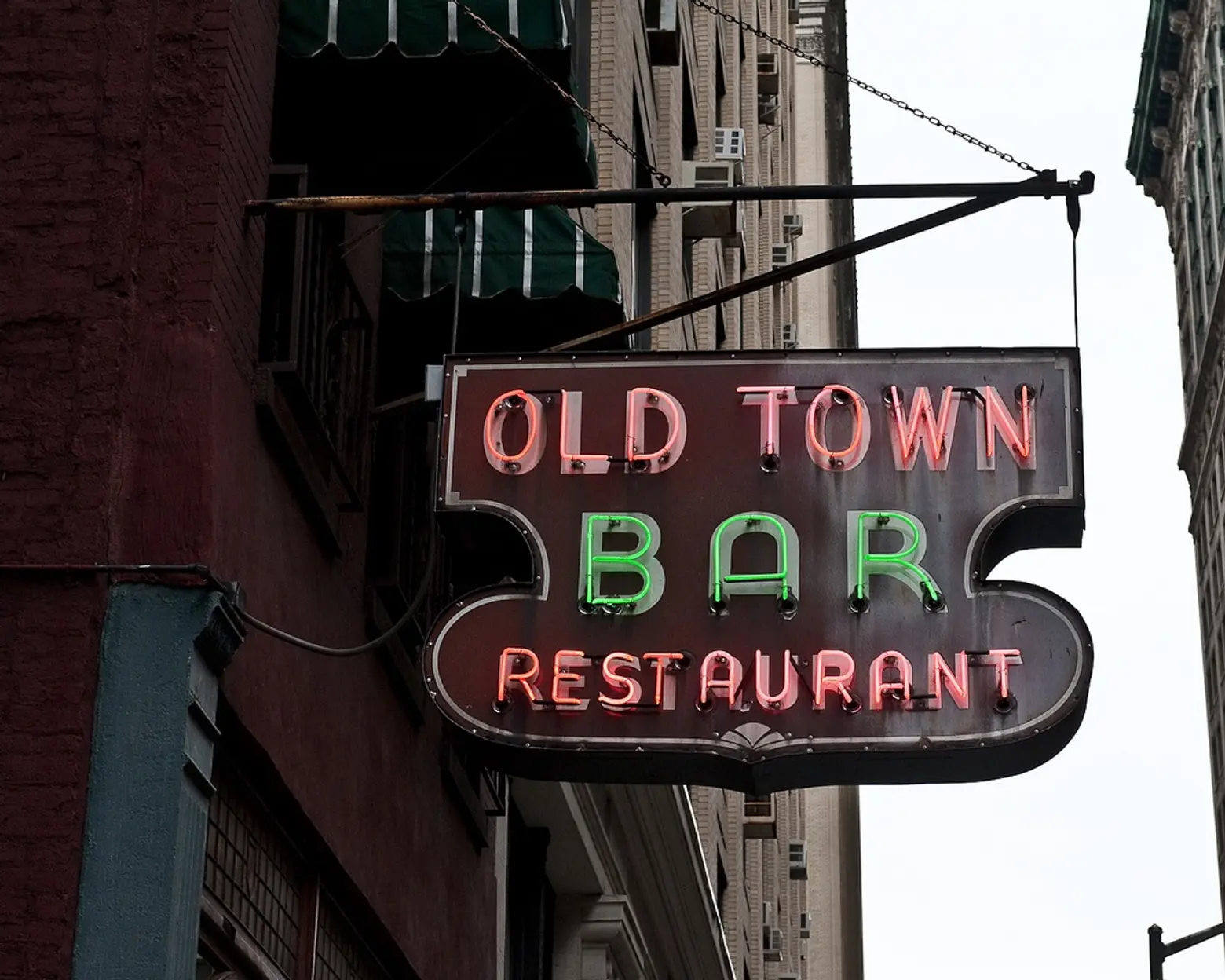 Youth is one of the most coveted things in the world. But when you've been around since 1892, you wear the name "old" proudly. Old Town Bar in Gramercy serves casual American fare in an old-school tavern setting. "It's easy to have an 1890s moment at Old Town without realizing it," Jennifer Berg, professor of food studies at New York University told the Village Voice in 2014. "It has that gorgeous musty smell. It's like New York's own little secret."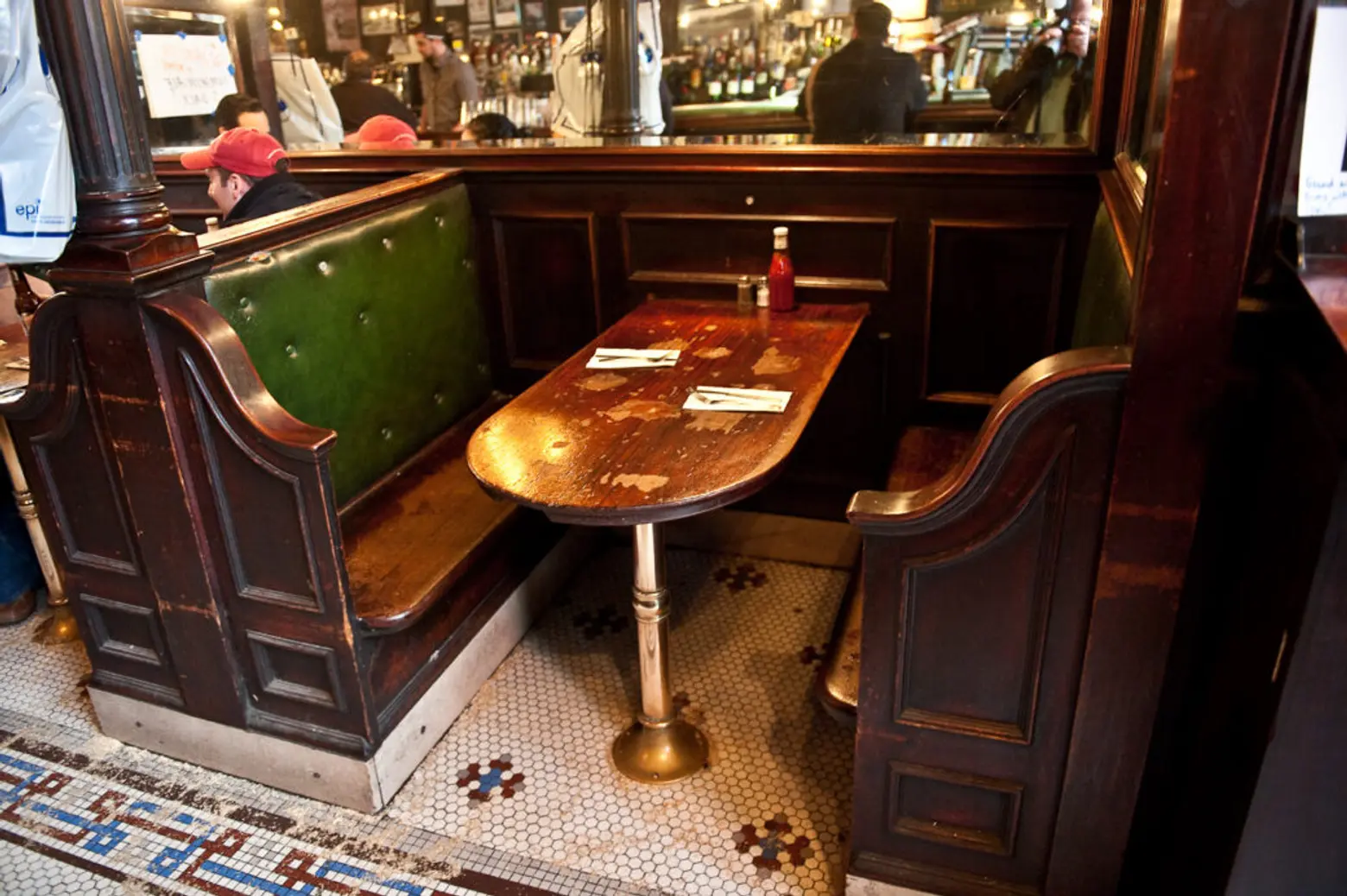 One hundred years later, it got a taste of fame in the opening for "The David Letterman Show" in the '80s-'90s. In 2017 when it celebrated its 125th anniversary, owner Gerry Meagher told Gothamist that many of the restaurant's original fixtures, including the mahogany bar, are original. "My father's philosophy was not to be trendy. Implicit in that is that your trend will not last. He liked to keep Old Town Bar like an old New York tavern," he said.
Rao's, 1896
455 East 114th Street, Manhattan
Many of the restaurants and bars on this list are American, Irish, and German pubs, taverns, and steakhouses. But Rao's is as Italian-American as one can get. The East Harlem landmark restaurant is all about classic southern Italian food like grandma used to make. But unlike a seat at nonna's table, the ones at Rao's are hard to come by. "If you've never eaten at Rao's, well, join the club. It's impossible to get a table at the East Harlem Italian restaurant," Bon Appetit wrote in 2016. And, in fact, a call to Rao's gets you a voicemail that simply says, "Our reservation book is filled for 2023 and we are not taking any reservations. Thanks for calling Rao's and have a good day."
The restaurant's prestige goes beyond reservation exclusivity all the way to Hollywood. Frank Pellegrino Sr., who ran Rao's for years before his death in 2017, was an actor as well as a restaurateur, appearing in "The Sopranos" and "Goodfellas." "He was cast in 1990's 'Goodfellas' by Martin Scorsese, a longtime regular at Rao's…Pellegrino was a beloved fixture at Rao's where, in addition to Scorsese, bold-face diners over the years included Leonardo DiCaprio — who filmed a scene for 'The Wolf Of Wall Street' at the uptown restaurant — as well as Woody Allen, Keith Richards, Billy Joel, Rod Stewart, Jimmy Fallon and others," Deadline wrote in 2017.
Today, Frank Pellegrino Jr., or "'Frankie' as he is known to Rao's regulars," co-owns the restaurant along with newer outposts in Los Angeles and Las Vegas. He "grew up helping his father and family at the restaurant – waiting tables, cooking, managing the restaurant – basically learning the family business, even though his father, Frank Sr. attempted to talk him out of it," the site writes.
RELATED: