Lincoln Center campus will be transformed into 10 outdoor performance venues this spring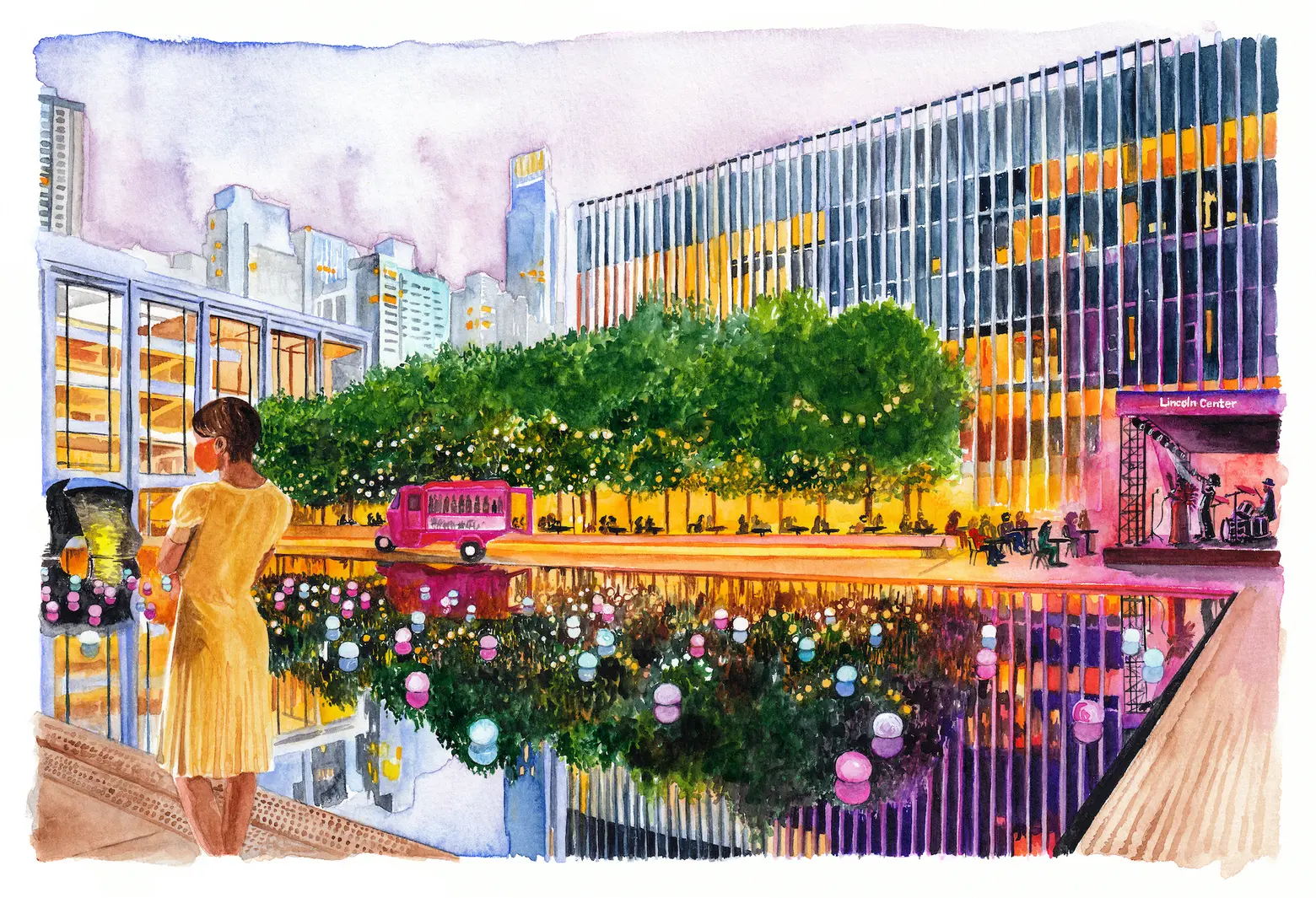 Illustration © Ceylan A. Sahin Eker
The arts are making a major comeback in New York City this spring, with live performance venues permitted to reopen in early April. And one of the city's most beloved cultural institutions is leading the way. Lincoln Center for the Performing Arts last week announced a new initiative that will transform its 16-acre campus into 10 new outdoor performance venues. Launching on April 7, "Restart Stages" will feature free and low-cost events by cultural organizations and community partners hailing from all five boroughs, in addition to Lincoln Center's resident companies.
The outdoor venues will include a "cabaret-style" stage on Hearst Plaza, a family area with art activities for children, rehearsal space open to the public, space for public school graduations, and an outdoor reading room created in partnership with The New York Public Library for the Performing Arts.
Cultural organizations participating in "Restart Stages" include the Bronx Academy of Arts and Dance, Caribbean Cultural Center African Diaspora Institute, Harlem Week and Harlem Arts Alliance, Korean Cultural Center New York, Weeksville Heritage Center, and more.
The initiative will launch on World Health Day on April 7 with a special performance for healthcare workers.
"The cultural community has an urgent role to play in the revitalization of New York, to showcase that our city is not just back economically, but spiritually and socially. Which is why we knew beyond the shadow of a doubt that as the city reopened it was our absolute obligation and privilege to be first in line to support our constituents, New Yorkers, and the cultural community," Henry Timms, president & CEO of Lincoln Center, said in a press release.
"We are building this outdoor campus to be ready, so that when the time comes, we do not miss a single day. We will fling our metaphorical doors wide open on day one in celebration of New York and the resolute, remarkable people who make it the best city on earth."
"Restart Stages" is being developed with the state's NY PopsUp initiative, part of Gov. Andrew Cuomo's "Arts Revival" plan. The initiative kicked off last month and will bring about 300 pop-up events across New York over the next 100 days.
Starting April 2, events, arts, and entertainment venues will be able to reopen at 33 percent capacity or up to 100 people indoors and 200 people outdoors. If all attendees present proof of a negative COVID-19 test prior to entry, capacity can increase to 150 people indoors and 500 people outdoors, according to the state. Large arenas and stadiums were allowed to welcome back fans and audiences, with testing, on February 23.
Social distancing and face coverings will be required at all events.
RELATED: